This is a recipe for a keto-friendly, low-carb, no-sugar-added recipe for Sweet Thai Chili Sauce. I made this to serve as a dipping sauce and to make Bang Bang Shrimp (the recipe is posted on my website).
I'm a believer in the idea that homemade food is always better than store-bought. However, I understand that there are plenty of items where it is more efficient to just purchase them. Until I tried this recipe for Keto-friendly, Low-Carb Sweet Chili Sauce, I thought that Sweet Chili Sauce (or Sweet Thai Chili Sauce) was one of those things. I figured that it would be too time-consuming and too difficult to make on my own. Consequently, since starting keto and cutting carbs, I just stopped having one of my favorite dishes: Bang Bang Shrimp. Bang Bang Shrimp includes Sweet Chili Sauce, which has sugar as the first ingredient. I love this dish with a lot of sauce so I thought that it would be best to avoid it. Little did I know, making Sweet Chili Sauce is super simple, requiring only a whisk and 20 minutes as you wait for the sauce to thicken. It also tastes just as great (if not better) than the stuff you'd buy in the market.
This recipe includes Bone Broth Collagen
One of the central ingredients in many Asian sauces (besides sugar) is cornstarch. This ingredient serves to thicken the sauce so that it's sticky and awesome. One way that I thicken my sauces is with Bone Broth Collagen. For me, this serves two purposes: it allows me to avoid the carbs that are present in some cornstarch alternatives like Tapioca Starch and it helps me "sneak in" supplements that have benefits for my hair, skin, and nails. I'm including a Beef Flavored Bone Broth Collagen, but you can feel free to use an Unflavored Collagen Peptides if you have it.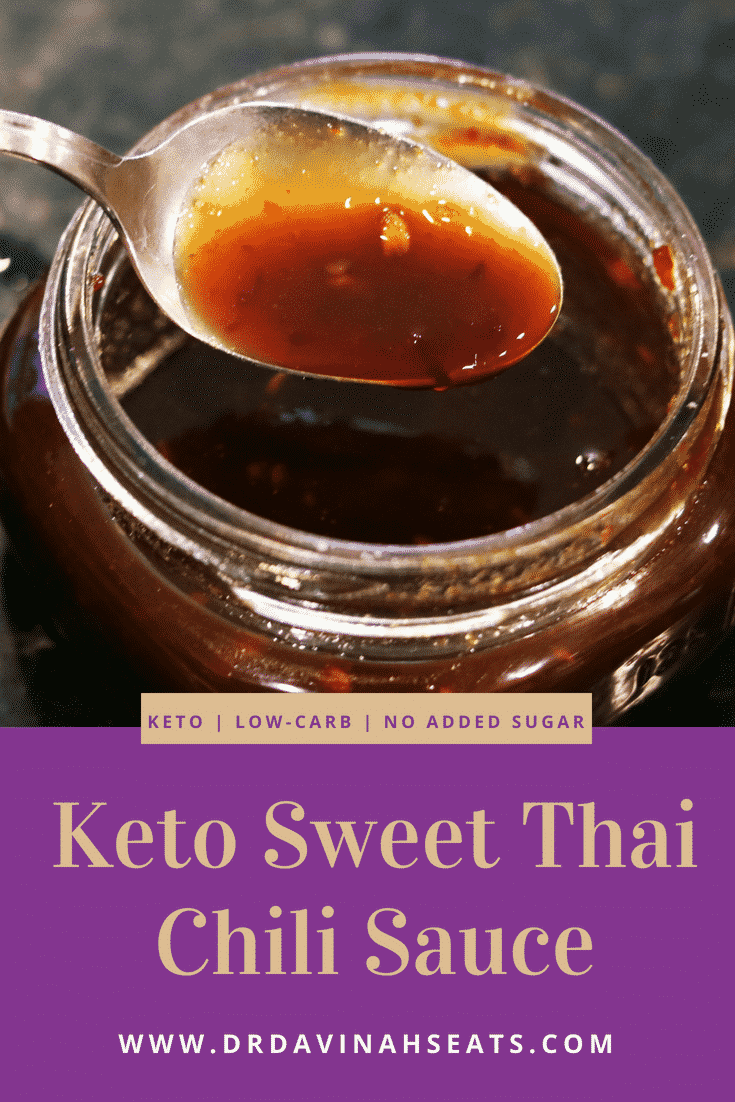 Instructions
Add all ingredients to a large mixing bowl

Whisk until the Bone Broth Collagen is fully incorporated. It will be lumpy at first but just keep whisking.

Heat a sauce pan to medium heat

Cook the sauce uncovered until it thickens (15-20 minutes)

Remove the pan from the heat and allow to cool. I store this in a glass jar in the refrigerator.
Video
Recipe Nutrition Facts
Nutrition Facts
Easy Keto-friendly, Low-Carb Sweet Chili Sauce
Amount Per Serving
Calories 21
% Daily Value*
Total Fat 0g 0%
Cholesterol 0mg 0%
Sodium 565mg 24%
Potassium 18mg 1%
Total Carbohydrates 1g 0%
Protein 3g 6%
* Percent Daily Values are based on a 2000 calorie diet.
Did you make this recipe?
Use #DrDavinahS when posting your photo of this dish, and follow @DrDavinahS on Instagram