This post may contain affiliate links to products I use and highly recommend. You can read my full disclosure here.
Click below to share this!
Delicious Keto Parmesan Garlic Bread Bites inspired by the Domino's classic without all of the carbs. Perfect side anytime you are in the mood for Italian food or want a keto-friendly appetizer.
My Keto Parmesan Garlic Bread Bites are just like the Domino's classic without all of the carbs. This variation is the perfect side anytime you are in the mood for Italian food or just want a snack to dunk in marinara sauce. In this post, I share how to make Keto Garlic Bread with fathead dough; how to make the Garlic Parmesan topping; and give you recipes to enjoy these bites with.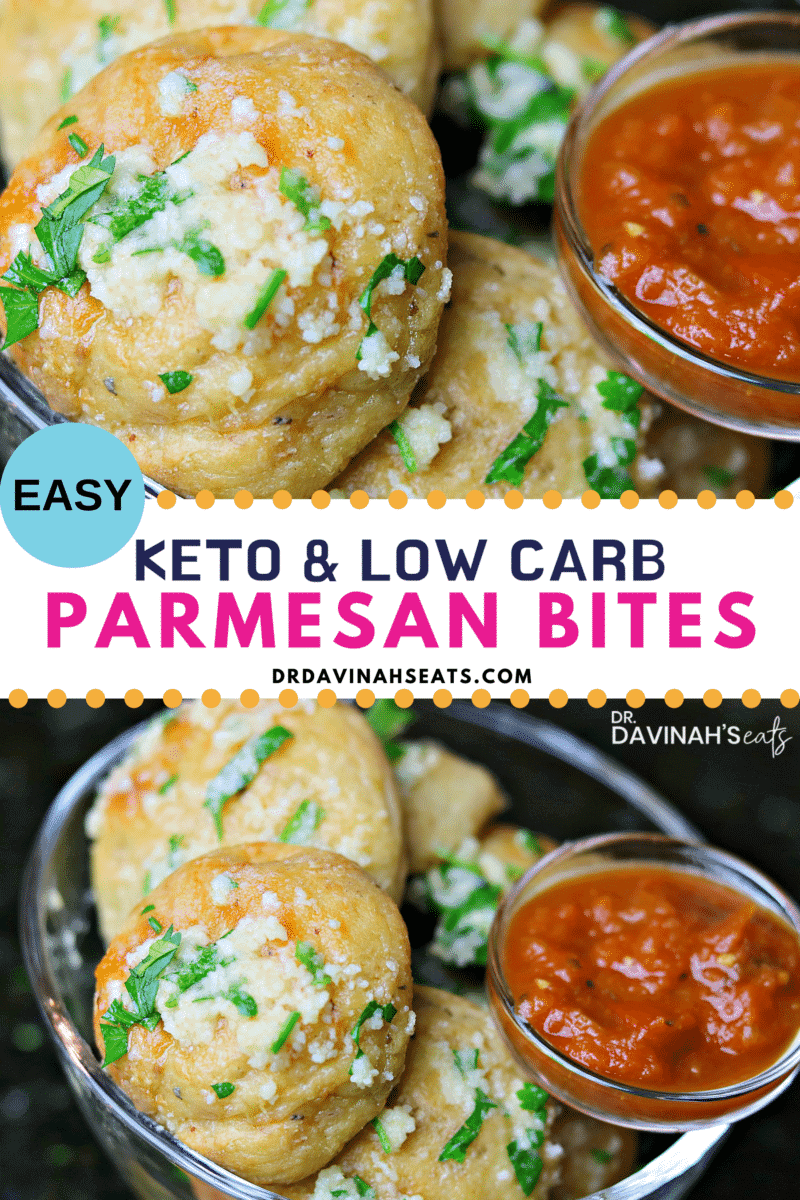 Inspiration – Domino's Parmesan Bread Bites
My keto parmesan garlic bread bites are inspired by the taste of Domino's Parmesan Bread Bites. The Parmesan Bread Bites are admittedly delicious, but there is a major problem with Domino's recipe if you are following a keto or low carb diet.
Domino's Parmesan Bread Bites contain 27 grams of net carbs per serving, which for most, is more than a full day of what's allowed.
But, I adore those, so I came up with a keto recipe to provide me (and you) with a low carb option.
What is fathead dough?
Fathead dough is a keto friendly dough often used in making pizzas. In many recipes, fathead dough contains only a few ingredients like almond flour, cream cheese, mozzarella cheese, baking powder, and an egg.
Some recipes might call for salt, pepper, and other seasonings. But the traditional keto recipe is only 5 ingredients that are mixed up in one bowl. It doesn't get much easier than that!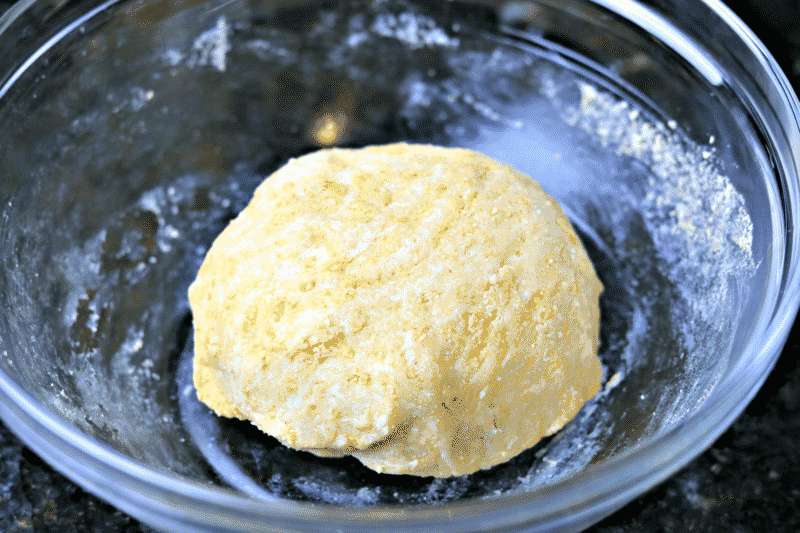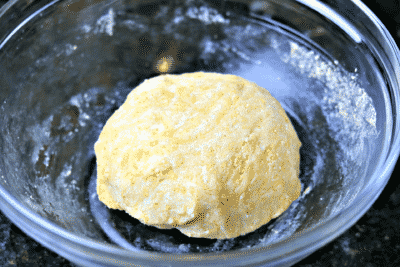 How to use fathead dough to make copycat Domino's Keto Garlic Parmesan Bread bites
The fathead dough in my copycat Domino's garlic parmesan bread bites is modified from my other version of fathead dough. When I make fathead dough for pizzas or bagels, I typically only use one egg. But to make my garlic parmesan bread bites, I use two eggs. The second egg helps make the dough a bit softer.
In addition, I also add in seasonings like garlic powder, parmesan cheese, and Italian seasonings. This helps give the fathead dough even better flavor. After all, garlic parmesan bread bites should be bursting with flavor.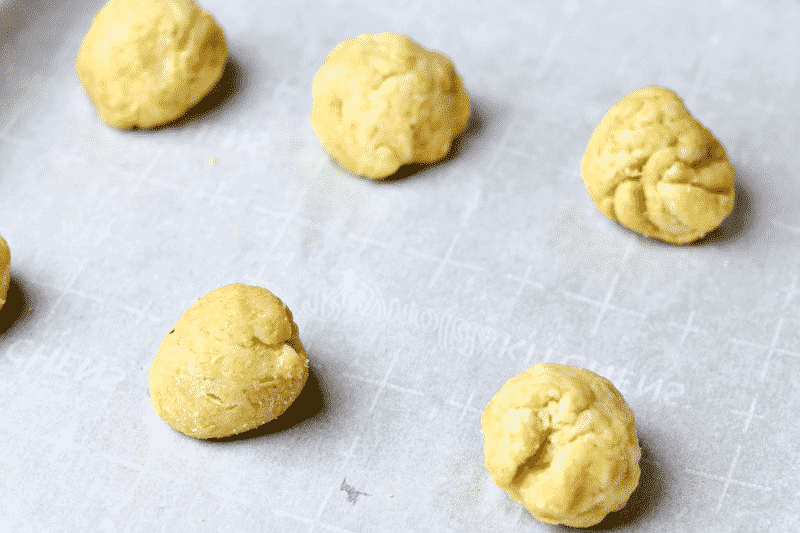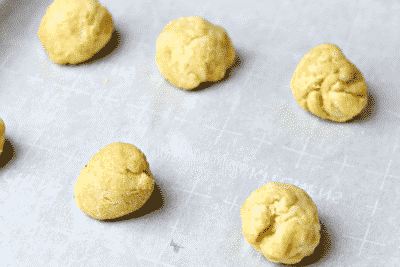 Ingredients in Keto Garlic Bread
Even though my keto parmesan garlic bread bites add in a few extra ingredients, there's not much too it.
To start, the dough has the traditional 5 ingredients (mozzarella cheese, cream cheese, baking powder, almond flour, and 2 eggs). But I also use:
Parmesan cheese so the flavor is baked into the bread

Garlic powder – again, garlic flavor baked right into the dough

Italian seasonings

psyllium husk
To make the topping, you only need the following three basic ingredients:
melted butter

Parmesan cheese

fresh or ground parsley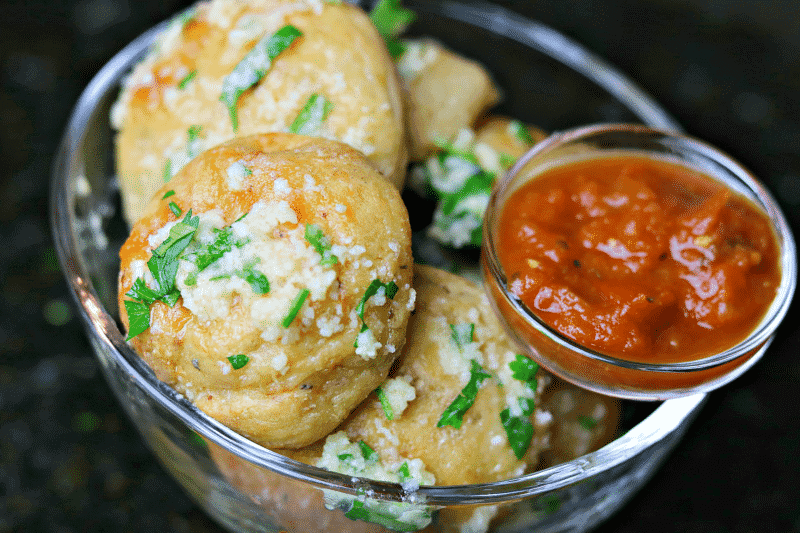 Can you make these into Keto Garlic Breadsticks?
Once you make the fathead dough in this recipe, you can shape it anyway you want! I like to make them into more bite size pieces. To do this, I form the dough into 12-24 balls (see my note about serving size below) before baking them on a cookie sheet.
But you could easily roll the dough out a bit. And once rolled, you can slice the dough into several stick shapes and bake as breadsticks. You may need to adjust your cooking time to avoid burning or over cooking the keto garlic breadsticks.
Tips for storing & reheating these
Keto parmesan garlic bread bites are best served hot from the oven. Of course, you should give them a minute or two to cool a bit before biting into one so you don't burn your mouth. And let me tell you- waiting to dig into these keto garlic bread bites is the very hardest part of making them!
If you don't eat them all when fresh, that's OK! You can save the keto parmesan garlic bread bites for up to four days. If you do have leftovers, store them in an airtight container in the fridge.
When you are ready to eat the bread bites again, you should warm them in the microwave for a few seconds. This will make them taste fresh from the oven again.
Serving Size in Parmesan Garlic Bread Bites
If you've had Domino's Parmesan Bites, and tried to search for the serving size, then you know it's hard to find. So, in this recipe, I want to make the serving size clear.
When I'm having this with a salad, I tend to make 12. These come out slightly smaller than a biscuit. In this case, one serving is one of the Garlic Parmesan Biscuits.
When making these the same size as the ones from Domino's then I make 24. These come out more like small bites. In that case, the serving size is 2. You should know that these spread while cooking so don't let the small size of these fool you.
Recipes to have with Keto Garlic Bread Bites With
Keto parmesan garlic bread bites are an excellent option to serve with many different meal ideas. Here are some of my favorite pairings: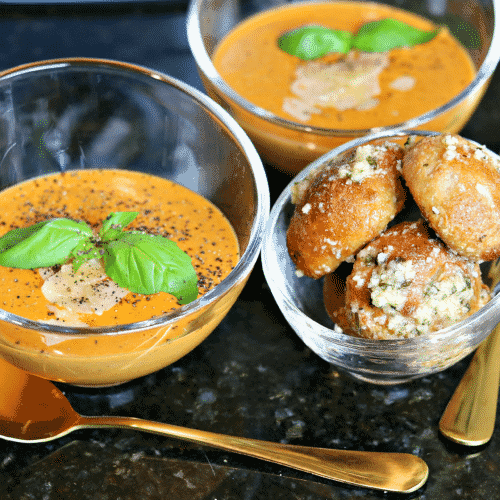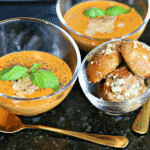 Other Fathead Dough Recipes
If you like fathead dough, I've got you covered. Here are some other recipes that use fathead dough to make some of my favorites like bagels and cinnamon rolls.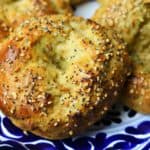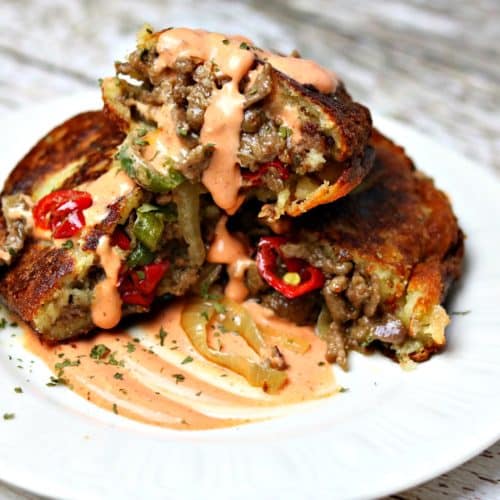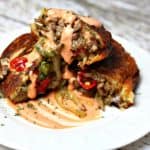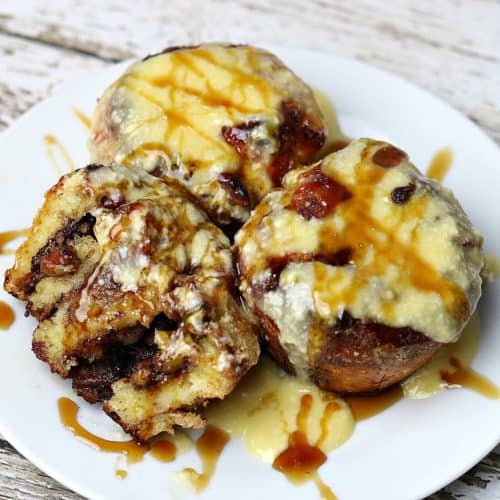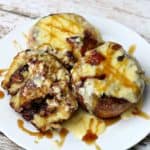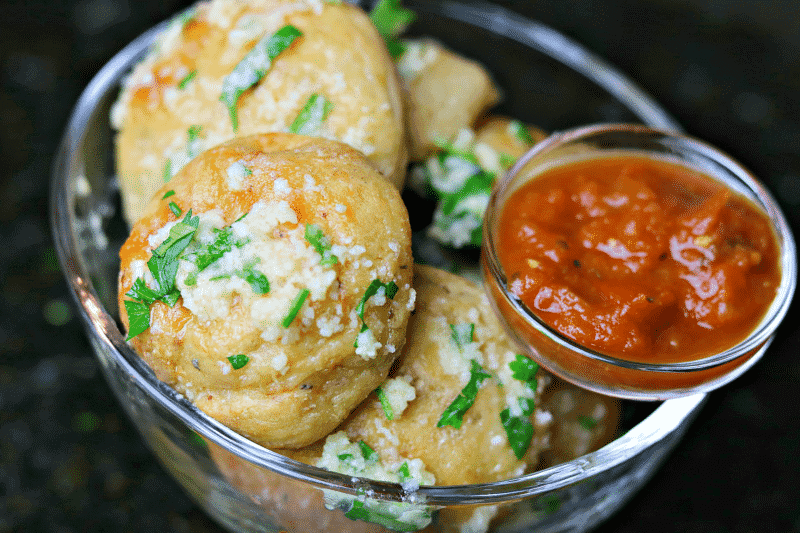 Delicious Keto Parmesan Garlic Bread Bites inspired by the Domino's classic without all of the carbs. Perfect side anytime you are in the mood for Italian food or want a keto-friendly appetizer.
Want to share this recipe?
To spread the word about this recipe, please save it to Pinterest, share a link to it, or rate it if you loved it. Please do not copy & paste (or screenshot) my recipes to social media or other websites.
Ingredients
Garlic Parmesan Topping
2

tbsp

salted butter

melted

1/4

cup

grated parmesan cheese

1

tsp

Ground Parsley

or 1.5 tbsp fresh parsley
Instructions
Preheat the oven to 350 degrees

Mix almond flour with baking powder, garlic powder, Italian seasoning and psyllium husk. Set aside.

Add mozzarella, parmesan and cream cheese to a large microwave safe mixing bowl

Heat the cheeses in the microwave for 45 seconds. Remove from the microwave and use a mixing spatula to incorporate

Heat the cheese mixture again for another 45 seconds & mix to incorporate

Add the almond flour mixture and the eggs to the cheese mixture. Mix until well incorporated and a ball of dough forms.

Cover the ball of dough with plastic wrap and refrigerate for 10 minutes. This allows the dough to firm up a bit more and cool down.

Split the dough into 12 balls. Add the dough balls to a lined baking sheet.

Cook the bites for 15 minutes or until the tops of the are golden

Mix the Garlic Parmesan Topping. Toss the bites in the topping and serve.
Recipe Nutrition Facts
Nutrition Facts
Easy Keto Parmesan Garlic Bread Bites
Amount Per Serving
Calories 151
Calories from Fat 108
% Daily Value*
Fat 12g18%
Cholesterol 60mg20%
Sodium 198mg8%
Potassium 131mg4%
Carbohydrates 4g1%
Protein 8g16%
Vitamin A 304IU6%
Calcium 189mg19%
Iron 1mg6%
* Percent Daily Values are based on a 2000 calorie diet.
Recipe Notes
Serving Size Notes: This nutrition estimate is based on dividing the dough into 12 balls. When making 12, they tend to be the size of small biscuits. To get bites, I recommend dividing the dough into 24-36 balls. This dough expands as it cooks. 
Did you make this recipe?
Share your photos & mention @DrDavinahS! I love seeing them!
Nutritional Disclaimer
The nutritional information comes from Spoonacular API, a database of food ingredients. The nutritional information for any recipe will vary based on the exact product you use and the brand. I do not include erythritol or sugar alcohols in the final carb or net carb count as it does not have any impact on my blood glucose levels. Before starting keto or a low-carb eating plan, you should consult your doctor. I am sharing my personal experiences and none of the information included in my recipes or throughout the site should be taken as medical advice.