Italian cuisine is well-known for being very carb- and pasta-heavy. When you are looking for a low-carb meal, it can seem impossible to find dishes that keep you within your daily carbs and/or in ketosis. I took the guesswork out and put together this list of Keto Italian food recipes that fit the bill. You will really enjoy all the flavor that is in each and every dish and know you won't have to worry. Make sure you get all the way to the end of the list for the delicious desserts!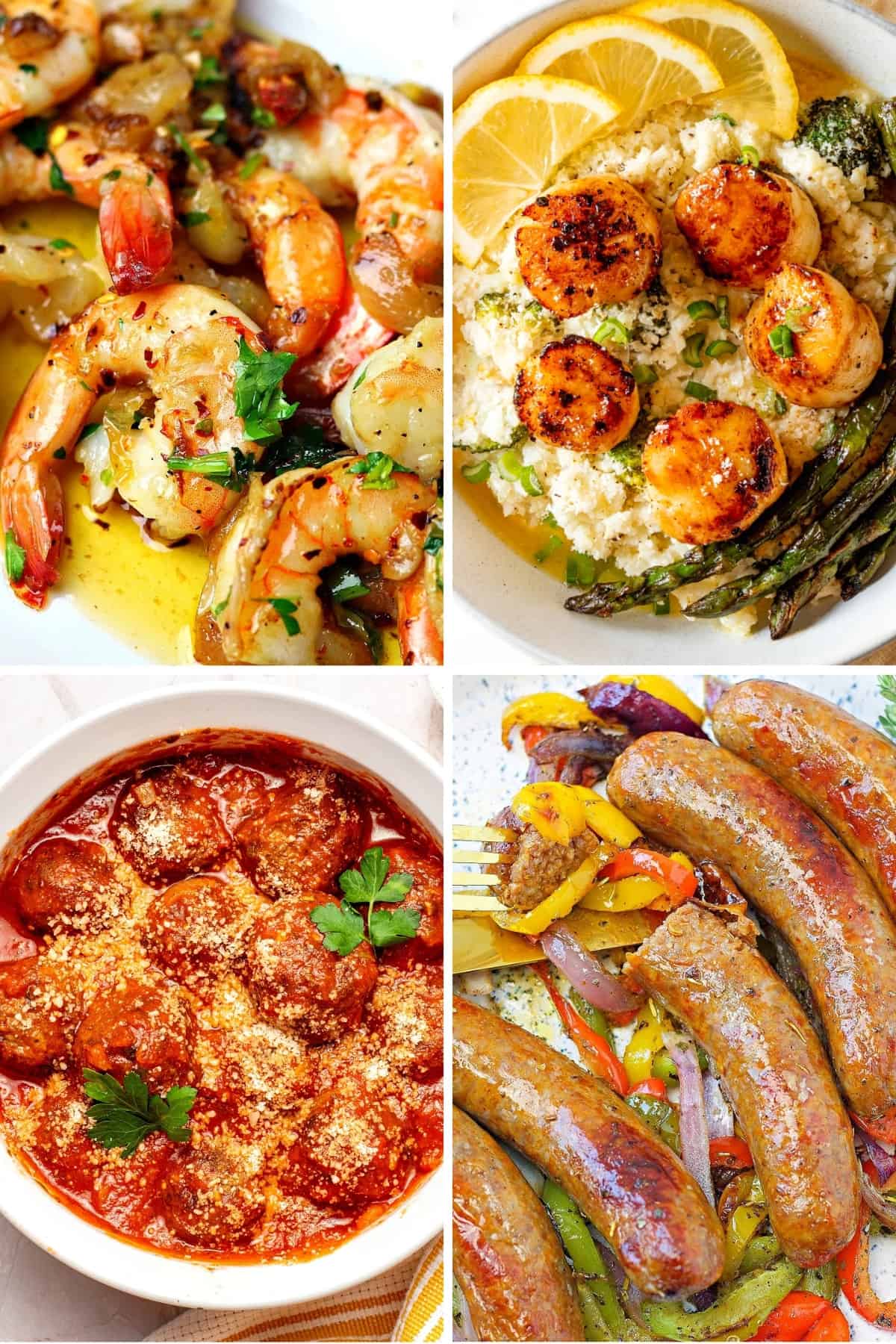 Is There Such a Thing as Keto Italian Food?
You might be thinking that keto Italian food is an oxymoron, but you'll see that they can co-exist with some food swaps and bold spices and flavors. Some of my favorite substitutes to make Italian food low-carb include:
Keto-friendly Antipasti & Bread
No Italian feast would be complete without the appetizer and bread! You can enjoy both as part of a low-carb classic Italian meal, and the true Italians among you won't even miss the carbs. The flavors are so authentic I couldn't wait to share this list with you.
Start your Italian feast with this chopped antipasto salad. It only takes a few minutes to chop and toss everything in your very own marinade to get the Italian flavors everyone loves.
Take salad to the next level by plating it up on a large platter. Everyone can make their own salad bowl from this beautiful spread.
These Parmesan garlic bites are reminiscent of the extras you can order up with pizza delivery. This soft dough will melt in your mouth. Enjoy it with keto marinara sauce!
A secret ingredient helps these low-carb flours get the gluten they need to rise to perfection. The crust is thick and chewy on this loaf and will pair perfectly with the soups below.
Keto Soups
Soups are so much comfort on chilly fall days or long, dark winter days. I recommend you pick your favorite from this list and find out how to make it low carb and Keto friendly! Your tastebuds will sing and your waistline will be very happy to try these classics.
Cream cheese and heavy cream make this tomato soup feel great on the tongue. Don't be afraid of fat – it'll keep you fuller longer!
Italian wedding soup is a favorite here, and this one uses cauliflower to lighten things up some while still retaining that familiar flavor.
Cream cheese adds richness to this soup without going overboard. The recipe also has a trick for removing the "green" from the zucchini to be a little sneaky.
This hearty, healthy recipe takes all the classic Italian flavors and puts them in one bowl. Everything is finely chopped so that you can get all the nutrition in without someone spotting a disliked ingredient.
Main Dishes & Pasta Remakes
You won't miss the pasta carbs when you pull out these Italian classics! Cook up some zucchini boats or use zucchini and cauliflower as the perfect bases to soak up all the amazing sauces. I've got the whole range for you from beef to chicken to seafood.
Of course, you need to have meatballs when serving Italian food! Meatballs are a crowd pleaser and are truly easy to make low-carb and also sneak in extra nutrition.
Cauliflower makes a great risotto. Get all the classic cheesy flavor without the carbs. Seared scallops sit so nicely in this dish.
Add shrimp or just use more mushrooms in this creamy mushroom risotto recipe. The mushrooms add a bright earthy flavor and are perfect as a replacement for meat.
I love making shrimp scampi. There's no denying that butter makes the best sauce! Garlic is also a key player in making these shrimp really shine.
Bring back the cheesy goodness of lasagna minus the carbs. This one uses a cauliflower pizza crust or hearts of palm as a substitute for lasagna noodles. The filling also has one of my favorite secret ingredients: cottage cheese!
Pork chops really shine when made in a skillet. Plus you can deglaze all the good parts into the perfect mushroom cream sauce. The sauce really turns up the flavor on any vegetables you serve with the pork.
Add your favorite frozen Italian meatballs to your air fryer and cook them in minutes. Pair them with your favorite sauce for a quick and easy main dish.
This shrimp and broccoli includes a white wine and garlic butter sauce that results from the shrimp being cooked from frozen.
Make Italian Sausage, Peppers and Onions easily in your air fryer with this recipe.
This shrimp alfredo adds a bit of a Cajun flare to your traditional alfredo. Enjoy this with hearts of palm noodles or zucchini noodles.
Zucchini boats are really fun! Who wouldn't want to eat the "dish" their food comes in? Scoop out the insides and the "boat" cooks to perfection underneath the sausage topping.
This Tuscan chicken is creamy comfort in a bowl. The garlic sauce is perfect for any veggies you want to add to this dish.
This sausage and pepper skillet goes really well on a sandwich or with eggs, but you may find yourself eating it straight out of the pan as-is!
Make your sauce ahead (and a double batch!) and this is another weeknight dinner ready in a flash. No need to always have chicken parmigiana when you can use Italian sausage.
Not all low-carb meals need to be high-fat. This chicken cacciatore is perfect for serving a white variety of diets because everyone can customize what they add this too, and add their own carbs and fats to their plates.
Cauliflower is a great Italian dish base when slow-simmered in tomato sauce. You won't miss the carbs with just how much flavor you can build in a single skillet.
A touch of light breading is all you need for that classic Chicken Parmesan taste. The true flavor comes in with the low-carb red sauce and of course the hit of Parmesan on top!
Seasonings & Sauce
Learn how to create the basics to fit your Keto lifestyle. Once you know how to make red gravy and the right seasonings to have on hand, you can recreate all your favorite keto Italian food classics in a heartbeat.
Uses just 5 ingredients and requires two steps.
This sauce is so easy to make and is the perfect high-fat, creamy sauce for low-carb pasta dishes and casseroles. I personally enjoy this one with seared shrimp, steamed broccoli, and pasta substitutes like zoodles.
Meat sauce – some of you probably grew up with the smell of this simmering on the stovetop all Sunday, just waiting for Sunday dinner! Learn how to enhance your classic meat sauce with extra veggies.
There's no need to buy jars of "mixed" spices. You can easily take all the individual spices you probably already have and mix them up for ease of use.
Pesto is an Italian classic, but it is also easily adaptable. Whether you need to be dairy-free or nut-free or just want to make sure you are eating clean (no jars here!) pesto fits the bill.
Amp of the garlic flavor in any sauce or dish using this recipe.
Pasta Substitutes
Pasta is an important element of Italian food. These keto alternatives to pasta will help you enjoy Italian food minus the carbs!
This is a super easy alternative to pasta and by using your air fryer it comes together in less than half the time compared to the oven.
Take your keto lasagna to the next level with these almond flour pasta sheets!
Low-Carb Keto Pizzas
Pizza really is all about the toppings, isn't it? This selection will let you pick what makes your tastebuds sing. Veggies, meat, alternative flours – all are options when you are looking for a low-carb Keto-friendly pizza crust to fill your pizza craving.
This kid-friendly meal will quickly become a favorite. Take pizza night to comfort food star with this fun casserole. You can even prep the elements ahead of time to get dinner on the table in a flash on those busy weeknights.
Add this staple keto dough recipe to your toolkit to make any keto pizza.
No need to use special gluten-free ingredients when the pizza craving hits! Rather than adding a sprinkling of sausage on TOP of your pizza, pat it out into your pan and use it as a perfect low-carb crust.
In under 30 minutes, you can have this pizza bake ready to serve. Using a cast-iron skillet keeps the zucchini crisp instead of watering down your dish.
Alfredo sauce makes a perfect pizza topping when you have a taste for something other than marinara. Spinach increases nutrition and adds color, and who can go wrong with bacon?
Low Carb Italian Food Desserts
Sugar needn't be the star of the show when eating a classic Italian dessert. Amp up the traditional flavors with extracts, nuts, and fats and utilize alternative flours to create low-carb desserts that emulate the classics your grandmother made. I promise you won't know the difference – and won't feel too guilty stealing a few extra bites.
This rich layer cake is dense with nuts, making it full of healthy fats that will really satisfy your sweet tooth! I love using protein and fat to balance out the minimal sugar in this dessert.
Calcium and protein in dessert? Yes, please! Lemon ricotta cake maybe your grandmother's classic dessert, but you can make it fit your lifestyle today with a few thoughtful swaps.
Fluffy egg whites bake up into the perfect meringue pillows. It's fun to select your piping shape to make these however you dream!
Low-carb and grain-free means you don't have to miss out on the classic Christmas pizzelle. While you do need a special iron to make the shape, you'll find that them being low-carb means you'll use it more often!
FAQs