So you probably read the title of this recipe and wondered, how in the world do you make Bang Bang Shrimp in a way that's low-carb, grain-free, nut-free, and without adding sugar? Bang Bang sauce is super sweet and the shrimp in this dish is almost always covered in flour! My answer is that you make it very creatively. For this dish, I started with traditional recipes then tweaked and substituted ingredients until it tasted better than what I was used to eating. I love having this during a game day or as a main dish!
What is Bang Bang Shrimp?
Bang Bang Shrimp (also made at times with chicken) is a restaurant favorite from Bonefish Grill. It includes breaded protein (I'm using shrimp) and a sweet and spicy sauce. Bang Bang sauce is super easy to make: you just mix mayo, sriracha, lime juice and Sweet Thai Chili sauce in a bowl.  It's filled with flavor and the perfect appetizer.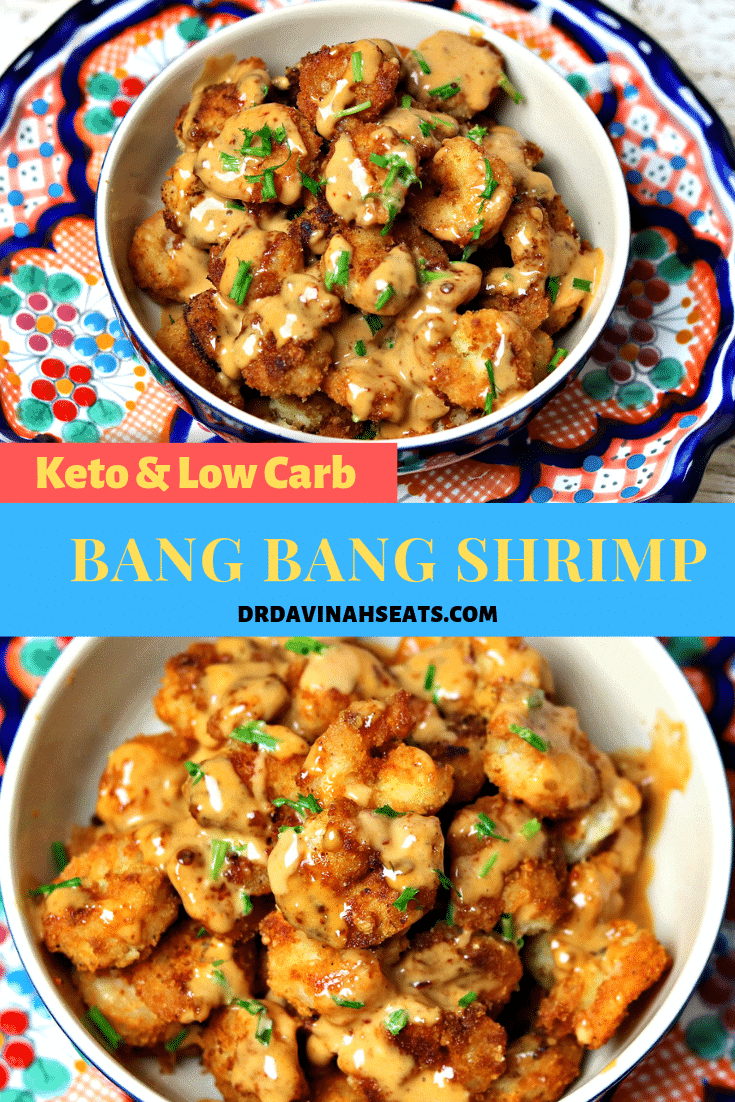 Doesn't Sweet Thai Chili sauce have sugar?
Yes! Sweet Thai Chili sauce, one of the main ingredients in Bang Bang Shrimp has sugar in it. Even though some brands have about 1g per serving, this is definitely not the norm. Plus, if you're like me, then you eat this dish with a lot of sauce so it was important for me to remake this sauce in order to enjoy it the way that I like it.  This dish incorporates my recipe for Easy Keto-friendly, Low-Carb Sweet Chili Sauce. Besides being super easy to make, the end result is better than store-bought and it doesn't have added sugar.
This Low Carb Bang Bang Shrimp includes Moon Cheese Pepper Jack.
I added Pepperjack Moon Cheese to this recipe for an extra flavor crunch. If you do not have Moon Cheese, then some substitutes might be ground pork rinds or grated parmesan cheese. Another option would be to simply omit it and just have a coconut flour breading.

Which fat do you use to fry the shrimp?
Shrimp cooks very easily without a lot of oil. In this Low Carb Bang Bang Shrimp recipe, I'm using olive oil. You need to fill the pan so that slightly more than half of the shrimp is covered. I've also had success with coconut oil but chose not to use it because I ended up needing way too much to get the shrimp brown on all sides.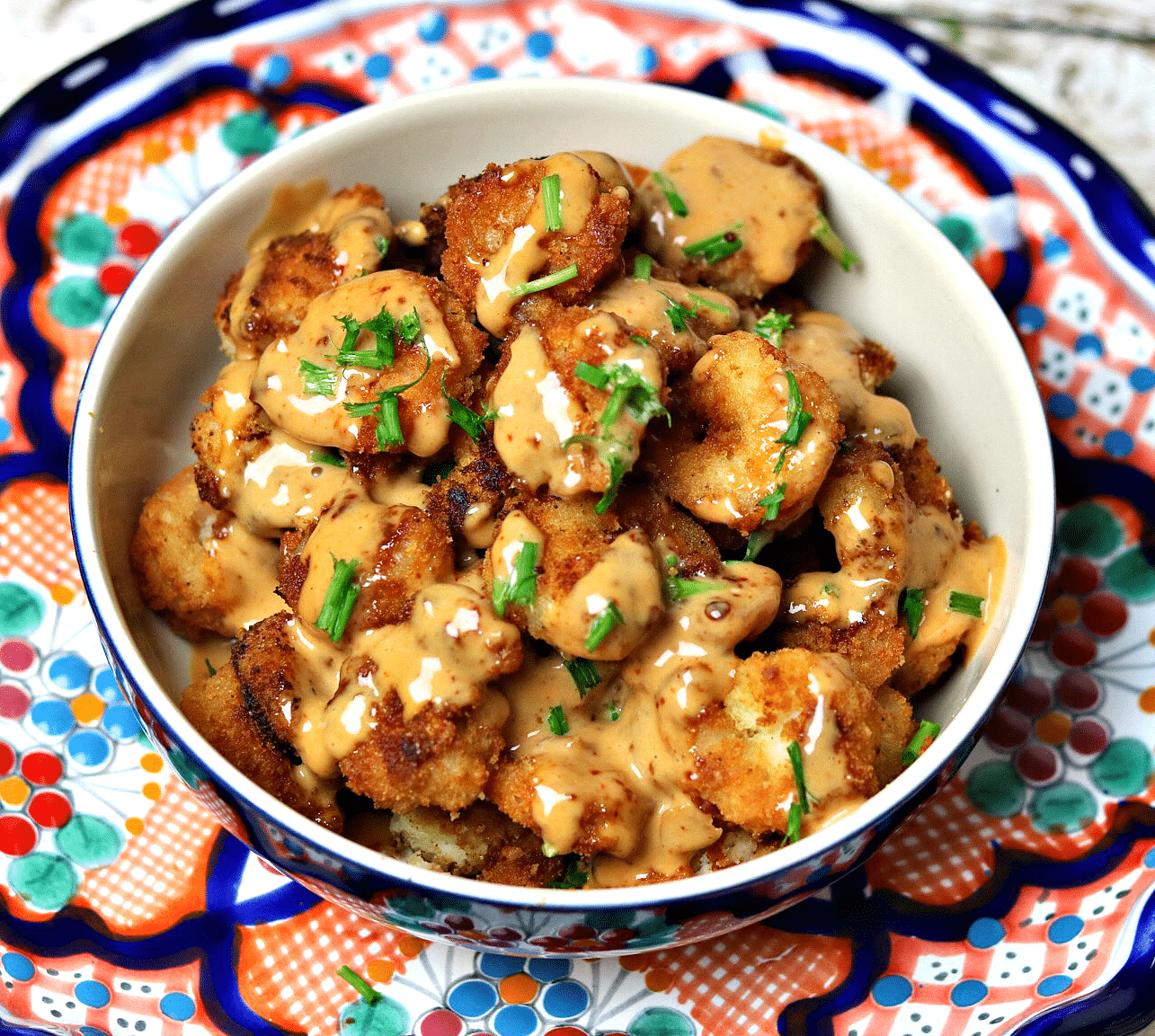 Ingredients
Nut-free, Grain-free Breaded Shrimp
No-sugar Added Bang Bang Sauce
Instructions
Add baking powder, coconut flour, Moon Cheese, salt, and black pepper to a food processor

Blend until the Moon Cheese becomes more like a flour/meal (there will be a few larger bits and that's ok. Transfer to a shallow bowl so that you can bread the shrimp

Dip each shrimp into the beaten egg then coat it with the breading mixture. Place the coated shrimp on a plate until all are coated

Heat your oil to 350 degrees in a frying pan

Fry the shrimp for approximately 1 minute per side then transfer to a paper towel-lined plate for draining

Add ingredients for the No Sugar Added Bang Bang Sauce to a bowl. Mix with a fork.

Place the breaded shrimp on a serving dish and top with the Bang Bang Sauce drizzle as well as the fresh chives.
Recipe Nutrition Facts
Nutrition Facts
Low-Carb Bang Bang Shrimp (Grain-free, No-Added Sugar & Nut-free)
Amount Per Serving
Calories 344
Calories from Fat 162
% Daily Value*
Total Fat 18g 28%
Cholesterol 359mg 120%
Sodium 1736mg 72%
Potassium 248mg 7%
Total Carbohydrates 10g 3%
Protein 31g 62%
* Percent Daily Values are based on a 2000 calorie diet.
Did you make this recipe?
Use #DrDavinahS when posting your photo of this dish, and follow @DrDavinahS on Instagram