This post may contain affiliate links to products I use and highly recommend. You can read my full disclosure .
If you're a keto dieter, you probably have been avoiding the fruits section in the grocery store, and that's expected. So, don't sweat it. Fruits have high carb content compared to low-carb veggies. But, one thing is certain, fruits are definitely better than pasta. That means you can retain some fruits, but skip others. So, are grapes keto? The answer is "no," but don't leave yet. Keep reading to get some nutritional facts and low-carb fruit alternatives.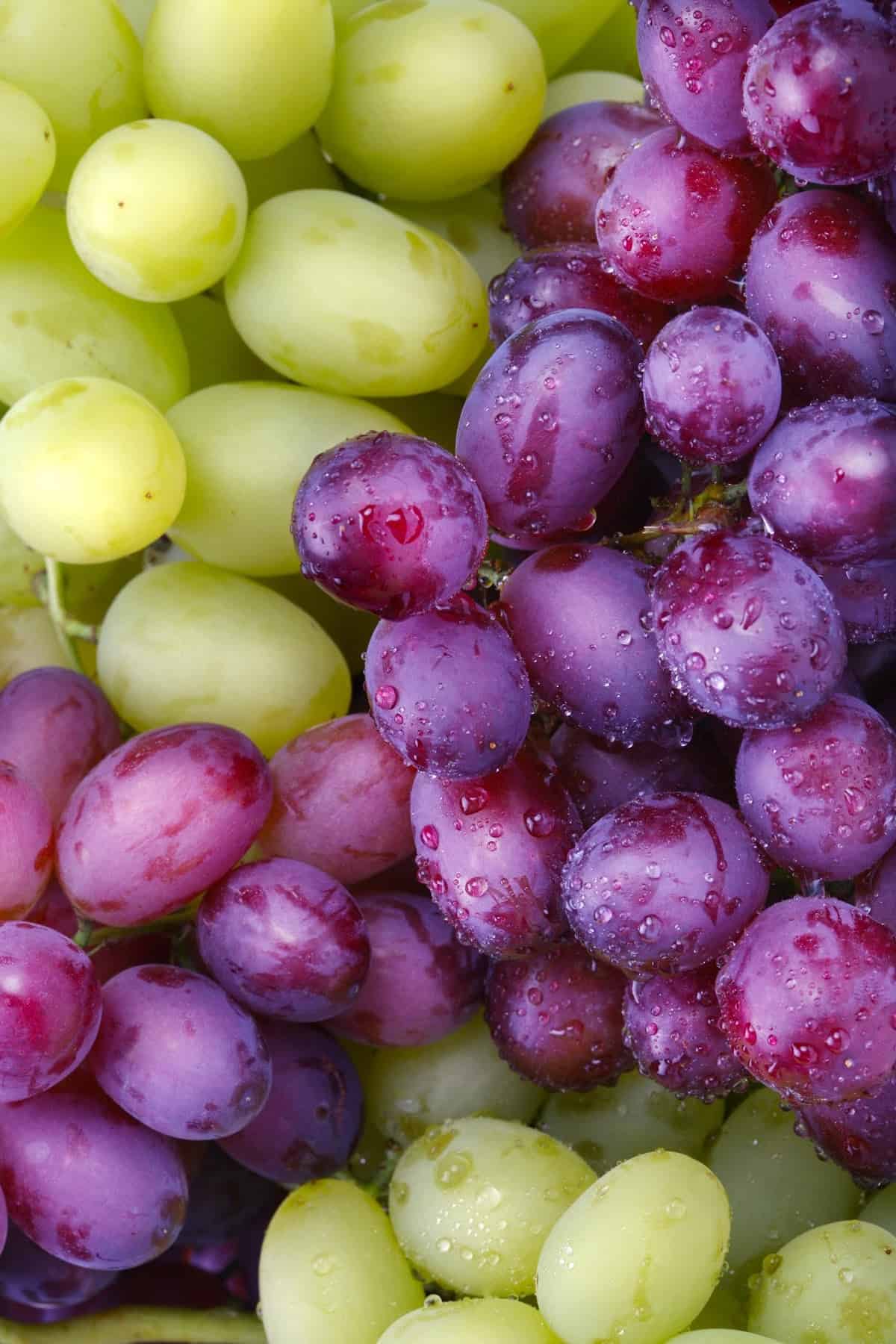 Quick Facts About Carbs & Ketosis
The ketogenic diet is based on a very low carb intake and high fat intake. It puts the body in ketosis, which involves breaking down fat for fuel instead of carbs.
The recommended daily carb intake for keto dieters is between 20-50g. I know thats a wide range, but since each person is different, the limit varies.
Grapes Nutrition Facts
Grapes are delicious and nutrient-packed fruits, despite their keto-unfriendly properties. Specifically, they are rich in essential vitamins, copper, and much more.
On average, one cup (151g) of grapes contains the following:
Carbs-27g
Calories-104
Fat-0.2g
Proteins-0.2g
Fiber-1.4g
Copper-21% of the Daily Value (DV)
Vitamin B2 (Riboflavin)-8% of the DV
Vitamin K-18% of the DV
Potassium- 6% of the DV
Vitamin B1 (Thiamine)-9% of the DV
Vitamin C-5% of the DV
Manganese-5% of the DV
Vitamin B6-8% of the DV
How Many Carbs Are in a Cup of Grapes?
A cup of grapes (151g) has 27 total carbs. If you subtract the 1.4g dietary fiber, you'll have about 26g net carbs in one cup of grapes.
Are Different Types of Grapes Keto?
Different grapes have different carb counts. So, the next question you might have is, are green grapes keto-friendly? Or, what about the concord ones?
Although different types of grapes have varied carb content, facts show that all grapes are high in carbs, making them not a good option for keto.
A keto dieter requires between 20-50g carbs daily to maintain ketosis. A cup of grapes contains more than 20g net carbs on average, so incorporating these fruits into your diet will be tricky.
Below are various types of grapes and the corresponding number of carbs per cup (appx. 150g).
Cotton Candy Grapes-30g total carbs, 2g fiber, 28g net carbs.
Flame Seedless-24g total carbs, 1g fiber, 23g net carbs.
Concord Grapes-15.8g total carbs, 0.8g fiber, 15g net carbs.
Black Muscat-96g total carbs, 9g fiber, 87g net carbs.
Moon Drops-27.6g total carbs, 1.4g fiber, 26.2g net carbs.
Crimson-23.6g total carbs, 1.1g fiber, 22.5g net carbs.
Thompson Seedless-27.9g total carbs, 0g fiber, 27.9 net carbs.
Autumn Royal-26g total carbs, 1.6g fiber, 24.4g net carbs.
6 Alternatives to Grapes on Keto & Low-carb
Are you sad that you cannot have your delicious grapes without compromising your low-carb or keto goals?
Worry no more. You can still enjoy other comparably yummy fruits minus the extra carbs.
Here are some low-sugar and low-carb fruit alternatives to grapes (and some recipes that use them):
1. Cantaloupe
This fruit is a close relative to honeydew and the famous watermelon. It's tasty and low carb with a 156g-serving containing 11.2g net carbs.
You can use it to make these creamy keto cantaloupe popsicles.
2. Raspberries
Apart from being low-carb, raspberries are nutrient-packed and have numerous health benefits.
One cup (123g) of these berries has 7g net carbs, making them suitable for a keto diet.
You can turn them into keto raspberry sauce, which goes well on top of cheesecake and keto pancakes.
3. Strawberries
These fruits will appease your sweet tooth and keep ketosis going.
Here's the best part, one cup (152g) contains 8.7g of net carbs so it's easy to fit them into your keto menu.
One of my favorite strawberry recipes is low-carb strawberry shortcake.
4. Lemons
Well, I wouldn't consider lemons yummy on their own, but they'll certainly tickle your taste buds and serve your keto goals. Did you know that one lemon has just 4g net carbs? That's a big deal. I personally prefer adding lemon to things like my sugar-free lemonade, keto lemon pound cake, and keto lemon cheesecake.
5. Watermelons
Wait a minute, watermelon is sweet, juicy, and still low-carb?! Life can't get any better. A 152g-cup serving of this amazing fruit contains 10g net carbs.
This might be a little high for strict keto folks, but they're still low-carb and a great option for things like watermelon pizza.
6. Avocado
Avocado is the king of keto. It's high in healthy fats and fiber. Avocados are yummy, filling, and can be part of most keto dishes.
What I love most about these fruits is their ridiculously low carb content with one serving (100g) having as little as 1.5g net carbs. Plus, it can be used in sweet and savory recipes like guacamole and chocolate pudding.
FAQs
How many grapes can I eat on keto?
This depends on your goals. Considering the carb count, most keto people would say none.
Are green grapes OK on keto?
You can decide for yourself about whether or not to add grapes to your day. But, you should know that all varieties of grapes have at least 27g of carbs per cup. Since most keto people have 20g-50g of carbs per day, this doesn't seem like a good option for keto.
Final Thoughts
Are grapes keto? No. Does it bother me? Not that much. You may not freely enjoy your favorite grapes on keto, but like most things, there are substitutes. The alternative fruits discussed here will entertain your taste buds without throwing your keto goals out the window.