This post may contain affiliate links to products I use and highly recommend. You can read my full disclosure .
Keto Christmas Cookies almost sound like an oxymoron. But, did you know you can re-create all your favorite cookie recipes (like keto chocolate chip skillet cookies) without wheat and refined sugar?
No need to go reinventing the wheel. I've rounded up all the best Keto-friendly Christmas cookies I could find and placed them right here so you can gather your ingredients and start baking.
In terms of main ingredients, almond flour and coconut flour steal the show. Using one or the other (or sometimes combining them!), you can achieve classic crispy cookies or chewy, melt-in-your-mouth goodness.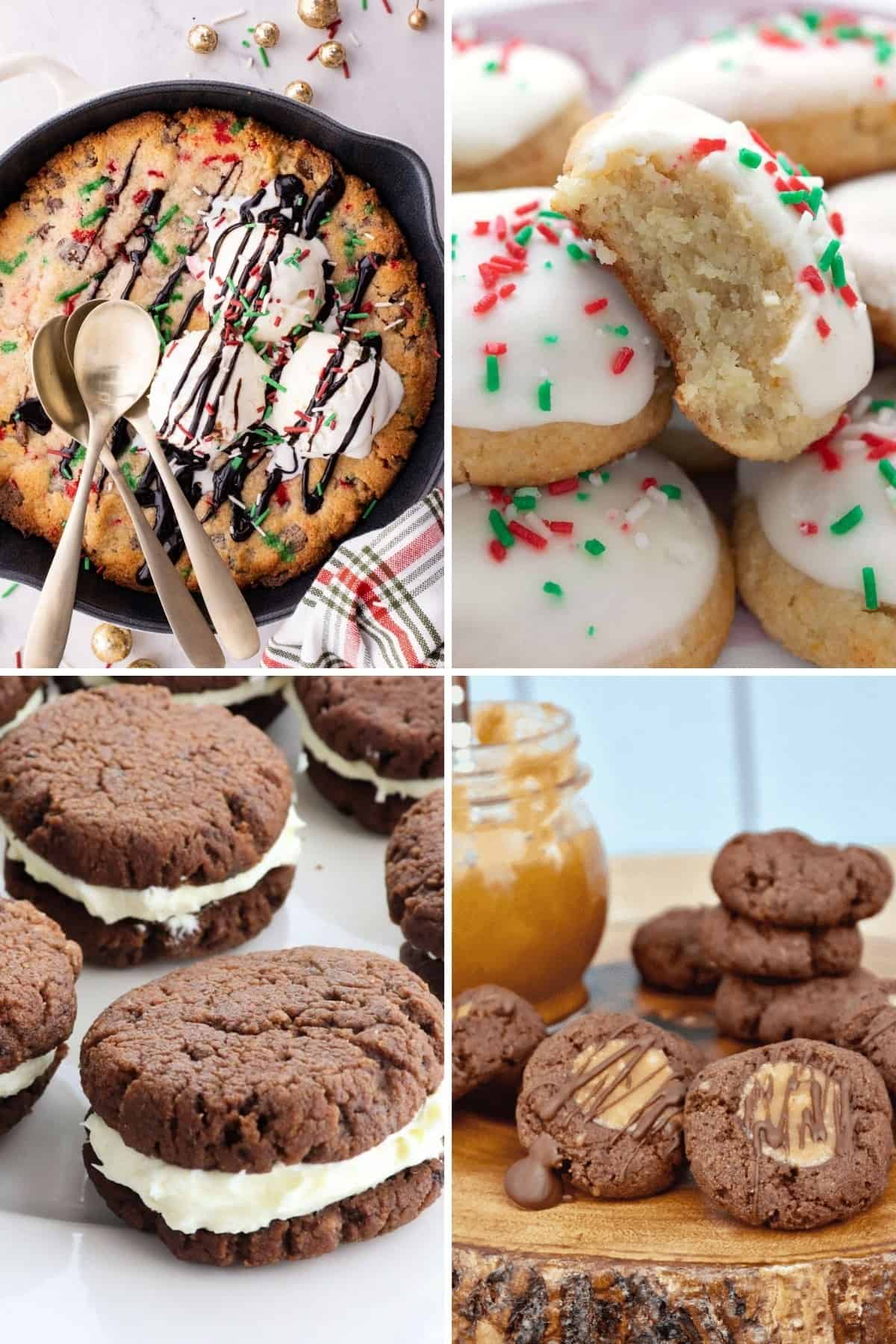 Why do you need low-carb Christmas cookie recipes?
In this day and age, it seems like everyone is becoming more aware of what foods fuel their bodies the best.
Oftentimes, our friends and family members will also have dietary restrictions or allergies. And, we want to make sure they feel welcome in our homes and can enjoy everything we cook.
I like to take the time to find out ahead of time what works best for them and try and find recipes that we can all enjoy together. So besides having a collection of Keto Christmas dinner recipes, I find having low-carb and Keto-friendly Christmas cookies on hand (many of these recipes freeze well!) means I take care of our wide range of needs.
And besides them, it also means that we all can have less sugar in this festive season.
All of these cookies pair well with a glass of regular, almond or coconut milk. You might also want to mix them by pairing them with my Keto Coquito, Keto White Hot Chocolate or Sugar-free Hot Chocolate.
Can you make Low Carb Christmas cookies with coconut flour?
If you are allergic to almonds, then I know, you need recipes that are made with coconut flour only. I also know that finding recipes that use coconut flour all by itself is a bit of a challenge.
Fortunately, the Keto Peanut Butter Chocolate Chip Skillet Cookie looks amazing and has just a few ingredients, including coconut flour.
You can also buy a low-carb coconut flour cookie mix. My personal favorite comes in snickerdoodle and sugar cookie. And, I've used it as a good starting point for adding things like sugar-free chocolate chips and shredded coconut.
Are any of these cookies dairy-free and vegan?
Even though I'm not a vegan, I recognize that there are several people who are following a vegan or vegetarian keto lifestyle. This post includes two options for you to enjoy.
Specifically, the Vegan Keto Pumpkin Cookies look absolutely amazing! By nature of being vegan, these are also dairy-free.
Keto Christmas Cookies Recipes
Easy low carb and keto Christmas Cookies recipes that allow you to be refined sugar free and grain free over the holidays. Most of these Christmas Cookies recipes are also gluten-free.