This collection of Low Carb & Keto Mexican Food recipes has everything including rice, meaty main dishes, margaritas and tortillas. It's perfect for Cinco de Mayo & your weekly meal prep. As you read through this list of tempting recipes, I hope you feel inspired to try a few – or all. And, if you find one you truly adore, I'd love to hear all about it! Besides recipes, you'll notice a few tips for eating Mexican food while out.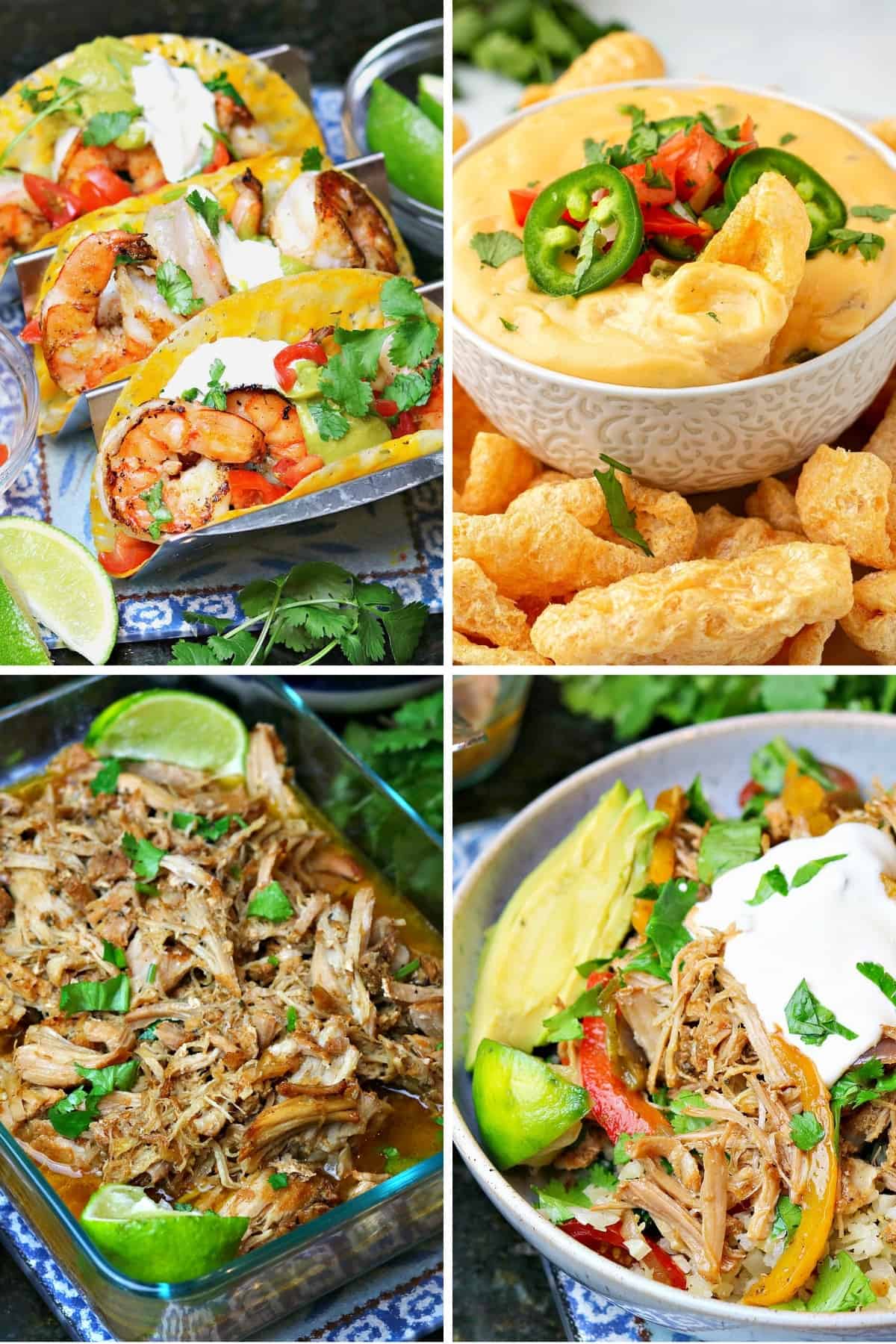 Best Keto Mexican Food Options:
Meats – However, be cautious of processed meats. They often contain hidden sugars and grains. Always check the label.
Cheese & Queso – Great for adding healthy fat. Enjoy queso as a topping or a dip for pork rinds or fresh vegetables!
Fresh Salsas – Check labels for carb grams if store-bought. Better yet, make your own with fresh ingredients!
Foods to Avoid When Ordering Out:
Fruity Margaritas – Unless made with sugar-free fruit-flavored mixers.
Beans – Although high in fiber, beans are very high in carbs.
Tortillas – Although there are great low-carb versions – homemade and in stores.
Rice – But cauliflower rice is a great substitute.
Low Carb & Keto Mexican Food Recipes
If you love a no-fuss meal, then this one is a perfect choice. In this recipe, I use Adaptable Meals Carnitas to make an easy meal prep protein.
If you love tacos but have no idea how you can have the wraps without the grains, then try cheese taco shells. In this quick recipe, I pair pan-seared shrimp, simple toppings, and cheese shells to make a meal.
One great way to find success with the keto way of life is by prepping your meals in advance. With that in mind, these beef burrito bowls are easy to make to have ready to eat for lunches or dinners or whenever you need something delicious.
If you start missing the taco salads from your favorite Mexican eatery, my delicious "make at home" version will definitely satisfy you. With so many toppings to choose from, there is no way to feel deprived!
Frittatas are wonderful. Simple and versatile, there is no limit to the flavors you can make – including a drool-worthy Mexican dish like this one. The secret to the whole thing is the chorizo, which could be its own food group, it is so good!
Nachos are one of those foods that many of us simply can't live without. The good news is, you don't have to! With my loaded Keto Nachos, you'll get all the cheesy goodness and crunch you are craving, in a completely keto-friendly package!
For those of us who enjoy a nice cocktail from time to time, there are some wonderful keto-friendly options. With a little creativity, I came up with this delicious Keto Mojito that I truly enjoy. To stick with the Mexican Food theme of this post, you should swap the vodka for tequila!
This easy side dish recipe takes just 3 main ingredients. It pairs well with so many proteins like chicken, shrimp, halibut, and strip steak to make a meal.
Cheese is so tasty and wonderfully versatile. It is amazingly melted over any number of foods. And this recipe shows you that it's pretty easy to crisp it up to use it for taco shells!
Whether you are eating Keto or Whole30, quick, easy, and truly satisfying meals are a treasure. When you taste all the wonderful flavors involved with my Mexican Whole30 Shrimp Salad, you might be tempted to have it for every meal. All this, and healthy, too!
If chile Rellenos are one of your favorite things on the planet, you will be thrilled with these stuffed poblano peppers. You get all those amazing flavors, but this recipe won't make you blow your keto way of eating!
This Spanish Cauliflower Rice is so easy to make. It's one of my favorite side dishes. Mix in ground beef, chorizo or pan-seared shrimp to make a meal.
I don't know about you, but one of my favorite things about keto is cheese. And this easy queso dip is the ultimate cheese comfort food. Pair this with veggies, low carb tortilla chips, chunks of chicken or meat, or simply lick it off your fingers.
Chicken can be one of the most comforting foods around, depending on how it is prepared. And that is certainly true with this Creamy Mexican Chicken, cooked tender in a crockpot with tomatoes, green chili, and sour cream. Delicious alone or with low carb tortillas and cauliflower rice!
Tacos are one of those Mexican foods that are really easy to make Keto, and this recipe proves that. Simply using lettuce leaves in place of taco shells is a big part of it. But when filled with delicious ingredients, you get all the satisfaction without the carbs!
Another quick and easy Keto Burrito bowl, this one features homemade taco seasoning and a packet of Goya Sazon. Quick to prepare, this yummy burrito bowl makes a great meal in very little time!
Sometimes you'd like to meal prep some tasty chicken fajitas instead of a burrito bowl, and this low carb Mexican recipe is one delicious option. Cook it up in advance and enjoy amazing chicken fajitas all week long!
If you are craving the flavor of a margarita, but want to avoid the carbs and alcohol, this recipe is the answer. The all-natural ingredients come together to make a delicious, sugar-free treat you won't be able to resist.
If you love enchiladas, you'll be happy to know that this enchilada casserole is grain-free, keto-friendly, and so delicious that you won't even miss the tortillas. Try it with all your favorite low carb toppings!
If you love green chilies, this is the soup for you. The combination of chicken, cheese, and green chili is incredible, and you can easily make this in a pressure cooker or slow cooker, making it a great choice for busy families!
This tasty keto Mexican food recipe is delicious and simple enough to make on busy family evenings. Yummy enough that even picky kids will like it, this might just become one of your new favorite meals.
Deviled eggs are one of the most comforting and delicious low carb snacks. But when you give them a Mexican edge, they really get your attention. You might never want the regular kind again.
If someone simply placed this lasagna in front of you, you may not even realize that it was low carb. Made with cauliflower tortillas, this Mexican lasagna is cheesy and delicious in all the ways that a good lasagna should be!
This recipe takes just 15 minutes and each tortilla is just 2g net carbs.
Guess what? You don't have to live without Margaritas when you are eating low carb or keto! This skinny Margarita recipe is sugar-free, contains 5 ingredients, and whips up in about 5 minutes. What's not to like?
This smokey Mexican Shredded Beef cooks low and slow. You can add a cauliflower rice side dish, avocado, and fajita veggies to make a meal.
Have leftover taco meat? Make it a low carb Mexican food meal with these easy bowls.
FAQs