This post may contain affiliate links, which help keep this content free.
See Disclosure
A quick recipe for chicken breast that uses just four spices and is done in less than 15 minutes. Perfect for topping on Caesar salad or as a protein for meal prep.
I love a quick meal, especially when I'm busy. This one came to me by accident. My Italian Seasoning jar lid was not on tight so it fell off when I tried to use it. This left what seemed like a mountain of Italian seasonings on my chicken breast. Even though I considered washing the chicken off and starting again, I decided to just keep it and it turned out amazing! The Italian spices give the chicken a quick burst of flavor, which is perfect since I didn't have time to marinate the chicken. I enjoy 4-Spice Chicken Breast with Caesar Salad and in cauliflower rice bowls. If you have about 15 minutes then this is a recipe for you!
This recipe makes 2 servings.
I love using this chicken on dinner-sized salads and as a protein for cauliflower rice bowls. Since we tend to need slightly more than a moderate amount of protein, this was enough for 2 large salads.
This recipe uses Butcher Box, free-range organic chicken breast.
I like to buy organic & free-range meat when possible because it tastes better and is better for me. Free-range & organic chickens live better lives doing what animals are meant to do: roam the earth and eat things produced in nature. They're also free from things like hormones and antibiotics. But, if you've ever checked the prices of free-range and organic meats in the market, then you know it can get pretty expensive per serving. For my family, it works out better to buy a monthly box from Butcher Box. The box works out to be less than $6.00 a meal & it lasts us at least a few weeks. If you're interested in Butcher Box, you can always get $10 off your first box and a package of FREE, no-sugar bacon using my link.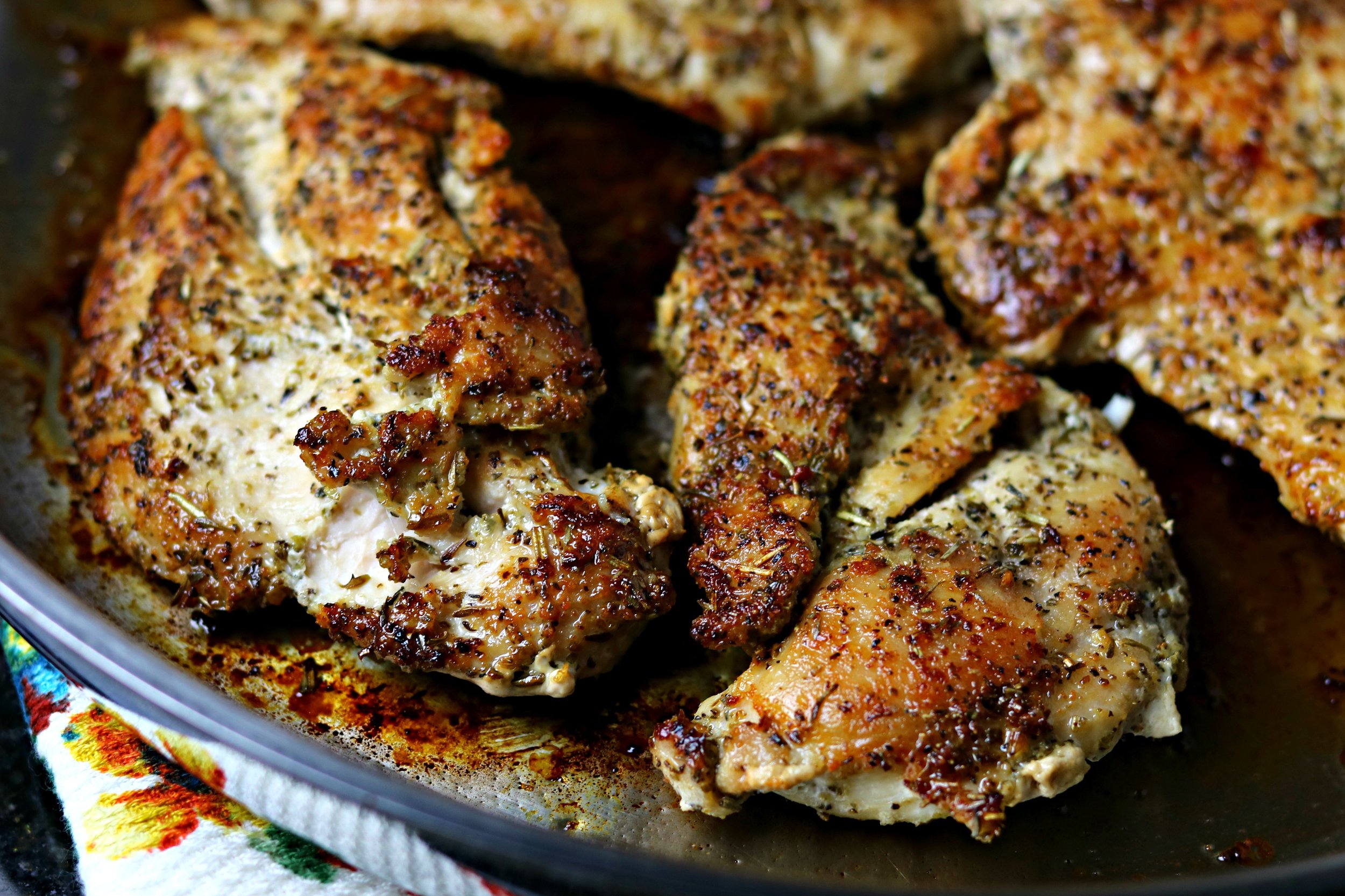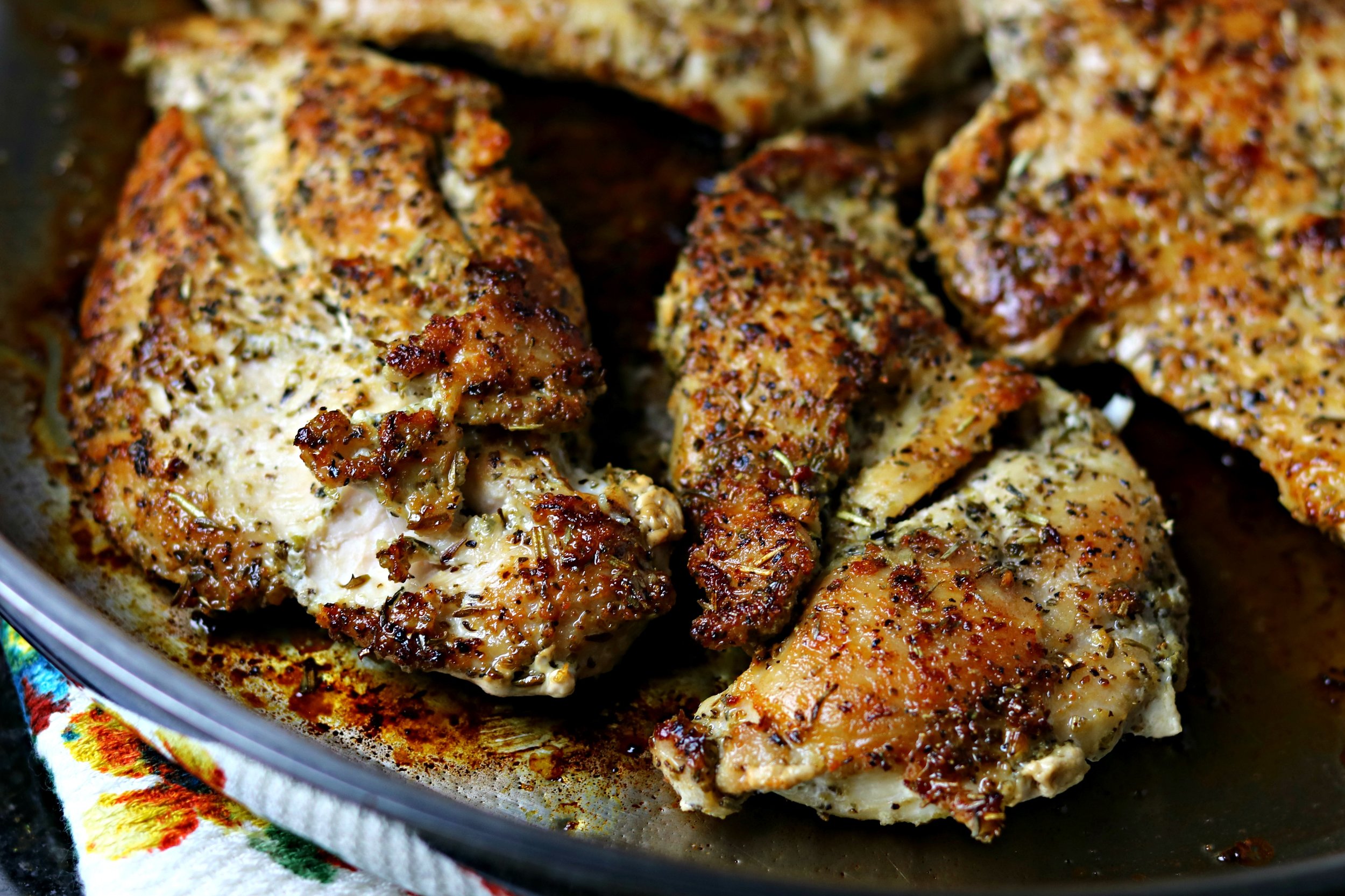 Instructions
Mix all of the spices in a small bowl (so that they get incorporated evenly) and sprinkle them on the chicken breast

Heat olive oil in a frying pan or skillet

Cook the chicken breast for 4-5 minutes per side (only flip the chicken once)

Remove from the skillet from the heat and allow the meat to rest for 5 minutes before cutting.
Recipe Nutrition Facts
Nutrition Facts
4-Spice Chicken Breast (Quick, Keto, Low-carb, Dinner for 2)
Amount Per Serving
Calories 547
Calories from Fat 108
% Daily Value*
Total Fat 12g 18%
Cholesterol 290mg 97%
Sodium 2855mg 119%
Potassium 1799mg 51%
Total Carbohydrates 7g 2%
Protein 97g 194%
* Percent Daily Values are based on a 2000 calorie diet.
Did you make this recipe?
Use #DrDavinahS when posting your photo of this dish, and follow @DrDavinahS on Instagram