A recipe for The Best Low Carb Carrot Cake without grains and added sugar that cuts carbs from 74g net to just 7g net per slice! Includes a video tutorial.
This post may contain affiliate links to products I use and highly recommend. You can read my full disclosure .
I made my first carrot cake a few Thanksgivings ago because it's a favorite for two of my favorite people: my husband and mother! This cake was super moist and delicious, but it had more than 74g of net carbs per slice, which is the equivalent of like 4 days of carbs for most keto and low-carb folks (yikes)!
For my husband's birthday, I made some swaps and changes to the original recipe to create the best low carb, carrot cake! Being honest, this cake was super moist and delicious and tasted very close to the original. An added bonus of this low carb carrot cake remake was that it only had about 7g of net carbs per slice – a real win! I'm sharing this recipe for all of the carrot cake lovers that are searching for grain-free, no-sugar-added, and low carb carrot cake alternatives.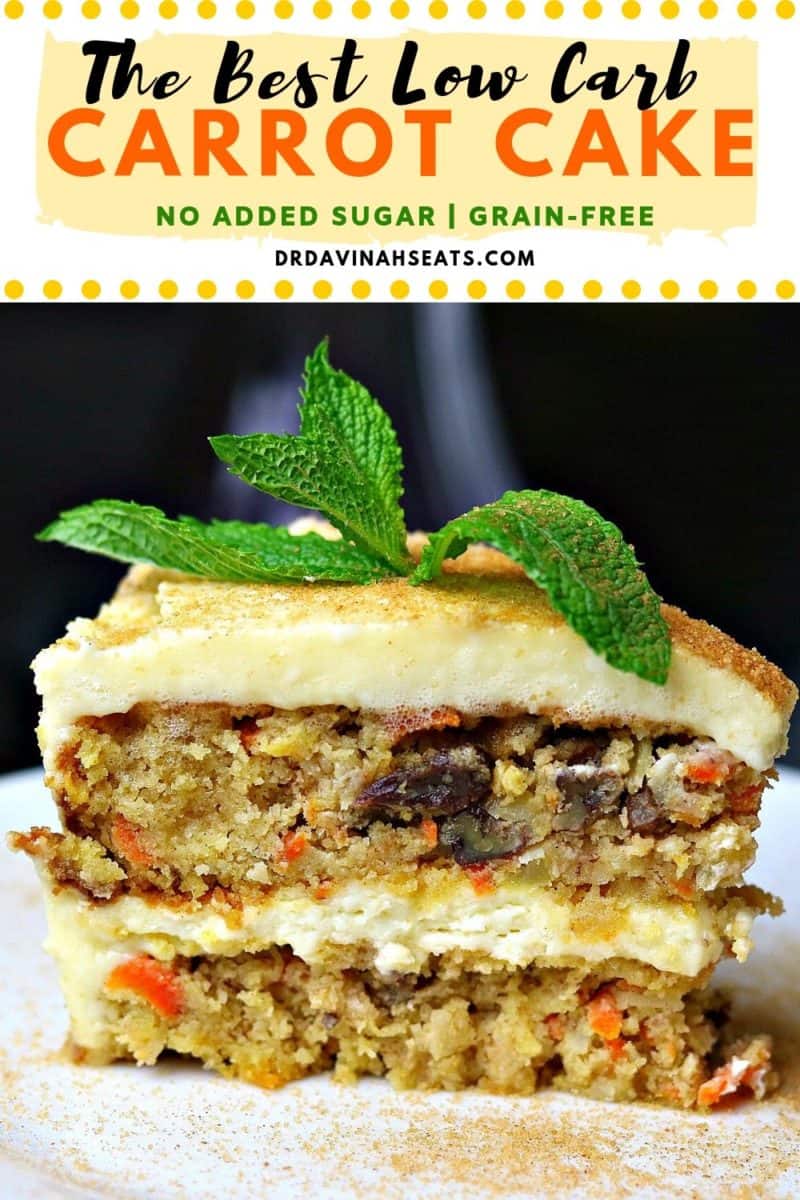 This recipe makes a double layer, 9-in cake with enough frosting for decorations.
I had so much fun making this cake and tried to do a bit of decorating! Using green and orange food coloring, I attempted to make his cake look like I've seen in the store! I'm keeping one of the pictures here even though I've updated this post since because it makes me smile!
What is included in this low carb carrot cake?
This cake includes almond flour and erythritol as substitutes for sugar and white flour. Sugar and white flour are two of the quickest ways to add carbs to a dessert recipe. It also includes carrots, pineapples, and raisins, which some might argue are foods to avoid on keto. While I agree and aim to limit the number of carrots, pineapples, and raisins that I eat, this recipe focuses on reducing carbs to have the best low carb and keto-friendly replacement for carrot cake.
How many servings are in this cake?
This is a double-layer, 9-inch cake with the ability to serve between 16-30 slices. I was able to get 20 slices from this cake by cutting it into quarters, then cutting 5 slices into each section. If you want to get 28-30 slices, then you'll have to cut this cake into smaller square-like sections.
The nutrition facts are for 20 slices.
Is this almond flour cake keto-friendly?
Yes! Cuts Carbs & Sugar
Yes. This cake cuts carbs and sugar by using almond flour and erythritol (keto-friendly substitutes). It also has 8g net carbs a slice. Since keto is a metabolic state and not a food, then this cake is keto.
Remember, this is a treat!
With that said, this cake is a treat and should be enjoyed in moderation. Personally, I make this cake twice a year – my husband's birthday and Thanksgiving.
What about the carrots, pineapple & raisins?
I modified an existing recipe that I love to make a low carb, grain-free version of carrot cake that was better for me. The changes included using No Sugar Added, unprocessed fruits. You can choose to omit pineapple & raisins if you choose.
Do you have to make Keto Carrot Cake in the oven?
No! In fact, one recipe that I've been meaning to try out is this Keto Instant Pot Carrot Cake. This cake a bit smaller than the one I'm sharing. But, would be a perfect option, if you are not making a cake (as I was) to celebrate a birthday.
Want more keto & low carb dessert recipes? Try these: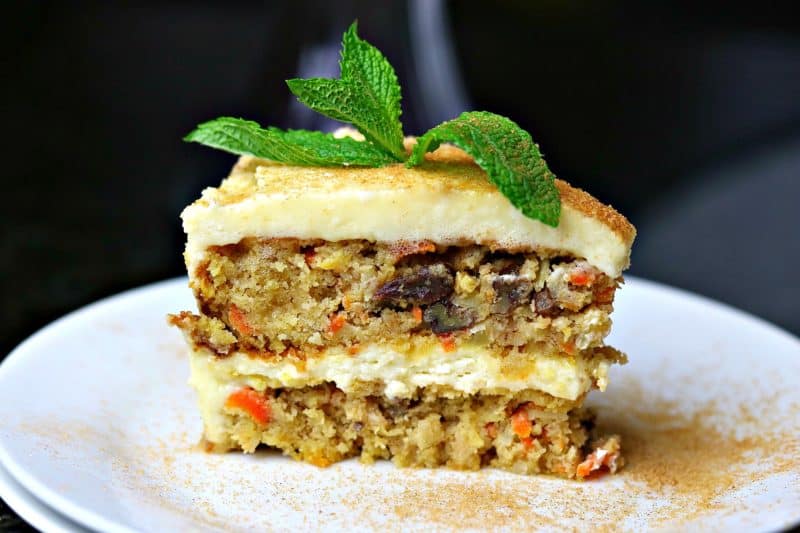 A recipe for The Best Low Carb Carrot Cake without grains and added sugar that cuts carbs from 74g net to just 7g net per slice! Includes a video tutorial.
Want to share this recipe?
To spread the word about this recipe, please save it to Pinterest, share a link to it, or rate it if you loved it. Please do not copy & paste (or screenshot) my recipes to social media or other websites.
Ingredients
Instructions
Preheat the oven to 350 degrees.

Whisk dry ingredients together in a small bowl. Set aside.

Whisk wet ingredients together in a large bowl (enough for the whole batter). Set aside.

Mix the filling ingredients. Set aside.

Add the dry ingredients to the wet ingredients. Fold in with a spatula.

Fold in the filling ingredients.

Divide the batter into 9in cake pans. Slam the cake pans to level the batter.

Bake in a preheated oven until a toothpick or fork comes out clean (30-40 minutes). Allow to cool for 30 minutes (at least) before frosting.

Mix all of the frosting ingredients in a stand-mixer (~3 minutes)

Frost and design the cakes as you please.
Recipe Nutrition Facts
Nutrition Facts
The Best Low Carb Carrot Cake (Grain-free and No Sugar Added)
Amount Per Serving
Calories 413
Calories from Fat 360
% Daily Value*
Fat 40g62%
Cholesterol 116mg39%
Sodium 271mg11%
Potassium 226mg6%
Carbohydrates 10g3%
Protein 7g14%
Vitamin A 3080IU62%
Vitamin C 5mg6%
Calcium 90mg9%
Iron 1.1mg6%
* Percent Daily Values are based on a 2000 calorie diet.
Did you make this recipe?
Share your photos & mention @DrDavinahS! I love seeing them!
Nutritional Disclaimer
The nutritional information comes from Spoonacular API, a database of food ingredients. The nutritional information for any recipe will vary based on the exact product you use and the brand. I do not include erythritol or sugar alcohols in the final carb or net carb count as it does not have any impact on my blood glucose levels. Before starting keto or a low-carb eating plan, you should consult your doctor. I am sharing my personal experiences and none of the information included in my recipes or throughout the site should be taken as medical advice.