This post may contain affiliate links to products I use and highly recommend. You can read my full disclosure here.
Click below to share this!
My easy keto French toast sticks will satisfy any French toast craving while keeping your carbs in check. Perfect for those who enjoy egg loaf, but want it to taste more bread-like.

Are you doing keto but missing French Toast? Prior to starting keto, I loved French toast. It was one of the hardest things to give up. But, with my keto-friendly version of French toast sticks, you don't have to give them up just because you follow a keto diet. My Keto French Toast Sticks recipe uses a modified egg loaf with coconut flour and my homemade keto cinnamon sugar. It's perfect if you want to make a keto breakfast with common pantry ingredients and is a great option for keto kids. Besides the recipe, this post describes what an egg loaf is; outlines how to make low carb French toast sticks using egg loaf; and gives some suggestions for toppings.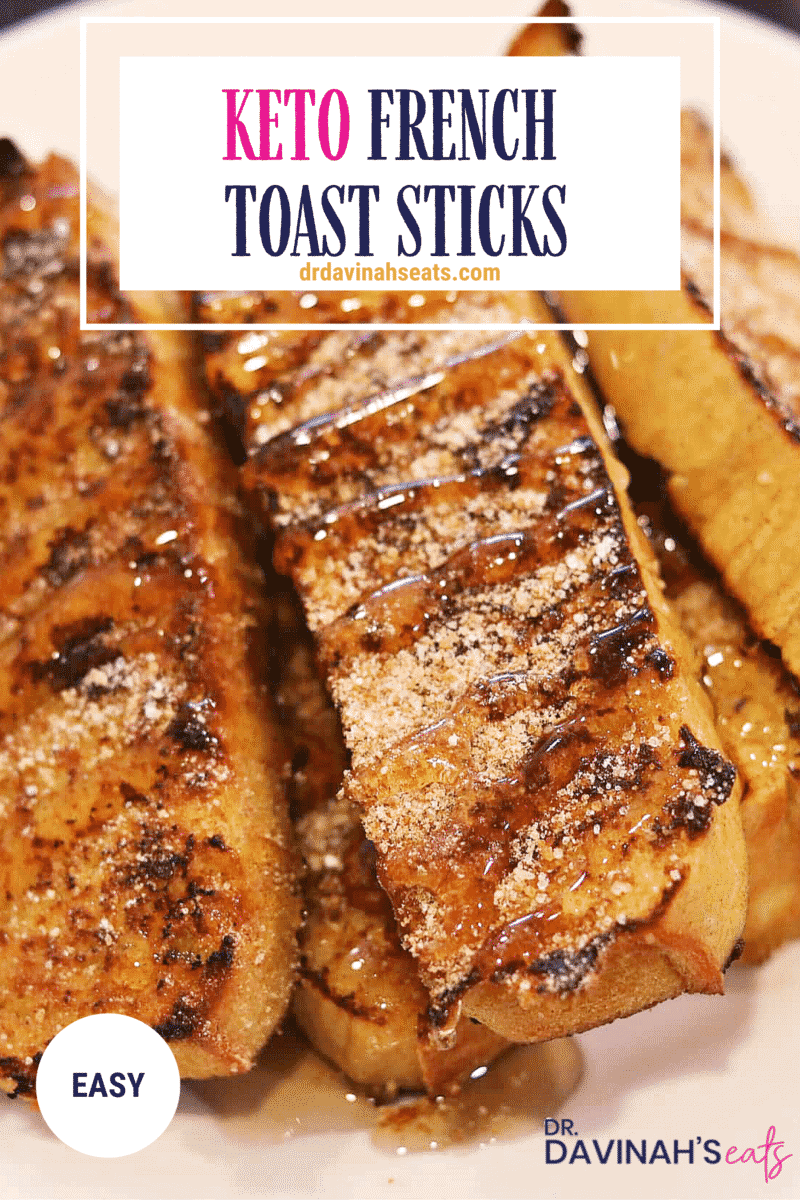 How to make Keto French Toast
Traditional French toast is made with bread slices soaked in eggs and milk. Some recipes include other ingredients like cinnamon and sugar. Of course, traditional French toast is not keto friendly, meaning that myself, and many others, have had to cut it out of our diet.
That is, until the egg roll recipe that includes eggs and cream cheese became famous all over Instagram. But, if I'm honest, the famous low carb egg roll recipe isn't my favorite. The recipe creates a soggy feel to the bread, which doesn't work for me.
So I modified the recipe to help create more of a bread-like feel. To this, I added coconut flour, baking powder, and vanilla. Now I am a believer in the egg loaf.
What is an Egg Loaf?
An egg loaf was one keto answer to eating traditional bread. Egg loafs consist of two to three ingredients: eggs, cream cheese, and butter. When made as is, egg loafs can end up soggy. It also has a tendency to deflate some after cooking. It does a fine job at cutting the carbs, but in my opinion lacks in terms of texture and mouthfeel.
In my variation, the egg loaf's texture is closer to real bread consistency and will hold its shape because of the added, keto friendly coconut flour and baking powder.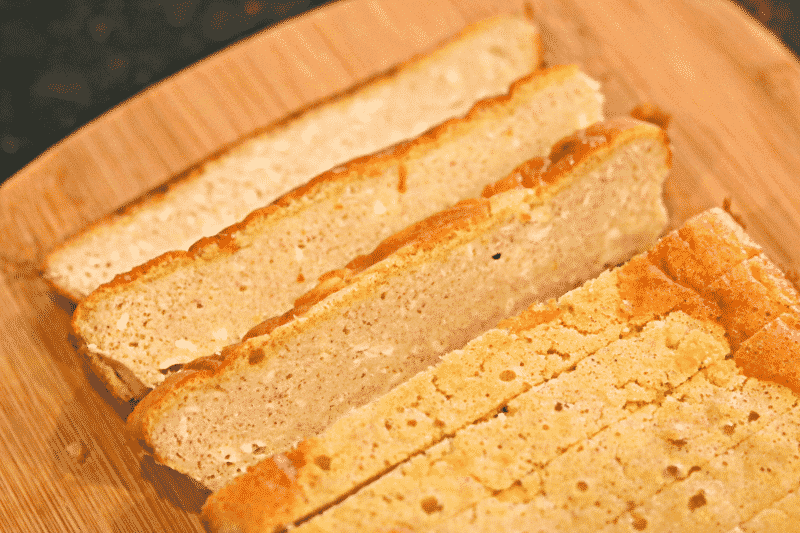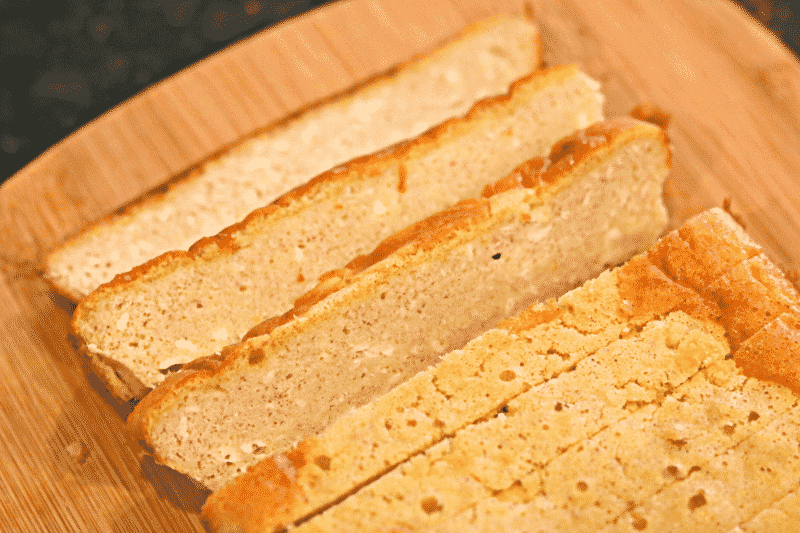 Make Keto Egg Loaf that tastes more like Bread!
Probably one of the best things about my keto egg loaf is just how easy it is to make. In fact, it's a two step process. If you don't have a stand mixer, you can use a large bowl and hand mixer.
First, add the large eggs, softened cream cheese, butter or ghee, coconut flour, vanilla extract, baking powder, and Granula Monk Fruit Erythritol to the bowl of a stand mixer and beat until smooth.
Then you just add the batter to a greased loaf pan and bake for 40 minutes at 350 degrees.
That's it!
Once it has baked through, remove from the oven and let it cool before cutting into it.
When the egg loaf is cooled, you can slice it like any ordinary bread. You then toast the slices in butter in a pan to create the French toast sticks with the loaf.
How many carbs in French Toast?
Before even taking into account most toppings that you'd probably add like syrup, traditional French toast has about 32 net grams of carbohydrates. This number can vary based on the serving size and added ingredients and exact recipe.
My keto French toast sticks using the egg loaf has only 6 net grams of carbohydrates. Even with my suggested toppings, you aren't adding to your carb intake so you can stay in ketosis, making these French toast sticks an excellent choice for your keto diet needs. Your tastebuds will thank you!
What if I don't want to use Egg Loaf?
The traditional egg loaf was not my thing either. That's why I modified it to have a more bread-like texture in my recipe. But if you really don't want to use an egg loaf, you can try one of these options.
Sola bread is one substitute you can make to the recipe. Sola bread is one of the closest equivalents to traditional bread I have found.
To make this dish with Sola, just use the directions for my Low Carb Stuffed French Toast. But if you follow this recipe, skip the filling.
Keto-friendly French Toast Toppings
Who doesn't want to add some toppings to their French toast? The good news is, you don't have to look for other recipes for keto-friendly toppings. I've included them below. And they are both very easy to make.
Keto Whipped Cream
Keto whipped cream is the perfect topping for keto French toast. Here's how to make it:
Add the heavy cream, Granular Monk Fruit Erythritol, and vanilla extract to the bowl of a stand mixer*

Use the whipping attachment and whip at medium-high speed until stiff peaks form, which is about 3 to 5 minutes.
*TIP: If you don't have a stand mixer, you can use a large bowl and hand mixer.
Keto Cinnamon Sugar
Keto cinnamon sugar is very easy to make. All you need is a small bowl, Granular Monk Fruit Erythritol, and ground cinnamon. You can use a spoon or even a fork to give it a quick mix. Then, when the keto French toast sticks are ready, you can sprinkle it right on top.
Other Keto Breakfast Ideas
Shortly after making keto French toast sticks, I took my recipe to the next level. You should definitely try these Strawberry Shortcake French Toast. They were the bomb! It's an amazing variation of these Keto French Toast Sticks with sugar-free whipped cream and a 4-ingredient Strawberry sauce.
If you prefer your French Toast stuffed, then you should check out this Low Carb Stuffed French Toast!
And if French toast is not your thing, you can try any of these breakfast recipes: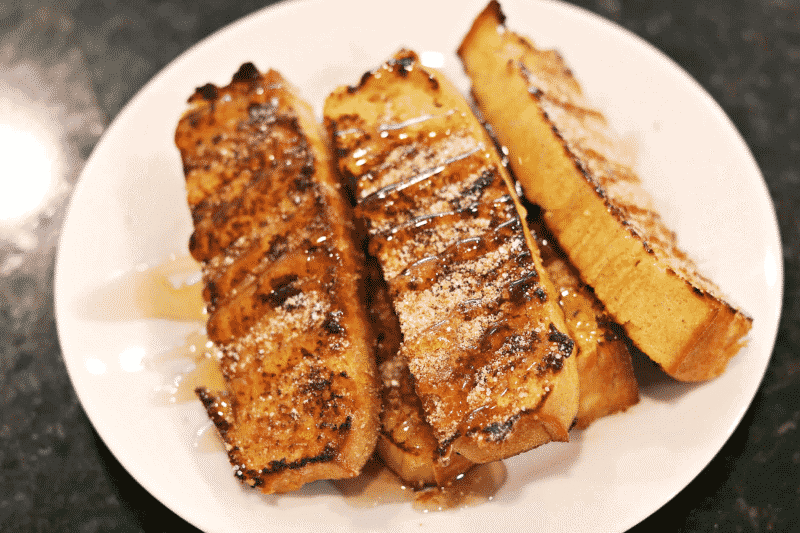 Total Time:
1
hour
20
minutes
My easy keto French toast sticks will satisfy any French toast craving while keeping your carbs in check. Perfect for those who enjoy egg loaf, but want it to taste more bread-like.

Want to share this recipe?
To spread the word about this recipe, please save it to Pinterest, share a link to it, or rate it if you loved it. Please do not copy & paste (or screenshot) my recipes to social media or other websites.
Instructions
Preheat your oven to 350 degrees

Add all ingredients for the Easy Sweet Egg Loaf to a stand-mixer and beat until smooth (it will look like cake batter).

Add the batter to a greased loaf pan (I sprayed coconut oil in my 360 Cookware Loaf Pan)

Bake for 40 minutes then allow it to cool

All of the ingredients for the Keto Whipped Cream to a stand-mixer and whip on medium to high until a stiff peak forms

To make the French Toast sticks, heat a skillet to medium heat

Slice the Easy Sweet Egg Loaf into 16 slices

Toast both sides of slices in butter

Top with additional Cinnamon Sugar and Whipped Cream
Recipe Nutrition Facts
Nutrition Facts
Keto French Toast Sticks
Amount Per Serving
Calories 464
Calories from Fat 378
% Daily Value*
Fat 42g65%
Cholesterol 350mg117%
Sodium 378mg16%
Potassium 223mg6%
Carbohydrates 9g3%
Protein 12g24%
Vitamin A 1370IU27%
Vitamin C 0mg0%
Calcium 133mg13%
Iron 1.8mg10%
* Percent Daily Values are based on a 2000 calorie diet.
Did you make this recipe?
Share your photos & mention @DrDavinahS! I love seeing them!
Nutritional Disclaimer
The nutritional information comes from Spoonacular API, a database of food ingredients. The nutritional information for any recipe will vary based on the exact product you use and the brand. I do not include erythritol or sugar alcohols in the final carb or net carb count as it does not have any impact on my blood glucose levels. Before starting keto or a low-carb eating plan, you should consult your doctor. I am sharing my personal experiences and none of the information included in my recipes or throughout the site should be taken as medical advice.