This post may contain affiliate links to products I use and highly recommend. You can read my full disclosure here.
Click below to share this!
A gluten-free, low carb dessert recipe featuring keto lemon cheesecake, a lemon cookie crust & a quick blueberry topping. This is a dessert lover's dream!

Keto Lemon Blueberry Cheesecake Bites are the perfect low carb dessert all year round. Each bite includes a keto lemon cheesecake base with a grain-free lemon cookie crust, and a quick, no sugar added, blueberry sauce. I make these in muffin cups so that they're pre-portioned and easy to share. If you're a fan of lemon and blueberry cakes and searching for low carb sweets, then this gluten-free cheesecake will be a welcomed twist.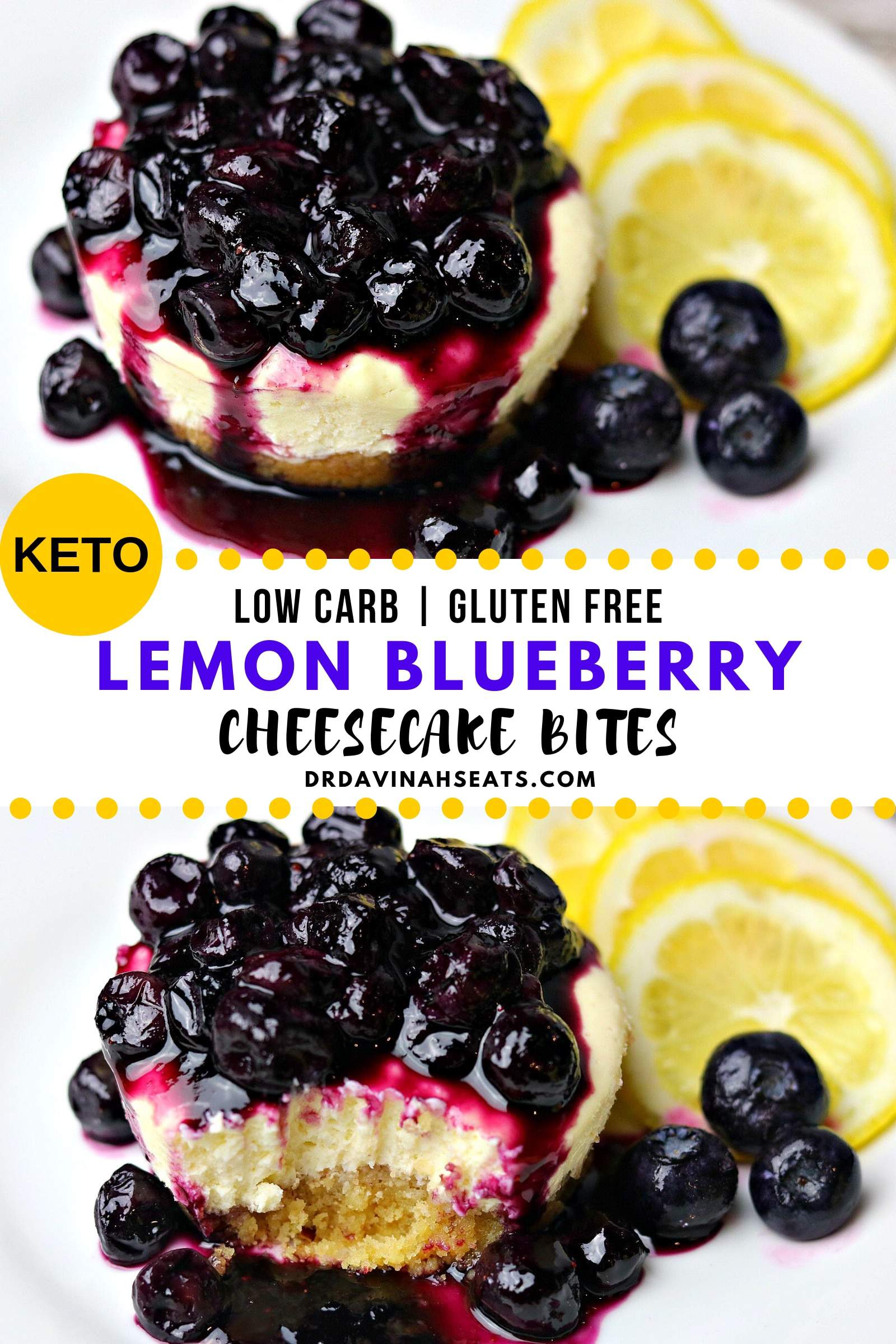 What inspired this Keto Cheesecake recipe?
I wanted to make low carb sweets for Thanksgiving
When I first shared this recipe, I was getting a head start on my Thanksgiving Day cooking plan because it's my absolute favorite holiday. I host dinner at my house each year and I take this responsibility seriously! So, each year, I try to introduce at least one new dessert. While there are certainly non-keto items on my table (I personally believe in living a little), I chose to add two low carb dessert recipes so that more members of my family can experience how awesome low carb desserts can be.
I love cheesecakes
Cheesecakes are probably, the first "real" thing that I learned to cook. Over the years, I've had a ton of fun experimenting with new flavor combos. I have several keto cheesecake recipes (Pumpkin Brandy Cheesecake, Gluten-free Strawberry Cheesecake, Low Carb Snickers Cheesecake) on this site and would encourage you to check them if you love cheesecakes too!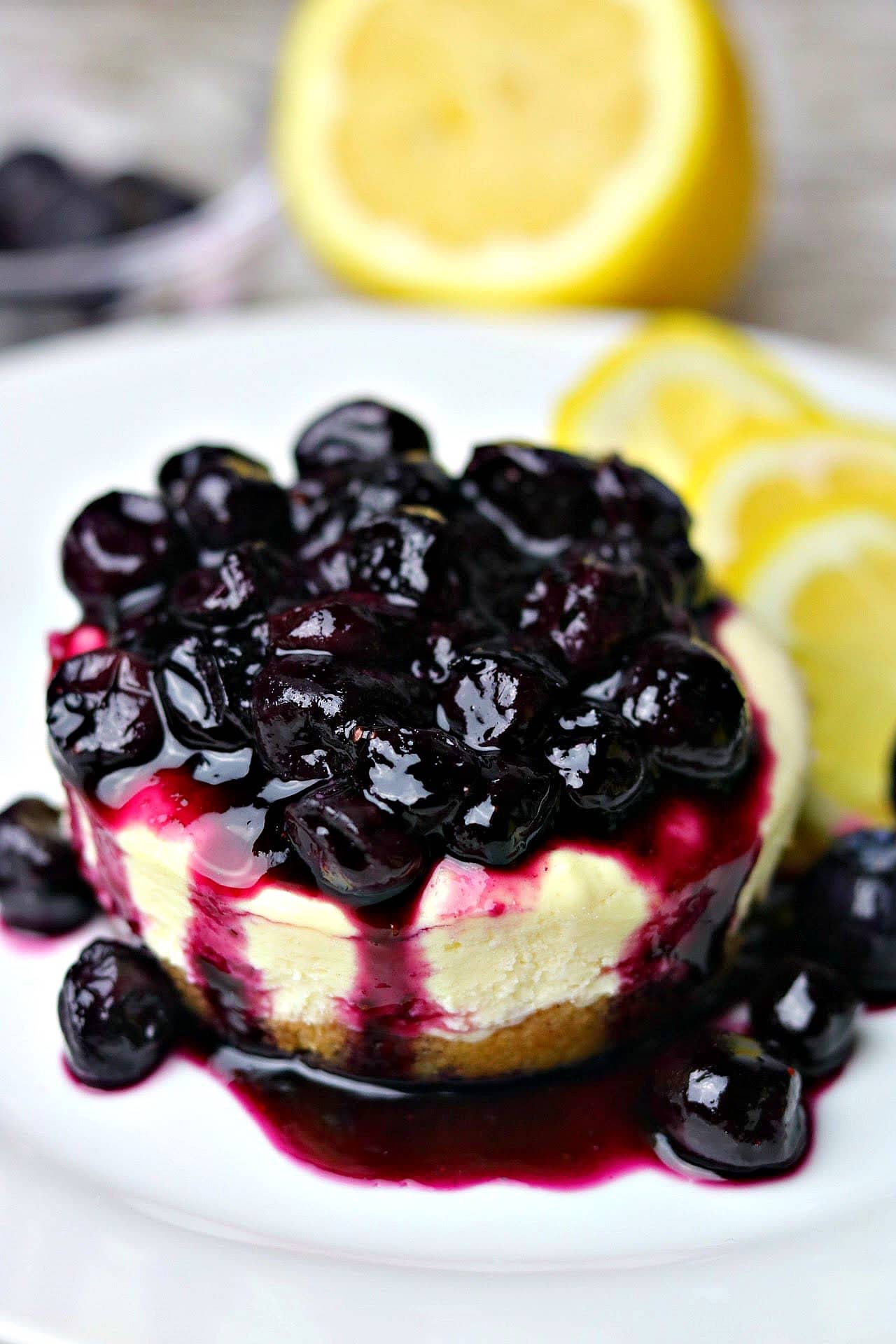 What's in these Keto Lemon Blueberry Cheesecake Bites?
This recipe includes a keto lemon cheesecake and a lemon cookie, pecan crust. I topped the cheesecakes with a blueberry topping that I made with four ingredients and collagen peptides.
What cookies did you use for the crust?
This keto cheesecake includes a Fat Snax Lemony Lemon cookies crust. I added Unsalted Pecans for extra texture. I also added them to limit the number of cookies that I was using.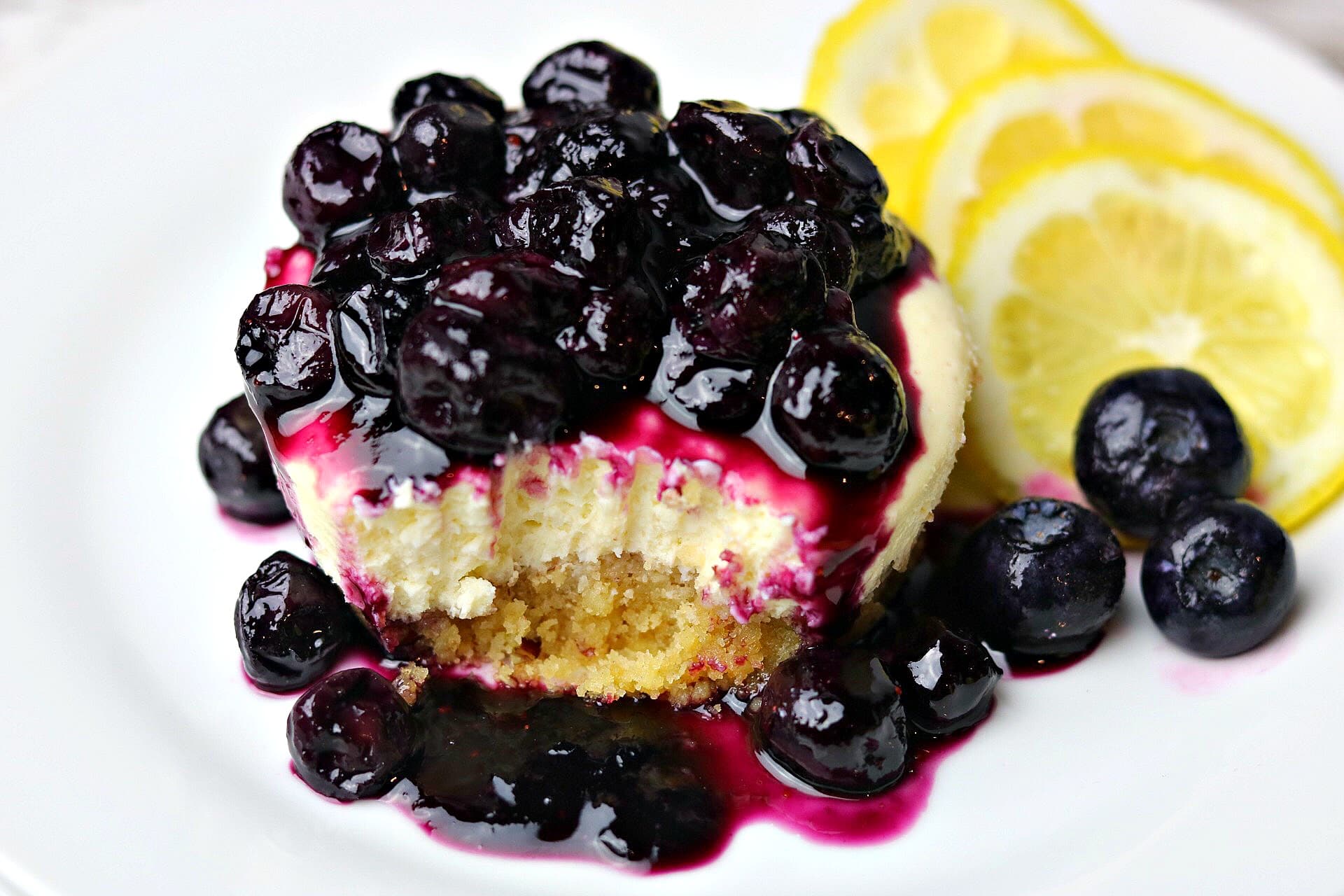 What sweeteners did you use?
As mentioned in my keto and low carb food swaps post, I use one of three brands of keto sugar replacements. In this case, I used Sukrin Gold (a brown sugar replacement) as well as Sukrin Granular. Both of these measure 1:1 with regular sugar and are 0g net carbs, making them essential for making low carbs sweets.
If you'd like to make this recipe with another brand of sweetener then feel free to substitute. Be aware though that some sweeteners might require more or less. I'm one of those people that taste as I go along to make sure that each component is delicious.
What's the point of using Collagen Peptides?
The blueberry topping in this recipe includes collagen peptides. Besides being good for your hair, skin, and nails, collagen is a keto-friendly sauce thickener. I use this Unflavored Collagen Peptides to create a pie filling like consistency.
What are some other recipes that use Collagen Peptides?
I keep collagen peptides in my pantry because I use it almost daily in butter coffee. However, some other recipes on my site that include it are Keto Strawberry Cheesecake, Low Carb Mug Cake, Bone Broth Mississippi Pot Roast, and Low Carb Bang Bang Shrimp.
Can I substitute Collagen Peptides?
Yes. I keep Xanthan Gum in my pantry as a replacement for cornstarch and flour in my low-carb and gluten-free sauces. Like Collagen Peptides, it helps hold everything together. It's also perfect for getting a smooth consistency in frozen treats, such as this Keto Frappuccino.
You can substitute 1/4 tsp of Xanthan Gum for every 1 tbsp of Collagen Peptides.
This recipe makes 8 standard-sized or 24 mini muffins
You can opt to make these in mini-muffin tins, standard tins or jumbo tins.
Want more keto & low carb dessert recipes? Try these:
Want more lemon blueberry flavored foods? You check out this Low Carb Lemon Blueberry Cream Cake, which I imagine is this dessert in a delicious cake form. I also created an awesome Keto Blueberry Iced Tea Lemonade, a great option for entertaining and a no sugar added summer drink!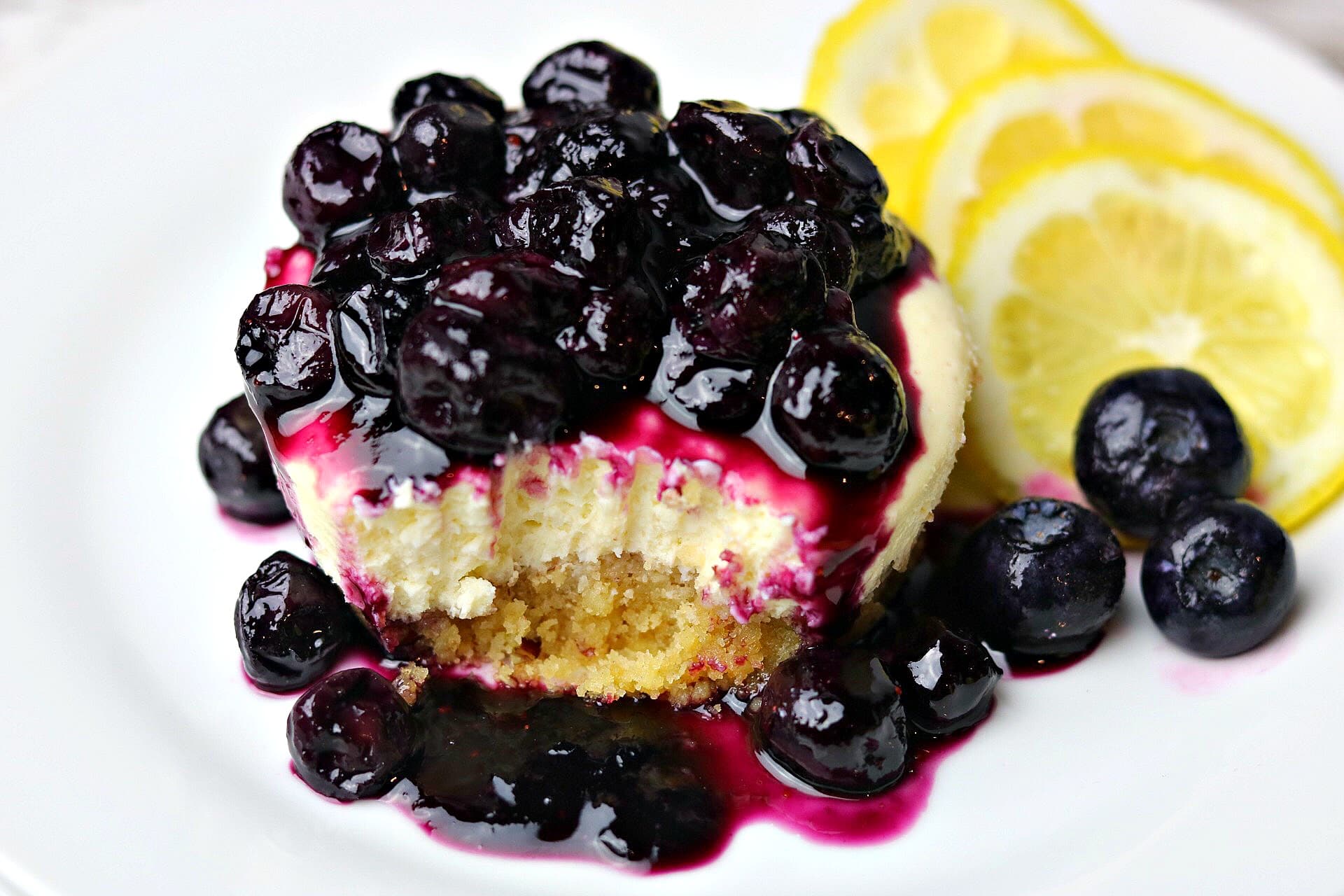 A gluten-free, low carb dessert recipe featuring keto lemon cheesecake, a lemon cookie crust & a quick blueberry topping. This is a dessert lover's dream!

Please do not copy & paste (or screenshot) the instructions & ingredients for my recipes to social media or other websites. If you want to spread the word about this recipe (I'm grateful if you do), please use the buttons above to share or share a photo of this dish with a link to this recipe instead. © 2019 Dr. Davinah's Eats
Instructions
Preheat the oven to 350 degrees

Make the crust by mixing all of the ingredients in a food processor

Line the muffin tins with mini or standard silicone molds

Divide the crust across the muffin tins and press it down to form a solid base

Bake for 3 (if using a mini-muffin pan) or 5 minutes (if using a standard muffin pan) and set aside

Turn the oven to 300 degrees

Add all of the ingredients for the cheesecake to a stand mixer and blend until smooth

Divide the cheesecake mixture among the muffin tins

Add water to the bottom of a baking sheet - this is the water bath for the cheesecake

Add the muffin tin to the baking sheet

Bake for 15-20 minutes, or until the center of the cheesecake is almost set

Add all of the ingredients for the blueberry topping to a saucepan

Cook on medium heat until the berry sauce forms a gel (~10 minutes)

Allow the cheesecakes and sauce to cool. You can top the cheesecakes with the blueberry sauce or wait until just before serving the dish.
Recipe Nutrition Facts
Nutrition Facts
Keto Lemon Blueberry Cheesecake Bites
Amount Per Serving
Calories 307
Calories from Fat 252
% Daily Value*
Fat 28g43%
Cholesterol 97mg32%
Sodium 262mg11%
Potassium 120mg3%
Carbohydrates 6g2%
Protein 7g14%
Vitamin A 890IU18%
Vitamin C 3.2mg4%
Calcium 68mg7%
Iron 0.4mg2%
* Percent Daily Values are based on a 2000 calorie diet.
Did you make this recipe?
Use #DrDavinahS when posting your photo of this dish, and follow @DrDavinahS on Instagram