This post may contain affiliate links to products I use and highly recommend. You can read my full disclosure here.
Click below to share this!
A keto-friendly and low-carb recipe for Philly Cheesesteak using roasted bell peppers as a replacement for bread.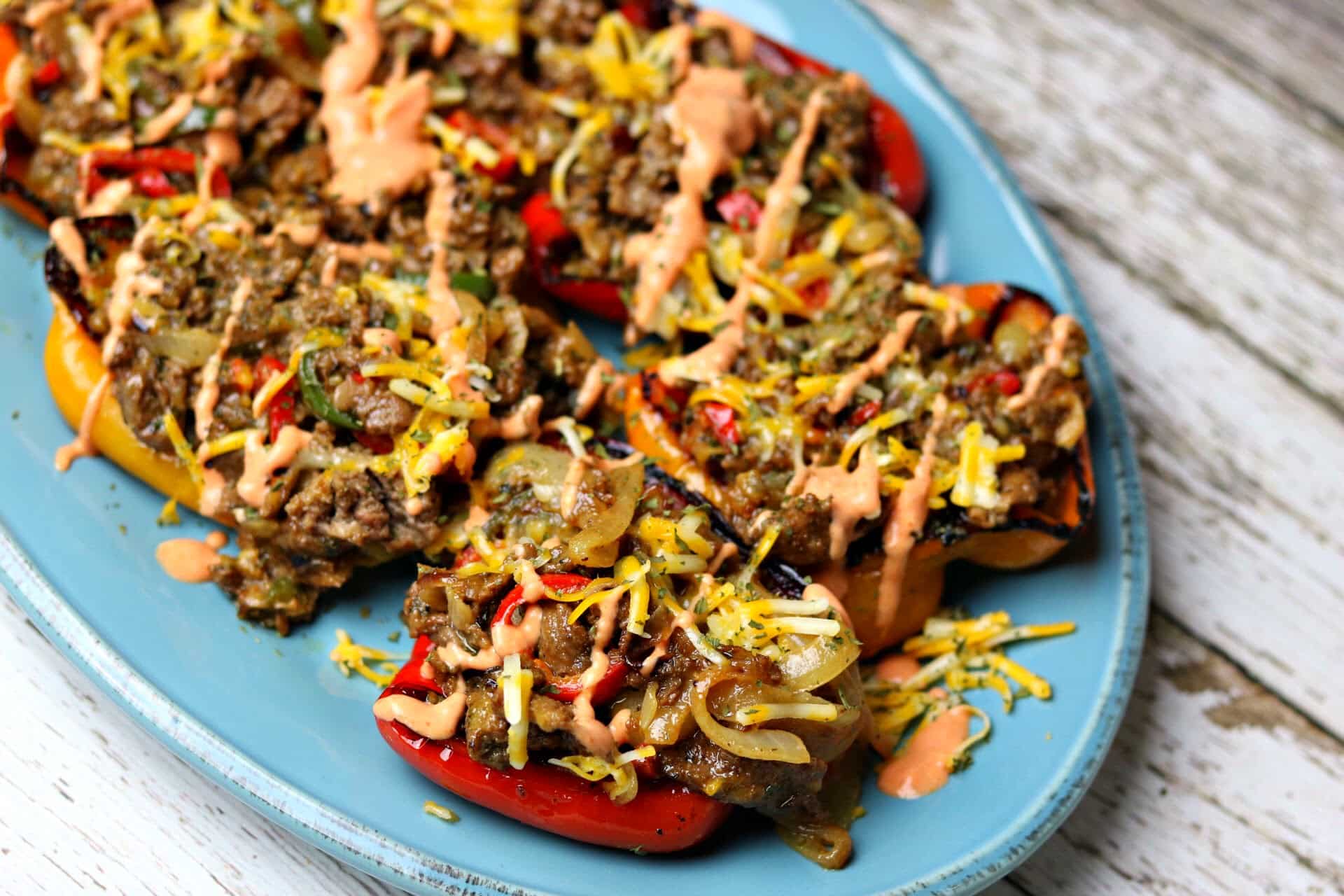 As a Philly native, it's easy for me to get a good cheesesteak. Like I shared in this Keto Philly Cheesesteak Pockets recipe, I enjoy my cheesesteak with loads of meat, fried onions, sweet & hot peppers, ketchup, mayo, and seasonings. This recipe for Keto Philly Cheesesteak Stuffed Peppers is a bit of a Philly Cheesesteak decomposed.
What are Keto Philly Cheesesteak Stuffed Bell Peppers?
Instead of using peppers as just a part of the meat filling, I'm using sweet bell peppers as the replacement for bread. The Sirarcha Mayo is the perfect topping because it includes ketchup, mayo and a little bit of lime for boosted flavor. If you enjoy your cheesesteaks like I do (with sauce), then this sauce is a must!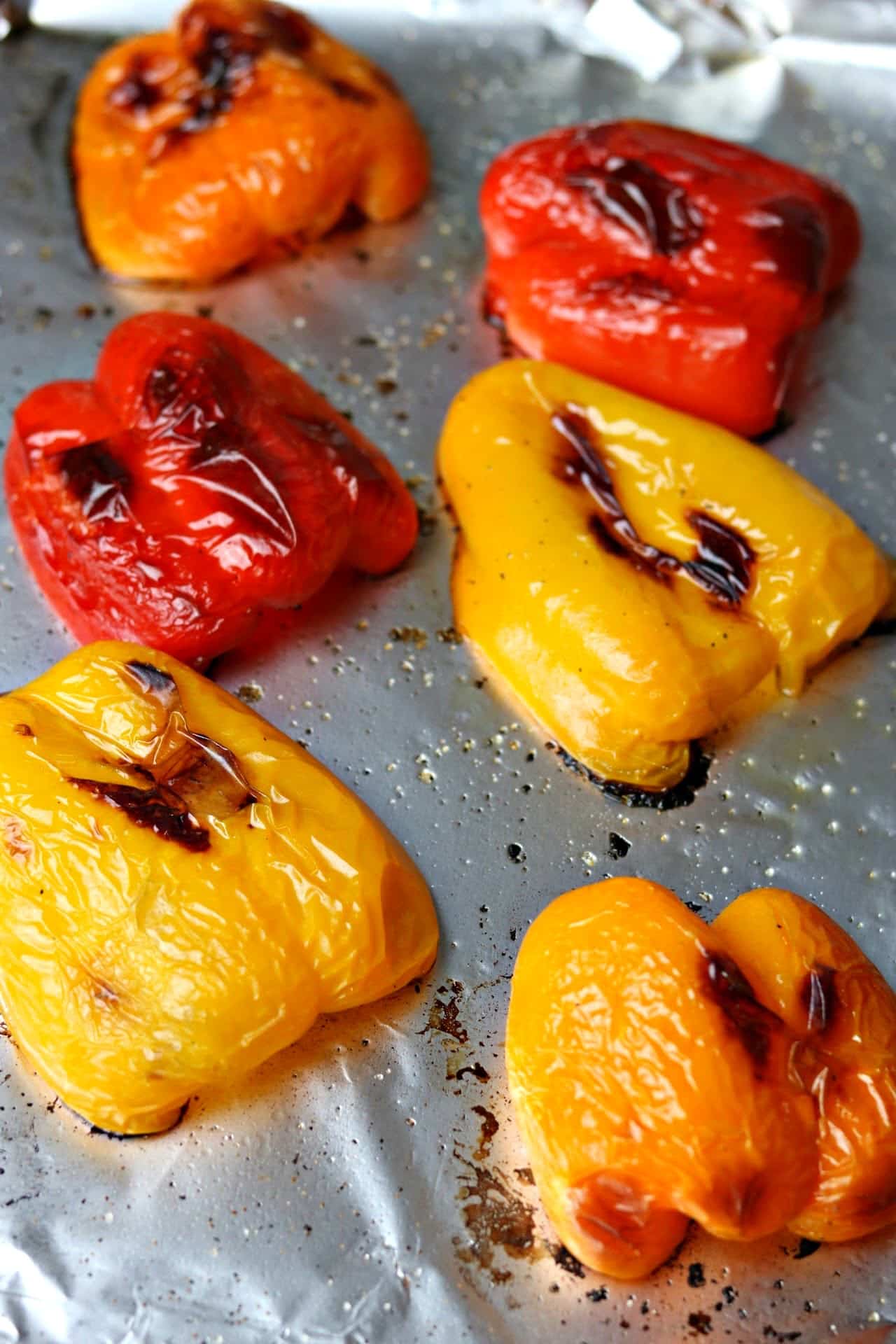 What kind of cheese do I use?
Making any Philly Cheesesteak well requires a good, melty cheese. Some cheeses that melt well are American Cheese, Colby Jack, and any Cheddar Cheese. If you don't have sliced cheese, then I use about a cup of shredded cheese.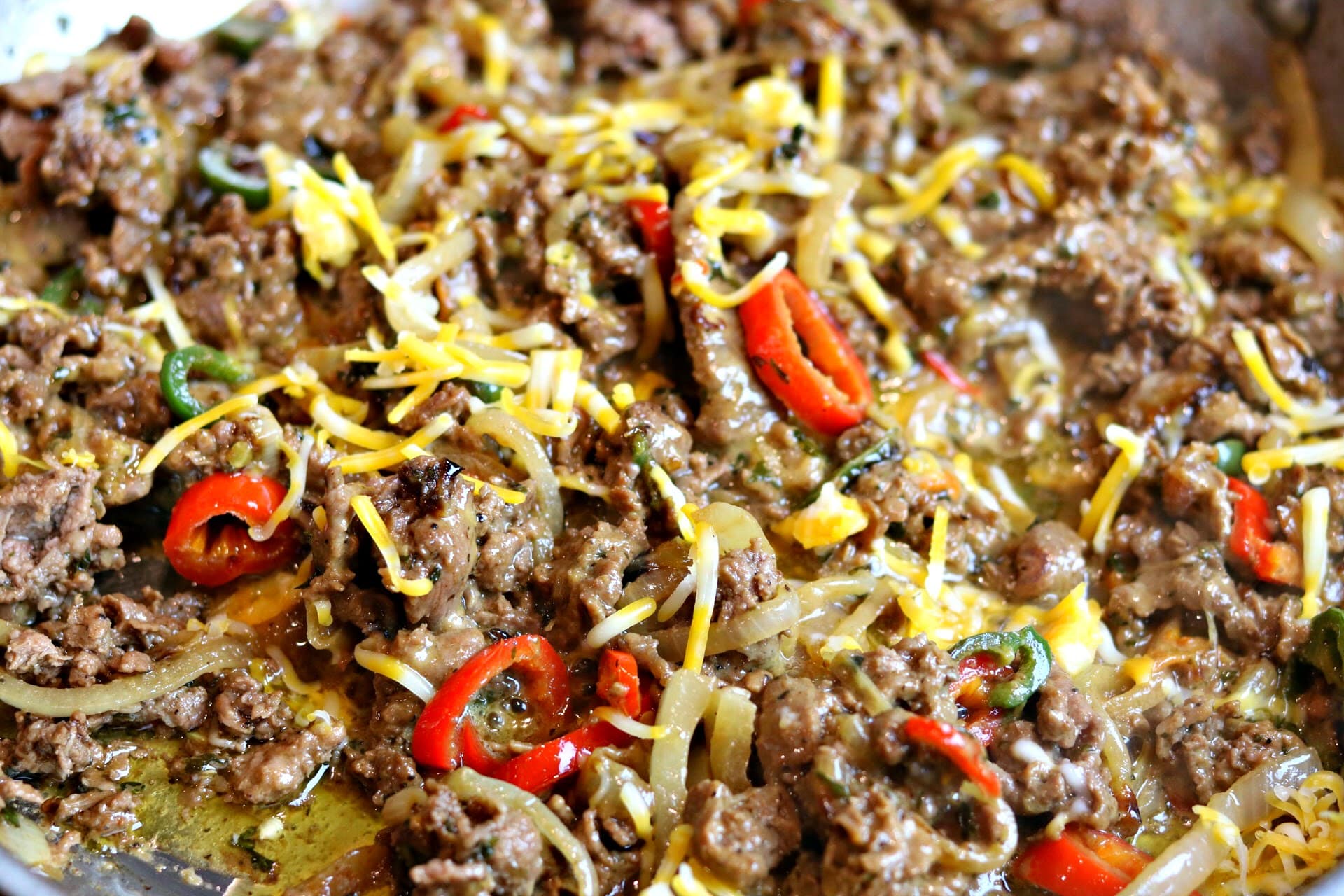 What can I serve with these stuffed bell peppers?
If you are keto and low carb, these make a perfect meal on their own. The meat and cheese provide a great source of protein and fat. The peppers are a great way to get clean, healthy carbs.
This recipe makes 3 servings.
A serving of this recipe is two stuffed pepper halves or 1 bell pepper. Each serving has 10g net carbs.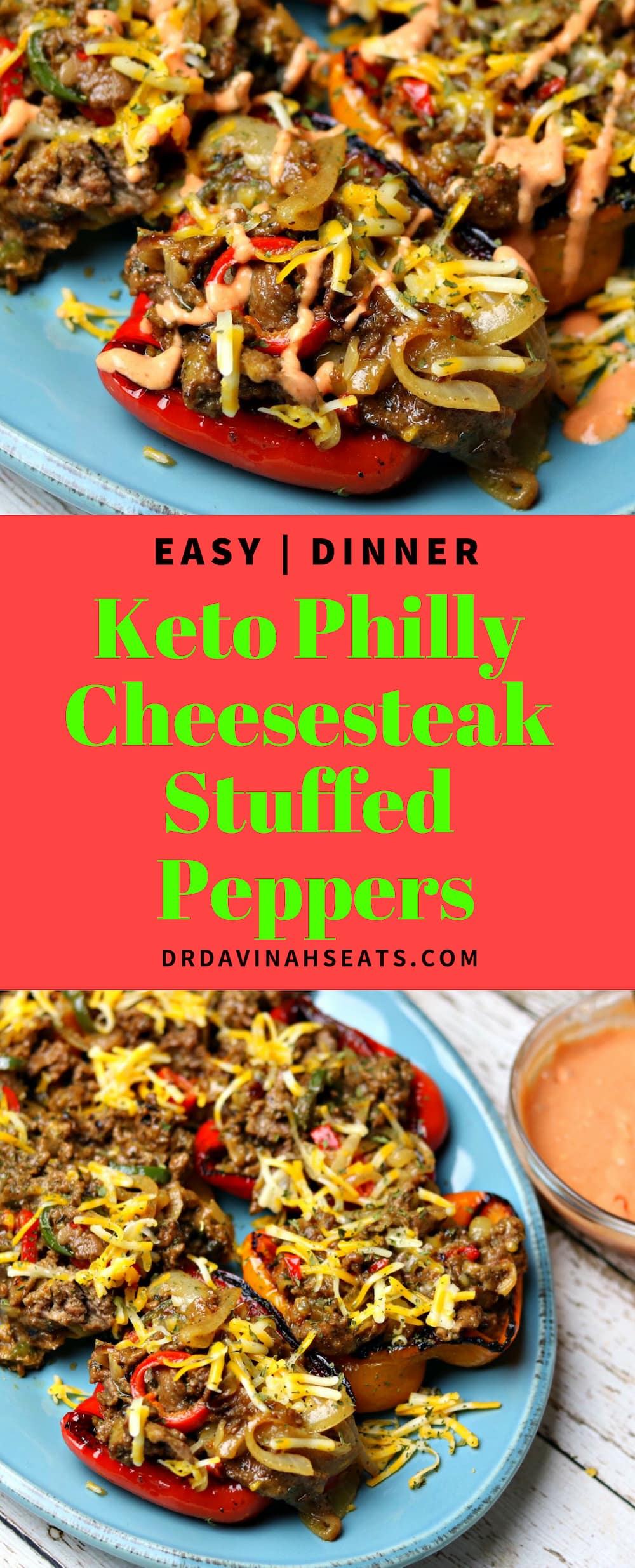 Since this recipe does not use fathead dough, it has less fat per serving. Skipping the step of making fathead dough also makes this recipe much easier. For me, easy recipes are essential when I'm making dinner after work.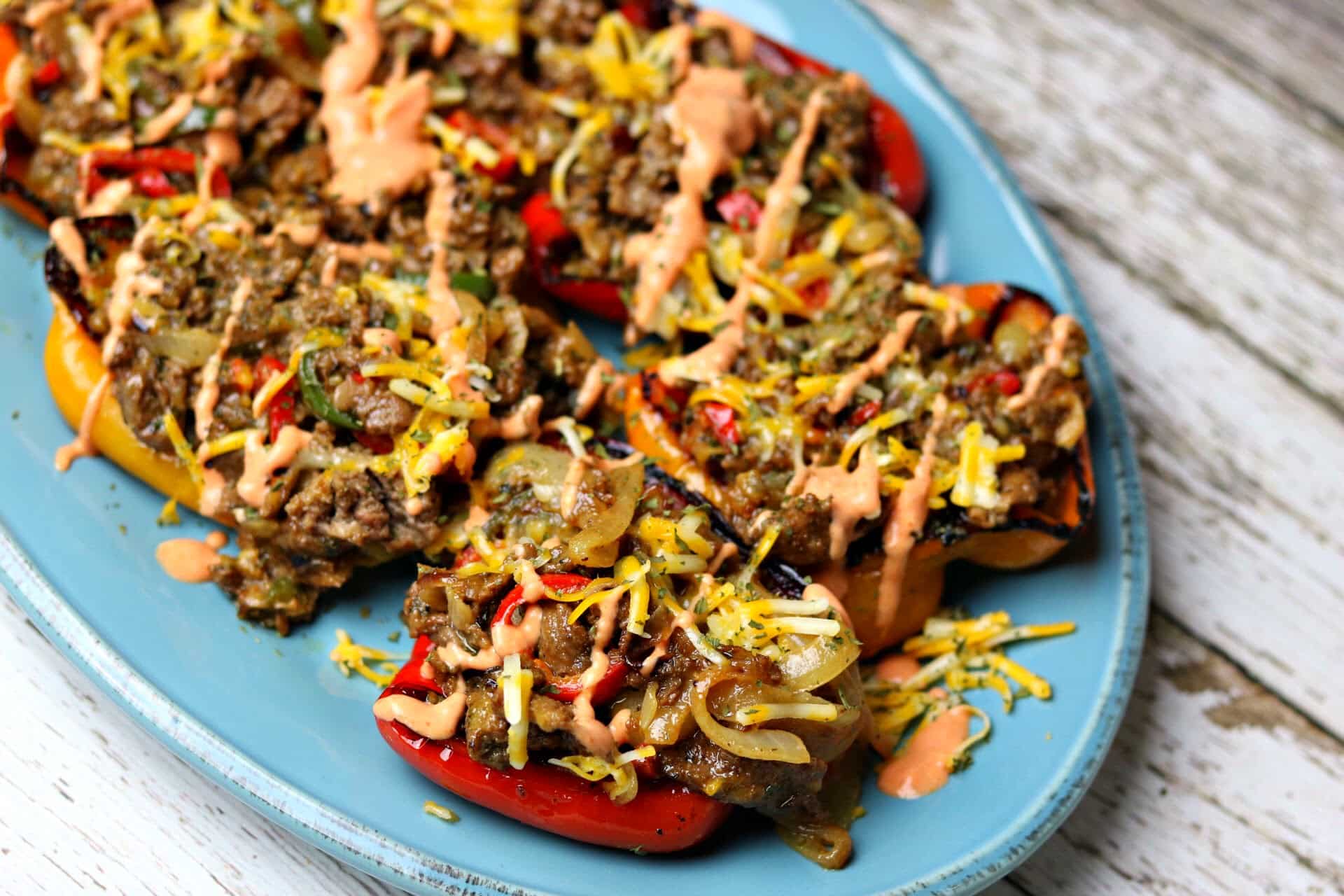 A keto-friendly and low-carb recipe for Philly Cheesesteak using roasted bell peppers as a replacement for bread.

Please do not copy & paste (or screenshot) the instructions & ingredients for my recipes to social media or other websites. If you want to spread the word about this recipe (I'm grateful if you do), please use the buttons above to share or share a photo of this dish with a link to this recipe instead. © 2019 Dr. Davinah's Eats
Ingredients
3

Bell Peppers

seeds removed and cut in half

1

tbsp

of grass-fed butter or other healthy fat

1/2

yellow onion

sliced thinly

3

red baby bell peppers

sliced thinly

1

jalapeno

sliced thinly (optional)

1.5

tbsp

Onion Salt

Each brand of Onion Salt will vary in their level of saltiness. The one linked in the recipe has more of an onion flavor (along with parsley and garlic powder) with some sprinkles of salt. You should add .5 tbsp of onion salt at a time until you love the taste!

1/2

tsp

Sea Salt

1

tsp

Ground Parsley

1/2

tsp

Black Pepper

1

lb

Shaved Steak

I get mine from Trader Joes

6

slices

White American Cheese

I like to get this sliced fresh from the deli because the packaged kind does not taste the same to me
Instructions
Preheat the oven to 450 degrees

Drizzle olive oil on the bell pepper halves and season with salt and pepper (I used about 1/8 tsp of salt and black pepper per half).

Roast the bell peppers for 10 minute per side.

Chop the shaved meat so that it's thinly sliced but also in bite-sized pieces

Heat a large skillet to medium-high heat

Add the butter, onions, and peppers to the pan. Saute the vegetables in a until they are soft and "fried"

Add the shaved beef to the pan along with spices.

Use tongs to incorporate and cook the meat until all slices are browned

Turn off the heat and add the American Cheese to the top of the meat and vegetable mix. Cover the skillet with its lid or with a wide plate. The steam will cause the cheese to melt

After the cheese has melted (~3 minutes), mix the meat so that the cheese is fully incorporated

Divide the meat among the pepper halves

Whisk the ingredients for the sauce with a fork. Top the stuffed peppers with the sauce before eating.
Recipe Nutrition Facts
Nutrition Facts
Keto Philly Cheesesteak Stuffed Peppers
Amount Per Serving
Calories 488
Calories from Fat 252
% Daily Value*
Fat 28g43%
Cholesterol 146mg49%
Sodium 4982mg208%
Potassium 909mg26%
Carbohydrates 13g4%
Protein 42g84%
Vitamin A 5170IU103%
Vitamin C 198.6mg241%
Calcium 494mg49%
Iron 3.4mg19%
* Percent Daily Values are based on a 2000 calorie diet.
Recipe Notes
You could top this dish with Lee Kum Kee Sriracha Mayo as a shortcut. 
Did you make this recipe?
Use #DrDavinahS when posting your photo of this dish, and follow @DrDavinahS on Instagram