This post may contain affiliate links to products I use and highly recommend. You can read my full disclosure here.
Click below to share this!
An easy keto recipe that combines crisped chicken wings with a no sugar added, sweet, spicy, and sticky Asian chicken wing sauce.

These Keto Sweet Chili, Sticky Asian chicken wings combine two of my favorite things: Asian flavors and wings! I start with some oven crisped wings, then I toss them lightly in my homemade, low-carb sweet chili sauce that beats anything that you can buy from the store. The sweet chili sauce is sweet and spicy with traditional flavors like sesame oil, soy sauce, garlic chili sauce, and ginger. However, I made these sticky wings keto-friendly by replacing the most notorious sources of carbs in Asian dishes, brown sugar, and cornstarch, with low-carb, all-natural substitutes. If you've been wondering how you can have Asian chicken wings or sweet chili wings without added sugar or carbs, then this recipe is for you! These are perfect as an appetizer or a main protein if you pair it with a salad or other veggies!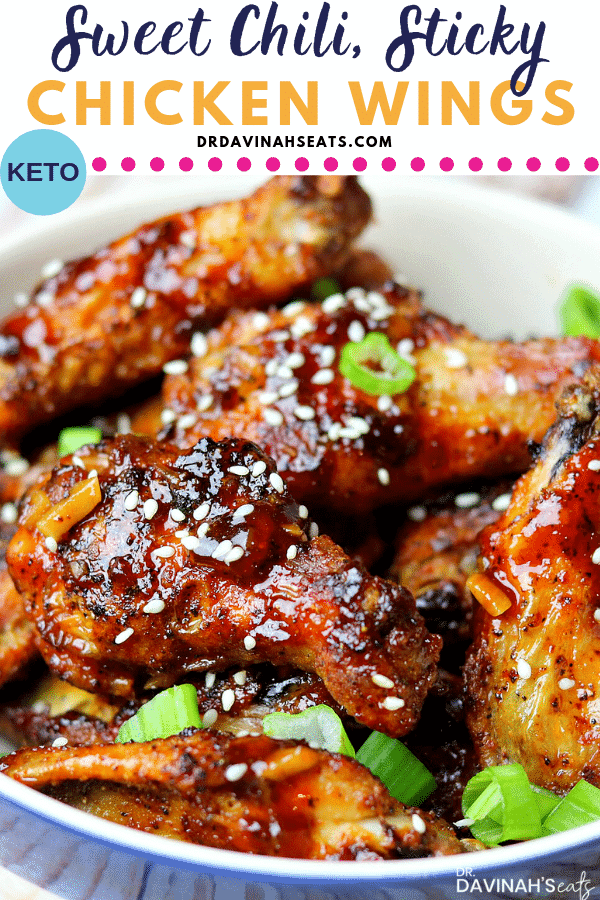 How do you make an Asian-style sauce keto-friendly?
As I mentioned, Asian food typically presents a problem for people trying to eat less sugar and carbs because the sauces contain quite a bit of sugar! However, it is possible to keep all of the traditional flavors without using sugar or sauce thickeners like cornstarch. In this recipe, I'm keeping this chicken wing sauce keto and low carb by including:
Soy Sauce (you could swap this for Coconut Aminos if you're omitting soy)
Garlic Chili Sauce
Rice Wine Vinegar – Unseasoned
Ginger (Fresh or Ground)
Xanthan Gum or Unflavored Collagen (to thicken the sauce)
Most of these items can be purchased from Amazon (I linked some above) or in the International aisle at your local market.
If you're substituting Xanthan Gum for collagen, I use 2 scoops or 2 tbsp of collagen as a complete replacement for Xanthan Gum.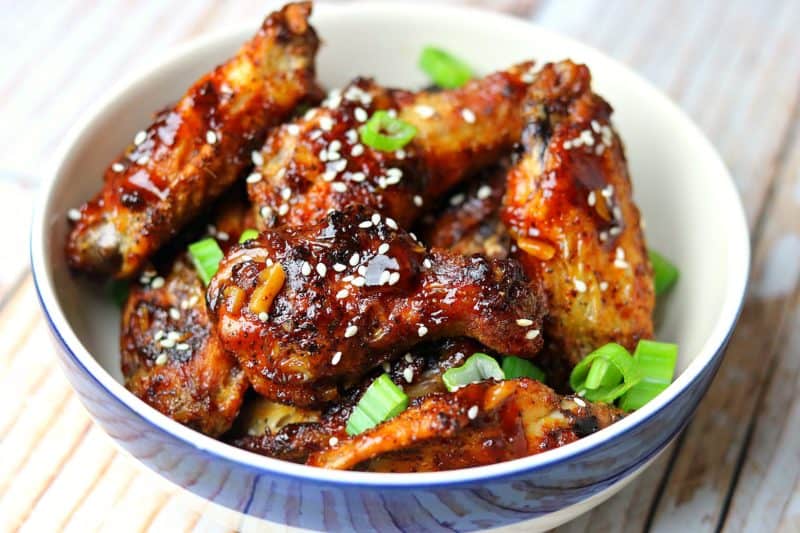 How do you make sticky wings?
These wings are sticky because the sauce is sticky and the wings are super crispy. To make these wings sticky, I cooked the sauce until it had the consistency of syrup or caramel. I also crisped these wings as I did in Oven Fried Chicken Wings using a mixture of seasoning and baking powder. When I was ready to eat, I simply added a spoonful of sauce to about 5 wings and tossed them in a bowl so that the wings were coated.
How else can you use keto sweet chili sauce?
This recipe includes a slightly modified version of my Easy Keto Sweet Chili Sauce. I think that the amount of sauce in this recipe is enough for about 20 chicken wings. However, you can easily double the sauce and use the remaining sauce to make Low Carb Bang Bang Shrimp! This meal takes about 20 minutes and is absolutely delicious.
What counts as a serving of Sweet Chili Wings?
This recipe makes about 20 chicken wings and has 4 servings. A serving is about 5 chicken wing parts.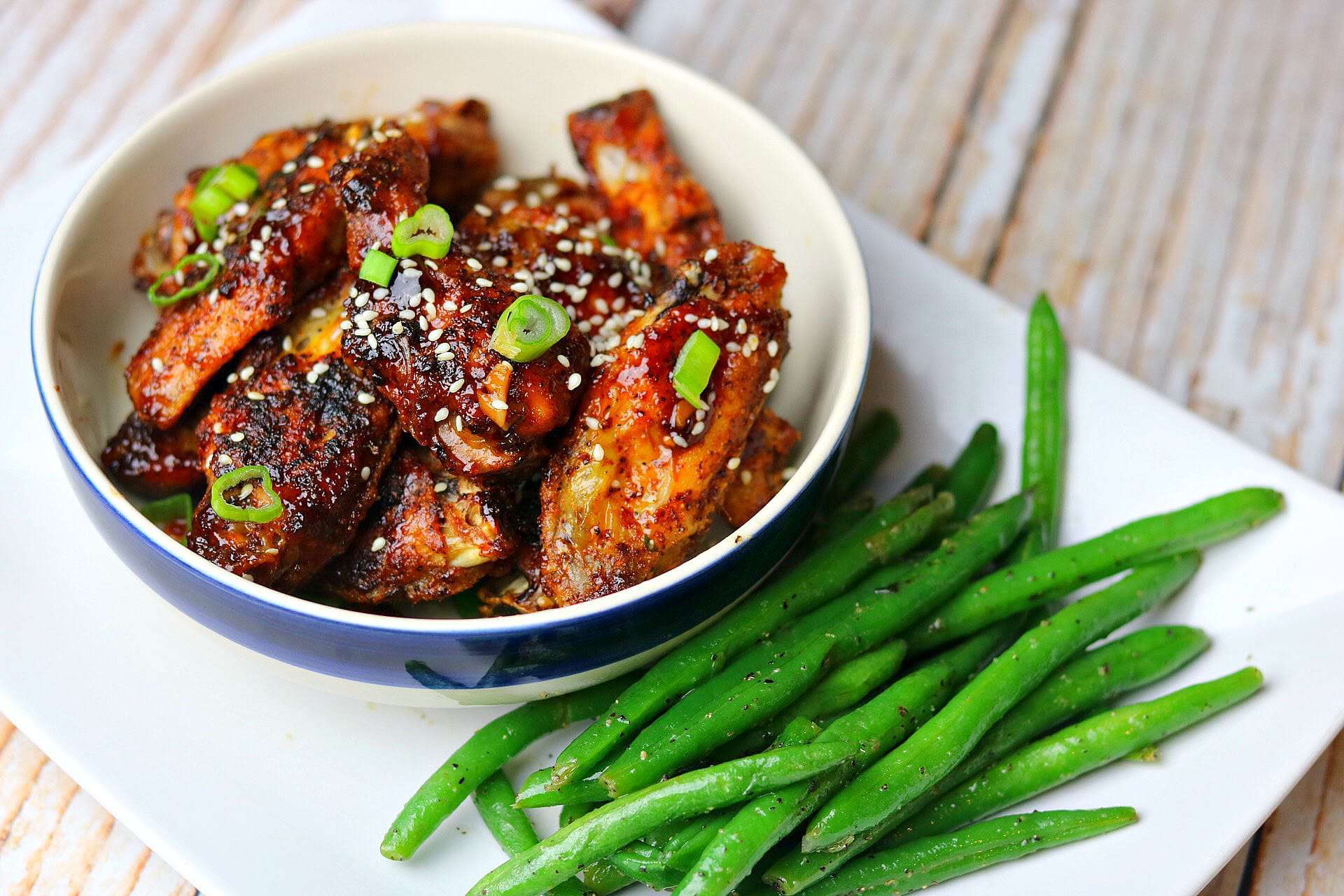 What can you eat with these wings?
In this recipe, I spend most of my effort making the quick sauce. So, when it comes to sides, I keep things super simple. For me, I ate this with string beans that came in a microwavable bag! After piercing the bag with a fork, I microwaved these for 4 minutes. I added the hot string beans to a pan with butter and salt + pepper to taste. If you like asparagus, then one option is these Easy Sauteed Asparagus.
Can you make these in an air fryer?
Absolutely! I chose to make these in the oven since I was making 20 wings. However, if you'd like to make these in an air fryer, then cook the wings on 400 degrees for 15-20 minutes per side.
Which air fryer do you recommend?
Currently, I'm using the Ninja Foodi because it's a pressure cooker and air fryer all-in-one (and it saves me a ton of counter space). However, before getting the Ninja Foodi, I used this air fryer and enjoyed it.
You can check out all of my recommended kitchen tools, in my kitchen essentials shop.
An easy keto recipe that combines crisped chicken wings with a no sugar added, sweet, spicy, and sticky Asian chicken wing sauce.

Please do not copy & paste (or screenshot) the instructions & ingredients for my recipes to social media or other websites. If you want to spread the word about this recipe (I'm grateful if you do), please use the buttons above to share or share a photo of this dish with a link to this recipe instead. © 2019 Dr. Davinah's Eats
Ingredients
Keto Sweet Chili Wing Sauce
Key Tool I Used
Instructions
For the Crispy Chicken Wings:
Preheat the oven to 450 degrees

Add all of the spices for the chicken wings to a small bowl. Pat the wings dry and toss the wings in the spice mixture.

Add the wings to a parchment lined baking sheet and bake for 20-25 minutes per side. You should check at 40 minutes to see if your wings are crispy enough for you.
For the Keto Chili Wings Sauce:
Add all ingredients for the Keto Sweet Chili Wing sauce to a mixing bowl and whisk.

Add the sauce to a medium saucepan. Cook the sauce uncovered on medium-high heat until it is thickened (~15 minutes)

Toss the wings in the sauce and serve immediately.
Recipe Nutrition Facts
Nutrition Facts
Keto Sweet Chili Sticky Asian Chicken Wings
Amount Per Serving
Calories 254
Calories from Fat 153
% Daily Value*
Fat 17g26%
Cholesterol 70mg23%
Sodium 1145mg48%
Potassium 625mg18%
Carbohydrates 6g2%
Protein 18g36%
Vitamin A 260IU5%
Vitamin C 1.3mg2%
Calcium 210mg21%
Iron 1.5mg8%
* Percent Daily Values are based on a 2000 calorie diet.
Did you make this recipe?
Use #DrDavinahS when posting your photo of this dish, and follow @DrDavinahS on Instagram