Chicken wings are a popular option for keto and low-carb meals because they are naturally high in fat and have zero carbs. But, without a variety of recipes, you can end up eating the same flavors.
This collection has some of my favorite crispy and saucy chicken wing recipes that are great whether you are following a ketogenic way of eating or not.
You'll find classics like my air fryer buffalo wings, air fryer bbq chicken wings, and garlic Parmesan wings. You'll also find some newer combos like Keto "Honey" Sriracha and Crispy Mexican-Inspired.
Most of the recipes feature wings that are baked in the oven or cooked in the air fryer. But, you'll find some for your slow-cooker and pressure cooker too!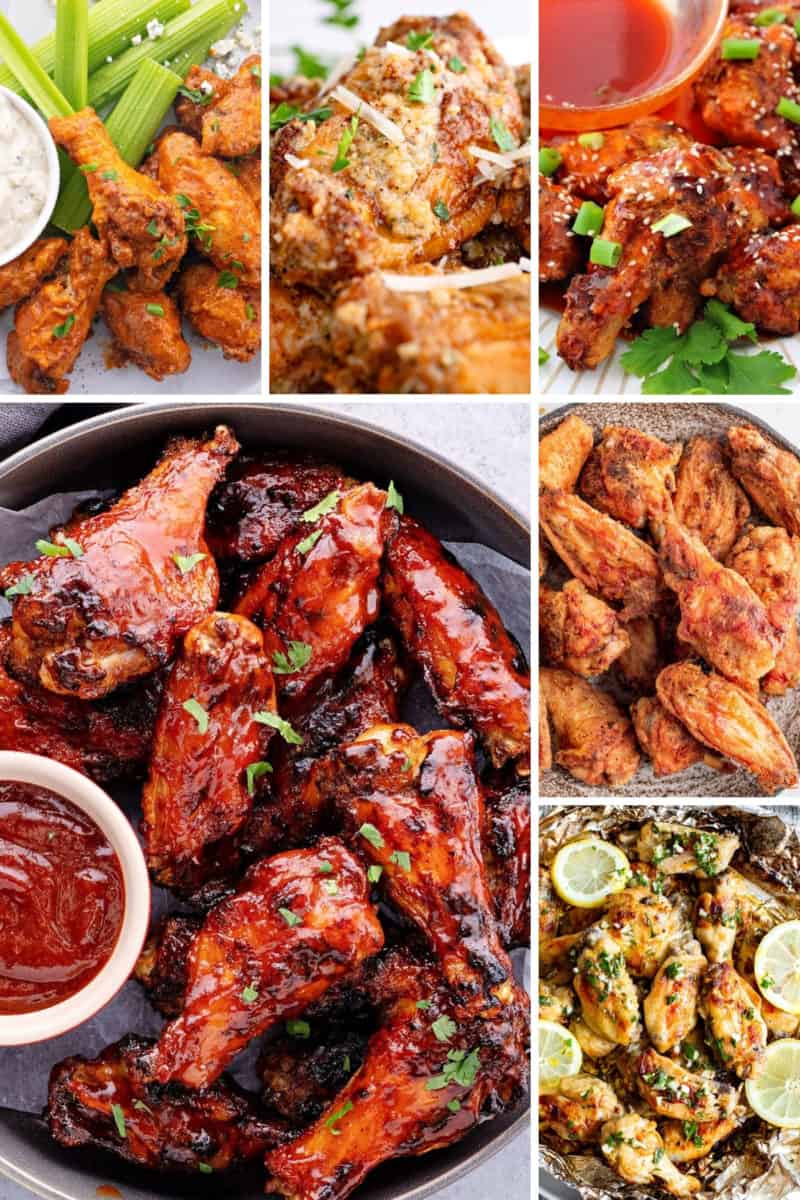 Can you eat chicken wings on a keto diet?
According to this food counter, a typical serving of chicken wings (~5 wings) with the skin has about 39 grams of fat. Plus, they are naturally carb-free. So, wings are an easy choice if you're following keto and want a relatively cheap main dish.
Top Tips for Making Crispy Wings:
Having a crispy wing is necessary to hold up against the sauce. My strategies for having crisp chicken wings are:
Use Baking Powder: When it comes to crispy chicken wing skin that doesn't take forever at a bazillion degrees in the oven, you have to use baking powder. Baking Powder actually causes a reaction in the wing skin that forces the skin to rise, bubble and crisp. I find that one tablespoon of baking powder per lb of meat (~12 wings) is a good rule of thumb.
Serve immediately: After you've spent the time to get your wings perfectly crispy, the best way to make them soggy is to let them sit in a bowl of sauce. I make my wing sauces separately and only pour the sauce on when I'm ready to eat. This way, the wings have all the flavors of the awesome sauce, but still, have that crunch!
Staples for Homemade Keto-friendly Wing Sauces:
When it comes to creating keto-friendly sauces (especially those that are sweet), there are some essentials that I keep in my kitchen. I'm linking them below for convenience. Most are available on Amazon.
Keto Sugar Replacement: I love using this Erythritol Monk Fruit Blend because it measures just like actual sugar.
Honey Replacement: The Caramel Sauce is my favorite and has 1g net carb.
Basic Starter Recipes:
If you want wings without sauce, then try these Oven-Fried Chicken Wings. They take a little longer to make but are perfect when you are serving a large family or a crowd.
If you're short on time, you can also try these Air Fryer Fried Wings.
Saucy Options:
If you'd like to just have a regular ranch dressing/dipping sauce, then feel free to use the recipe that I shared in this BLT Avocado Salad with Ranch Dressing.
There are a lot of tasty options for sugar-free BBQ Sauce. My personal favorite is my 15-minute keto bbq sauce recipe.
Dry Rubbed Chicken Wings:
Keto Slow Cooker & Instant Pot Wing Recipes:
If you want to make chicken wings in an Instant Pot and have no idea where to start, this tutorial for how to make chicken wings in an Instant Pot is super helpful. It includes photos and step-by-step instructions.
When making wings in the slow cooker or instant pot, you'll notice that it is important to place the wings under a broiler to give them a quick crisp.