I started this website because of my need to have comfort food without guilt. This collection includes some of the best keto comfort food recipes that are perfect for every meal and craving. There are low-carb options for main dishes, side dishes, breakfast, and even dessert. Some of my favorites are cauliflower mac & cheese, oven fried baked chicken, keto bagels, fathead pizza, and keto shrimp and grits.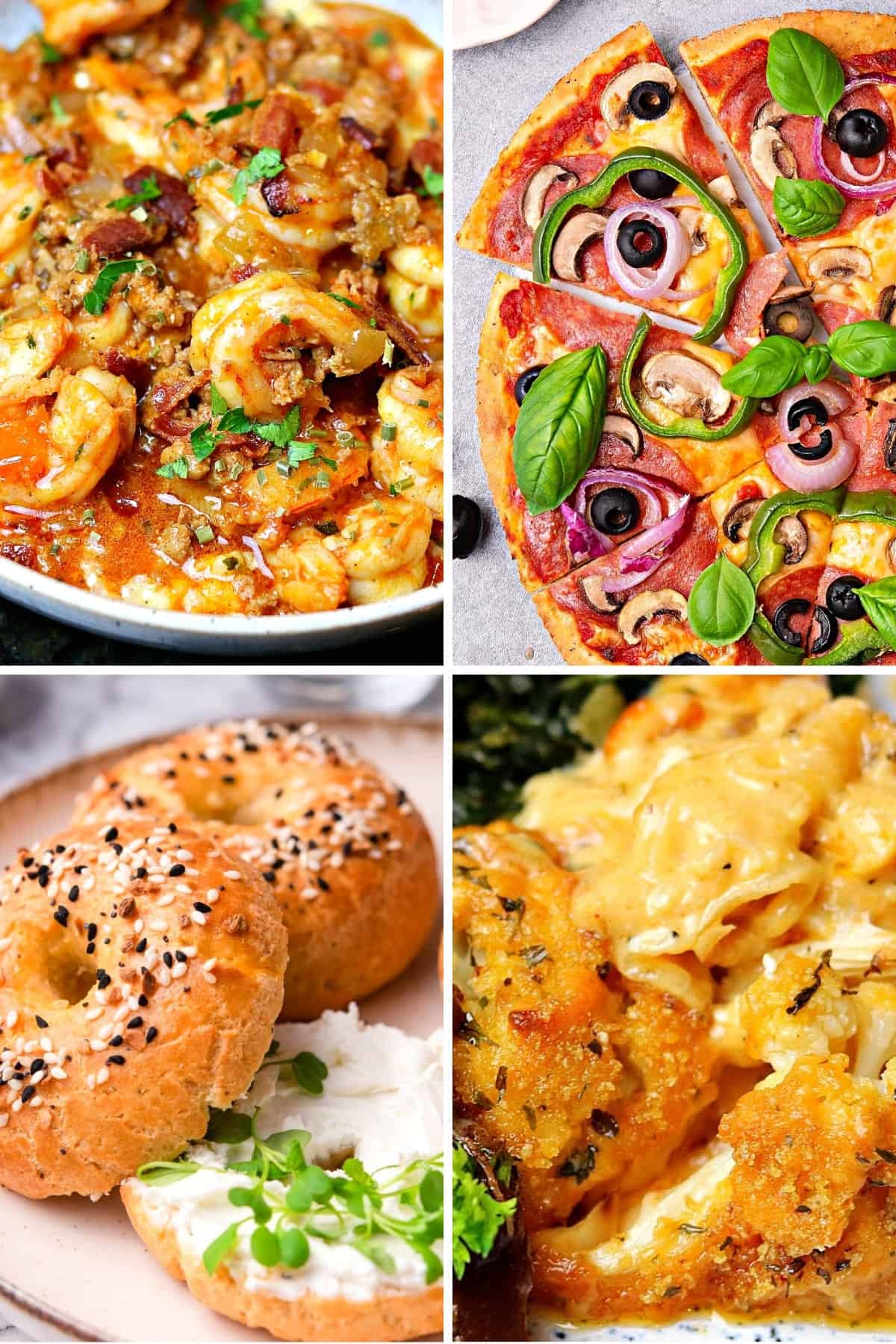 What is Comfort Food?
Comfort Food is Linked to Nostalgia
As I mentioned in my about me page, I specialize in keto & low carb comfort foods. For me, comfort food is a type of cuisine that makes you smile. It makes you remember good times and people that you love. Comfort food is decadent, savory, and rich!
Why Share Keto & Low Carb Comfort Foods?
Traditional Comfort Food is Filled With Sugar and Carbs
Comfort food is typically filled with sugar, grains, and carbs! It's not sustainable long term because it's just not that good for you. So, I'm sharing these keto & low carb remakes so that we can have more comfort food without the guilt.
Keto Comfort Food Main Dishes
Whether you're looking to satisfy your craving for fried chicken or chicken Alfredo, you'll appreciate these keto-friendly options. The low-carb meatloaf takes me back to my childhood! I swear that my mom makes the best meatloaf and that even I can't replicate it.
Besides that, you'll find my super popular Seared Scallops & Cauliflower Rice Risotto! Plus, my Keto Surf & Turf.
Side Dishes
Who doesn't love a delicious side of mac and cheese? Or, sausage gravy to enjoy over your fried chicken and biscuits?
This next section has some keto-friendly remakes of side dishes like mashed potatoes, cornbread, macaroni & cheese, and biscuits.
Casseroles
in many ways, casseroles are an iconic comfort food option! They usually require just one pan. They also have very little prep time.
This next group includes low carb versions of traditional casseroles like green bean casserole. It also has some fun options like keto buffalo chicken cauliflower casserole.
Carboholic Breakfast Remakes
Even if you've been on the keto diet for a while, it's hard not to crave a little carbs from time to time.
I'll be honest, it's really difficult to not have a delicious bagel or a stack of pancakes for breakfast most days!
That's why I love making keto fathead dough bagels and pancakes. They are the closest thing you can get to the real deal with just a fraction of the carbs!
This group includes some of my favorite keto breakfast recipes from my site. But, I have an entire post with more than 12 keto breakfast recipe ideas if you're looking for more.
Appetizers & Party Keto Comfort Food Recipes
There's nothing more exciting than hosting a family gathering any time of the year. Whether it's a backyard BBQ or a holiday event, these low carb comfort foods will be a good fit.
These are great recipes if you want to wow a crowd without having to tell them the food is low carb.
If you want more keto party food ideas, there's more than 20 options in my keto appetizers post. Besides appetizers, there's keto chicken wings and bite-sized desserts like low carb cheesecakes.

Low Carb & Keto Comfort Food: Desserts
If you're looking for a delicious dessert that is low carb, then why not give keto-friendly chocolate cake or keto peanut butter chocolate ice cream a try? These sugar-free options will delight your tastebuds and leave you wanting more dessert every time.
Snacks
No matter how well you plan out your day, there comes a time when you just want a snack. These low carb comfort food snack recipes are a fabulous way to get in your cracker fix or pizza craving while staying keto.
I must admit the low carb pizza crackers are truly delicious (and adorable). Plus, they work well for those who meal prep or are on the go!