Whether you're keto, low-carb, grain-free or trying to better your health or lose weight, your food choices determine how effective your journey will be. Vegetables form a large part of a low-carb diet and vary in their carb content. Understanding the differences goes a long way in reaching your goals and staying in ketosis.
Are you new to keto or exploring various ways to enjoy your meals without jeopardizing the process? Cauliflower rice is your trusted partner in this journey. Without over-hyping it, cauliflower is low-carb and versatile enough to be served as a main meal, side dish, or dessert. It'll probably take a lifetime to exhaust the available keto cauliflower rice recipes.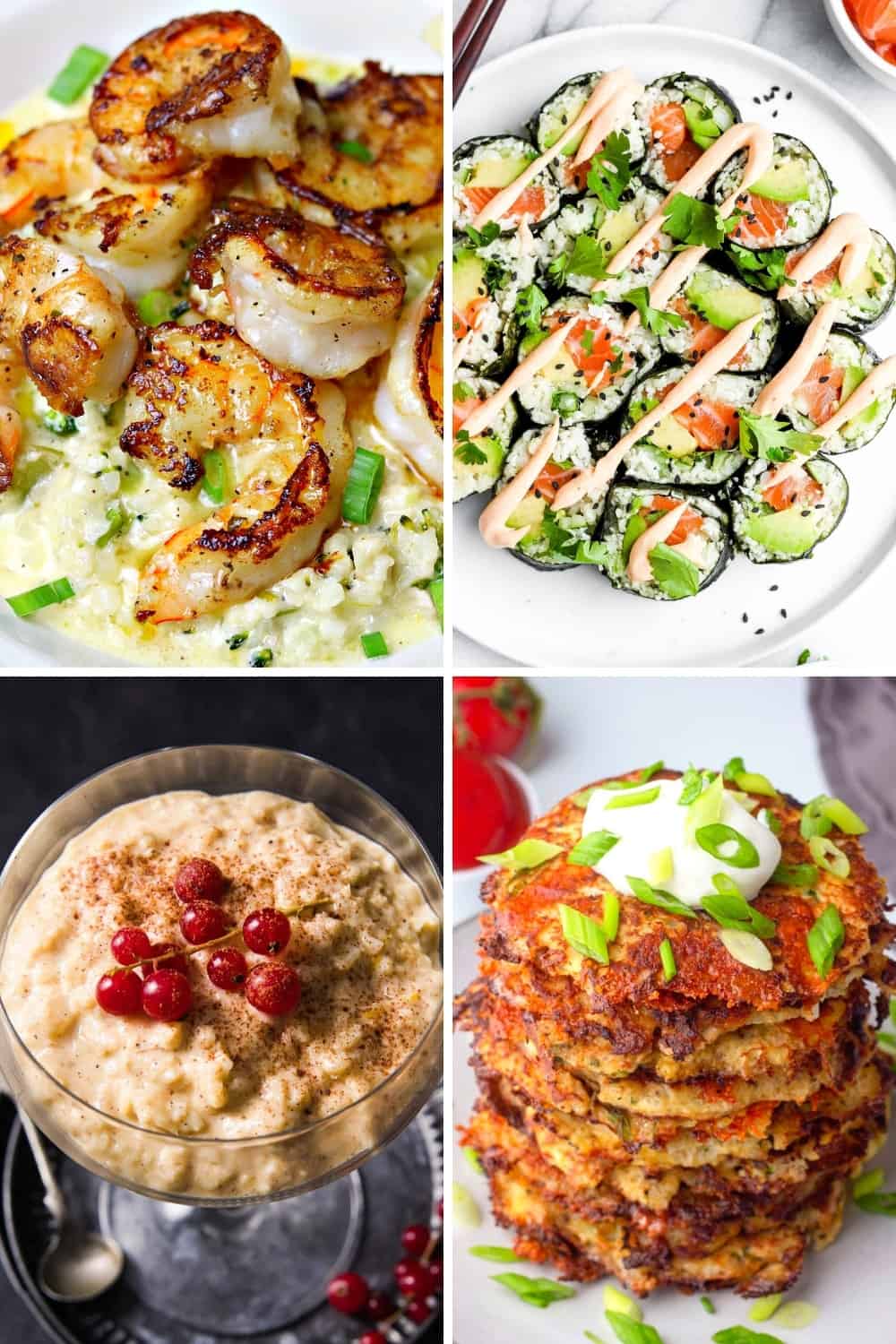 The following keto recipes with cauliflower rice will help you confirm how awesome cauliflower is and stir up your low-carb diet creativity:
Breakfast Cauliflower Rice Recipes
Below are some keto-friendly recipes to help you start your day on a high note:
If you love things like creamy Southern grits for breakfast, you might be feeling sad to give them up. The good news is you can replace cornmeal with cauliflower rice and enjoy your grits the keto way.
These are incredibly easy and flavorful. You can make them in a skillet or brown them in the oven. Top them with sour cream and sliced green onions if you're feeling fancy!
Who would have thought that cauliflower rice could be turned into oatmeal?
These muffins are rich in nutrients, flavors, and texture to give your body the right start every morning. Vegetarians can use butternut squash instead of ham, and the results are equally great. You can also batch-cook and keep them in the fridge even for a week.
Lunch & Dinner Main Dish Cauliflower Rice Recipes
When it comes to keto cauliflower rice recipes for lunch and dinner, you'll quickly realize there are endless options.
The cauliflower rice removes the guilt from this comfort food by replacing the regular high-carb rice and letting you amaze your taste buds with this creamy delicacy. You can have it on a feel-good night out or fix it at home in 30 minutes.
You can still enjoy this classic delicacy without compromising your keto goals. Cauliflower replaces traditional grain grits toning down the net carbs.
Use cauliflower rice and a replacement for rice and barley in this chicken soup!
Turn your keto Spanish rice into a meal with this easy keto cauliflower rice recipe.
Ham and cheese is a classic combo. Serve it up with this easy casserole recipe.
Stir-fry is an amazing way to have copycat take-out at home!
This cauliflower pizza crust uses frozen cauliflower rice and five other ingredients. It seems super easy to put together and you can use any toppings.
You can't go wrong with a one-pot meal! I love that this one takes less than 30 minutes.
Italian sausage helps this dish to be packed with flavor! Plus, I love that it can be made in an air fryer.
I never heard of this Greek dish, but it certainly looks delicious.
If you love sushi, then this easy recipe will certainly cure the cravings. And, by swapping regular sushi rice with cauliflower rice, you're cutting most of the carbs.
Side Dish Cauliflower Rice Recipes
There are incredible keto recipes with cauliflower rice that make magical side dishes for keto enthusiasts.
This side dish is full of flavor and uses just a handful of ingredients.
This makes the perfect base for burrito bowls. I top this with my pulled pork shoulder, keto guacamole, and homemade salsa.
The traditional high-carb risotto is a favorite of many, but if you're on keto, this isn't for you. Replacing regular rice with cauliflower rice in this recipe will give you a guilt-free indulgence.
Make keto Chinese take-out at home with this quick and easy riced cauliflower recipe. Add shrimp or chicken to make this side dish a meal.
This is the perfect side dish for recipes like my air fryer roasted whole chicken.
Switch the white rice with cauliflower rice, then add your celery, onions, spices, and seasonings to create a keto-friendly version of the classic dirty rice. This sounds like the perfect side dish for my Cajun Shrimp or Cajun Chicken.
If you love Mediterranean food, then this side will give you all the flavors. Serve it up with my indoor grilled chicken kabobs!
Dessert Cauliflower Rice Recipes
I never would have thought that cauliflower rice could be used in dessert. But, these two creative cauliflower rice recipes prove that it's not a stretch.
If you're used to the traditional rice pudding, you may be hesitant to try this recipe but let me dispel your fears. The cauliflower rice will produce the same tasty results and, better still, keto-friendly.
Smoothies are easy to make and consume. This particular keto smoothie will give you a new liking for vegetable smoothies. It's tasty and low-carb, thanks to the cauliflower and blueberry collaboration.
Tips and FAQs
Final Thoughts
Coming up with interesting and keto-friendly dishes for every meal can be a task. Luckily, help is now available, and the keto cauliflower rice recipes above are just a few of the many options.