This post may contain affiliate links to products I use and highly recommend. You can read my full disclosure .
If you find yourself midway through a recipe that you didn't realize was a Xanthan gum recipe, don't fret. This guide will tell you all about this uncommon pantry ingredient and its uses in cooking and baking. Plus, I'll provide some great substitutes for Xanthan Gum and give tips on how to substitute it in cooking and baking recipes.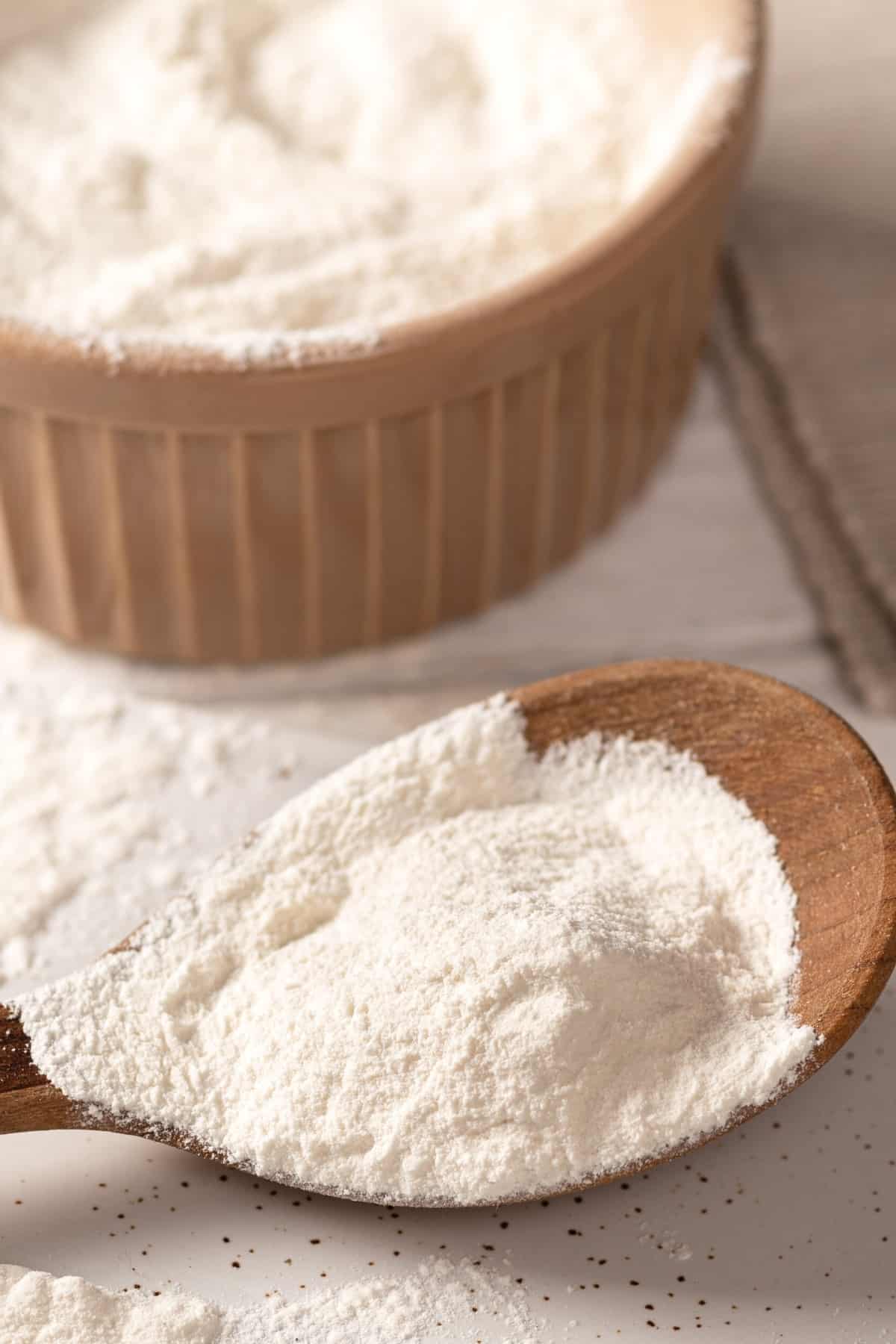 What is Xanthan Gum?
Xanthan gum is often used in making medicine, beauty products, and food.
In cooking and baking, it has different effects on food. For example, Xanthan gum preserves texture, acts as a glue or paste, and thickens food.
In the medicine we take and beauty products we use, xanthan gum plays a similar role. So, it's not surprising that you can find it in eye drops, tablets, facial masks, creams, serums, and cleansers.
Xanthan gum is popular because it is a food additive, especially in foods that need to stay a certain texture.
It is also common in baked goods because xanthan gum helps trap air bubbles created by yeast, baking powder, and baking soda which can make your baked goods rise more and be fluffier.
For example, I use Xanthan gum in my keto blueberry muffins and keto brownie cupcakes to help them rise without grains.
Xanthan gum is also in some salad dressings and sauces. As examples, I use it my keto bbq sauce, keto sweet chili sauce, and strawberry sauce because it thickens liquids by creating a bond that holds them together.

That bond is also how Xanthan gum traps air bubbles and helps to preserve the texture and shape of food.
But, some people (like people with celiac) avoid xanthan gum and items that include it because it can have gluten in it.
Others, who are new to using it, simply don't have it in their pantry.
So what can you use instead of xanthan gum in your recipes? Are there options for gluten-free xanthan gum?
Read on to get the scoop on substitutes for Xanthan gum, how these additives work, and how making changes to a recipe can affect the outcome of your food!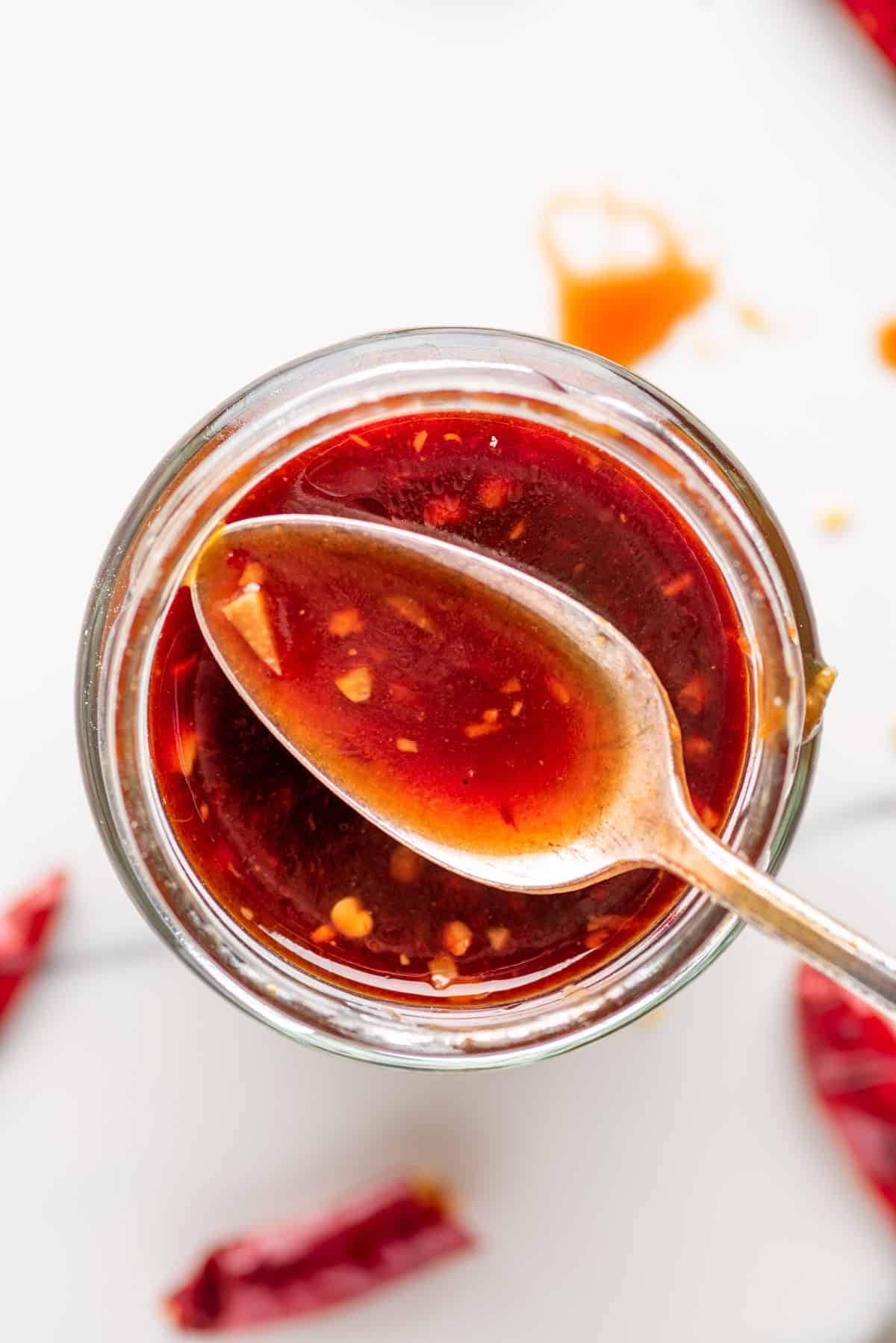 How Xanthan Gum is Used in Cooking, Baking & Packaged Foods
Xanthan gum is most commonly used as a thickener in all kinds of foods, as well as an additive in many packaged foods.
Xanthan gum is not in tons of recipes that home chefs and amateur bakers often use. For me, I only learned about it after exploring a keto way of eating.
But, at some point, you are sure to encounter it on an ingredient list.
Xanthan gum is a binder, but it is also an emulsifier!
Xanthan gum binds the ingredients of a recipe together by creating molecular structures of gluten that attach to the molecules of xanthan gum. It forms a gluten net that preserves the texture and structure.
Xanthan gum works as an emulsifier in the same way as when it binds ingredients together, except during emulsification the structures are keeping ingredients together that would typically separate. Think of salad dressing where the oil and vinegar do not separate.
Xanthan gum is in a lot of preserved and packaged foods. It is more common in foods than you might think!
Check the labels of packaged foods in your home or supermarket and you will find that xanthan gum is in lots of items. Looks
Top Reasons to Need Substitutes
Because xanthan gum is not a common pantry item, you may find yourself midway through a recipe and realizing that you need xanthan gum with none on hand. Luckily, there are some great substitutes for xanthan gum!
Alternatively, you might choose to avoid xanthan gum because it does not fit with your way of eating so you need substitutes.
Best Substitutes for Xanthan Gum
Here we have a list of the best xanthan gum substitutes that you can use in your recipes to create the same effect as xanthan gum! You will also get information about ways that the substitute differs from xanthan gum in the final process.
#1: Water and Chia Seeds
Chia seeds are known for their unique gel that forms when they are soaked in liquids for a while. The gel is similar to the consistency that xanthan gum gets. Chia seeds are a great substitute for xanthan gum when you are trying to add some fiber and nutrients into your recipe because chia seeds are loaded with fiber and essential nutrients!
Chia seeds can be used whole to add a bit of crunch to your food. When chia seeds are used whole, they have a gentle nutty flavor. You can also grind up your chia seeds to create a smoother texture and less nutty flavor in your food.
It is easy to turn chia seeds into a xanthan gum substitute. For every one part of chia seeds, add two parts of hot water. Next, you mix the seeds and water until the mixture becomes a gel-like substance.
Two things you should know about chia seeds as a substitute. First, chia seeds replace xanthan gum in a 1:1 ratio. So, one cup of xanthan gum would be one cup of chia seed mixture.
Second, you might need to add 10 or 15 minutes to the cooking time because chia gel can take longer to cook.
Chia seeds are a gluten-free substitute and are also low carb!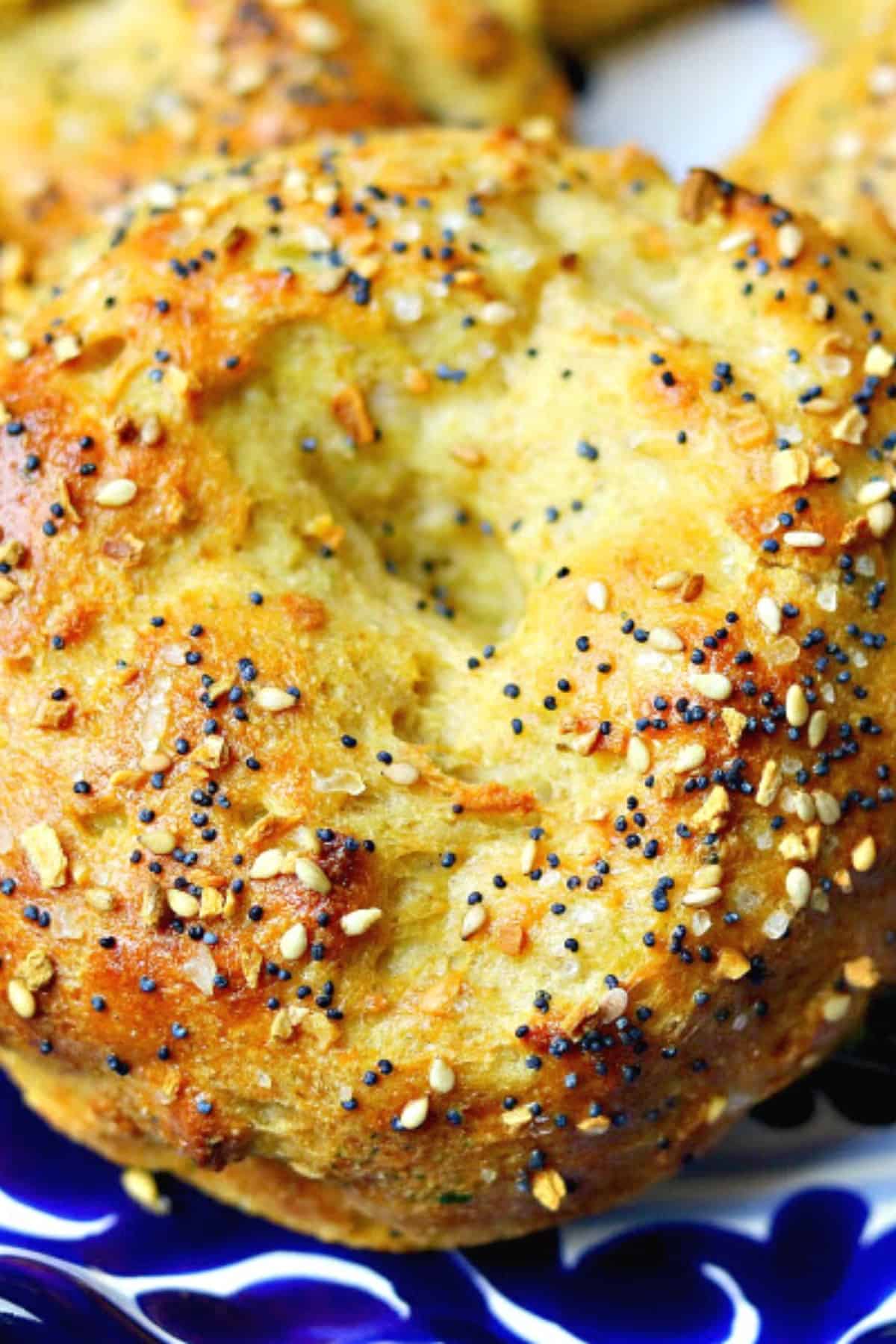 #2: Psyllium Husks
Made from the husks of the Plantago ovata seeds, ground psyllium is used in baking just like xanthan gum.
Psyllium husks act almost exactly like xanthan gum does in cooking. So, lots of people love using ground psyllium husk as a substitute for xanthan gum.
I can personally vouch for the fact that psyllium husks makes great, chewy keto bagels!
In baking, Psyllium husk has a 1:2 ratio with xanthan gum, which means that for every 1 part of xanthan gum, you should substitute it for 2 parts of psyllium husk. Simply said, use twice as much psyllium husk as the xanthan gum that the recipe calls for.
Ground psyllium husk is a soluble fiber, just like xanthan gum, which means that if xanthan gum gives you digestive issues, you may want to try another substitute.
Psyllium husks are also gluten-free and follow the keto diet!
#3: Cornstarch
Cornstarch works similarly to xanthan gum and has a similar appearance and texture.
Cornstarch works by absorbing liquids in the recipe to thicken, which makes it common in sauces, gravies, and soups.
Xanthan gum and cornstarch have a 1:1 ratio. So, you just replace the amount of xanthan gum in the recipe with cornstarch!
I tested this in my keto shrimp and grits and tomato soup recipes and learned that they were perfect swaps.
Cornstarch is great to use in place of xanthan gum because most people have cornstarch in their pantry rather than psyllium husks or xanthan gum.
You should know though that cornstarch is gluten-free but is all carbs.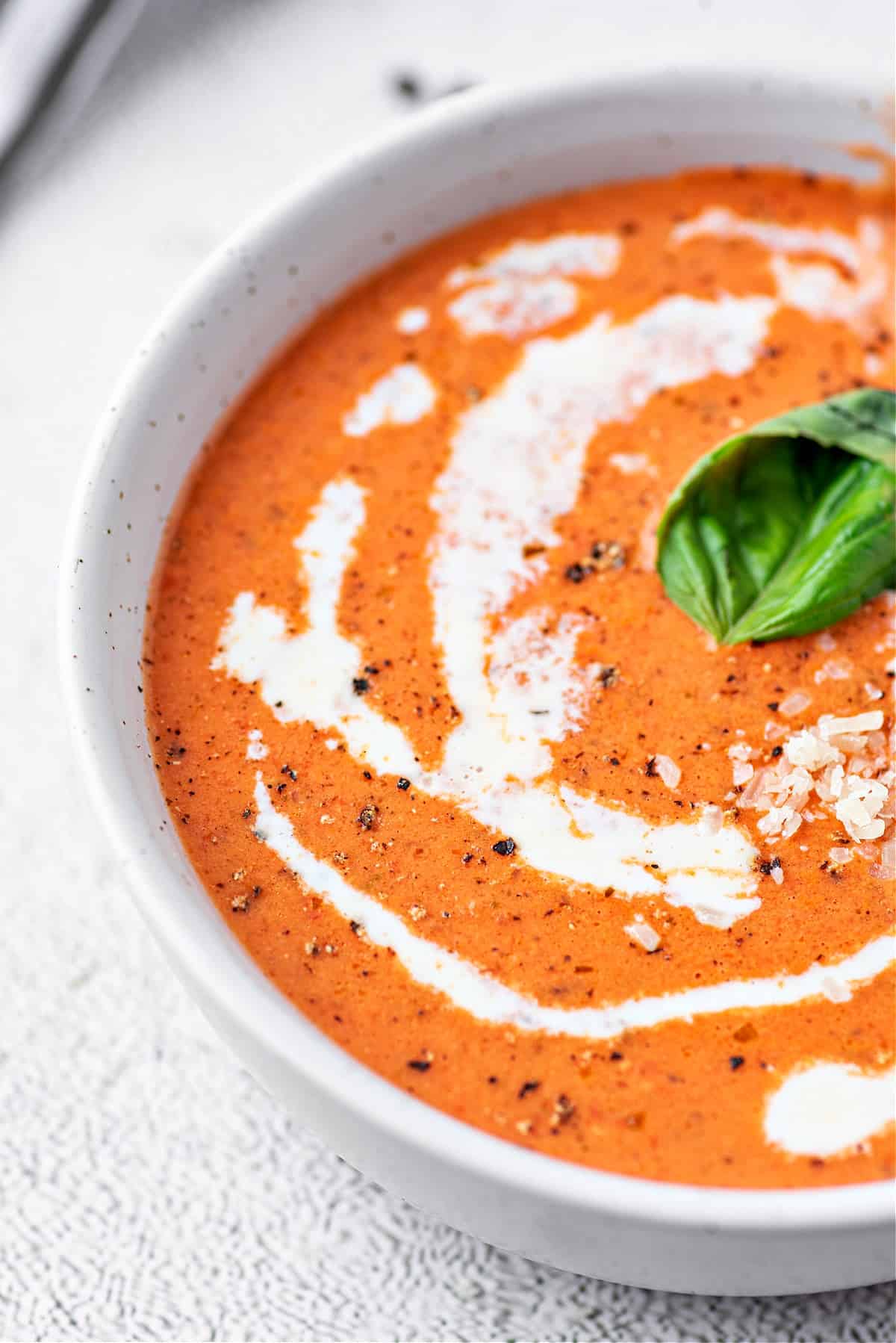 #4: Water and Flax Seeds
Similar to chia seeds and water, flax seeds create a gel-like substance when they are mixed with liquids.
Unlike chia seeds, flax seeds should be ground up before they are mixed with water, as the whole flaxseed does not do too well at binding.
Ground flax seeds might be sold under the name flax meal or ground flax. You can create the gel by mixing 1 part ground flax seeds for every 2 parts of hot water. Mix the two until the paste begins to form, and then you are ready to go!
Flax seeds often give recipes a little bit of a grainy texture and can add some nutty flavor as well.
Xanthan gum and flax seeds have a 1:1 ratio, so for every 1 part xanthan gum, you substitute it with 1 part of your flax seed mixture.
#5: Gelatin
Gelatin is another ingredient you can use in place of xanthan gum!
Unflavored gelatin has a similar protein and structure to xanthan gum, so it works very similarly!
Gelatin is made from animal collagen and creates a jelly substance that can be used in baked goods!
To use gelatin as a substitute for xanthan gum, you will need to use a ratio of 2:1, meaning 2 parts of gelatin for every 1 part of xanthan gum.
You do need to know that while gelatin is gluten-free and keto-friendly, it is not vegetarian or vegan because it is made from an animal. Additionally, it is not halal or kosher because it is made from pigs' skin.
Questions Related to Xanthan Gum Substitutions
Is There Any Gluten-Free Xanthan Gum?
Yes! Some brands remove gluten from their xanthan gum to make it more accessible to people who live gluten-free lives.
However, this can sometimes impact how well the Xanthan gum works in thickening, emulsifying, and holding texture.
Be sure to check that the brand of gluten-free xanthan gum you are buying is also produced in a gluten-free facility.
Is Xanthan Gum Unhealthy?
Xanthan gum is approved by the FDA as safe for human consumption.
One possible reason some people think that xanthan gum is unhealthy is that it is a soluble fiber. For some people, it can upset your stomach when you have a bunch.
Another possibility is that it doesn't have any essential nutrients, vitamins, calories, or minerals.
But, overall, others would argue that Xanthan Gum is healthy because of some possible benefits related to a person's blood sugar and weight.
If you found this cooking tip useful, please leave it a star rating and/or a review in the comments. Stay connected with me on Instagram, Facebook, and Pinterest!