If you're following keto, low-carb or gluten-free, you've definitely heard a thing or two about Xanthan gum, which is a gluten-free food additive usually used as a stabilizer or thickener. But, you might not know how to cook with it. Or, if you've purchased a bag to use it in a single recipe, then you're probably wondering about other ways to use it. So, this collection of Xanthan gum recipes will give you more than 20 ideas about to how to cook with Xanthan Gum and use it in keto recipes.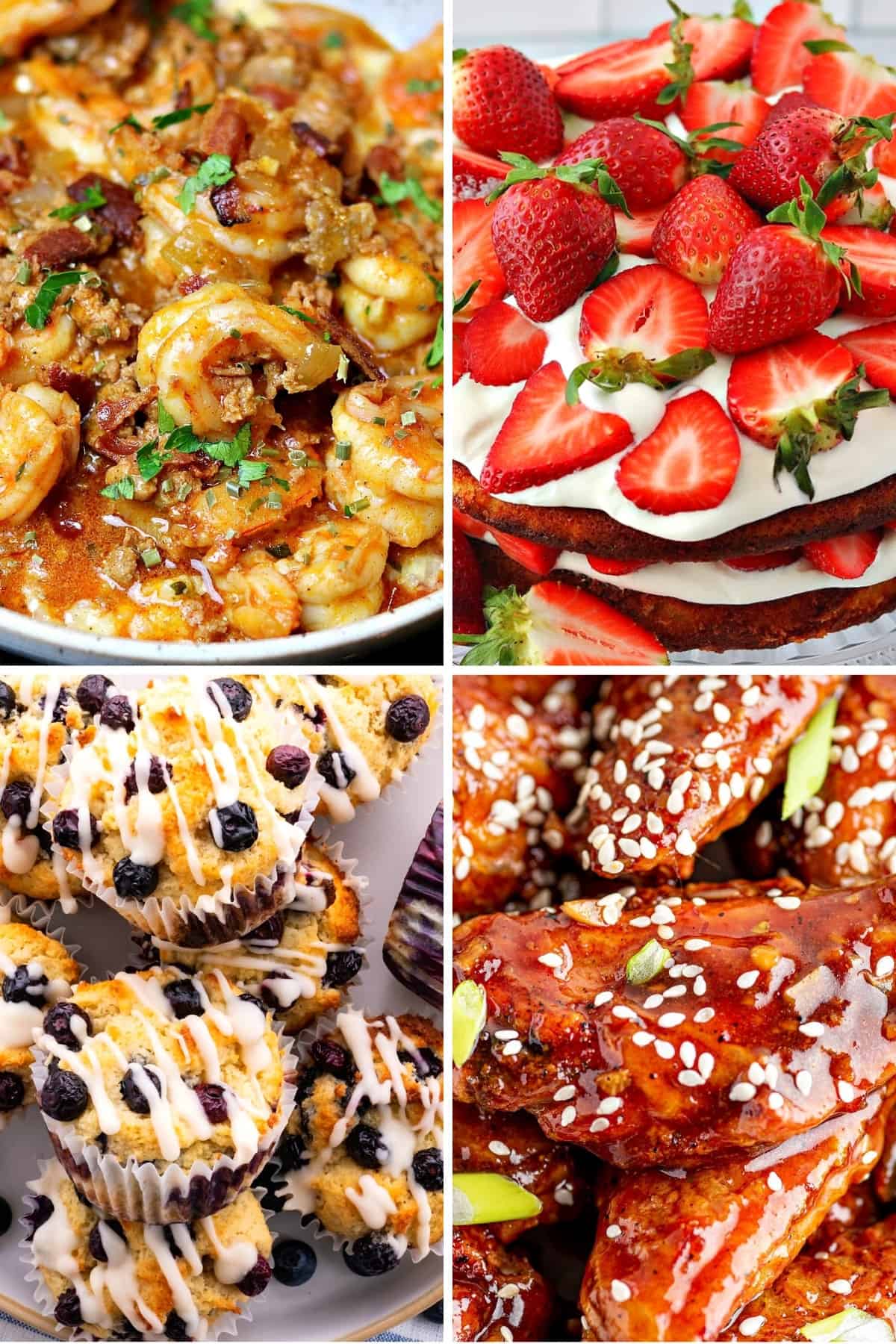 Why Share?
You only need a little xanthan gum for every dish, so it's important to know how and where to use the rest of it. This post will give you ideas on cooking and baking using xanthan gum.
The following are some popular recipes that use xanthan gum:
Savory Xanthan Gum Keto Recipes
This low-carb mushroom soup is best served with my cream of mushroom chicken. Xanthan gum is added with the liquids to thicken the soup.
If you're looking for a low-carb green bean casserole, try this one. It's made with DIY keto cream of mushroom soup, and the recipe is easy to follow. Plus, it has a video tutorial.
With only a few common ingredients, you'll make a keto-friendly, yummy tomato soup. One serving of this has only 7g net carbs.
This dish is a riot of flavors requiring only 4 main ingredients to get done. It's one of my favorite xanthan gum recipes so far.
Do you miss the traditional shrimp and grits now that you're on a low-carb diet? This keto recipe will guiltlessly satisfy your cravings.
This soup is flavor-packed and filling. You only need a handful of simple ingredients to make it, and a single serving has about 9g net carbs.
Whenever you crave a chicken takeout, this chicken and broccoli combo is your go-to dish. It's simple, low-carb, and will be ready in less than 30 minutes.
Try this recipe if you want to satisfy your bread cravings minus the extra carbs. The result is equally delicious, plus it'll keep you on track.
Sauces & Gravies Xanthan Gum Recipes
You need about 7 ingredients to make this keto sauce, a perfect replacement for your favorite, carb-loaded Chinese takeout. I used it to make keto sweet and sour shrimp.
This is another one of the many recipes that use xanthan gum. Have this sauce with your favorite teriyaki chicken. It's low-carb and takes only 15 minutes to make.
Do you want to enjoy your BBQ the keto way? This BBQ sauce is the real deal. It uses low-carb ingredients and comes together in about 15 minutes. I add it to my air fryer bbq wings, air fryer bbq chicken breasts and keto ribs!
You only need 5 ingredients and 15 minutes to cook this tasty gravy to go with your favorite keto proteins and vegetables. You can make it with broth or use pan drippings like from my pressure cooker turkey breast and a keto pot roast.
This strawberry topping will crown your keto pancakes without compromising your low-carb goals. It requires 4 ingredients and takes less than 15 minutes to cook.
You can make your favorite sweet chili sauce minus the sugar. A keto sweetener replaces regular sugar, and your sauce is ready in about 15 minutes. I include this in my most popular post: Keto Bang Bang Shrimp.
Sweet Xanthan Gum Keto Recipes
These sugar-free, gluten-free, and grain-free muffins are what you need to start your keto day on a high note. They are low-carb but won't disappoint your taste buds.
Almond flour and natural sugar alternatives keep this keto-friendly. It's easy to make, and one serving has 4g net carbs.
Try this recipe if you want to enjoy your brownies without giving up your keto goals. It uses almond flour and other low-carb ingredients.
This lemon pound cake is easy, keto-friendly and effortlessly replaces your favorite regular lemon loaf. It's easy to make with only 6 ingredients.
Do you love carrot cakes like me but are on a keto or low-carb diet? Use this recipe to make a keto-friendly carrot cake. One slice has 7g net carbs.
This strawberry cake is flavorful and low-carb, thanks to the fresh strawberries, almond, and coconut flour.
You won't notice the difference in taste between these cookies and the regular ones. A single keto oatmeal cookie has 1g net carbs.
If the classic banana pudding was your thing before you went keto, this recipe will serve your needs minus the extra carbs. It goes well with keto cookies.
Key Takeaway
If you had little (or no) knowledge of how to use Xanthan gum, now you know. You can try the Xanthan gum recipes here and judge the results.
FAQs