This post may contain affiliate links to products I use and highly recommend. You can read my full disclosure .
Chicken legs are budget-friendly and usually very delicious. But are typical chicken leg recipes keto? No, but that's because most include flour breading, cornmeal, or other sauces.
However, this doesn't mean you cannot enjoy yummy chicken legs if you want to cut carbs, skip breading, or added sugar. There are many breading and seasoning alternatives that won't interfere with your goals.
Keep reading if you're looking for keto chicken leg recipes to mimic your favorite dishes. I did the heavy lifting for you and compiled a list of simple and amazing keto chicken drumstick recipes you can try.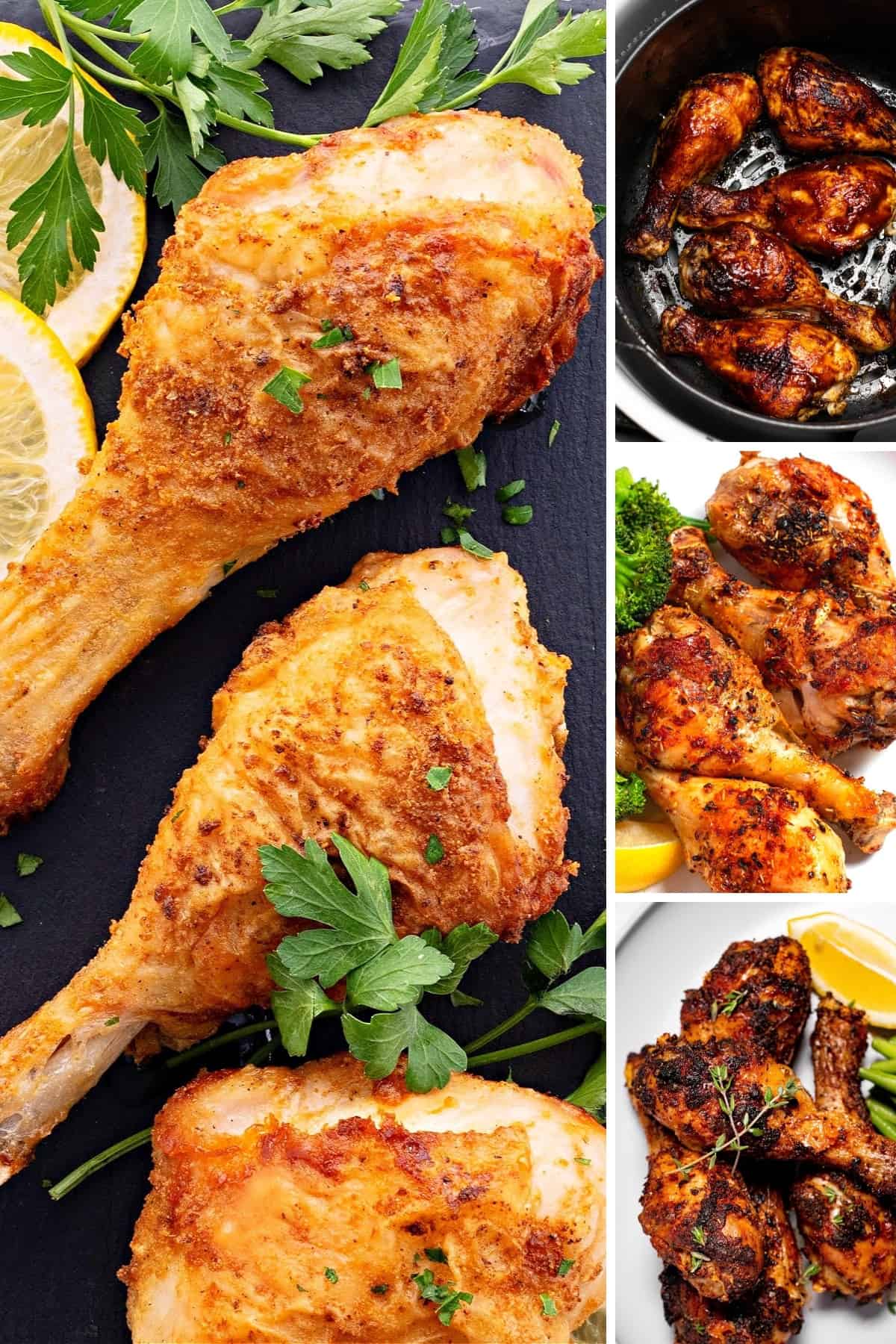 Why Share?
Chicken legs are common delicacies thanks to their budget-friendliness. However, finding keto-friendly drumstick recipes is a challenge.
Below are chicken leg recipes you can guiltlessly add to your keto, low-carb, or sugar-free menu. You can also visit my longer recipe collection for more low carb chicken recipes.
9 Best Keto Chicken Leg Recipes
Your tastebuds will love this simple delicacy. It takes about 25 minutes to cook and uses common ingredients. I used homemade keto BBQ sauce.
Air Fryer BBQ Chicken Drumsticks
This Air Fryer BBQ Chicken Drumsticks recipe is perfect way to grill BBQ chicken indoors. Uses common ingredients. Ready in about 25 minutes.
Get this Recipe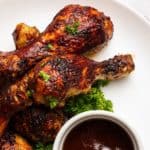 If you have an air fryer, try this recipe. You'll need 4 ingredients and less than 25 minutes to make these mouthwatering roasted chicken legs.
Air Fryer Roasted Chicken Legs
Get Roasted Chicken Legs in less than 25 minutes with this no-fuss, four ingredient air fryer chicken legs recipe. Whole30. Paleo. Keto. Low-carb.
Get this Recipe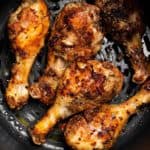 These drumsticks are ridiculously delicious, thanks to my DIY chicken dry rub. They'll be ready in less than 30 minutes and require only 3 ingredients.
Air Fryer Dry Rub Chicken Drumsticks
A juicy & flavorful Dry Rub Air Fryer Chicken Drumsticks recipe that takes less than 30 minutes to make. Pair with any side dish to make a meal.
Get this Recipe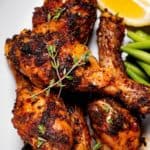 This recipe is your fix if you want tasty and crispy chicken legs without flour breading or deep-frying. These are keto-safe and take about 30 minutes to cook.
Air Fryer Chicken Legs
These air fryer chicken legs are juicy and tender on the inside, but perfectly crunchy on the outside. They're keto-friendly, gluten-free, and only take 35 minutes to make.
Get this Recipe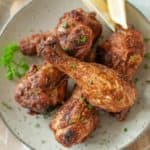 Make a quick and easy marinade with simple ingredients using this Air Fryer Chicken Drumsticks recipe. Cooks in less than 30 minutes and is perfect for meal prep.
Marinated Chicken Drumsticks (Air Fryer)
Cook marinated chicken legs (or marinated chicken drumsticks) in your air fryer with this simple Air Fryer Marinated Chicken Drumsticks recipe.
Get this Recipe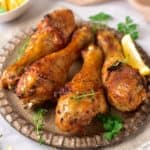 This keto-remake of an Indian classic dish is a riot of flavors. It's easy to make and uses basic ingredients. If you're looking for boldly-flavored keto chicken leg recipes, this is the one. Unlike some of the others this uses chicken leg quarters.
Easy Tandoori Chicken Recipe In The Oven
An EASY baked tandoori chicken recipe with basic ingredients! Learn how to make tandoori chicken in the oven, including the tandoori chicken marinade and the best method for a crispy skin and juicy inside.
Get this Recipe
Enjoy these incredibly delicious and tender chicken legs without worrying about extra carbs. They are keto-fit and easy to cook.
Slow Cooker Teriyaki Chicken Legs + VIDEO
Using a homemade sauce, these family friendly slow cooker teriyaki chicken legs are a crowd pleaser. This easy low-carb, paleo, whole30 chicken recipe can also be made in the Instant Pot. Homemade Teriyaki Sauce There are several reasons I recommend homemade sauce vs store-bought. The main reasons a…
Get this Recipe
The perfect blend of cream and natural spices makes this dish exclusively delicious. The chicken legs come out tender and juicy in the oven.
Baked Chicken Legs (Creamy and Spicy)
Baked Chicken Legs (Creamy and Spicy) — a creamy baked chicken that has robust flavors and a creamy sauce with just 10 minutes prep time.
Get this Recipe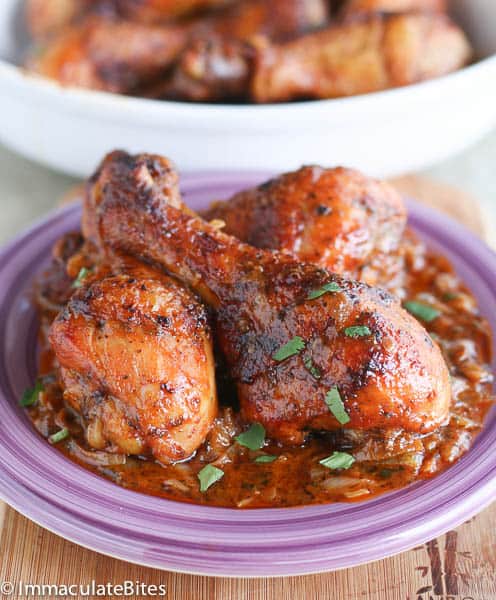 Thanks to the instant pot, these are super easy to prep and cook. You don't need to monitor your dish as it cooks, and the results are finger-licking.
Instant Pot Chicken Leg Quarters
This instant pot chicken leg quarters recipe is a quick and easy way to make chicken that is fall-off-the-bone tender, juicy, and moist. Your whole family will love it!
Get this Recipe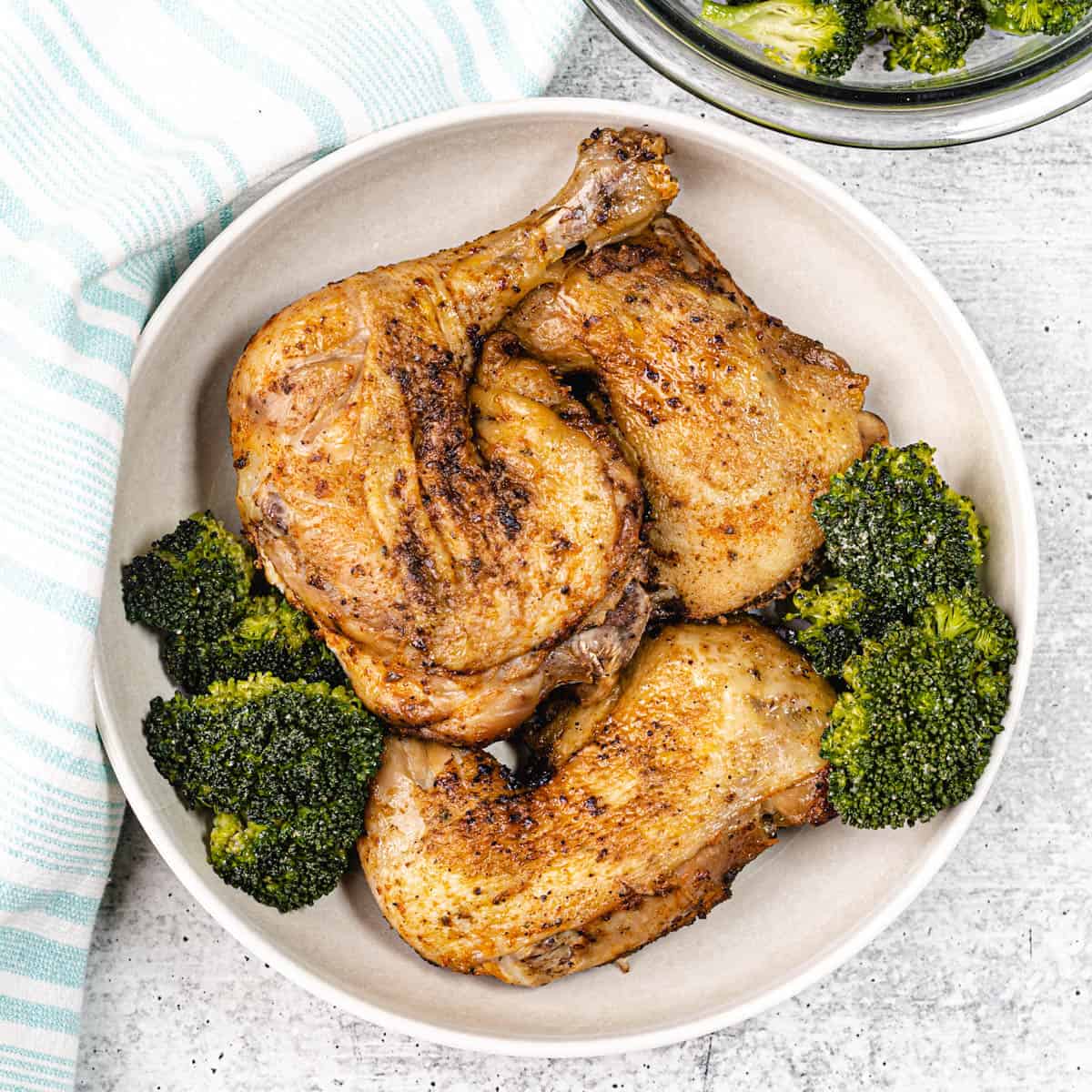 These smoked chicken legs are to die for. The recipe uses less than 10 ingredients, and the results are explosively flavorful. Keto options for sauces include my keto sweet chili sauce and sugar-free bbq sauce.
Smoked Chicken Legs
It's not surprising that smoked chicken legs are a fan-favorite comfort food for smoking enthusiasts almost everywhere. Super Tender!
Get this Recipe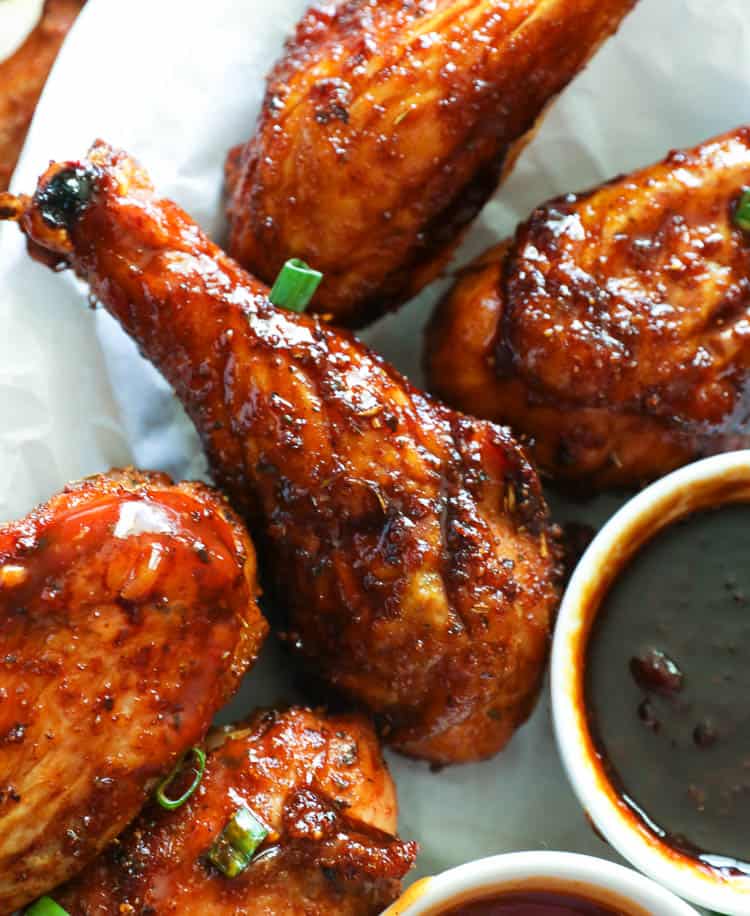 FAQs
Are drumsticks good for keto?
Yes. One drumstick (skinless-44g) has 0g of carbs and 2.5g of fat.
How many net carbs are in a chicken leg?
0g net carbs
How many carbs are in air fryer drumsticks?
It depends on whether you add breading or sauces. My air fryer drumstick dish has 3g net carbs per serving.
How many carbs are in a chicken drumstick with skin?
0g carbs. The skin only increases the calories but not carbs.
Are chicken drumsticks high in fat?
Drumsticks have moderate fat content. One drumstick (skinless) has 2.5g of fat.
Bottom Line
Chicken legs are naturally keto, but most common recipes include sauces and breading that don't work for those on keto, low-carb, or those cutting added sugar. The keto chicken drumstick recipes above will help you enjoy chicken legs, chicken drumsticks, and chicken quarters without sacrificing your goals.