This post may contain affiliate links to products I use and highly recommend. You can read my full disclosure .
The air fryer is one of my favorite kitchen gadgets because it allows me to quickly make crispy dishes using minimal oil. However, after I started using one more often in my keto air fryer recipes and Ninja Foodi recipes, I wondered what things I could and could not use in it. For example, can you put foil in your air fryer? In this article, I discuss whether you can use aluminum foil in your air fryer, common questions about it, and alternatives like parchment paper.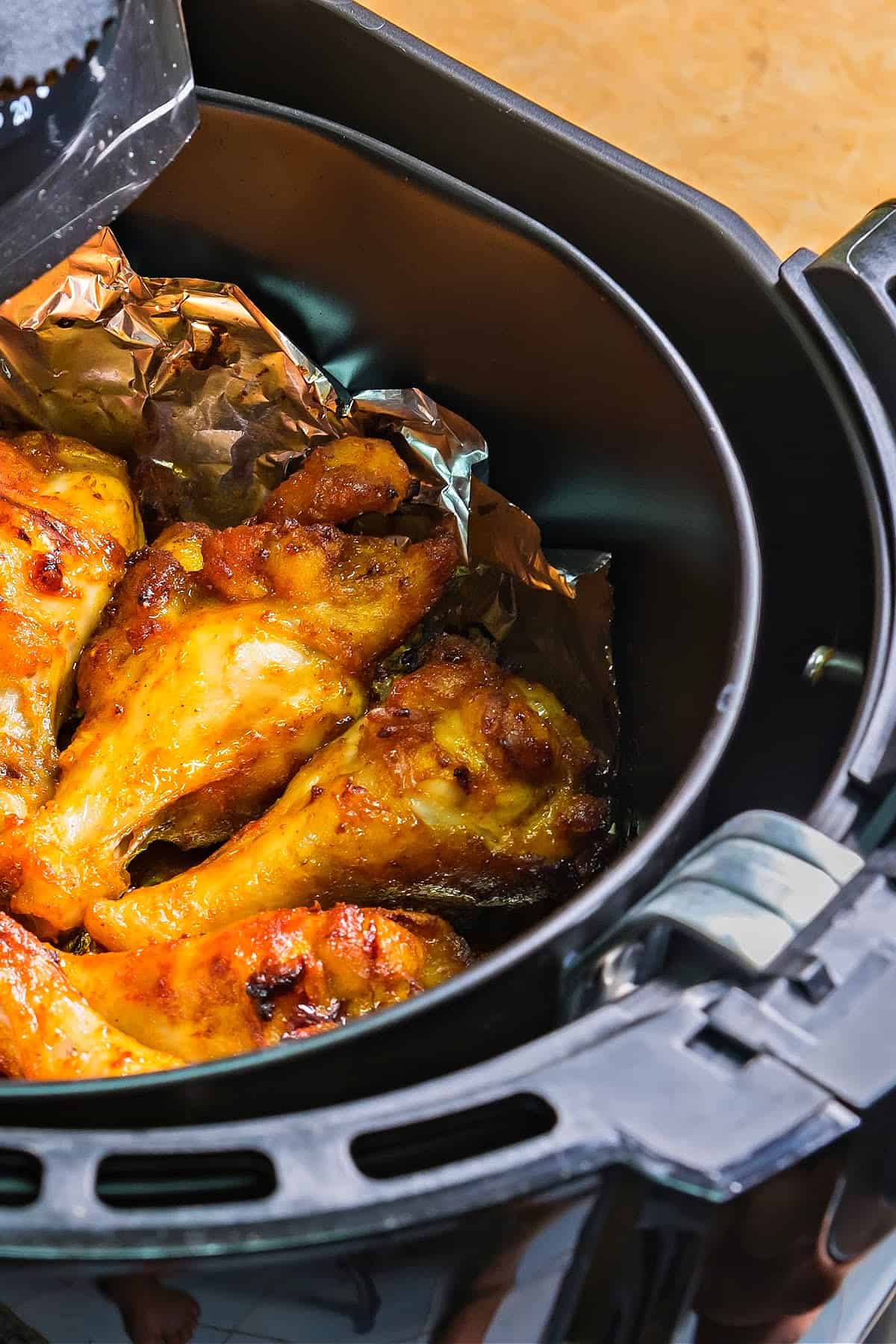 Can You Put Foil in Your Air Fryer?
We all know that if you put aluminum foil in the microwave that you'll end up with flying sparks and flames. But is that the same for air fryers?
If you wonder if it is okay to put foil in your air fryer, the short answer is yes.
Why, you might be asking? Well…
While microwaves utilize micro-waves as their heating medium, air fryers use hot air. This makes microwaves and air fryers quite different and make putting foil in an air fryer generally ok.
Some Advice: Three Tips Before Adding Foil
Even though using aluminum foil is generally ok, it is always important to check your air fryer's manual to know if you can place a foil inside it. You might have an air fryer that specifically mentions not using it for best results.
Besides checking your air fryer's manual, it's also important to make sure that when you use foil, that there is room for airflow. The reason for this is that your air fryer forces hot air around your food and blocking the air with foil may prevent the food from cooking properly.
Another tip is to make sure that you put the foil in the basket with food and that you don't use more than a single layer. For example, you wouldn't want to have foil flying around while you preheat you air fryer. You also wouldn't want to use so much foil that your food has no air to cook.
Why Use Aluminum Foil in Your Air Fryer?
I use foil all the time, but why consider using it in the first place? Well, there are five primary reasons I might choose from when it comes to using aluminum foil when I'm air frying foods.
1. It Enhances Flavor
One of the reasons you should use aluminum foil in your air fryer is because it enhances the flavor of your food. Aluminum foil ensures that the spices and sauces don't escape. This is especially true in recipes like my lemon shrimp foil packets, which work great on a grill or in an air fryer.
2. It Distributes Heat Better
Aluminum foil ensures better heat distribution when used correctly because of its thermal conductivity. This means that it heats up quickly helping to cook food more efficiently. It also cools very fast, meaning that it becomes cooler to touch quicker than other options. I experienced this personally when roasting garlic in my air fryer.
3. It Encourages Easier Clean-Up
One of the perks of using aluminum foil is that it can help prevent a mess. For example, when making keto bbq ribs, I prefer to air fry the meat with bbq sauce on top. By using foil, I can skip out on scrubbing my air fryer basket because the foil catches the sauce.
4. It Enhances the Durability of Your Air Fryer
Similar to using parchment paper in your air fryer, foil reduces or prevents scrubbing your air fryer basket during cleaning. Not scrubbing your air fryer basket increases its durability over the long term.
5. It Prevents Food From Sticking to Your Air Fryer Basket
Placing aluminum foil in your cooking basket helps prevent the food from sticking. This is especially important for saucy or delicate foods like fish and other seafood.
How to Use Foil in Your Air Fryer?
Now that you know you can use foil, the next step is to know how you can use it for better results.
Make sure your air fryer allows it: you can confirm this by double checking your product manual
Place the aluminum foil in the cooking basket with room to spare: You should ensure the foil does not cover the holes necessary for hot air circulation around the basket. In my experience, this means having enough space for your foil and food to fit comfortably in your basket. If your foil is covering up the edges and the food is stuffed in there, then there's probably not enough room for the air to circulate.
Why Not Use Tin Foil in an Air Fryer?
Aluminum foil is preferred over tin foil because it is cheaper and more abundant. While aluminum foil does not stick to your food, tin foil may stick to your food.
If you've ever gotten a piece of tin foil stuck to your food, you know that it is annoying to accidentally bite into, but also a pain to remove.
Can You Put Foil in the Ninja Food Air Fryer?
Like most air fryers, you can also use foil in your Ninja Foodi. However, it's important to follow the steps mentioned above in terms of placing it.
Alternatives to Foil
Aside from using aluminum foil, these alternatives ensure your food cooks properly without sticking to the basket:
Like aluminum foil, parchment paper may also be used to prevent a messy clean-up and ensure evenly cooked food.
Silicone liners are heat resistant. They are safe to clean with your dishwasher, more eco-friendly and help keep your air fryer durable.
Key Takeaway
Aluminum foil helps prevent your food from sticking. In addition, it enhances the durability of your air fryer basket and improves heat distribution when used in an air fryer. However, placing your foil properly at the bottom of your air fryer basket is important for best results.
If you found this cooking tip useful, please leave it a star rating and/or a review in the comments. Stay connected with me on Instagram, Facebook, and Pinterest!