Can you put parchment paper in an air fryer to prepare delicious air fryer recipes without having a messy clean-up? Let's find out when, why and how.
This post may contain affiliate links to products I use and highly recommend. You can read my full disclosure .
Air fryers are increasingly popular in most households because they're great for a wide variety of air fryer recipes. However, the challenge with this adult oven, as it is sometimes called, is that your food may stick to the cooking basket. And, sometimes cleaning up the mess is difficult or a huge hassle.
So, you might be trying to figure out whether you can you put parchment paper in an air fryer to prevent the mess. In this article, I'll discuss whether parchment paper is the tool you need and give tips on how to use it.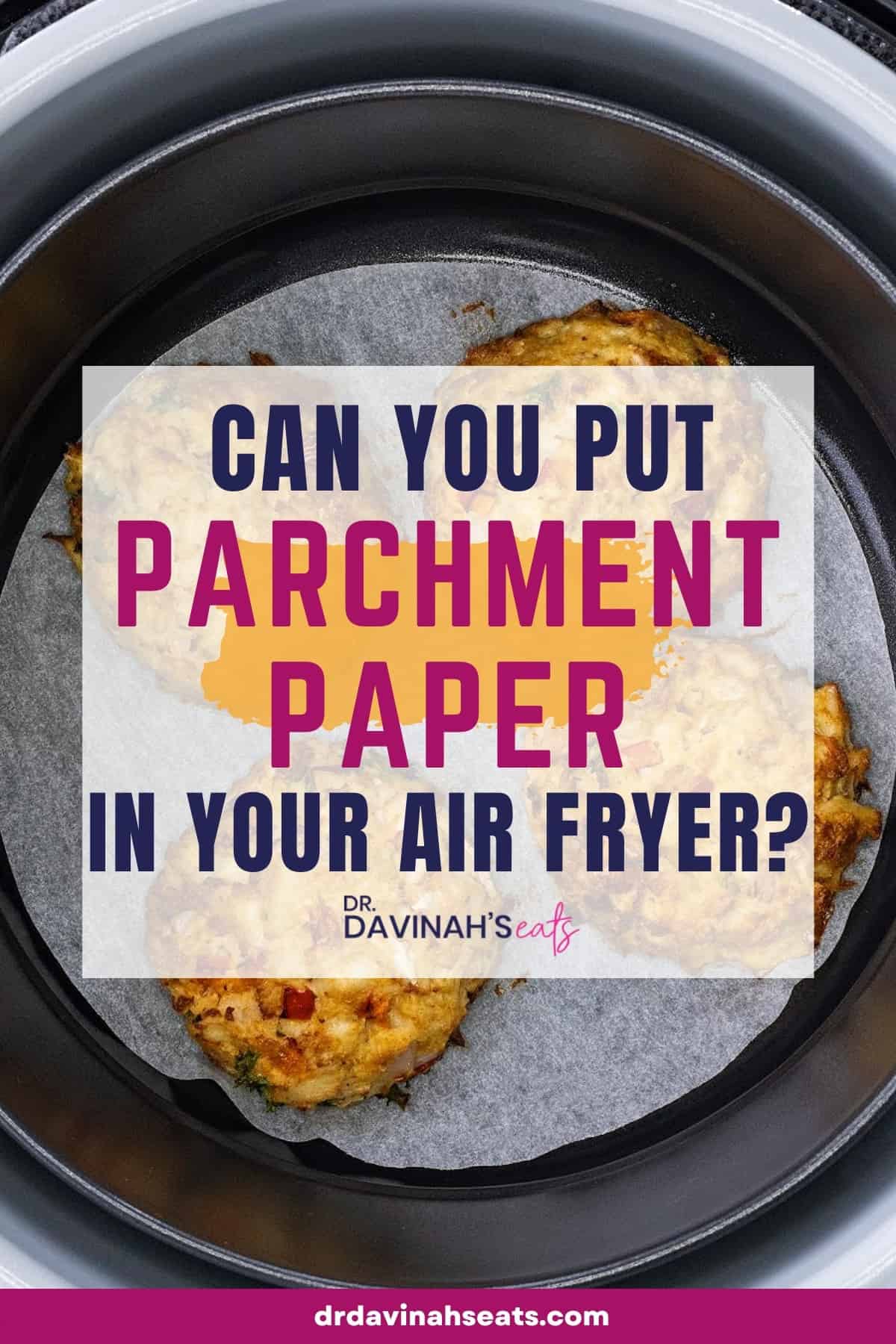 All About Parchment Paper
Parchment paper is a processed cellulose-based cooking tool that is resistant to humidity, grease and stickiness.
It's typically used to provide a non-stick surface when baking. For example, I use it to prevent my baked chicken wings from sticking to the sheet pan.
It comes unbleached or bleached. Both types have similar properties but differ by their color. Bleach parchment paper is white and contains chloride, while unbleached parchment paper has a brown coloration and does not contain chlorine. Your choice of parchment paper depends on your personal preference, but you can use the tips below to determine the best type for an air fryer.
For the most part, food safe parchment paper brands are oven safe and able to resist heat up to 450oF.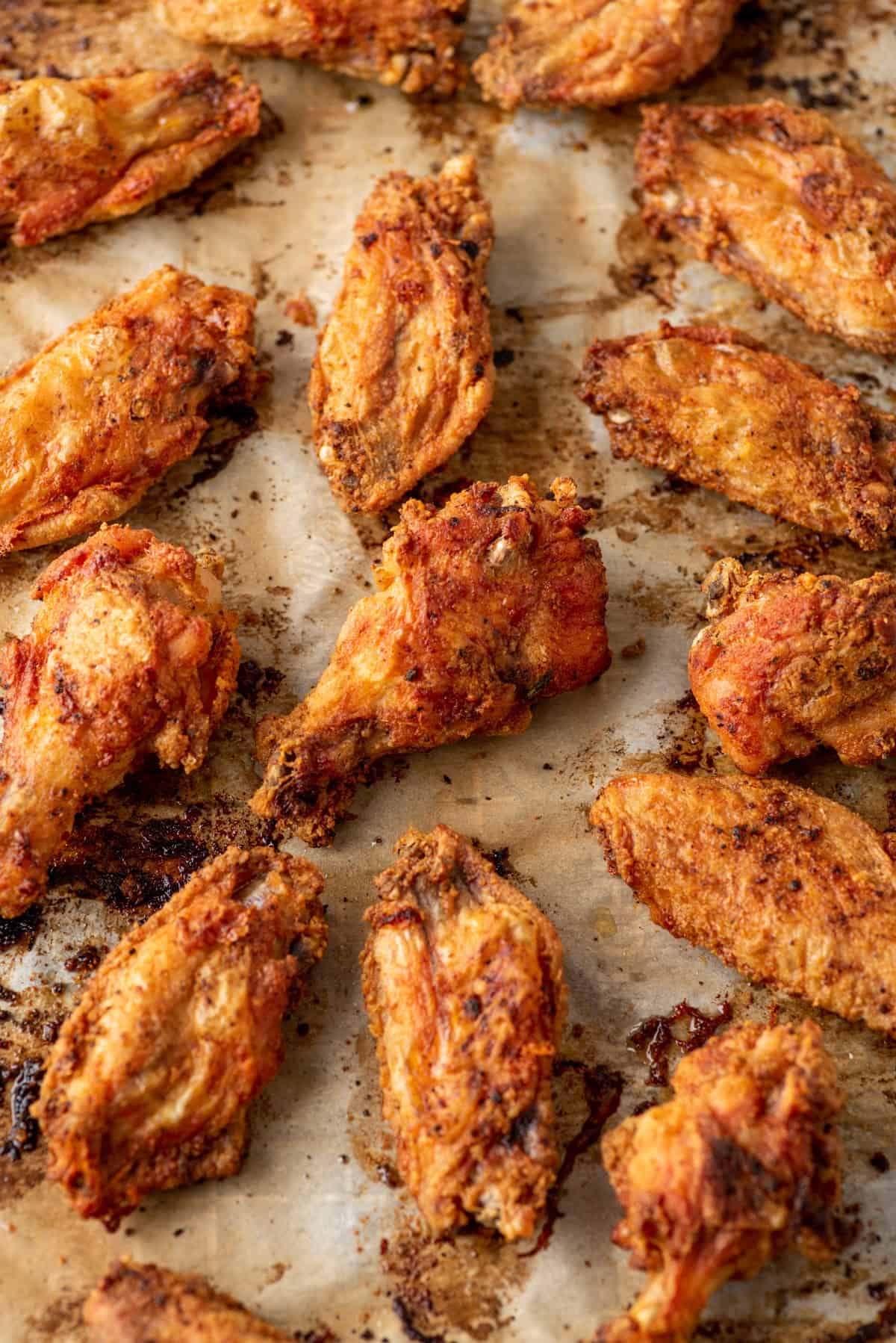 Parchment Paper in the Air Fryer
We all know that you can use parchment paper in the oven. But what about in your air fryer?
If you are worried about safety or fearing the parchment paper might catch fire at a high temperature, then you should worry less. Parchment paper can stand the heat of most recipes and is perfect in the air fryer.
Top Reasons to Use Parchment Paper
Prevents food from sticking, crumbling & tearing.
If you're making something delicate like my air fryer salmon or air fryer crab cakes, using parchment paper helps prevent the food from tearing or falling into pieces when trying to get it out of the cooking basket.
Prolongs your air fryer basket life.
If you're like me, your air fryer gets a lot of use. I make everything in it like bbq wings, crispy bacon, and even whole chicken.
Heat exposure and grease may affect your air fryer basket over time. Instead of scrubbing your air fryer basket to get it clean, the parchment paper reduces the mess.
In that way, using parchment paper can protect your air fryer basket and enhance its durability.
Parchment paper is a helpful cooking tool
Considering the reasons mentioned above, parchment paper is overall, an affordable tool that helps keep your air fryer working longer and the meals you make in your air fryer super easy.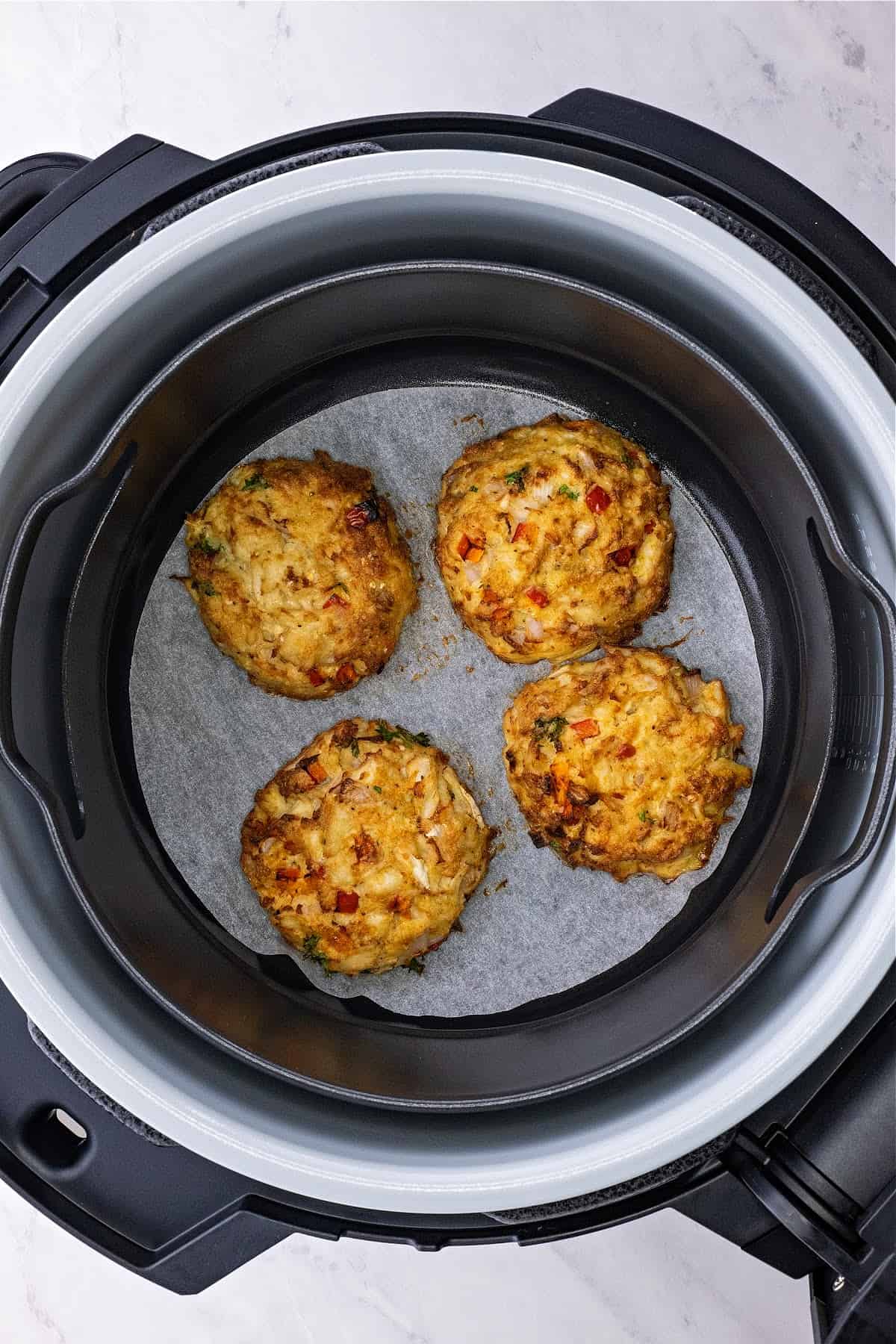 Best Types of Parchment Paper for an Air Fryer
There are several types of parchment paper from different manufacturers available in your local market's baking aisle. However, what should you look for when you're searching for some to use specifically in an air fryer?
Heat resistance for high cooking temperature: be sure that the parchment paper you choose can withstand heat up to 425oF. The maximum temperature for most air fryers is about 400oF. So, having the extra heat resistance will ensure that your parchment paper works well without burning.
Perforations for increased air flow: air fryer parchment paper has tiny holes in it to allow the air to flow through the air fryer. While I'll admit that I don't always use perforated parchment paper, you should be aware that using one without perforations may disrupt airflow and could cause a fire for recipes that have extra long cooking times.
How to Use It
Simply place the parchment paper in the cooking basket to use it. But, here is a step by step process:
Check the Parchment paper's maximum temperature
Before using parchment paper, it is vital to check its maximum temperature and compare the value to the temperature at which you will be cooking your food in your air fryer.
Make sure your parchment paper is heat resistant to a degree that is more than the cooking temperature in your recipe.
Use the right parchment paper.
Avoid using other paper types such as wax paper because it is not the same as parchment paper. In fact, wax paper is not heat resistant so it could melt in your air fryer.
Besides that, ensure you use food-grade parchment paper. Most options available list this in the product description.
Get the right parchment paper size.
Your air fryer basket may be smaller than the parchment paper, hence the need to measure and the parchment paper to be a bit smaller than the size of the basket.
If you have a Ninja Foodi, like me, then your air fryer could also be round. In this case, it's important to find parchment paper that fits.
Avoid preheating your air fryer with the parchment paper inside the basket
You should not preheat your air fryer while parchment paper is inside the cooking basket. Since, preheating requires you to run the air fryer without food, the paper may fly into your air fryer's heating element and could burn.
Avoid reusing parchment paper.
Depending on what you are air frying, the parchment paper may look wrecked and dirty after coming out of your air fryer. Therefore, avoid reusing worn-out parchment paper.
Differences Between Air Fryer & Regular Parchment Paper
The primary difference between regular and air fryer parchment paper is the presence of perforated holes.
As mentioned, the perforated holes enhance air circulation in your air fryer. This ensures that even though you're using a liner that your food still comes out crisp.
If you have regular parchment paper, don't fret. I find that for super quick recipes, like when I'm making fish, that it doesn't make a difference.
Conclusion
Parchment paper offers several benefits, including resistance against grease and moisture. Plus, it has the ability to withstand high cooking temperatures, making it a great tool for most air fryer recipes.
However, for the best results, in terms of air flow, perorated parchment paper works better than regular.
If you found this cooking tip useful, please leave it a star rating and/or a review in the comments. Stay connected with me on Instagram, Facebook, and Pinterest!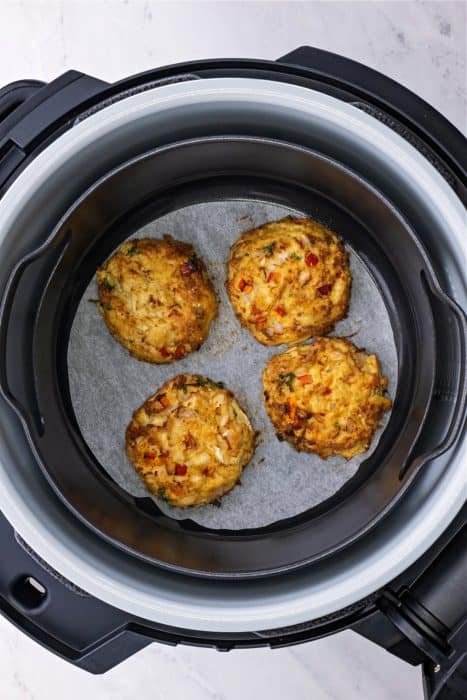 How to Use Parchment Paper in an Air Fryer
Can you put parchment paper in an air fryer to prepare delicious air fryer recipes without having a messy clean-up? Let's find out when, why and how.
Pin
Rate
Print
Use DRDAVINAHS at checkout to save on some equipment & ingredients!
Instructions
Choose an air fryer parchment paper that fits your air fryer. I recommended one option for the Ninja Foodi above.

Preheat your air fryer if your recipe calls for it

Add the parchment paper to the cooking basket

Follow the remaining recipe instructions
The nutrition facts come from entering the recipe ingredients into Spoonacular API, a database of food ingredients. They may vary for any recipe based on the exact product used. The keto sweeteners I use have 0g net carbs & are not included because sugar alcohols do not impact most people. This is provided as a courtesy, but you can do your own calculations if you wish!
Share this Cooking Tip
If you enjoyed this cooking tip, share a link to it via email or Facebook, pin it, or leave a rating. Please don't copy/paste the instructions to other websites. Thanks for helping the website grow!