There are hundreds of ways to prepare chicken and enjoy the newness in each recipe. However, different cooking methods mean different things, and choosing what works for you is essential.
If you're a food lover and healthy living is your newfound pursuit, air fryer chicken recipes are for you. Air frying means fewer calories compared to deep-frying, and it's also a faster cooking method.
Are you ready to introduce this new dynamic to your favorite chicken meals? All you need is a Ninja Foodi air fryer because I've got you on the recipe bit. Below are some scrumptious Ninja Foodi air fryer chicken recipes to start you off: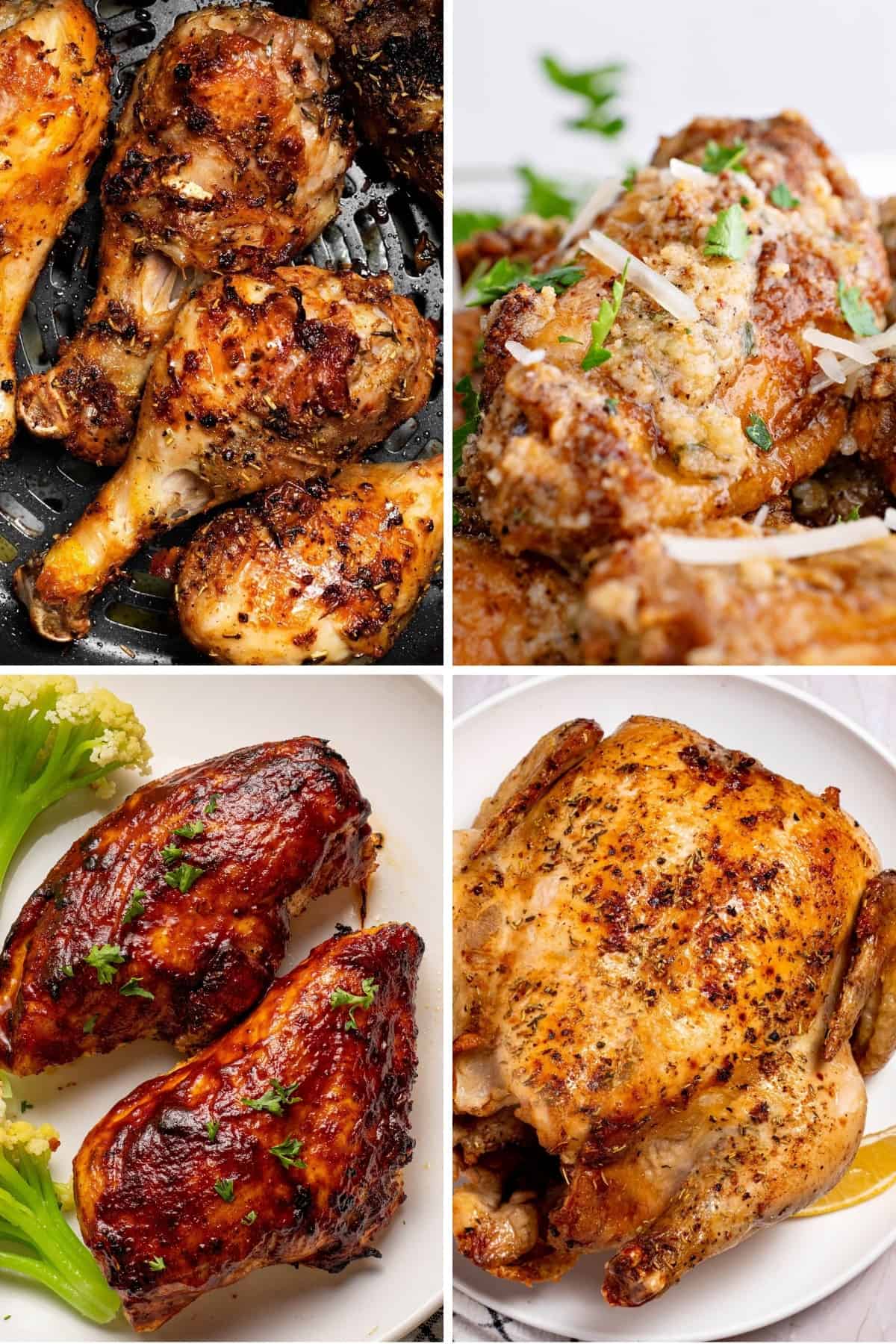 Air Fryer Chicken Wings Recipes
Crispy chicken wings are to die for, but deep frying them means taking in extra calories, and ovens can be slow. An air fryer saves the day because, with a drizzle of oil and basic seasoning, these recipes prove you'll achieve equally tantalizing results. Plus, air fryer chicken wings take about 30 minutes and don't require breading.
This recipe is the base to so many keto chicken wings on the site as well as my keto chicken & waffles. I eat these plain, but you could sauce them up if you want to!
These air fryer Buffalo Chicken wings are served up best with my homemade blue cheese dressing.
I cut carbs in these by pairing them with my keto bbq sauce, but there are lots of keto-friendly brands that you can buy from the store.
These are one of the top air fryer chicken recipes on the site! I personally love the easy garlic Parmesan sauce!
Looking for an option with four ingredients? These are it.
This easy recipe is sweet, savory, sticky and delicious. I keep it low-carb by using my keto sweet chili sauce, but you can use any option that you prefer.
Air Fryer Chicken Breast Recipes
Whip up some chicken breast in your air fryer in less than 20 minutes with these easy recipes.
I put simple spices to work in this quick air fryer chicken breast recipe!
Do you love grilled barbecue chicken breasts? An air fryer gives you the same result minus all the outdoor grilling hassles. A homemade keto BBQ sauce will give you a great taste and additional health benefits.
This dish is yet another one of the heavenly air fryer chicken recipes. The main ingredients are chicken breasts, dry chicken rub, and avocado oil. The air fryer ensures your juicy chicken breasts are ready in less than 15 minutes.
Air Fryer Whole Chicken Recipes
I never used to buy whole chicken from the store because they take forever to cook in the oven. These Air Fryer Whole Chicken Recipes are ready in just under an hour. Plus, they are crispy, yet tender.
Cooking a whole chicken can take a lot of time, and the results are either juicy or crispy, but rarely both. However, an air fryer is fast and allows you to enjoy the juicy and the crispy in a single dish.
Air frying is a game-changer because roasting a whole chicken has never been easier. You don't need to marinate the chicken, and the whole process takes less than an hour without compromising the taste.
Air Fryer Chicken Thighs Recipes
Chicken thighs are always a great option because they are cheap. But, they are often criticized for their texture. The air fryer melts away the fat and results in meat that is firm like white meat, but still juicy. These recipes (and 27 more) are in my keto chicken thighs recipes collection.
Chicken thighs are budget-friendly, so you'd want to have them in your Ninja Foodi air fryer chicken recipes. The dry chicken rub is the secret ingredient, while the air fryer brings everything together in less than 30 minutes. You can also leave the chicken overnight to soak in the dry rub and cook the following day.
Cajun Seasoning and Chicken Thighs work together to make a flavorful main dish!
Make your life easier with this boneless chicken thigh recipe that eliminates the need for an oven or dry rub preparation. All you need is boneless chicken thighs, spices, oil, salt, and your trusted partner, the Ninja Foodi air fryer.
This is one of my favorite main dishes. I love how the air fryer crisps the garlic in addition to the chicken thigh skin.
These are the perfect way to have a taste of BBQ all year long.
Chicken Drumsticks & Legs Recipes
You can now enjoy crispy drumsticks without breading or deep oil frying. The Ninja Foodi air fryer enables you to prepare richly-flavored and crispy chicken legs to tickle your taste buds and keep your health goals in check.
My homemade chicken dry rub goes great on just about anything. I love how it gives these chicken legs a bit of a spicy kick!
Roasted drumsticks are amazing, but anyone would appreciate it if it took less time to get them ready. Air fryer chicken recipes like this one are lifesavers. You will need drumsticks, mixed spices, oil, salt, and about 30 minutes to get it done.
FAQs
Take Away
You don't have to choose between tasty chicken dishes and your health anymore, because you can have both. The Ninja Foodi air fryer chicken recipes above are a great place to start as you discover new and better ways of making your chicken.