This post may contain affiliate links to products I use and highly recommend. You can read my full disclosure .
This Keto Cauliflower Mac and Cheese recipe proves that you can still enjoy the warm comfort that mac and cheese has to offer without the added carbs. It's the ultimate keto comfort food and casserole recipe, maintaining all of the rich and creamy goodness that you'd expect. This post includes tips for making low carb mac and cheese with and without cauliflower and suggestions for making keto-friendly crunchy toppings without or with pork rinds.
And, for those who enjoy their Mac n' cheese with a little bit of BBQ, I share three recipes for Keto BBQ main proteins, like Instant Pot Ribs, that go well with this low carb side dish!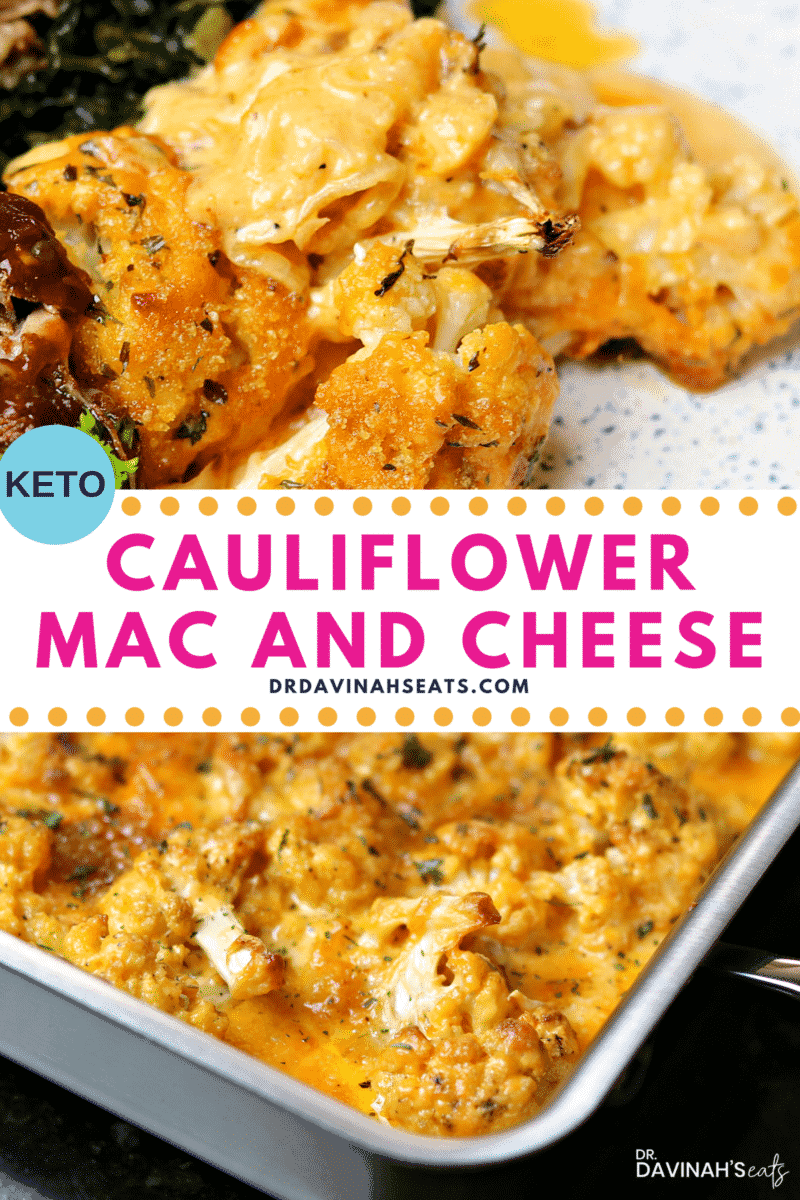 Mac and Cheese Taste without the Carbs: Problems Keto Cauliflower Mac and Cheese Solves
Mac and cheese is typically filled with two things: carb-heavy noodles and cheese. Giving up this dish was the ultimate challenge. I missed the creamy cheese goodness of this classic food and missed diving into a bowl when the craving strikes.
So I wanted to find a solution so I could have my mac and cheese and eat it too. I discovered that cauliflower is a super versatile vegetable (and super good for you too). You can use cauliflower as a substitute for a lot of less healthy alternatives including white rice and noodles.
And the short prep time, low carbs, and low flavor profile make substituting noodles with cauliflower a no brainer.
Absolutely need a noodle in your low carb macaroni and cheese?
I chose to use cauliflower as a noodle substitute in my mac and cheese. But another alternative, if you really want a noodle-like feel, is to use shirataki noodles in macaroni shape.
Shirataki noodles are made out of the fiber that makes up the root of the konjac plant. These noodles are very high in fiber, contain mostly water, and are very filling.
If you want to use Shirataki noodles, here are some tips to prepare them:
Remove the noodles from their package and rinse them well

Saute the noodles in a dry pan (don't add oil) until most of the moisture is cooked out – this can take 5 or more minutes

Once most of the moisture is removed, add them into the recipe where you would add the cauliflower and you should be all set

Preparing the optional crumb topping
Many baked mac and cheese dishes recipes contain a crumb topping. And let's face it, the topping is often the best part of the mac and cheese with the crunchy, buttery breadcrumbs offering a nice contrast to the creaminess of the cheese sauce.
Of course, a traditional crumb topping is not keto-friendly. Fortunately, I found a tasty solution that allows my low carb mac and cheese to have that same satisfying crunchy crumb topping.
To make my keto-friendly breadcrumb topping, you need:
Making the breadcrumb topping is super easy. I just melt the butter in the microwave and then mix the ingredients in a medium-sized bowl. Once well mixed, it is ready to add to the top of my mac and cheese.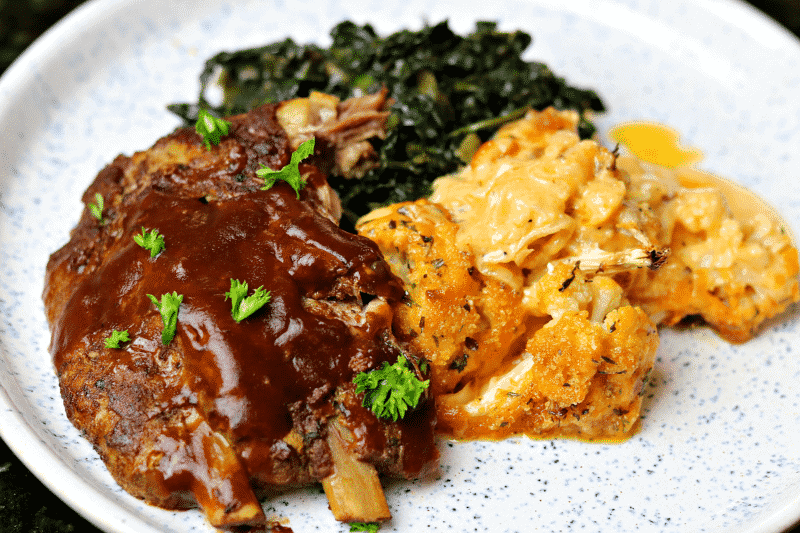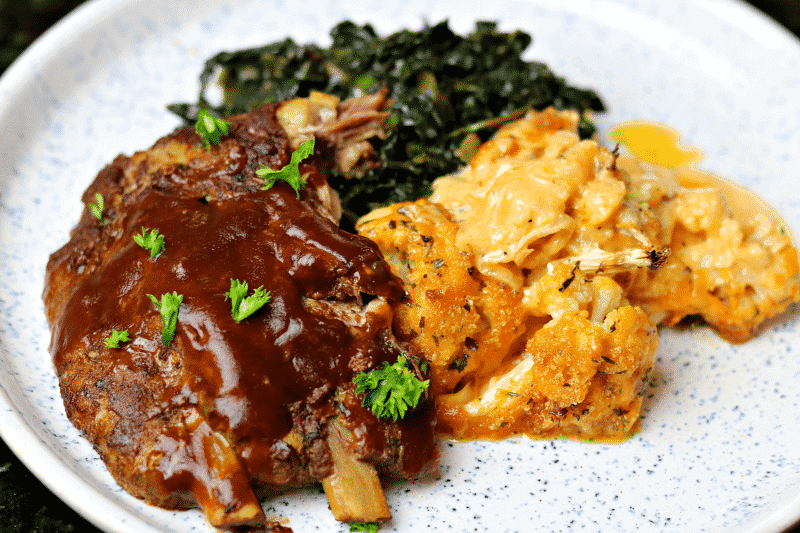 How do you make keto cauliflower mac and cheese?
Making keto cauliflower mac and cheese is very easy. In fact, it takes 5 main steps:
Roast your cauliflower to remove some moisture & get it slightly tender
Make your cheese sauce
Combine the roasted cauliflower & cheese sauce
Make and add the crumb topping
Bake & enjoy
I'll describe each step in more detail below.
Roast Your Cauliflower
Start by preheating the oven to 425. While the oven preheats, get started with the cauliflower because preparing it takes the longest.
While your oven heats up, cut the cauliflower stems and flowers into roughly equal size parts. You can aim to make them about the size of a traditional macaroni noodle. Just do your best to keep the size and width relatively uniform for even baking.
Once the cauliflower is cut up, line a baking sheet with parchment paper. Spread the cauliflower out in an even layer.
Finally, sprinkle the cauliflower pieces with salt, pepper, and olive oil and then give the cauliflower a good toss to thoroughly coat the cauliflower in the olive oil and seasoning. Then put the tray in the oven and cook for 20 minutes.
The cauliflower should start to turn a little brown and be softer to the touch. When you remove the tray from the oven, set the oven's temperature to 350.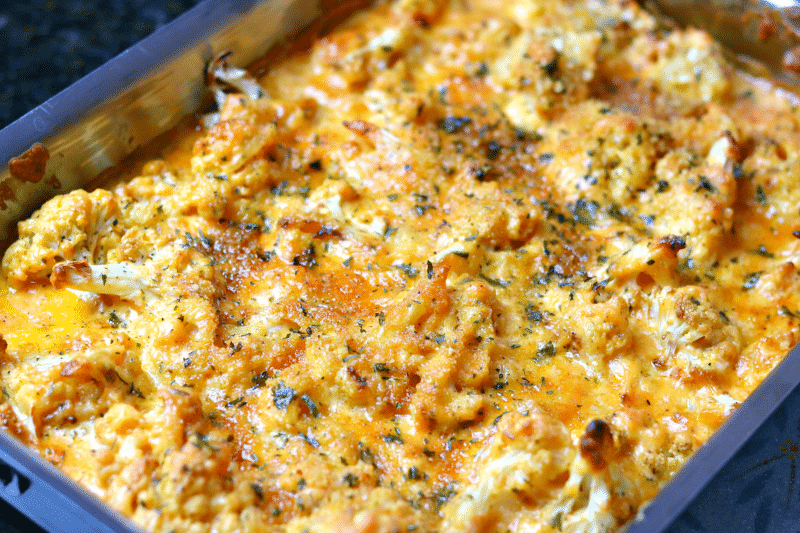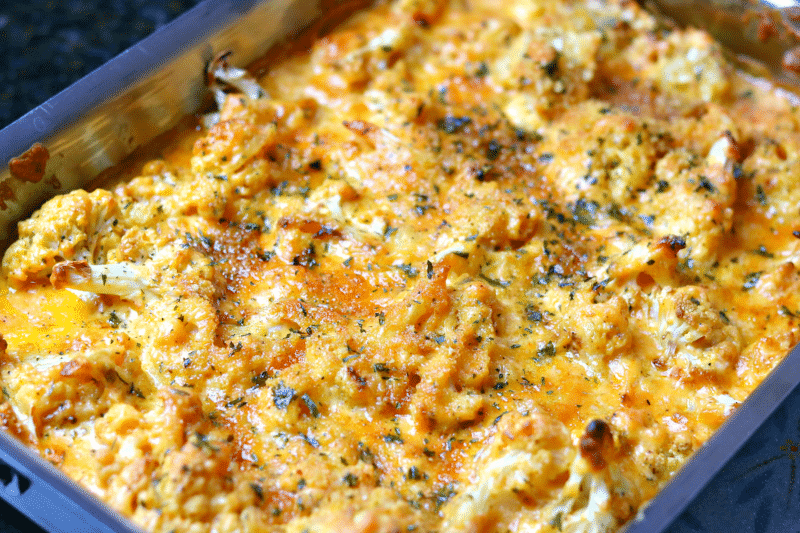 Make your cheese sauce
While the cauliflower is cooking, you can make the cheese sauce.
Get out a dutch oven or other pot large enough to hold the roasted cauliflower and finished cheese sauce. Turn it to low heat. Add in the heavy cream and the cream cheese and whisk until well combined. Next, add the shredded cheeses and spices. Stir until ingredients are combined.
Turn off the heat to the sauce. At this point, if you have Xanthan gum, you can add that into the sauce to help it thicken.
Combine the roasted cauliflower and cheese sauce
With both the sauce and the cauliflower ready, you can combine them in the pot that you used to make the sauce.
Mix the cauliflower and cheese sauce until the cauliflower is completely coated with the luscious cheese sauce. Then, spoon the cauliflower mac and cheese into a large pan or 6-inch ramekins. I use these and love them.
Add the crumb topping
For the finishing touch, make the crumb topping by mixing pork rind panko crumbs, melted butter, grated Parmesan cheese, and parsley in a small bowl. Once combined, sprinkle over the top of the cauliflower mac and cheese in the pan.
Bake & enjoy
Place the pan or ramekins in the oven and bake for 20 minutes. Remove the cauliflower mac and cheese from the oven and let it rest for 5-10 minutes. This gives the cauliflower mac and cheese time to set.
What to Serve with Cauliflower Mac and Cheese
Cauliflower mac and cheese is an excellent low-carb side dish. I typically enjoy it with grilled keto main dishes. I also have it as part of my Keto Thanksgiving meal.
Three of my favorite Keto BBQ dishes to enjoy with low carb macaroni and cheese are: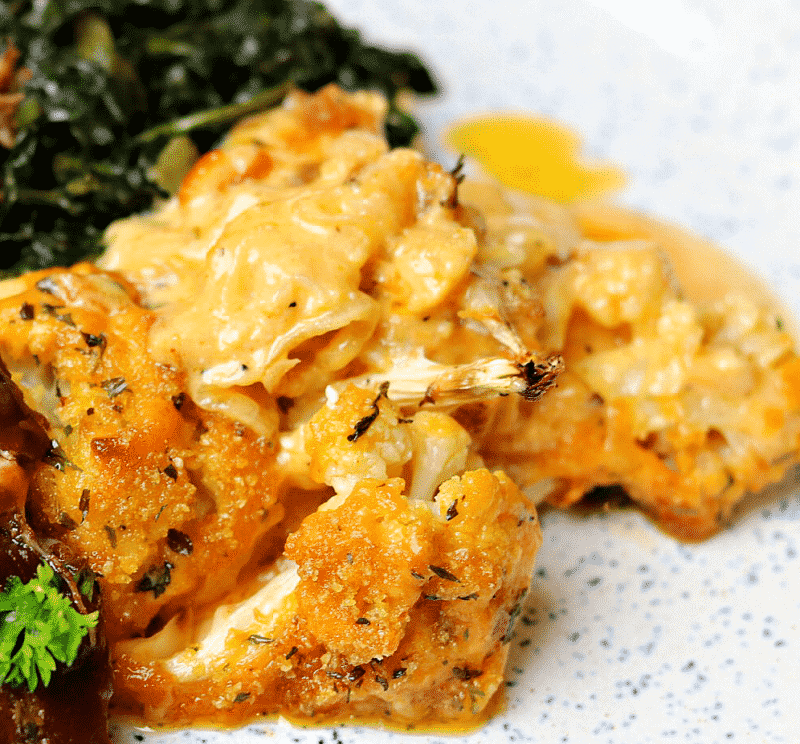 Keto Cauliflower Mac and Cheese
Keto-friendly cauliflower mac and cheese is rich and creamy comfort food at its best without the added carbs.
Pin
Rate
Print
Use DRDAVINAHS at checkout to save on some equipment & ingredients!
Instructions
Preheat oven to 425 degrees

Place cauliflower on a parchment lined baking sheet

Drizzle with olive oil, and a dash of salt and pepper

Roast cauliflower for 20 minutes. Remove from the oven and turn the temperature to 350 degrees.

Heat a dutch oven or other pot (large enough to hold the caulifilower and finished cheese sauce) on low heat. Add the heavy cream and the cream cheese. Whisk until the cream cheese is melted.

Add the remaining cheeses and continue to stir until all cheeses are melted. Add the spices to the sauce and incorporate. Turn off the heat.

Add the roasted cauliflower to the pot. Use a spatula to insure that the cauliflower is covered in sauce.

Create the crumb topping by combining all of the ingredients in a small bowl.

Spoon the cauliflower mac n' cheese into a large baking pan or 1 cup ramekins. Top with the crumb topping.

Bake for 20-30 minutes. Allow to rest for an additional 5-10 minutes to give it time to set.
Recipe Notes
You can use any combo of shredded and cubed cheese that you'd like. I prefer to use 2-2.5 cups of cheese total.
I also think that smoked cheese is essential. It gives your cauliflower mac and cheese an awesome flavor.
Nutrition Details
Calories:
256
kcal
|
Carbohydrates:
4
g
|
Protein:
13
g
|
Fat:
21
g
|
Saturated Fat:
13
g
|
Cholesterol:
68
mg
|
Sodium:
524
mg
|
Potassium:
228
mg
|
Fiber:
1
g
|
Sugar:
2
g
|
Vitamin A:
633
IU
|
Vitamin C:
28
mg
|
Calcium:
302
mg
|
Iron:
1
mg
The nutrition facts come from entering the recipe ingredients into Spoonacular API, a database of food ingredients. They may vary for any recipe based on the exact product used. The keto sweeteners I use have 0g net carbs & are not included because sugar alcohols do not impact most people. This is provided as a courtesy, but you can do your own calculations if you wish!
Share this Recipe
If you enjoy this recipe, share a link to it via email or Facebook, pin it, or leave a rating. Please don't copy/paste the instructions to other websites. Thanks for helping the website grow!