Whether it's an informal gathering or kid-friendly, family dinner, sometimes we just need easy meal ideas! And, these Low Carb Keto Casseroles recipes fit the bill. Most of these dishes require just a few ingredients and minimal prep, making them perfect for those who don't want to (or can't) spend all day cooking.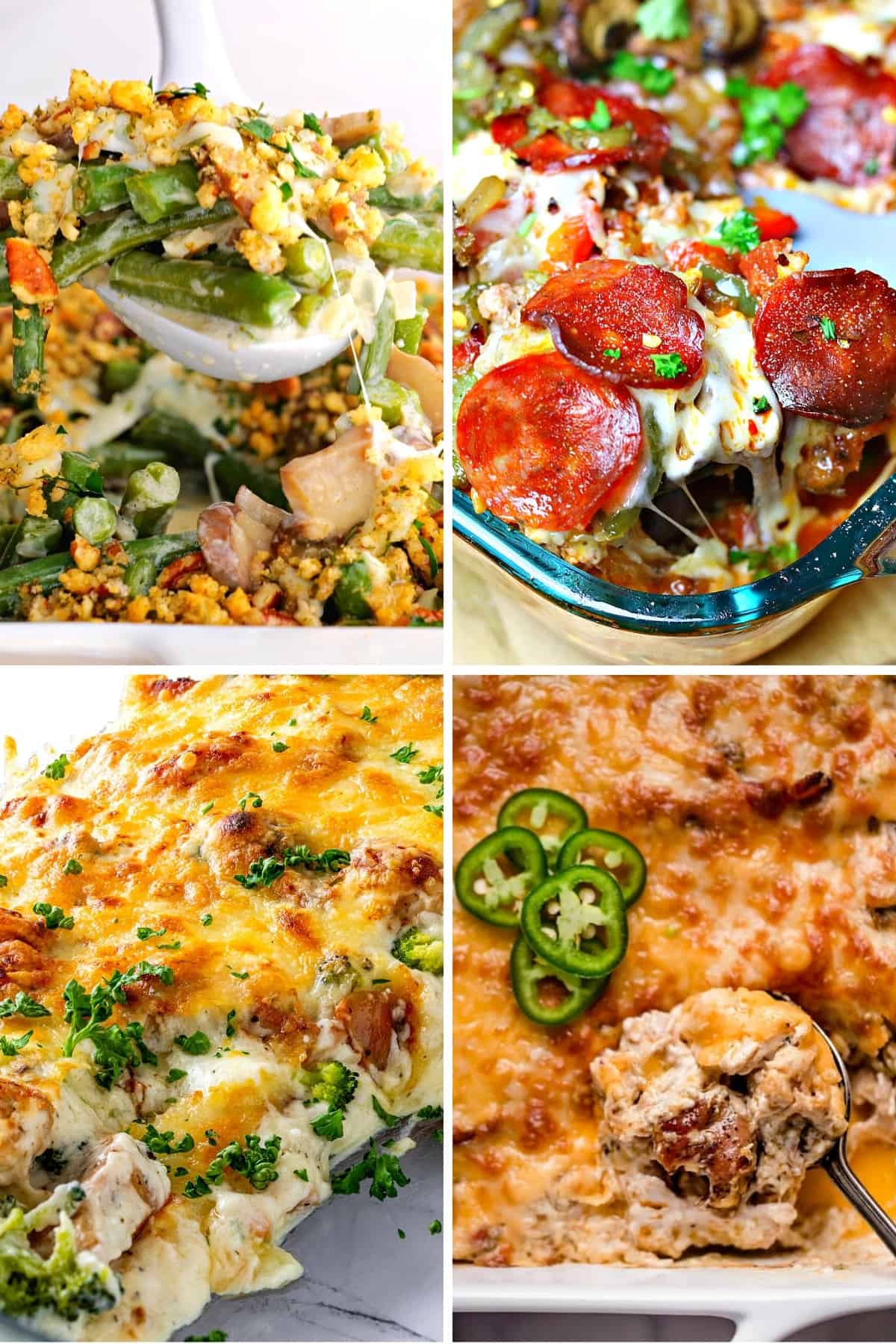 Why Make Keto Casseroles Recipes?
If you're cooking for a crowd, or you just had a busy week, casseroles are a great time saver, especially for those who tend to do keto meal prep planning. For the most part, you can make a casserole in one pan and there is usually more than enough to have dinner for at least two days.
Besides being great for saving time, they are also great freezer meals. Since casseroles have meat, veggies, and a good amount of other things like cheese to hold them together, you can always freeze these and reheat them without worrying about taste and flavor.
What to Serve With These Low Carb Casseroles Recipes:
Since keto casseroles are usually quite rich, all you need to do is pair them with a salad. I tend to gather up my favorite lettuce and top them with any of these low-carb salad dressing recipes.
You might also add any of these low carb side dishes to your plate. Just make sure you find a nice balance of carbs, fat, and protein.
26 Awesome Keto Casserole Recipes You'll Love!
If you're a pizza lover, this is a great way to have pizza flavor and sneak in a load of vegetables! I use Italian sausage as I did in keto meatballs because they're easy to buy in bulk and come prepackaged, ready for a day's worth of meals.
Keto Taco Casserole is loaded with cheesy taco goodness without any of the carbs. This family-friendly dish really hits the spot! Like shrimp tacos with cheese shells, it will be a great addition to the rotation for Taco Tuesday.
My loaded cauliflower is the perfect way to transition a potato-lover to a power-packed veggie. The familiar flavors will help disguise any preconceived notions of cauliflower. For ultimate deliciousness, top this with a fresh batch of air fryer bacon.
This low carb chicken alfredo casserole bake is full of flavors that are rich, cheesy and creamy. It consists of tender chicken, mushrooms and a delicious alfredo sauce baked until bubbly and served over low carb veggies.
This low carb chicken enchiladas casserole is very delicious with no extra carbs made with homemade enchilada sauce, sour cream, cream cheese, cauliflower and other seasonings perfect for a quick dinner.
This Keto Cauliflower Mac and Cheese recipe prove that you can still enjoy the warm comfort that Mac and Cheese have to offer without the added carbs. The kids will readily give this a try not knowing what lies beneath.
I love serving an asparagus quiche for the holidays. It makes for a pretty presentation and also ensures the asparagus is cooked to perfection.
Pizza skillet, and you'll be surprised to see what the crust is made from. I bet even the kids will love this. Let them add their favorite toppings for a personal touch.
Classic green bean casserole converted to be Keto-friendly. A great time-saver and perfect for any gathering! Some might even put it on the menu for thanksgiving.
This easy Keto Green Bean Casserole recipe uses my homemade keto cream of mushroom soup and pork-free topping to replace green fried onions. Enjoy this for holidays like Easter, Thanksgiving and Christmas.
A baked chicken recipe that packs a bold flavor punch! Banana peppers might be a new ingredient for some of you, but I highly recommend giving them a try!
This is such a fun take on the deli sandwich!
Sliced tomatoes create such a pretty presentation, don't you think? This has all the flavors of Italian food without the carbs that you might find on a pesto pizza or pasta bake.
I don't often think to serve ground beef for breakfast, but this is perfect for when you want to switch things up from bacon.
Simply eggs and veggies, nothing more! This is the perfect make-ahead breakfast. You can customize each plate with your favorite low-carb toppings and dips.
Adding enough sauce and cheese and popping it in the oven makes spaghetti squash a crowd favorite! You'll achieve the perfect texture with this dish.
Broccoli au Gratin with Bacon is a creamy and cheesy holiday side dish that is quick and easy to make with only 7 ingredients. It's perfectly broiled to a crunchy top!
This crustless quiche is the perfect Keto meal prep dish. It will reheat so well for breakfast or packed in your lunch box.
Ranch Bacon Chicken Casserole is an easy-to-make recipe that the entire family will love! It's loaded with chicken, broccoli, bacon, cheese, and plenty of ranch spice flavor.
A popular dip turned into a delicious Keto-friendly casserole and baked with gooey mozzarella cheese on top. This would be perfect to top veggies with.
This classic comfort food is turned into a Keto casserole that's easy to make and has incredible flavor! Since it's a crustless chicken pot pie, there's no crust to worry about rolling out.
A versatile dish is great warm or cold, for breakfast, brunch or as an appetizer or lunch. I love the Greek flavors here and you can make it ahead.
Creamy Buffalo Chicken Cauliflower Casserole is cheesy, spicy, and crazy delicious! Made with only 5 ingredients, it's low in carbs and suitable for those following a keto, low carb, or gluten-free diet!
This keto Philly Cheesesteak Casserole is filled with all the familiar flavors of a Philly cheesesteak sandwich, but with none of the carbs! It's all there – cheese, onions, mushrooms, peppers, and of course, tender beef. If you love cheesesteaks as much as me, then you should try Keto Philly Cheesesteak Pockets or Stuffed Peppers.
I love that the author of this recipe started making it decades ago before low-carb was a craze. This is a delicious meal the kids will love, too. No bun needed!
Bacon Chicken Alfredo Squash Noodle Bake is a low carb, gluten-free, comfort food casserole. You won't miss the pasta because the squash has the same bite.
Hearty, cheesy, and oh-so-delicious, this Keto Tex-Mex Beef Casserole is going to be your new favorite dinner winner. You can't go wrong with this beefy dish.