A super moist, fudgy and no sugar added recipe for Keto Cheesecake Brownies that uses a coconut flour-based low carb baking mix. Perfect for Valentine's Day or just because!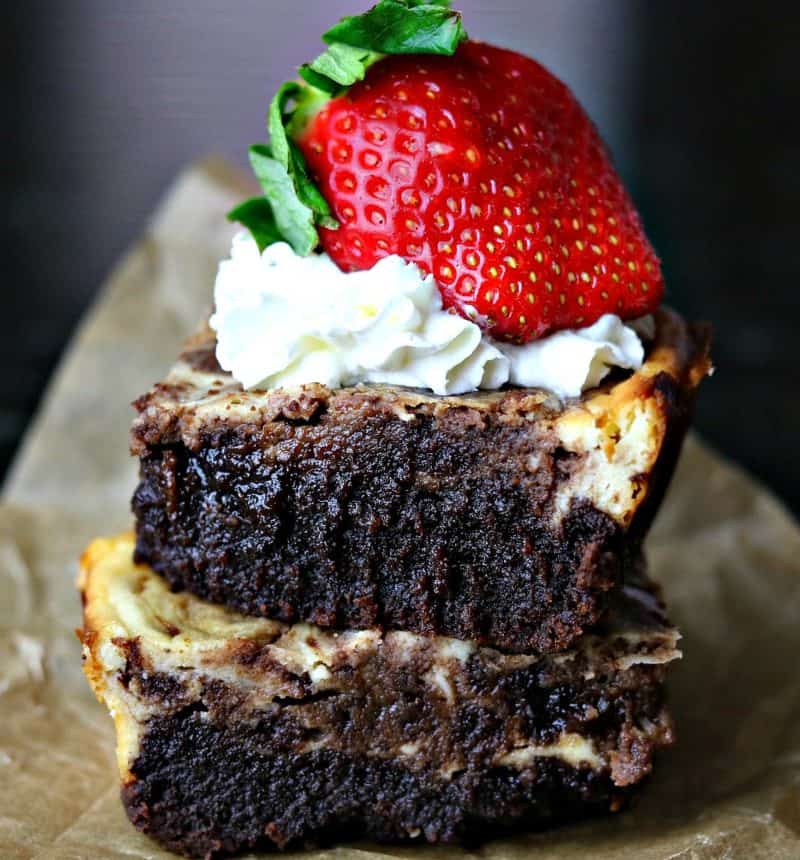 Cheesecake is one of my favorite desserts. So, when I got this low carb brownie mix in the February Keto Delivered Box, it only made sense for me to make a cheesecake version of keto brownies. These Keto Cheesecake Brownies are super easy to make, moist, fudgy, and grain-free. They are a perfect treat or as one of the desserts for an easy keto date night dinner!

What makes these Keto Cheesecake Brownies easy?
This recipe takes less than 10 minutes to prep so for me it qualifies as an easy keto dessert recipe. The main thing that helped cut time was the fact that I used a packaged low carb brownie mix. I tried this mix for keto brownies before when I made these Brownie Sandwiches. The mix is made with coconut flour and each serving has 2g net carbs.
Where do you buy Low Carb Brownie mix?
I'm certain that there are low carb and keto brownie recipes that you can make from scratch on the web. Any brownie recipe for will work. As mentioned, though, I got this mix from the February Keto Delivered Box so I used it in this recipe. If you'd like to use the same mix that I used, then it's available online here.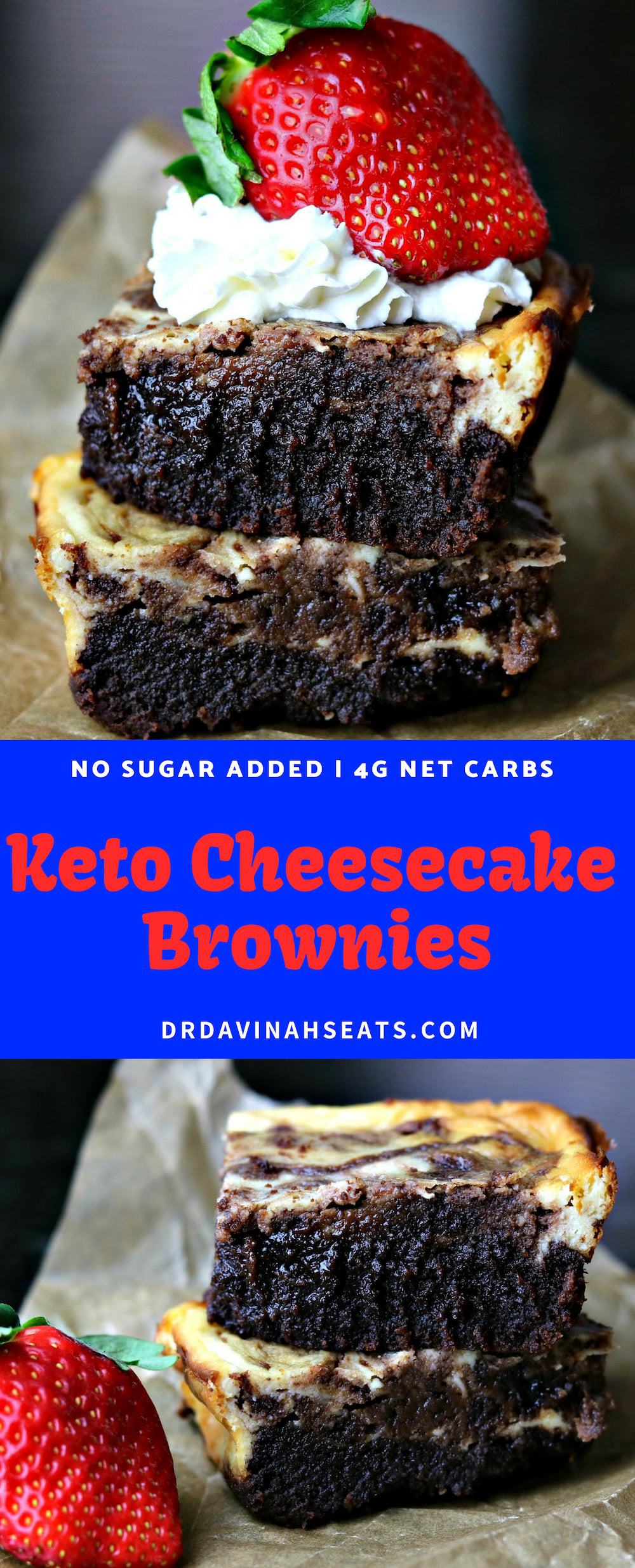 How do you make Keto Cheesecake Brownies?
Making a keto version of cheesecake brownies is similar to the process of making regular cheesecake brownies. You prepare the brownie mix according to the package instructions, put the brownie batter in a baking pan, and swirl in spoonfuls of cheesecake batter before baking. I kind of failed at the swirling part, but it came out delicious!
What kind of grain-free flour do these Keto Cheesecake Brownies include?
The keto brownies mix that I used includes coconut flour. If you are not a fan of coconut flour-based keto brownies mixes, then another option is this one that is made from sunflower seeds.
What are these Keto Cheesecake Brownies sweetened with?
These low carb brownies are sweetened with monk fruit, stevia, and erythritol. The monk fruit and stevia are used in the brownie mix. I used erythritol in the cheesecake batter.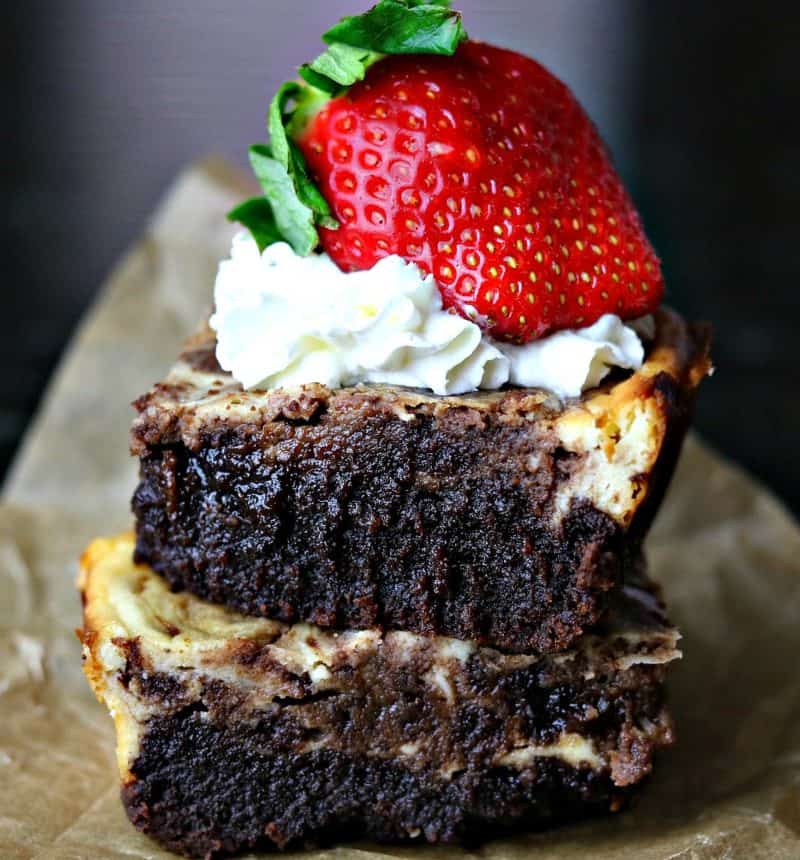 Total Time:
1
hour
5
minutes
Instructions
Preheat the oven to 350 degrees

Mix the brownie batter by combining all of the ingredients in a bowl. Reserve 1/4 cup of the batter.

Mix the cheesecake batter by combining all of the ingredients in another bowl. Reserve 1/4 cup of the batter.


Prepare an 8x8 or 8x6 baking pan with some coconut oil cooking spray or parchment paper

Add the brownie batter to the greased or lined baking pan. Use a spatula to spread it evenly. Add the cheesecake batter. Use a spatula to spread it evenly.

Add dollops of the remaining brownie batter to the top of the cheesecake layer.

Add dollops of the remaining cheesecake batter. Use a knife, toothpick, or skewer to create the swirls.

Bake for 50-55 minutes, or until the center of the cheesecake has a slight wiggle.

Allow the cheesecake brownies to cool.
Recipe Nutrition Facts
Nutrition Facts
Easy Keto Cheesecake Brownies
Amount Per Serving
Calories 263
Calories from Fat 198
% Daily Value*
Total Fat 22g 34%
Cholesterol 124mg 41%
Sodium 299mg 12%
Potassium 62mg 2%
Total Carbohydrates 14g 5%
Protein 6g 12%
* Percent Daily Values are based on a 2000 calorie diet.
Did you make this recipe?
Use #DrDavinahS when posting your photo of this dish, and follow @DrDavinahS on Instagram