Want an easy keto waffles recipe that tastes fluffy on the inside and slightly crisp on the outside? These low carb almond flour waffles are DELICIOUS! Plus, they are prepared in less than 20 minutes. Perfect for brunch & kid-approved.
This post may contain affiliate links to products I use and highly recommend. You can read my full disclosure .
I'm not sure about you, but waffles are a brunch staple for me. After starting keto, though, I've mostly been having pancakes! This week, my desire to have waffles inspired me to come up with a keto waffles recipe that my husband and I would love. Using all I knew about waffles and pancakes, I started by changing the recipe for Keto Pancakes and went from there. These low carb waffles are sugar-free and grain-free. Plus, they're made with almond flour. I love that they're light and fluffy on the inside with the slight crunch that we're all used to on the outside. These are perfect for a weekend brunch or just when you want to have a delicious keto-friendly breakfast.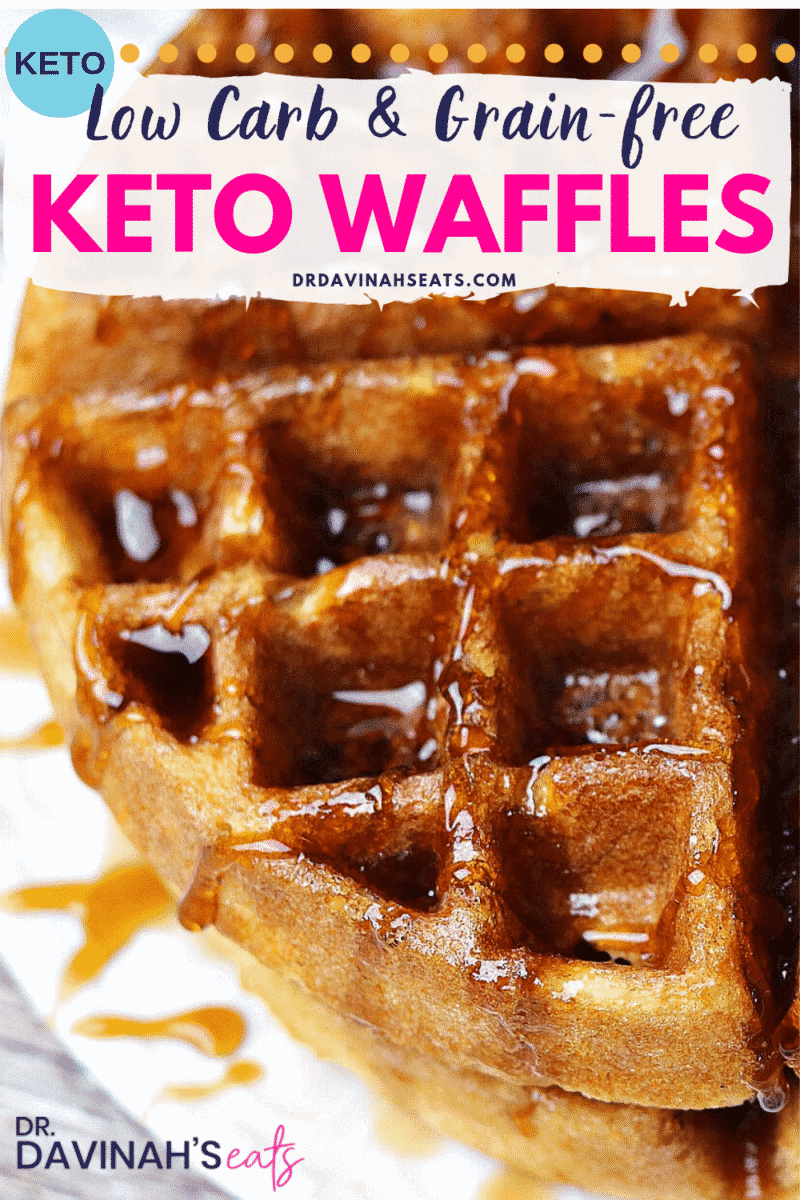 How do you make keto waffles?
The process of making low carb waffles with almond flour is not really different from making regular waffles. You make keto waffles in 7 key steps:
Divide the eggs into yolks and whites
Whip the egg whites with a stand mixer to stiff peaks and set them aside.
Use a whisk to mix the wet ingredients (with the exception of the whipped egg whites)
Mix the dry ingredients
Combine the wet and dry ingredients
Fold in the whipped egg whites gently
Cook the batter in a waffle maker
If you're hoping to skips steps, don't. You need to whip your egg whites.
Dividing the eggs and whipping the egg whites is an essential step in this recipe. By whipping the eggs to a stiff peak and gently folding it into the batter, you're actually helping your keto waffles be light and fluffy.
If you don't believe me, then you look at the picture below. That batter looks like a pillow!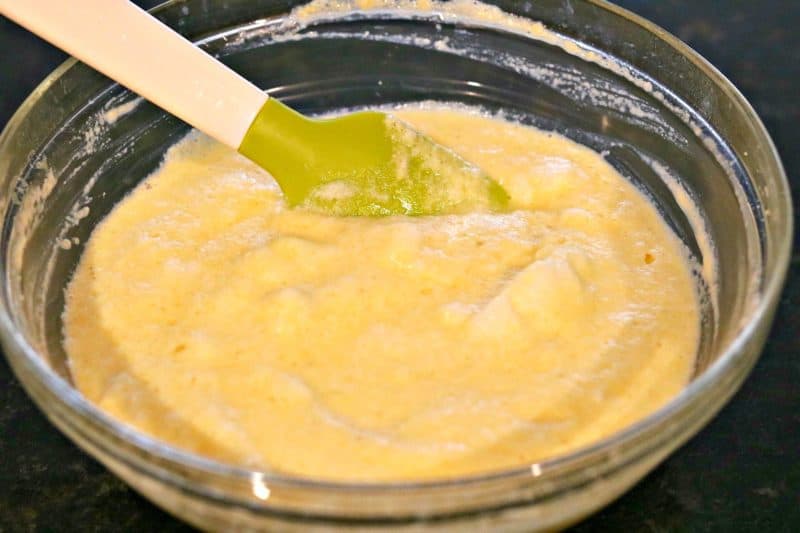 This recipe makes three sugar-free and grain-free Belgium waffles.
I used a flip-side Belgium Waffle Maker.
I made this waffles using this flip-side Belgium waffle maker. It's less than $40, has a timer so that my waffles don't burn, and has lasted me for more than 4 years.
You can make smaller waffles by using a standard sized machine or less batter.
Even though these waffles are low carb and include almond flour, they're still huge! In fact, I consider each waffle to be two servings. So, each person gets two parts of the circle.
You can make smaller waffles, by using less batter or using a standard-sized waffle maker.

Do almond flour waffles taste just like regular waffles?
These waffles are delicious, but I don't want you thinking that the awesomeness that you get from gluten and all-purpose flour can be copied in a low-carb recipe. However, this recipe provides a great substitute for those wanting to cut carbs and sugar from their day. If you enjoyed my Keto Pancakes then you'll surely enjoy these.
What's the difference in the batter between Keto Pancakes & Keto Waffles?
As I mentioned, this grain-free waffles recipe is a modified version of my Keto Pancakes. It includes mostly the same ingredients, but in different amounts. Keto Waffles have:
More fat: I increased the amount of butter in this recipe
Divided Eggs: A key to getting any sort of waffles light and fluffy in the inside is to fold in whipped egg whites
What syrup did you use to top these?
You can top keto waffles with any sugar-free syrup. My personal favorite are the Honest Syrups from ChocZero.
Love Keto & Low Carb Brunch Recipes? Try these: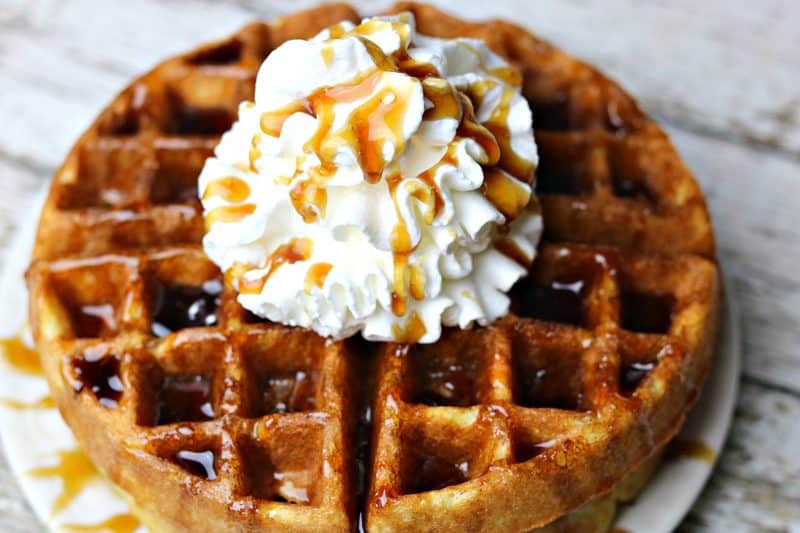 Want an easy keto waffles recipe that tastes fluffy on the inside and slightly crisp on the outside? These low carb almond flour waffles are DELICIOUS! Plus, they are prepared in less than 20 minutes. Perfect for brunch & kid-approved.
Want to share this recipe?
To spread the word about this recipe, please save it to Pinterest, share a link to it, or rate it if you loved it. Please do not copy & paste (or screenshot) my recipes to social media or other websites.
Ingredients
Key Tools I Used
Optional Syrup
Instructions
Mix the wet ingredients in a large bowl (remember to save the egg whites)

Mix the dry ingredients in another bowl

Add the egg whites to a stand mixer. Beat the egg whites to stiff peaks. Set aside

Fold the dry ingredients into the wet ingredients

Gently fold the egg whites into the batter.

Preheat your waffle iron.

Add 3/4 cups of the waffle batter to your machine

Cook for 3-4 minutes, or until the smoke stops rising from the waffle maker
Recipe Nutrition Facts
Nutrition Facts
Keto Almond Flour Waffles
Amount Per Serving
Calories 248
Calories from Fat 198
% Daily Value*
Fat 22g34%
Cholesterol 126mg42%
Sodium 220mg9%
Potassium 241mg7%
Carbohydrates 6g2%
Protein 9g18%
Vitamin A 390IU8%
Vitamin C 0.1mg0%
Calcium 166mg17%
Iron 1.5mg8%
* Percent Daily Values are based on a 2000 calorie diet.
Did you make this recipe?
Share your photos & mention @DrDavinahS! I love seeing them!
Nutritional Disclaimer
The nutritional information comes from Spoonacular API, a database of food ingredients. The nutritional information for any recipe will vary based on the exact product you use and the brand. I do not include erythritol or sugar alcohols in the final carb or net carb count as it does not have any impact on my blood glucose levels. Before starting keto or a low-carb eating plan, you should consult your doctor. I am sharing my personal experiences and none of the information included in my recipes or throughout the site should be taken as medical advice.