This post may contain affiliate links to products I use and highly recommend. You can read my full disclosure here.
Click below to share this!
A keto-friendly and no sugar added recipe for Coquito, or Spanish Eggnog, that is perfect for the holiday season. You can include this in your list of keto happy hour cocktails or omit the alcohol for a family-friendly drink.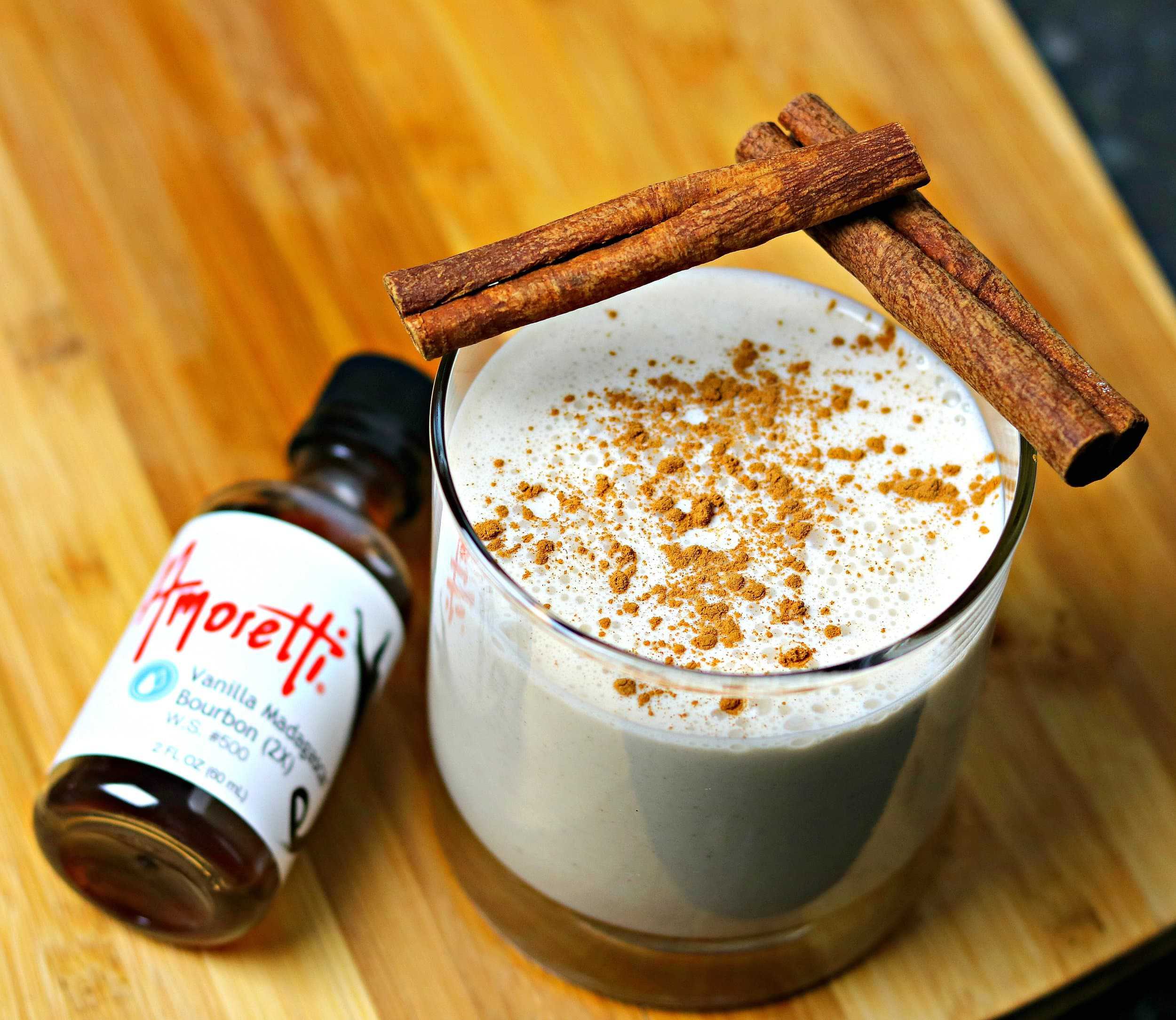 My husband "cooks" about one time per year! His signature dish is actually a drink: Coquito! Coquito, sometimes called Puerto Rican Eggnog, is basically a Spanish version of Eggnog. Like traditional Eggnog, it's milky and custardy. It also includes flavors like vanilla and cinnamon. One difference between Coquito and traditional eggnog is that most of the milk in traditional recipes is replaced with coconut cream, giving Coquito a coconut flavor.
This Keto Coquito offers all the flavor of Coquito without the guilt.
This recipe is a low-carb and keto-friendly version of Coquito, meaning that you and I can sip this comfortably without worrying about the amount of sugar and carbs that we're drinking! I tested out that the flavors were there by using my husband as a taste-tester. Once he approved, I knew that this recipe was awesome enough to share.
This recipe makes 6 drinks.
Each serving is about 1 cup.
All Vanilla Extracts are Not Equal!
Most of my keto & low-carb dessert and sweet treat recipes, including this one, contain vanilla extract. While I typically get anything that says "vanilla extract" in the market, last week, I got the opportunity to try Amoretti Vanilla Madagascar Bourdon Extract. This made me realize that all vanilla extracts are not created equally! Amoretti's Vanilla Extract is all-natural and has a syrup-like consistency, a drastic change from the juice-like extract that I used in the past. Besides this, Amoretti tastes more than a rich vanilla, a world beyond the strong alcohol flavor that sometimes dominates some alternatives.

This recipe includes Ketologie. Is this necessary?
This recipe includes a serving of Ketologie Vanilla Shake. I used it as a substitute for sweetened condensed milk, a key to Coquito's creaminess. Traditional sweetened condensed milk is essentially sugar, butter, vanilla, and milk. Some recipes for making it at home require nearly an hour of cooking those ingredients on low heat, a commitment that I wasn't willing to make. Ketologie has a vanilla flavor, healthy fats, and sweetness. It also has collagen, a protein source that helps make smoothies and drinks creamy. If you have Ketologie Vanilla Shake, you should use it as a shortcut. This is what I did.
Another option is to make Keto Sweetened Condensed Milk.
If you don't have Ketologie Vanilla Shake, and you still want to make this drink, you should be able to substitute it with this recipe, which is a modification of several highly rated recipes like this one for keto sweetened condensed milk: Add 2 cups of heavy cream, 2 tbsp of unsalted butter, 1/3 cup Sukrin Gold, and 1 tsp Amoretti Vanilla Madagascar Bourdon Extract to a pan. Whisk the ingredients together and cook on low until the milk reduces by half (~30-40 minutes).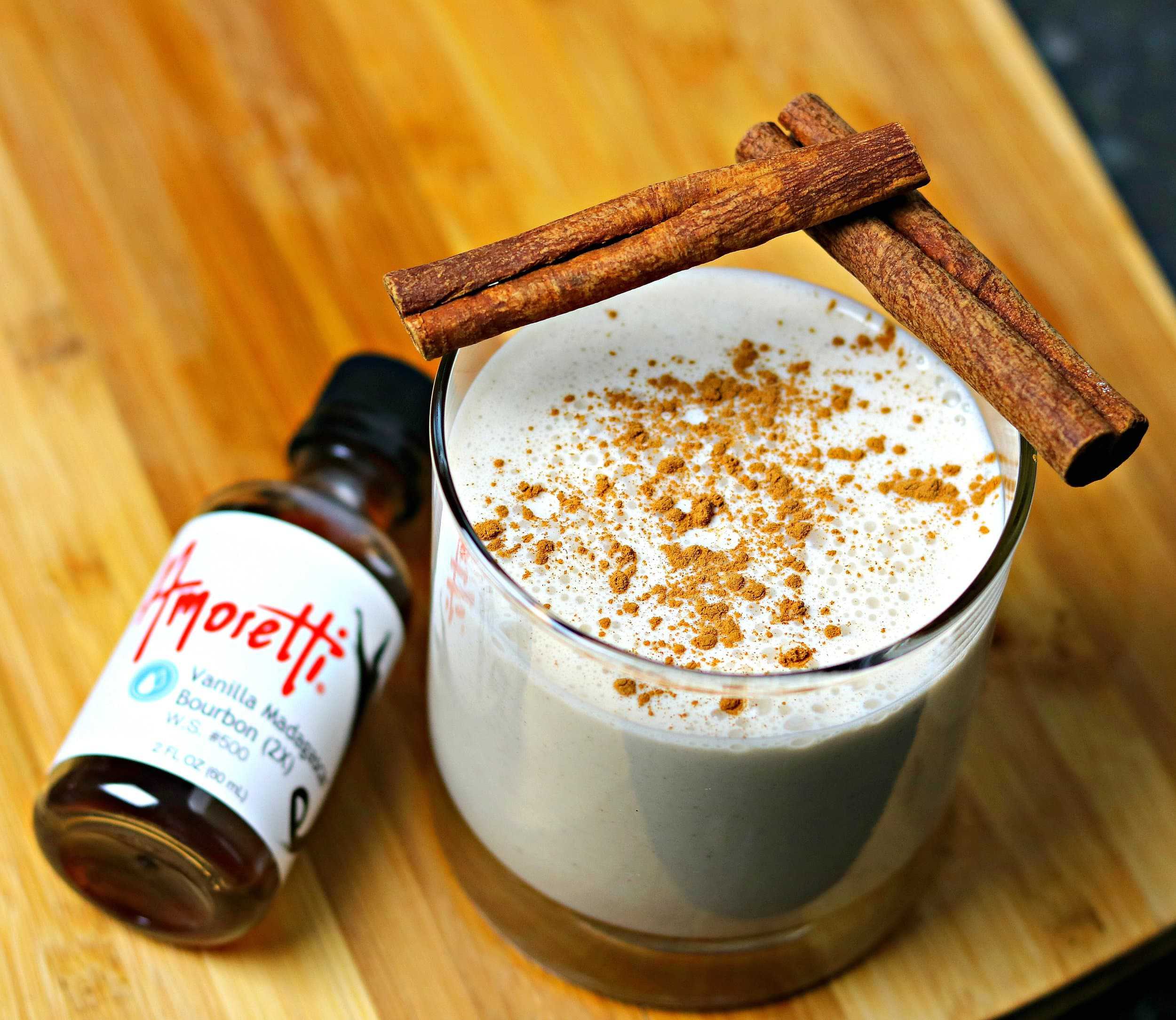 A keto-friendly and no sugar added recipe for Coquito, or Spanish Eggnog, that is perfect for the holiday season. You can include this in your list of keto happy hour cocktails or omit the alcohol for a family-friendly drink.
Please do not copy & paste (or screenshot) the instructions & ingredients for my recipes to social media or other websites. If you want to spread the word about this recipe (I'm grateful if you do), please use the buttons above to share or share a photo of this dish with a link to this recipe instead. © 2019 Dr. Davinah's Eats
Ingredients
1.5

cups

Organic Heavy Whipping Cream

1

packet

Ketologie Vanilla Shake

or 2 scoops

3

egg yolks

beaten

2

cups

Coconut Cream

full fat Coconut Milk

1

cup

Unsweetened almond milk

1/2

cup

rum

optional

1/4

cup

water

1/2

tsp

ground cloves

1/2

tsp

Ground Cinnamon
Instructions
Add heavy cream and Ketologie Vanilla Shake to a small pot and whisk it to incorporate the powder mixture

Bring the milk and Ketologie mixture to a simmer then remove the milk from the heat & prepare to whisk in the eggs

Whisk about a third of the beaten egg yolks into the milk mixture. Ensure that the yolk is fully incorporated before adding more. Adding the egg yolks too fast might cause them to cook and no one wants scrambled egg bits in their eggnog. Repeat until all of the egg yolks are in incorporated.

Return the pot to low heat and continue to whisk until the mixture thickens just enough to coat the back of a wooden spoon (~5 minutes)

Pour mixture into a blender with the remaining ingredients and blend

Allow the mixture to cool then store in the refrigerator overnight (for best flavor) or until chilled. This drink will thicken overnight so don't worry if it seems too loose.
Recipe Nutrition Facts
Nutrition Facts
Keto Coquito (Low-carb Spanish Eggnog)
Amount Per Serving
Calories 343
Calories from Fat 261
% Daily Value*
Fat 29g45%
Cholesterol 179mg60%
Sodium 155mg6%
Potassium 54mg2%
Carbohydrates 2g1%
Protein 5g10%
Vitamin A 1005IU20%
Vitamin C 0.3mg0%
Calcium 104mg10%
Iron 0.3mg2%
* Percent Daily Values are based on a 2000 calorie diet.
Recipe Notes
Ketologie has 0g net carbs (15g of Carbohydrates, 7g of fiber, and 8g of Erythritol). The nutrition facts are already adjusted to remove the carb count for Erythritol from the carbs in the drink. Each serving has 1g net carbs. 
Did you make this recipe?
Use #DrDavinahS when posting your photo of this dish, and follow @DrDavinahS on Instagram