Disclosure: This post was created in partnership with Ninja and I received a complimentary product but all opinions within are my own.
An easy Keto Pressure Cooker Pulled Pork recipe that uses the Ninja Foodi Pressure Cooker and a nearly 3lb frozen roast. Done in less than 2 hours and perfect for meal prep!
This post may contain affiliate links to products I use and highly recommend. You can read my full disclosure .
I've been wanting a Ninja® Foodi™ Pressure Cooker since they first released. The thought of being able to have an air fryer, pressure cooker, and slow cooker all-in-one, almost seemed to good to be true. This week, I got the opportunity to review the Ninja Foodi Pressure Cooker and create a Spring keto & low-carb recipe! So, I'm sharing a recipe for Pressure Cooker Keto Pulled Pork, but also reviewing this kitchen tool for those who might be wondering if it's a good fit.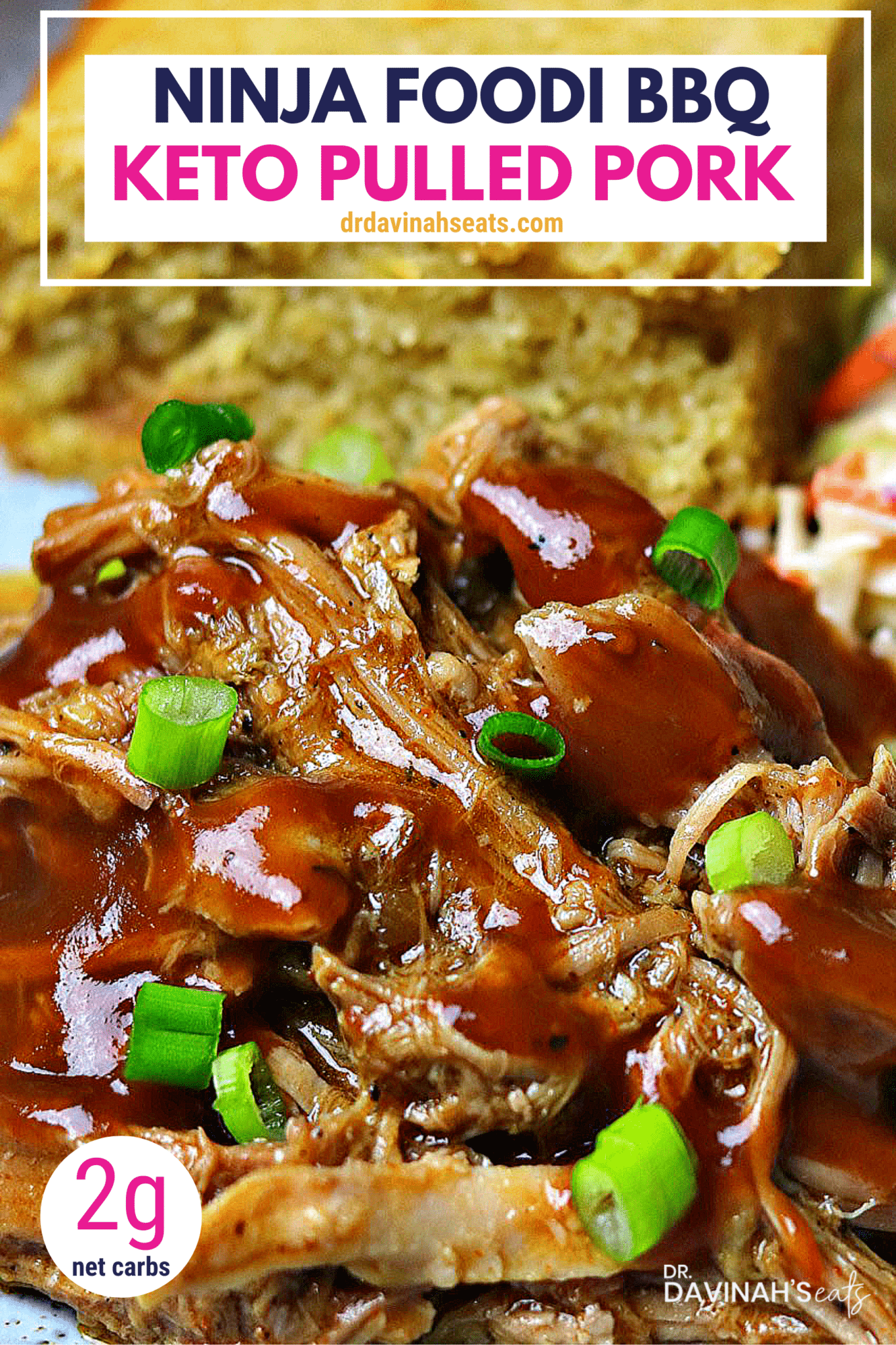 What's the Ninja Foodi Pressure Cooker?
It's a kitchen appliance with 8 functions
The Ninja Foodi is an all-in-one kind of appliance. It has two lids (one for pressure cooking and the other for air crisping). It has 8 different functions:
Pressure Cooking
Steaming
Slow Cooking
Searing & Sauting
Air Crisping/Frying
Baking/Roasting
Broiling
Dehydrating
This means you can pressure cook a roast, then use the same machine to steam your vegetables.
So, it allows you to ditch several small kitchen appliances
I love to cook so my house is filled with a ton of kitchen gadgets and small appliances. In fact, I have so many that I'm running out of room in my cabinets! All of them are necessary since they help me prepare a variety of meals. The Ninja Foodi found a way to combine several of those appliances in one.
Plus, it has TenderCrisp technology
For me, one of the reasons that I've wanted a pressure cooker is to have a juicy and tender result without having to spend hours waiting on a slow-cooker. However, pressure cookers and slow-cookers have been a bit limiting because neither of them crisps your food. In the past, that's meant taking my meats out of my slow cooker and finishing them in an oven or broiler.
As you've probably heard in their commercials, Ninja Foodi is a "Pressure Cooker that Crisps". It includes TenderCrisp technology that allows you to swap lids and crisp up the meat that you've already made tender and juicy!
How did I use it in this Keto Pressure Cooker Pulled Pork recipe?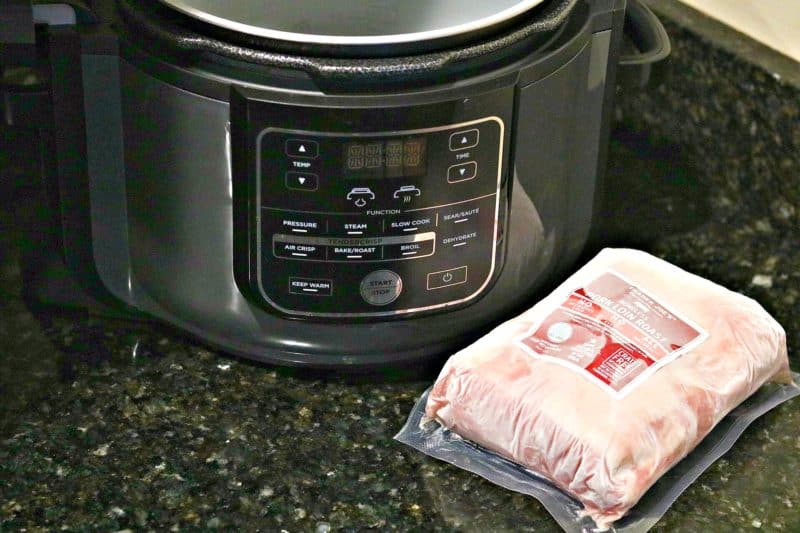 Cooked an ENTIRE roast from frozen!
Besides having a pressure cooker, one of the features that I was most excited about was the ability to cook foods straight from the freezer. I'm one of those people with a deep freezer that includes a lot of stuff that I'm going to cook…eventually.
I don't cook them because I tend to procrastinate and the whole thawing process just takes too long for the time that I have to cook dinner.
This recipe for Keto Pressure Cooker Pulled Pork starts with a 2.6lb frozen pork roast that I had in my freezer.
After removing it from its packaging, I placed the solid roast with some bone broth and spices into the Ninja Foodi and set the pressure cooker for 1.5 hours.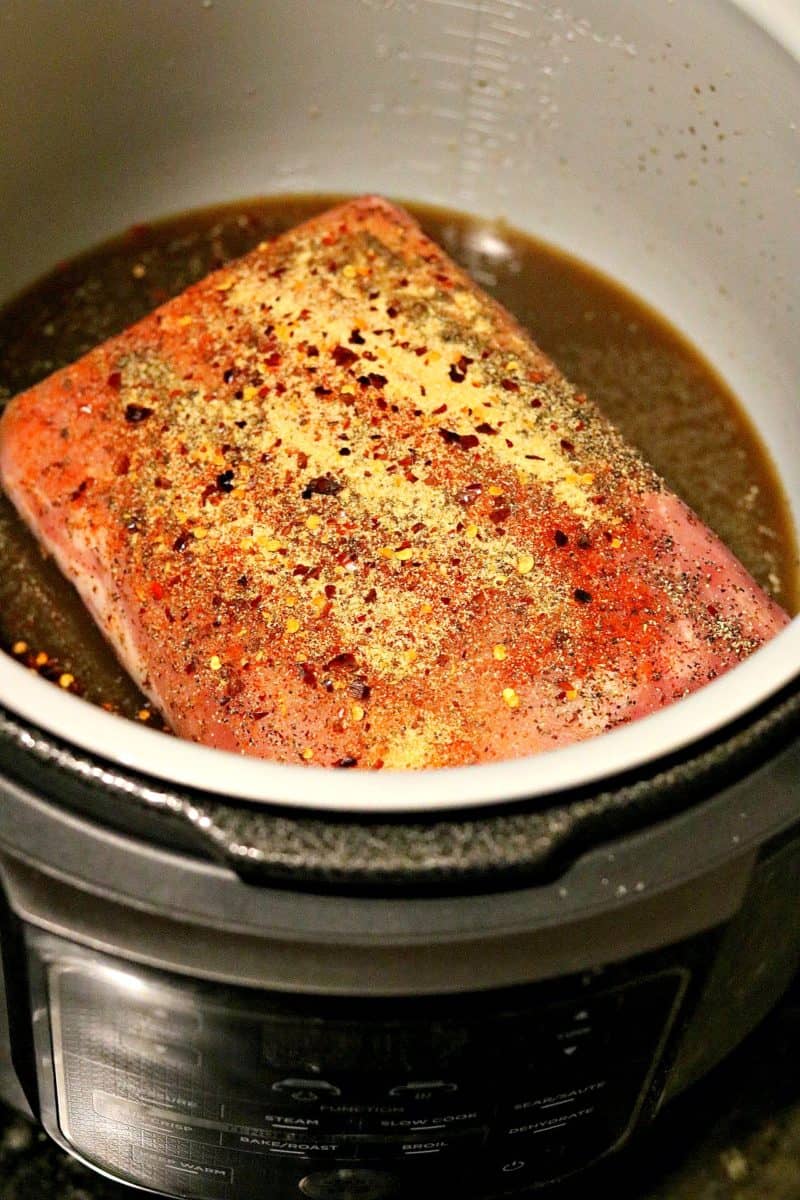 I'll admit I was a bit skeptical. So I walked away with my fingers crossed and just hoped for the best!
To my surprise, my roast was fall-apart delicious! And I was able to save myself 6.5 hours because that same roast would have taken 8 hours in my slow-cooker!
Used the saute/sear function to make the BBQ sauce
In the past, I'd cook a roast them use some of the cooking liquids to make a sauce in another pan. Meaning that I'd have dishes from the slow cooker, but also the dishes from making the sauce.
My process this time was different. The Ninja Foodi's unique functions actually allowed me to keep this a one-pot meal. Here's what I did:
Removed the roast and shredded the meat with meat claws
Turned the Ninja Foodi on "Sear/Saute"
Added BBQ sauce once the original cooking liquid was near a slow boil
Allowed the sauce to reduce, or thicken by about half
Returned the shredded roast meat to the removable cooking pot
Served the meat with extra BBQ sauce and a vegetable

This recipe has at least 6 servings so use it for meal prep.
This recipe is one of my favorite keto meal prep recipes. You can pair this roast with different vegetables, like my sautéed green beans and keto coleslaw. You could also pair it with other low carb side dish recipes for a few meals.
Alternatively, if you have leftover pulled pork, and are craving pizza, then you can use it to make Keto Pulled Pork Pizza! This recipe uses cauliflower or fathead dough as pizza crust!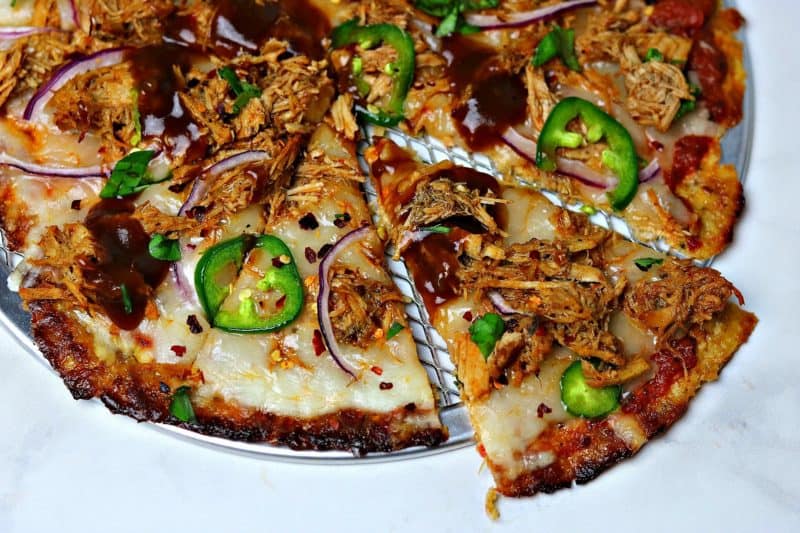 What are my thoughts on having the Ninja Foodi so far?
Pros:
Allows you to replace several small kitchen appliances all at once
Cuts down on cook times for things like roasts
Includes 45+ recipes and super clear guides to help you get started
Allows you to cook food frozen so no thawing required
Has a reversible rack, which allows you to cook different parts of your meal in the same pot (e.g., roast a meat in the bottom and steam vegetables on top)
Dishwasher safe cooking parts, which makes cleaning up easy
Con:
I'll be honest and say that I really love this machine. However, one con is that the Ninja Foodi is huge. For me, this is ok since it has so many functions.
I'd say though that I'm planning to giveaway appliances that it replaces because I can't imagine having this along with my XL air fryer and XL slow cooker.
What are other Ninja Foodi recipes?
I'll update this list as I make more dishes, but here are some things that would be perfect in this machine.
I created a collection of 10 pressure cooker recipes that are keto-friendly and low-carb. They're perfect for a keto meal prep and include things like Pressure Cooker Roast with Gravy, Lemon Garlic Chicken, and even meatloaf!
Besides those, you can also use the Ninja Foodi to make these pressure cooker recipes:
Air Fryer Recipes
Slow Cooker Recipes
Where can I get a Ninja Foodi Pressure Cooker?
These are available on Ninja's website, Amazon, and most big retailers, such as Walmart and Target.
Cook Time:
2
hours
10
minutes
Total Time:
2
hours
13
minutes
An easy Keto Pressure Cooker Pulled Pork recipe that uses the Ninja Foodi Pressure Cooker and a nearly 3lb frozen roast. Done in less than 2 hours and perfect for meal prep!
Want to share this recipe?
To spread the word about this recipe, please save it to Pinterest, share a link to it, or rate it if you loved it. Please do not copy & paste (or screenshot) my recipes to social media or other websites.
Instructions
Add the frozen or fresh roast, bone broth and seasonings to the removable cooking pot

Close the Pressure Lid, turn the valve to "SEAL" and set the Ninja Foodi Pressure Cooker to "Pressure Cook". It'll take about 10 minutes to come to pressure since the meat is frozen. If you're using fresh meat, then it will come to pressure sooner. No other adjustments needed.

Set the time to 90 minutes or 1 hour and 30 minutes and press "Start/Stop"

Set the valve to "Vent" for a quick release of the air. Once the steam finishes escaping. Open the pressure lid.

Remove the roast from the pressure cooker and shred the meat with meat claws or two forks

Turn the Ninja Foodi to "Sear/Saute" and allow the cooking broth to come to a rolling boil/bubble.

Mix in the BBQ sauce and allow it to reduce by half (~5 minutes).

Mix in the shredded meat to the cooker and turn the Ninja Foodi off.
Recipe Nutrition Facts
Nutrition Facts
Keto Ninja Foodi Pressure Cooker Pulled Pork
Amount Per Serving
Calories 268
Calories from Fat 63
% Daily Value*
Fat 7g11%
Cholesterol 119mg40%
Sodium 1075mg45%
Potassium 720mg21%
Carbohydrates 2g1%
Protein 43g86%
Vitamin A 215IU4%
Calcium 9mg1%
Iron 1.1mg6%
* Percent Daily Values are based on a 2000 calorie diet.
Recipe Notes
Low-carb Side Dish Recommendations
Did you make this recipe?
Share your photos & mention @DrDavinahS! I love seeing them!
Nutritional Disclaimer
The nutritional information comes from Spoonacular API, a database of food ingredients. The nutritional information for any recipe will vary based on the exact product you use and the brand. I do not include erythritol or sugar alcohols in the final carb or net carb count as it does not have any impact on my blood glucose levels. Before starting keto or a low-carb eating plan, you should consult your doctor. I am sharing my personal experiences and none of the information included in my recipes or throughout the site should be taken as medical advice.