This post may contain affiliate links, which help keep this content free.
See Disclosure
This keto-friendly and low-carb holiday recipe is the perfect way to indulge while cutting sugar and carbs. It features pumpkin cheesecake infused with brandy as well as a Ginger Something cookie crust.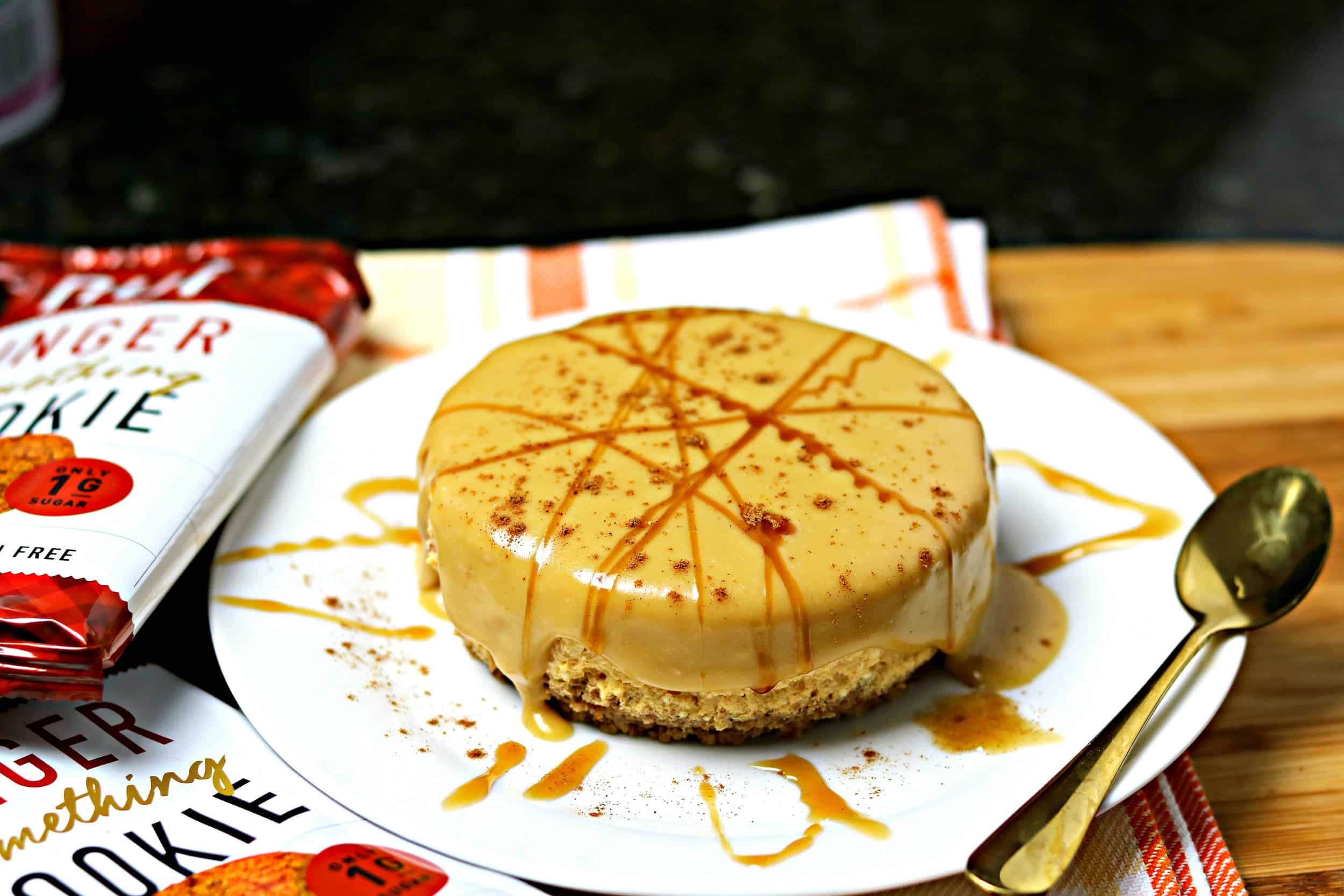 Each Thanksgiving, dinner is at my house and one of the highlights is the desserts, especially my cheesecakes. I only make them once a year, on Thanksgiving, so I tend to go all out with flavor combos & crust variations.
I added Pumpkin Cheesecake to my Thanksgiving rotation about two years ago. Since then, it has become everyone's favorite.
I'm sharing this recipe for Low Carb Pumpkin Brandy Cheesecake w/ Ginger Something Crust because it has all of the same flavors of the original cheesecake without the guilt.
This recipe makes 6 servings.
You can double this recipe to fit it into a 9in springform pan.
If you are interested in making a larger cake, then I'd recommend doubling this recipe in order for it to fit into a 9in springform pan. You could also put this recipe as is in a 7in springform pan (it might not fill the pan as much as usual).

Pumpkin Cheesecake deserves an awesome crust like a Ginger Snap cookie crust. However, Ginger Snaps have at least 20g net carbs, including 9g of sugar, per serving.
To make this low carb and keto-friendly, I used Nui's holiday cookie, Ginger Something, which tastes like a Ginger Snap but also Gingerbread. Each serving of Ginger Something cookies is 2g net carbs and no added sugar! You'll use two servings, or about 1.5 cups of cookie crumbs, of Ginger Something cookies for this recipe.
Brandy?! Is alcohol even low-carb or keto-friendly?
Yes! This is a Pumpkin Brandy cheesecake! Brandy, like rum, tequila, gin, and vodka have 0g of net carbs per serving and no sugar for the regular versions. When you are interested in a keto-friendly happy hour or want things like my Keto Mudslide, you can feel free to add any of these keto-friendly liquors to your food or drinks (in moderation of course).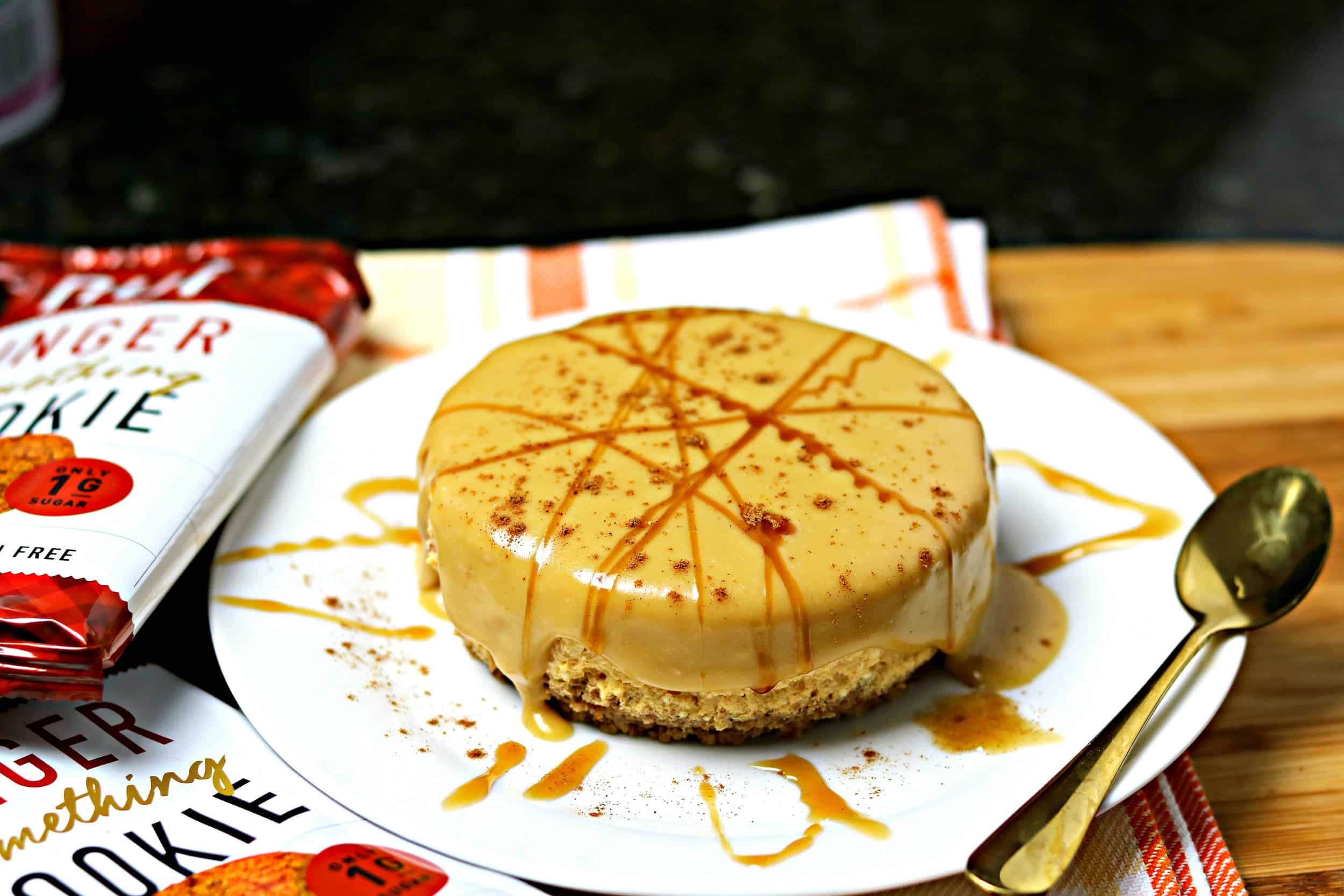 Total Time:
1
hour
15
minutes
Ingredients
Pumpkin Brandy Cheesecake Filling
Ginger Something Crust
2

packets

Nui Ginger Something Cookies

1.5 cups of crumbs

2

tbsp

salted butter

melted

1/2

tbsp

Sukrin Gold Brown Sugar Replacement

another option is Swerve Brown but I have never used it
Instructions
Preheat the oven to 350 degrees

Add all ingredients for the Pumpkin Brandy Cheesecake Filling to a stand mixer. Blend until well incorporated.

Add the Ginger Something Cookies to a food processor and pulse until the cookies turn into crumbs. Add butter and Sukrin Gold to the food processor and pulse a few more times until all of the cookie crumbs are damp.

Cover the bottom of your springform pan with foil. This step prevents the cheesecake from leaking into the water bath. I recommend baking your cheesecakes in a water bath so that they are incredibly silky! If you're not sure how to wrap the springform pan, watch this quick 1-minute video.

Add the cookie crumbs to the bottom of the springform pan. If you're using mini springform pans, you'll have to divide the crumbs as evenly as possible among the pans. This doesn't have to be perfect.

Use the bottom of the spoon, your fingers, or a cup to press the cookie crumbs into the bottom of the springform pan(s).

Bake the crust for 5 - 6 minutes in the oven then remove it from the oven. Pre-baking the crust allows the crust to stand up against the moisture of the batter.

Create the water bath, by adding water to the bottom of a baking sheet. I add 2 - 3 cups to create steam.

Place the cheesecake on top of the water bath

Bake the cheesecake in the oven for 5 minutes for 4in pans or 10 minutes at 350 degrees for larger pans. Do not open the oven door.

Turn the oven to 250 degrees. Continue cooking the cheesecake until the center is slightly wiggly, about 20 minutes for 4in pans or 40-45 minutes for larger pans.

Turn the oven off and crack open the oven door. Keep the cheesecakes in the water bath in the oven until they are cool to the touch. Remove the cheesecake when you can lift them out safely without an oven mitt.

Refrigerate the cakes for at least 4 hours before serving or adding toppings.
Recipe Nutrition Facts
Nutrition Facts
Low Carb Pumpkin Brandy Cheesecake w/ Ginger Something Crust
Amount Per Serving
Calories 282
Calories from Fat 243
% Daily Value*
Total Fat 27g 42%
Cholesterol 108mg 36%
Sodium 209mg 9%
Potassium 138mg 4%
Total Carbohydrates 5g 2%
Protein 5g 10%
* Percent Daily Values are based on a 2000 calorie diet.
Did you make this recipe?
Use #DrDavinahS when posting your photo of this dish, and follow @DrDavinahS on Instagram
This cake is delicious on its own, but if you'd like to add toppings, here are three keto and low-carb options: