This post may contain affiliate links, which help keep this content free.
See Disclosure
A quick, keto-friendly and grain-free recipe for seared scallops and parmesan cauliflower risotto.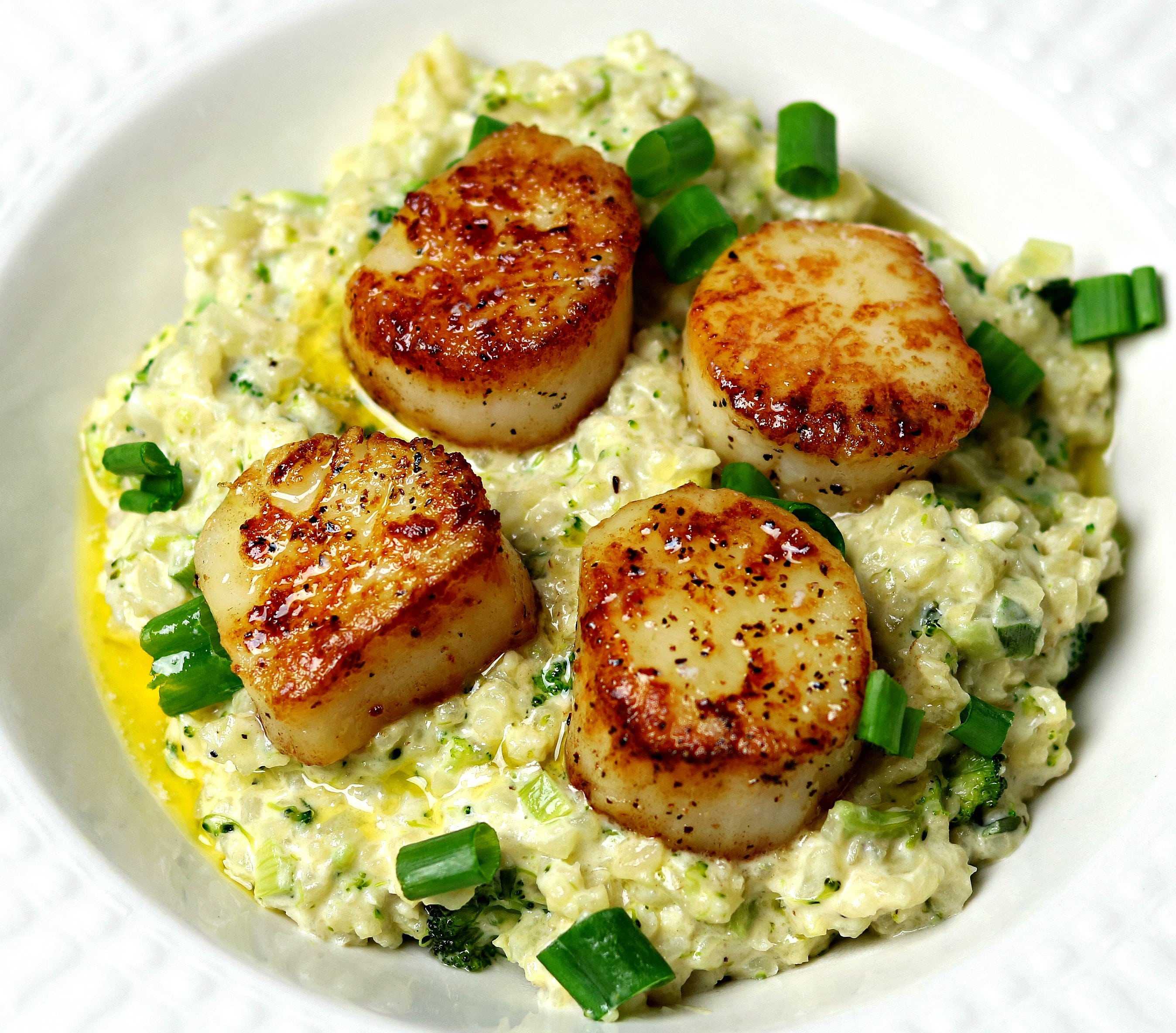 One of my favorite restaurant dishes is Sea Scallops from Ocean Prime. I had it for the first time during my 30th birthday celebration. The dish includes buttery, jumbo, seared scallops on top of what seems to be a large bowl of creamy, parmesan risotto.
The risotto, like many risottos that I've tried, had a green-colored vegetable, like peas or asparagus, which gives a crisp, fresh bite through all of the risotto's richness & creaminess.
This recipe for Seared Scallops and Cauliflower Risotto is my quick, keto-friendly take on that dish! It's the perfect warm, comfort food dish that you might enjoy on a date night or when you want a restaurant-style dish at home.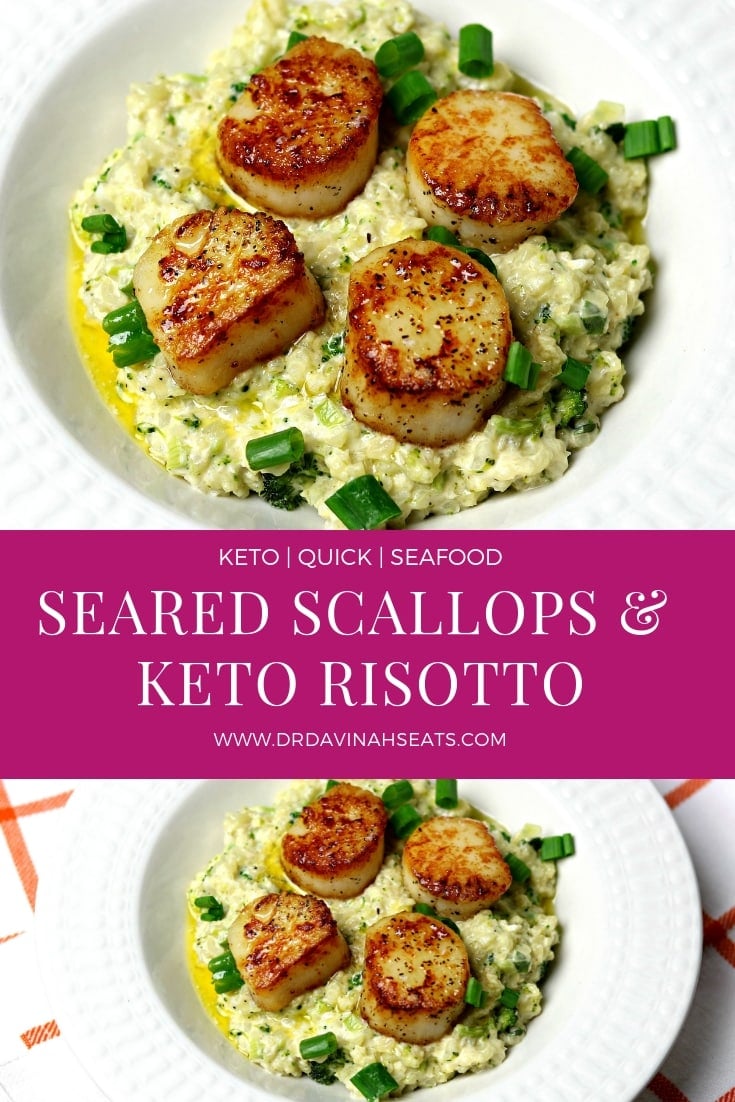 How do you make risotto without grains?
In this recipe, I'm substituting the rice that is usually the base of risotto for cauliflower rice. Cauliflower Rice Risotto is delicious and much easier to make since you don't have to wait around for the rice to cook and become tender.
Should I use fresh or frozen cauliflower rice in this risotto?
I prefer to use fresh cauliflower rice. I get a 1lb pack for less than $2 at my local Trader Joe's store. However, considering that this recipe contains a creamy sauce, you'd be ok with substituting fresh cauliflower for frozen. I'd imagine that frozen cauliflower won't need as much time to get tender so just be mindful of this when you get to the fourth step.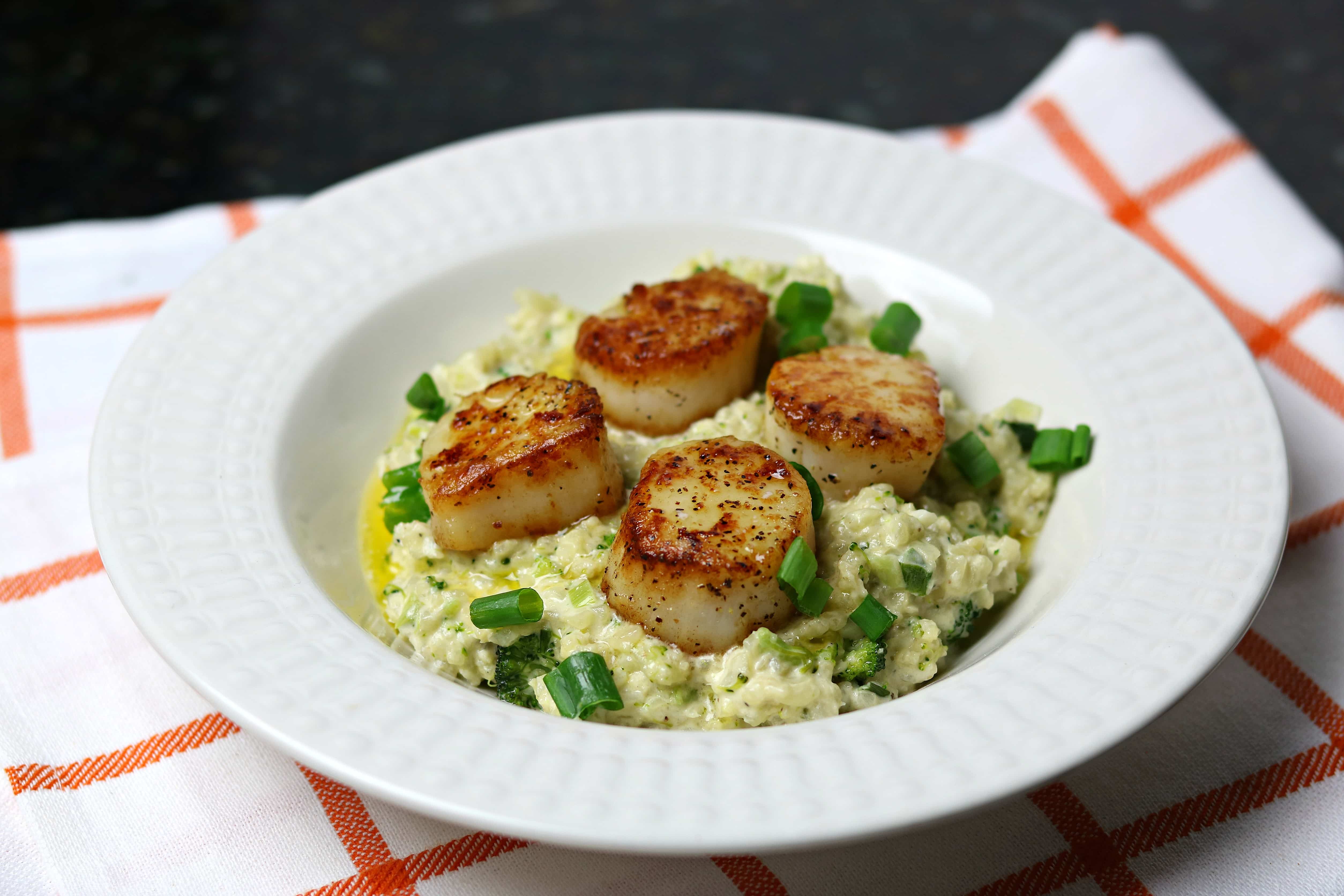 This recipe includes one of my other recipes called Quick Seared Scallops
As I mentioned, the scallop seared to perfection is one of the central components of this dish. Surprisingly getting your scallops to have a sear only takes a few minutes.
What are some tips for making Seared Scallops?
The key to seared scallops is using a sizzling hot pan, salted butter, and a timer. One thing that disrupts the type of sear you get is moving the scallops around too soon. After your pan is hot and you place the scallops, do not move them or flip them until the timer is done. The goal is to only flip the scallops once.
This recipe makes 4 meals.
This recipe makes 4 servings and I used 1lb of scallops and 1lb of cauliflower rice so each serving has about 1/4 lb of scallops (that was 5 jumbo scallops for us) and about 1/4 lb of cauliflower risotto (which is about a 3/4 cup).
You can substitute the green-vegetable.
This recipe includes broccoli because that is what I had in my refrigerator. However, I've had risotto with asparagus, peas, and mushrooms.
You should feel free to substitute the broccoli if you don't have it or simply leave it out if you are not a fan. Parmesan Risotto is also amazing.
Want to try another variation of this dish?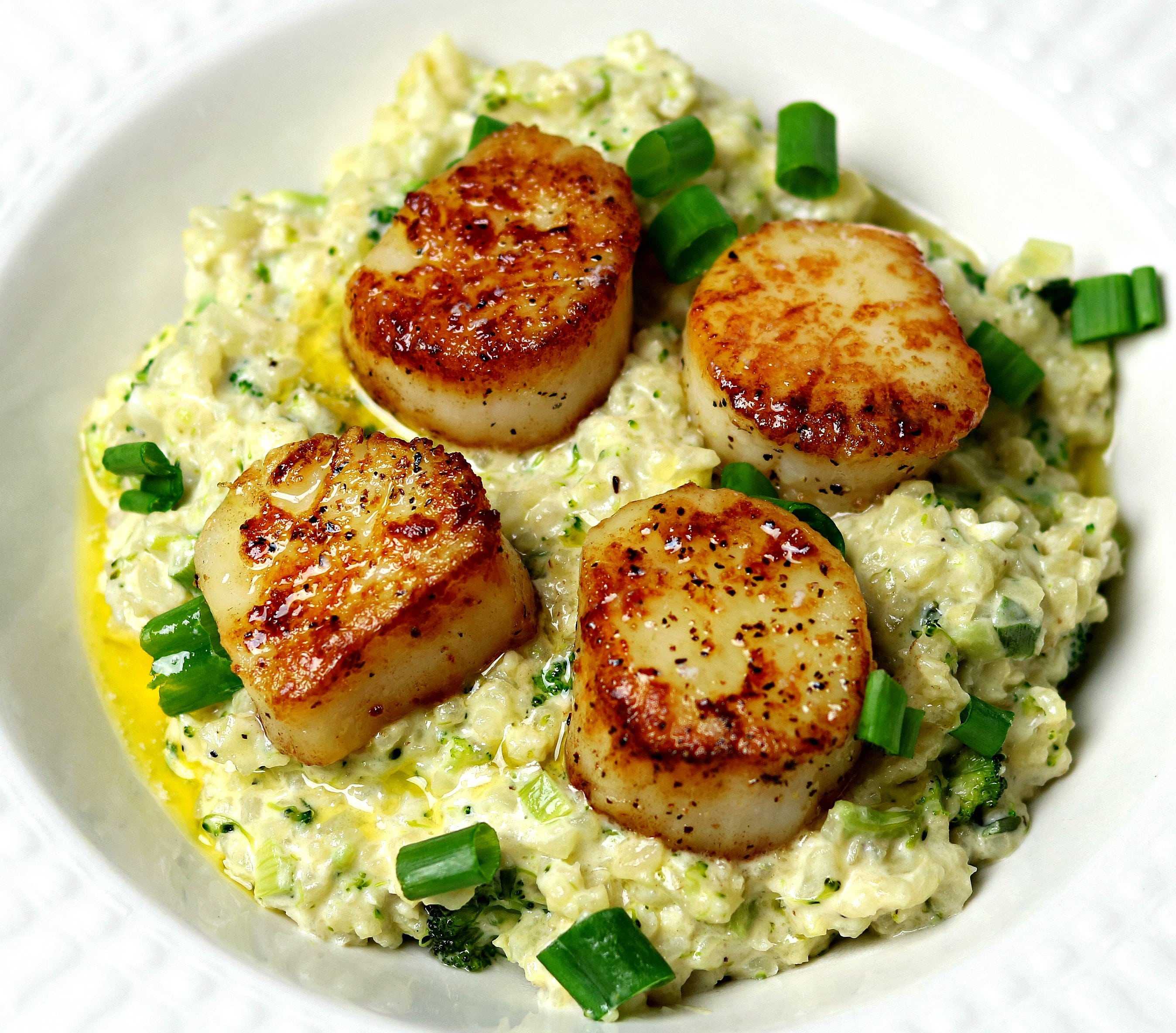 Ingredients
Seared Scallops
1

lb

jumbo scallops

You can get these fresh or flash frozen

2

tbsp

salted butter

1

tbsp

olive oil

Salt and Pepper
Cauliflower Risotto
1

lb

package of riced cauliflower

~4 cups of riced cauliflower

3

tbsp

salted butter

3

garlic cloves

minced

1

cup

broccoli florets

cut into small chunks (optional)

1/4

cup

thinly sliced green onions

keep the green tips to use as a garnish

1

cup

Organic Heavy Whipping Cream

it has fewer ingredients and carbs than non-organic brands

3/4

cup

Parmesan cheese

grated

1/4

tsp

Sea Salt

1/4

tsp

black pepper
Instructions
Bring a medium skillet to medium heat

Add salted butter, garlic, broccoli florets, and green onions to the skillet and cook until the broccoli pieces start to turn bright green (~3 minutes)

Add the riced cauliflower to the skillet and continue to cook until the riced cauliflower is almost tender (~3 minutes)

Add remaining ingredients and stir until the parmesan cheese is well incorporated. Lower the heat so that the rice does not stick and cook until the cauliflower rice reaches your desired level of tenderness. Turn off the heat.

Pat the scallops with a paper towel. Sprinkle salt and pepper on top (about 1/4 tsp of each if you're not sure about sprinkling)

Bring a frying pan to medium heat

Add butter and olive oil and wait for it to start to bubble.

Add scallops to the pan and cook for 2 minutes per side. Remove from the heat and pan so that they do not continue to cook.

Add a large spoon of risotto to a plate. Top with scallops, green onions, and melted butter if you are being extra fancy.
Recipe Nutrition Facts
Nutrition Facts
Seared Scallops & Cauliflower Risotto
Amount Per Serving
Calories 551
Calories from Fat 423
% Daily Value*
Total Fat 47g 72%
Cholesterol 158mg 53%
Sodium 1079mg 45%
Potassium 686mg 20%
Total Carbohydrates 12g 4%
Protein 23g 46%
* Percent Daily Values are based on a 2000 calorie diet.
Recipe Notes
This recipe has more grams of net carbs per serving than some of my other recipes, but it also has a lot of vegetables and is a complete meal (as to just a part of dinner)!
Did you make this recipe?
Use #DrDavinahS when posting your photo of this dish, and follow @DrDavinahS on Instagram