Vegetables are the best kind of carbs, but it's easy to skip out on them because they can taste boring and bland. This collection of Air Fryer Vegetable Recipes is here to change that. It's full of low-carb and keto veggie-forward ideas to add more veggies to your menu. You'll notice that I feature low-carb veggies like cauliflower over high-carb ones like potatoes. This way, the recipes help with getting all the nutrients of vegetables while keeping carbs low.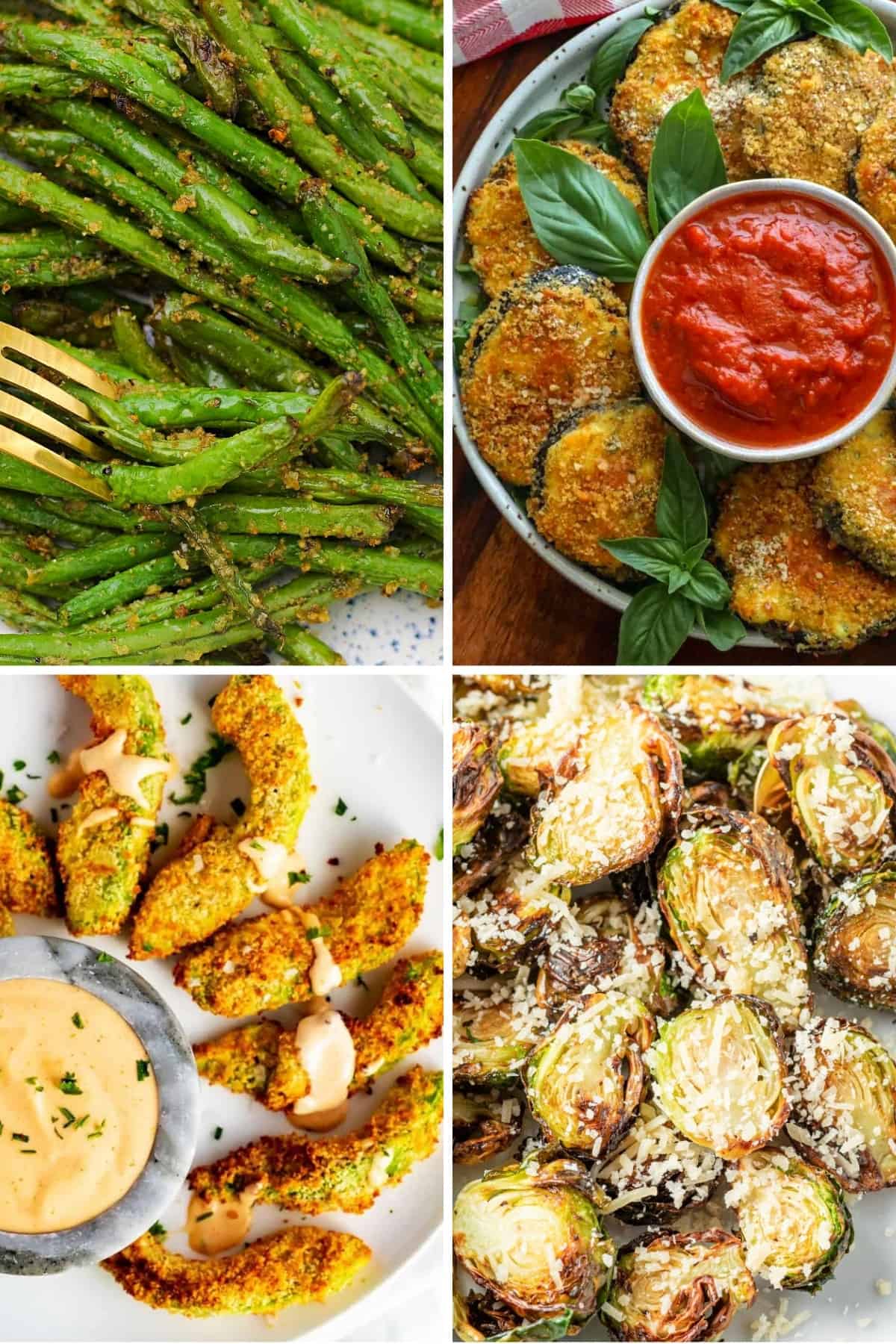 19 Easy Air Fryer Vegetable Recipes
Green beans make great replacements for french fries as a keto side dish for burgers. This recipe is easy and requires only 4 ingredients.
Cauliflower is low-carb and versatile. You need 5 ingredients and 15 minutes to make this side. You can even transform this into mashed cauliflower.
If you're looking for low-carb veggies to go with your favorite meat dish like air fryer steak, try these. The dish requires 4 ingredients and comes together in less than 10 minutes.
It takes 6 ingredients to make this easy, keto-friendly squash. The dish will be ready in 20 minutes.
This is one of the easiest low-carb air fryer vegetable recipes because it cooks from frozeb. If you have about 10 minutes to spare after making the main dish, you can quickly fix this side.
This spaghetti squash effortlessly replaces noodles and takes about 20 minutes to make. With 5 ingredients only, you'll make this tasty, base to enjoy it with my Italian sausage meatballs.
Broccoli is naturally low-carb and keto-friendly. This air fryer vegetable recipe requires 5 ingredients and about 25 minutes to get done.
Try this recipe if you're looking for a better way to cook eggplant. It's easy, takes about 20 minutes and a single serving for this dish has 3g net carbs.
This is for you if you need keto air fryer vegetable recipes to replace potatoes dishes. This 4-ingredient dish has only 1g net carbs per serving.
Do you need roasted garlic to make your garlic herb butter? These air fryer roasted garlic will be ready in less than 20 minutes.
I love Brussels sprouts, but they take a while to cook. This air fryer dish takes 5 main ingredients and less than 30 minutes.
Onion rings are yummy, but the heavy breading makes them keto-unfriendly. Air fryer keto onion rings are low-carb and still as crispy as the regular ones.
Mushrooms are versatile, low-carb veggies that every keto dieter needs. If you're looking for an easy, keto-friendly way to make mushrooms, go for this.
If you love zucchinis, here's a recipe to make you love them more. It's easy, and the results are as tasty, crispy, and crunchy as ever.
Do you need a quicker and less hectic way of making ratatouille? This dish comes together in about 20 minutes.
With low-carb breading, these avocado fries make great snacks or sides to go with various main dishes. A single serving has about 3.5g net carbs.
Try making these pearl onions in the air fryer to enjoy a perfect blend of sweet and spicy.
Eggplants can look and taste better with a little more creativity. This 9-ingredient dish takes about 8 minutes to cook in an air fryer.
If you want to replace french fries without making your life dull, these zucchini fries will do. A single serving for this dish has 5g net carbs.
FAQs
Key Takeaway
It's not enough to just eat vegetables if you're on a low-carb or keto diet. Your choice of veggies determines how successful the journey will be, so choose well. I hope these easy air fryer vegetable recipes I've shared will work for you!