This post may contain affiliate links to products I use and highly recommend. You can read my full disclosure .
Let me guess why you're here: Your keto burger game is top-notch, but you're still struggling with keto side dishes for burgers. Or, you've been having the same burger side for decades and are looking for options. If either of those statements describes your current situation, this post is for you. The good news is there are enough tasty low-carb sides for burgers you can easily make at home. This collection includes remakes to popular options, including fries!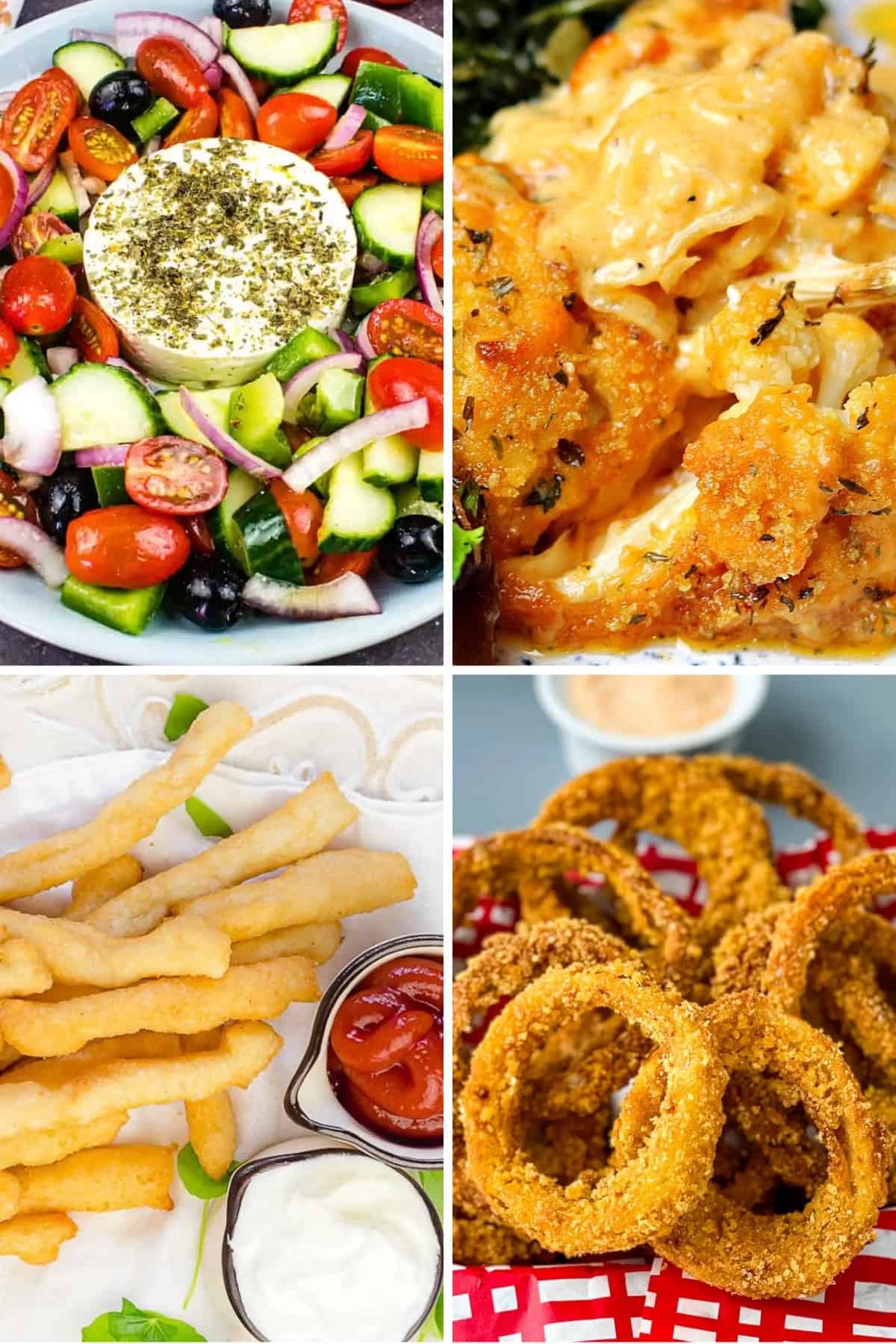 Why Share?
There are so many options to make a burger keto-friendly: no bun, lettuce bun, or double stack covered in bacon!
But, finding side dishes is a challenge since the most popular options are usually things like fries.
Since I'm a bit of a master of remaking comfort food to fit a low-carb way of eating, I'm pleased to suggest some side recipe ideas you can copy or modify.
What Sides Go With Burgers?
Common burger sides are french fries, mac & cheese, onion rings, corn on the cob, pasta salad, potato wedges, potato salad, and sweet potato fries. The challenge with these classic sides is the extra carbs you have to deal with. Creating keto-friendly sides means modifying the existing ones or replacing them altogether.
What Can You Eat With Burgers On keto?
Low-carb vegetables make the perfect replacements for high-carb burger sides. Most low-carb sides for burgers are made from cauliflower, green beans, asparagus, radishes, brussels sprouts, and squash. You can also have low-carb variations of classic dishes like mac and cheese, coleslaw, and onion rings. The primary goal is to keep the net carbs per serving as low as possible.
Enough said. Let's explore some low-carb options for burger side dishes you can include in your next meal prep:
Best Keto & Low Carb Sides for Burgers
Use this collection of keto sides for burgers to get options for everything from keto coleslaw to keto fries!
FAQs
What sides don't have carbs?
All vegetables have carbs. So, even these keto-friendly options have carbs. Some things that don't have carbs are meat. But, I wouldn't really consider a side of meat a good option for a burger.
Can you eat a hamburger on the keto diet?
Yes. However, to keep carbs low, most people who eat keto skip the bun. You can have a burger salad, bun-less burger or a burger with a lettuce bun.
What goes best with burgers?
For keto, any of these vegetable based dishes work well with burgers. You'll notice that they are remakes to things like fries, macaroni and cheese, and potatoes
Final Thoughts
Are you still feeling helpless as far as low-carb sides for burgers are concerned? I hope not. Do you feel uncertain about how the above options will play out? Probably. Take time to try and play around with the above recipe ideas until you find what best serves your taste buds and needs.