This post may contain affiliate links to products I use and highly recommend. You can read my full disclosure .
If you want to try Whole30, but are not sure what to eat, then you'll love these Whole30 dinner recipes. Filled with simple ingredients, they are packed with flavor without including dairy, legumes, added sugar, or grains. In this post, I'll provide recipes as well as key differences between Whole30, Keto and Paleo.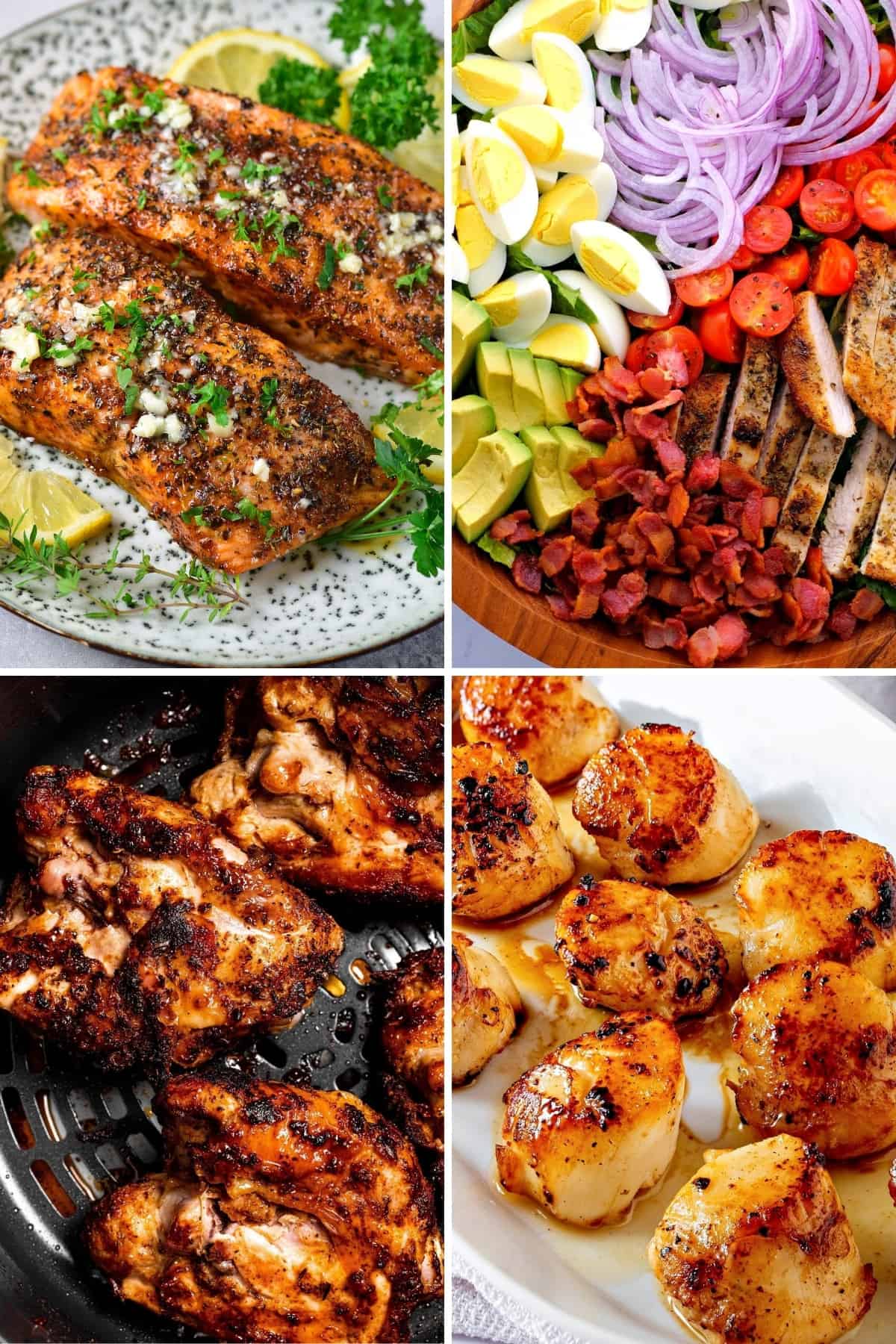 Where are these Whole30 dinner recipes from?
I wanted you to have the best Whole30 Recipes I could find. Several of them are personal favorites from here on my own site (and if you love shrimp, I really hope you'll give my Easy Keto Garlic Shrimp Scampi Recipe a try)! Many of the other recipes come from other keto and paleo bloggers I've discovered over the years.
With so many easy Whole30 dinner recipes waiting for you to try, there's no better time to take the challenge!
What is Whole30?
Whole30 is what is known as an "elimination diet." For 30 days, you eliminate all artificial foods and known inflammatories from your diet. This includes all sugar and artificial sweeteners, all grains, legumes, and alcohol.
As outlined on their website and in the program rules, he thinking is that these foods have all been shown to have ill effects on the body in many people – inflammation, intestinal issues, skin conditions, and much more.
So, eliminating them from your diet gives you the opportunity to see how you feel without them. Then you are one step closer to learning which foods may be interfering with your health.
Why share a Whole30 dinner recipes post?
Before finding keto, I did Whole30. Those 30 days helped me to understand how food impacted my body. While everyone's experience is different, some benefits for me were:
More energy
My eczema flare-ups went from annoying to clearing up
Proving to myself that I had the willpower to avoid certain foods
Over time, I've come to realize that I am not alone in this experience and that many Keto fans have followed Whole30 a time or two, as well. And for those that do, I hope they find these dinner ideas will be very helpful.
What can you eat on Whole30?
While on Whole30, you'll enjoy a wide variety of meat, eggs, poultry, seafood, fish, vegetables, fruit, nuts and seeds, and healthy fats. There are so many delicious ways to prepare these foods, starting with the recipes in this list.
What's the difference between Whole30 and Keto?
As I mentioned in my what is keto post, the keto diet is specifically designed to put your body into a state of ketosis (fat burning) by reducing carbs to below a designated amount – generally 20-30 grams of net carbs or less per day.
While milk is too high in sugar (lactose) to be considered "low carb", dairy such as butter and cheese is allowed. Most fruits are also eliminated for those following the ketogenic way of eating, except in very small amounts, because they are too high in carbs.
Whole30 eliminates all dairy except for ghee (clarified butter). However, you are allowed fruit and you won't be spending any of your time counting carbs.
What's the difference between Whole30, Paleo, and Keto?
Paleo allows added sugar from real, all-natural sweeteners, while Whole30 does not. Beyond that, the Whole30 & Paleo are very similar, with neither allowing grains, legumes, or dairy.
Many people who complete Whole30, tend to follow a paleo way of eating after the initial challenge. Those who crave dairy tend to eat more keto-friendly or low-carb foods.
Common Substitutes to transform Keto & Low Carb Recipes into Whole30 Recipes
Here is a list of common swaps that people who are eating keto-friendly and low-carb foods might make.
Heavy Cream: Coconut Cream
Butter: Ghee, Coconut Oil, or Olive Oil
Mayo: Whole30 Mayo, such as this dairy-free mayo
Soy Sauce: Coconut Aminos
Whole30 Dinner Recipes
Add flavor to your Whole30 journey using these dinner recipes and meal ideas. Most of these recipes are Whole30 as is. But others have clear directions on the swaps needed to make the dish fit.
FAQs
What is the best Whole30 meal?
This depends on so many factors. My personal favorite are my spicy dry rub chicken wings.
Can you eat bananas on Whole30?
Yes. You can eat all fruits on Whole30. The main purpose is to eliminate added sugar, grains, and dairy.
Do you lose weight on Whole30?
This depends on your overall lifestyle. For most people that start who typically eat a standard American diet, weight loss comes easily with Whole30 because they are eating unprocessed clean foods and eliminating things like soda.
How long does it take to see Whole30 results?
I noticed results after a week.