These Keto Ground Chicken Recipes prove that ground chicken is an extremely versatile ingredient that can be used in numerous low carb recipes. From casseroles and patties to soups and quick one-pan meals, I selected some of the best keto recipes using ground chicken from around the web. Enjoy these as part of meal prep or family dinner. Add any of these keto sides for chicken to make a meal.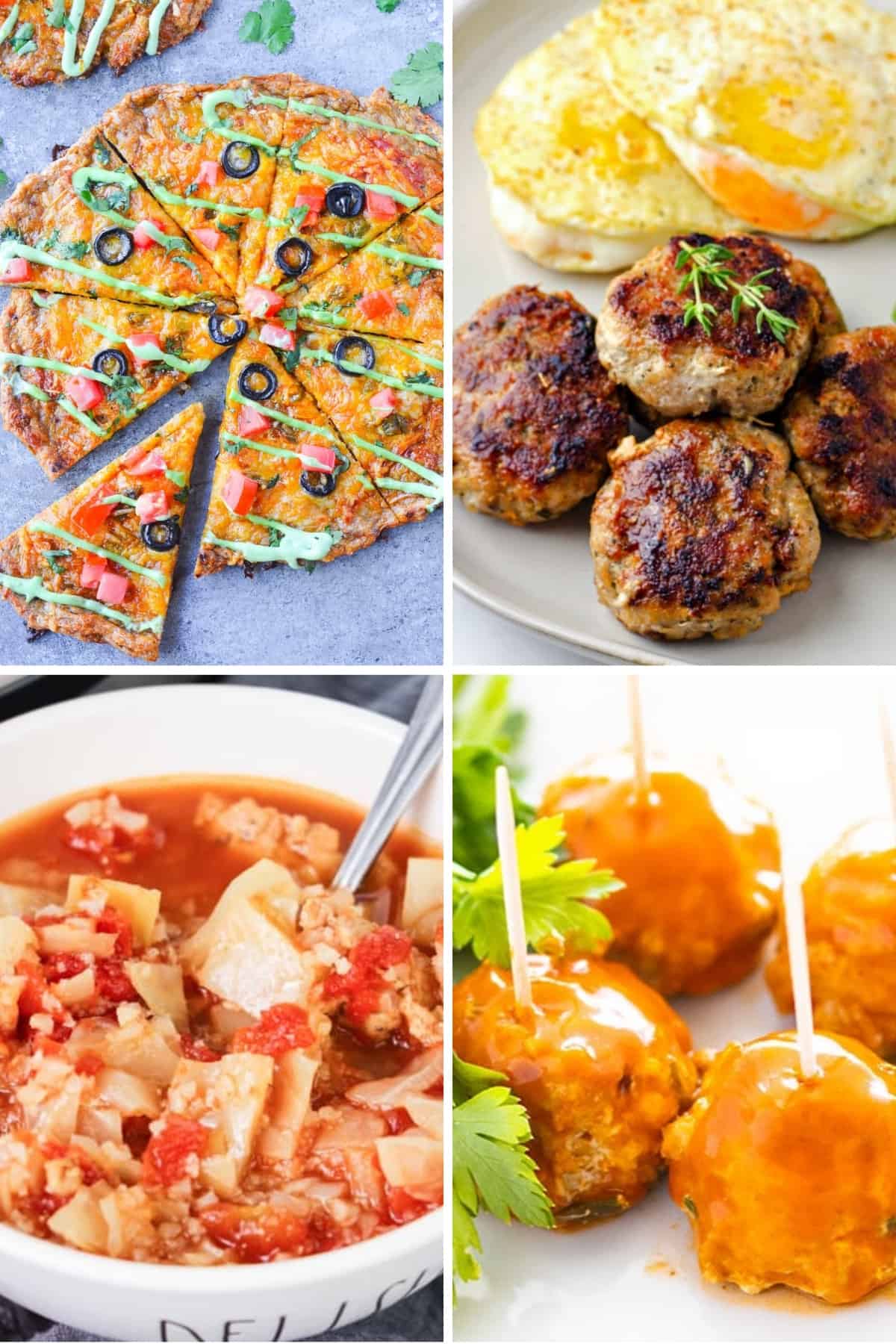 What Can You Make With Ground Chicken?
There are so many possibilities to make keto and low-carb recipes using ground chicken. Casseroles, burgers, soups, patties, and even keto pizza crust can be made using ground chicken.
It's also possible to use ground chicken in recipes that would typically use other ground or finely chopped meats. For example, replace ground chicken in any of these keto ground beef recipes or keto ground turkey recipes.
Don't be afraid to experiment, you might come up with something even more delicious!
What Can You Serve With Ground Chicken?
While some recipes don't require a side dish, for the ones that do, you can always rely on veggie-based sides which are perfect for lightening up a meal and getting a healthy dose of vitamins and minerals.
You can check out my low carb side dishes, keto dishes for chicken and air fryer vegetable recipes collections for inspiration.
Keto Ground Chicken Recipes – Casseroles & Oven-Baked
When you don't feel like spending too much time in the kitchen, casseroles and oven-baked dishes, in general, make excellent choices! Here are some easy casseroles and oven-baked keto recipes using ground chicken:
The delicious filling for these stuffed mushrooms is made with ground chicken, onion, garlic, and Marsala wine and requires a bit of sauteing and simmering in a pan.
Once the mushrooms are filled, pop them in the oven for 15 minutes and you'll have a delicious dinner on your table everyone will love.
If you're tired of fathead dough, cauliflower pizza crust, and other popular keto pizza crust recipes, this chicken version could be just the alternative to try. It's loaded with protein but lower in fat and it can also be reheated.
This crowd-pleasing main dish has a 10-minute prep time after which you can focus on other things while the flavorful bell-peppers get a nice roast in the oven.
If you like dishes such as chicken parm and lasagna, you will definitely appreciate this stuffed chicken parmesan keto meatloaf that's a successful combination of both!
These zucchini boats also have that yummy chicken parm flavor and have a moderate fat content but pack high amounts of protein.
The filling needs to be sauteed quickly in a pan after which dinner should be out of the oven in 35 minutes.
Don't you just love when the recipe name starts with 'lazy'? This lasagna uses spinach instead of the traditional pasta, making the dish lighter and much more nutritious.
There's plenty of ground chicken and cheese, so this meal has a substantial amount of protein and a slightly garlicky flavor no one will be able to pass.
Buffalo Wings have lent their flavor to this easy to prep keto meatloaf made using ground chicken. The cooking time is about one and a half hours so be sure to pop it in the oven in time for dinner!
Here's another keto chicken crust pizza recipe that's packed full of protein but tastes just like tacos. If you love both tacos and pizza this dish makes the perfect combination!
Keto Ground Chicken Recipes – Meatballs & Patties
Meatballs and patties made with ground chicken are great when you want a satisfying meal with a lower fat content and there are so many options to try. I'm sure you will find at least a few recipes here that will quickly become family favorites.
Maple chicken breakfast sausage is a recipe with a spicy kick and under 2 grams of carbs per serving.
Secret tip: they will be even more flavorful if you prep the mixture ahead and let it sit in the fridge for a day.
Chicken and zucchini burger patties are moist, flavorful, and definitely one of the healthy burger options out there. The secret ingredient that makes these burgers super tender is ricotta cheese!
With just one gram of carbs and a whopping 15 grams of protein per serving, these keto chicken meatloaf cups require just a few ingredients and are one of the easiest keto meals. If you want to make them even more delicious you can wrap them in bacon.
I love the idea of getting the Cordon Bleu flavors in a simpler recipe. These delicious meatballs also contain chopped ham and are stuffed with a nice chunk of Swiss cheese.
Dinner on an average day or a flavorful party appetizer, you can rely on this recipe for almost any occasion.
A combination of meatballs and mini sliders, chicken zucchini poppers can easily be made ahead and they are also paleo and Whole30 compliant.
Instead of using a high carb binder such as breadcrumbs, these keto chicken parm meatballs use parmesan cheese as a low carb binder and the Marinara sauce is homemade and low carb as well.
Baked meatballs made with ground chicken are definitely one of the lighter and healthier meatball recipes that don't require any fancy ingredients. Chances are, you might be able to make some right now using pantry staples.
Chicken and pesto will always make a great team, including in a burger. If you need a change from the usual burger flavors this recipe is a must-try!
Chicken bacon ranch poppers are an excellent keto-friendly appetizer you can make for parties, holidays, and any other event.
They are also gluten and nut-free so if your guests have special dietary requirements, keep this recipe on hand.
An easy 6-ingredient recipe you can prep in 10 minutes and will be ready in under an hour. It's also worth mentioning these meatballs can be made ahead and are freezer friendly.
Keto Ground Chicken Recipes – Stovetop
Ground chicken cooks fast and it's perfect for quick recipes made on the stovetop such as stir-frys and one-pan meals. I love that there are so many stovetop low-carb recipes using ground chicken.
They have been life-savers more than once when I needed to cook something fast and no compromises are made regarding flavor!
Egg rolls are very popular Chinese restaurant appetizers and while they can be made at home, they can be a bit time-consuming and high carb. This simple one-skillet recipe tastes the same but it's way easier to make, especially if you decide to use a coleslaw mix.
If you're a fan of taco bowls you will definitely appreciate this easy Slow Cooker recipe that's extremely versatile. It's high in protein but also packed full of veggies and melty cheddar cheese. You simply need to add all the chopped ingredients to your Slow Cooker and let it finish the job.
A keto-friendly stir fry bursting with Asian flavors that's ready in 10 minutes. I'm pretty sure this is the best possible version of fast-food.
Takeout cravings can be quickly banished with these Asian chicken lettuce wraps that replace the traditional rice with cauliflower rice for a healthy low-carb meal that's also super-filling and delicious.
The cold season is the perfect time to warm your body with a comforting soup. Here's a low-carb soup recipe that has the wonderful taste of cabbage rolls but none of the usual carbs and requires a lot less work to make!
This peanut chicken stir fry can also be made with sliced boneless chicken but using ground chicken is even easier and shortens the prep time. It would also work with other types of meats, including beef or turkey.
If you're a fan of lettuce wraps you might want to try the Laotian version known as laap or larb. For us keto dieters, the bread is replaced with lettuce but you can always make your own buns using a low-carb dough recipe.
Other Ground Meat Recipes
Here are a few more keto recipes using ground meat you might love to try: