If you're on a keto or low-carb diet, a typical chophouse may not serve your needs when it comes to side dishes. This is because most classic steakhouse sides have corn, potatoes, or pasta, and there's nothing keto about those. However, that doesn't mean you can't enjoy a meaty party, complete with delicious and keto-friendly side dishes.
There are numerous keto side dishes for steak you can prepare at home and have a better version of your favorite steakhouse experience. Also, many of these are air-fried to keep the calories as low as possible.
Does this sound like a deal already? If so, below are some game-changing low carb side dishes for steak you can try.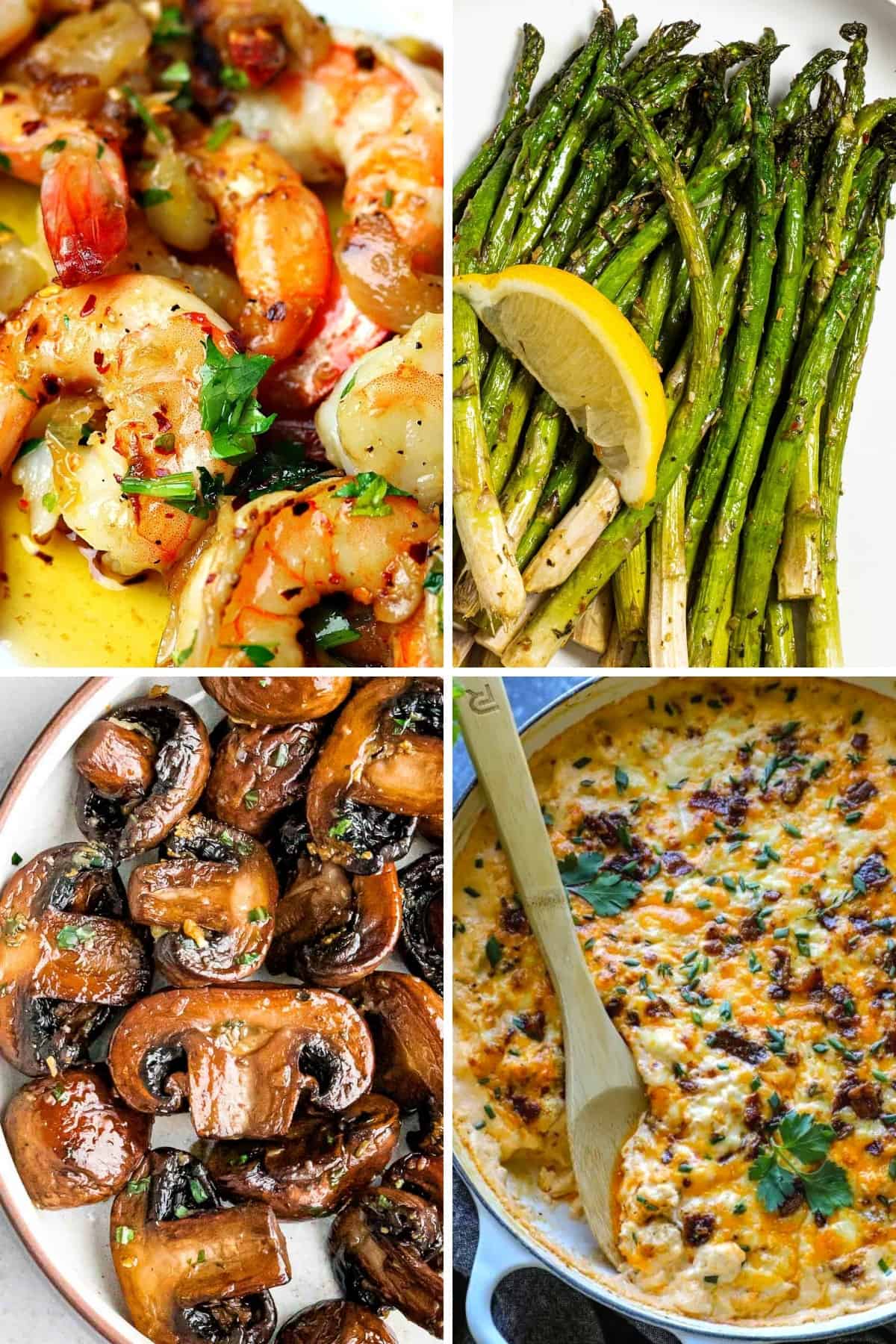 This squash forms an excellent accompaniment for air fryer steak or roasted chicken legs without compromising your keto goals. With only 6 ingredients and in less than 20 minutes, you'll have made a tasty side dish.
Eggplants are low-carb vegetables and easy to prepare. It will take you about 20 minutes to prepare and cook this 5-ingredient steak side. One serving for this particular dish has 3g net carbs.
If you enjoy steakhouse lemon-roasted asparagus, you'll definitely love the air-fried asparagus since both are tasty and keto-friendly. You'll need 4 ingredients and less than 10 minutes to prepare this air fryer asparagus dish.
Steakhouses serve green beans amandine, which is great even for keto enthusiasts. However, if you want a less oily recipe with crispy results, air fryer green beans are among the best keto side dishes for steak. Mix the 4 ingredients and air fry for 12 minutes.
Roasted radishes effortlessly replace potatoes to make a low-carb steak side. This dish has 1g net carbs per serving, requires 4 ingredients, and takes about 20 minutes to prepare. Radishes are also low in calories to balance out high-calorie keto meals.
Is this the same creamed spinach in regular chophouses? Not exactly. This particular recipe makes it to your favorite list of low carb side dishes for steak by omitting cornstarch, flour, and whole milk. It takes 15 minutes to prepare this dish, and a single serving has 2g net carbs.
Are you looking for a simple and keto-friendly cauliflower recipe? 15 minutes and 5 ingredients are all you need to make this side dish. The result is a rich-flavored accompaniment for your keto and low-carb main dishes.
Brussel sprouts are typical side dishes in steakhouses and can conveniently be prepared at home. Air frying them takes less than 30 minutes, and you only need about 7 ingredients to make this tasty side dish.
Are you a mac and cheese lover and wondering how to make the dish keto-friendly? This recipe allows you to have your cake and eat it. Substitute the noodles with cauliflower and enjoy this creamy low-carb side dish.
Cauliflower dishes are among the top keto side dishes for steak. They are great alternatives for potatoes if the net carb difference is anything to go by. It takes 20 minutes to make this cauliflower dish, and each serving has 5g net carbs compared to the 20g in a potato mash serving.
Unlike the traditional crab cake recipe, this one has zero-breading making it suitable for keto and low-carb diets. It takes about 30 minutes to prepare and cook this low-calorie and gluten-free side dish.
Shrimps are low-carb and have healthy fats. If you're looking for a keto side dish to go with steaks, this keto garlic shrimp scampi will do the trick. This tasty dish takes 15 minutes to cook and has 3g net carbs per serving. I personally used this to go with my ultimate surf and turf recipe.
If you're into keto and low-carb diets, the traditional risotto isn't for you. Substituting regular rice with cauliflower rice will give you an equally-delicious low-carb side dish. Preparing and cooking the dish takes approximately 20 minutes.
This cauliflower cheese casserole is so good and a must try! It's a kicked up version of cauliflower mac and cheese and is a TOTAL crowd pleaser! This loaded cauliflower casserole features a rich cheese sauce and is delicious as a side dish to any keto steak dinner recipe!
If you are missing scalloped potatoes, this recipe for keto cheesy scalloped turnips is for you. Made with turnips, as a substitute for potatoes, it has all the flavor from the classic dish without all the carbs.
Take your cauliflower low carb mac and cheese to another level by infusing it with smoky bacon. It's the perfect comfort food side dish for steak that everyone can indulge in!
These sautéed Shredded Brussels Sprouts with grated parmesan are topped with a rich, savory balsamic glaze. Add them to any cut of steak for a top-notch combo!
Get the flavor of twice baked loaded potatoes without the carbs. Save time and mess by using my air fryer Bacon as a crunchy topping.
These easy sautéed mushrooms make the perfect low carb side for steak! They're sautéed with garlic and butter until golden brown!
These keto stuffed mushrooms are a perfect low carb appetizer or side dish to serve with steak. They take about 5 minutes to prepare.
Final Thoughts
Being on a low-carb or keto diet doesn't mean you cannot enjoy any of your favorite dishes, but a little tweaking is needed to keep on track. The low carb side dishes for steak discussed here will keep your taste buds entertained in a keto-friendly way.