Most side dishes have high-carb foods like potatoes and pasta as the main ingredients. If you're following low-carb, you need keto-friendly sides to enjoy with your favorite chicken dishes.
The challenge for most keto dieters has been finding diverse and interesting low-carb side dish recipes, but that's no longer a problem.
I've done the heavy lifting for you by researching and providing alternative dishes to suit a low-carb way of eating.
You probably already know what's not for you, but you probably haven't figured out your alternatives yet. If that's the case, don't worry because you're about to discover some delicious keto side dishes for chicken, but first, let's answer a few questions.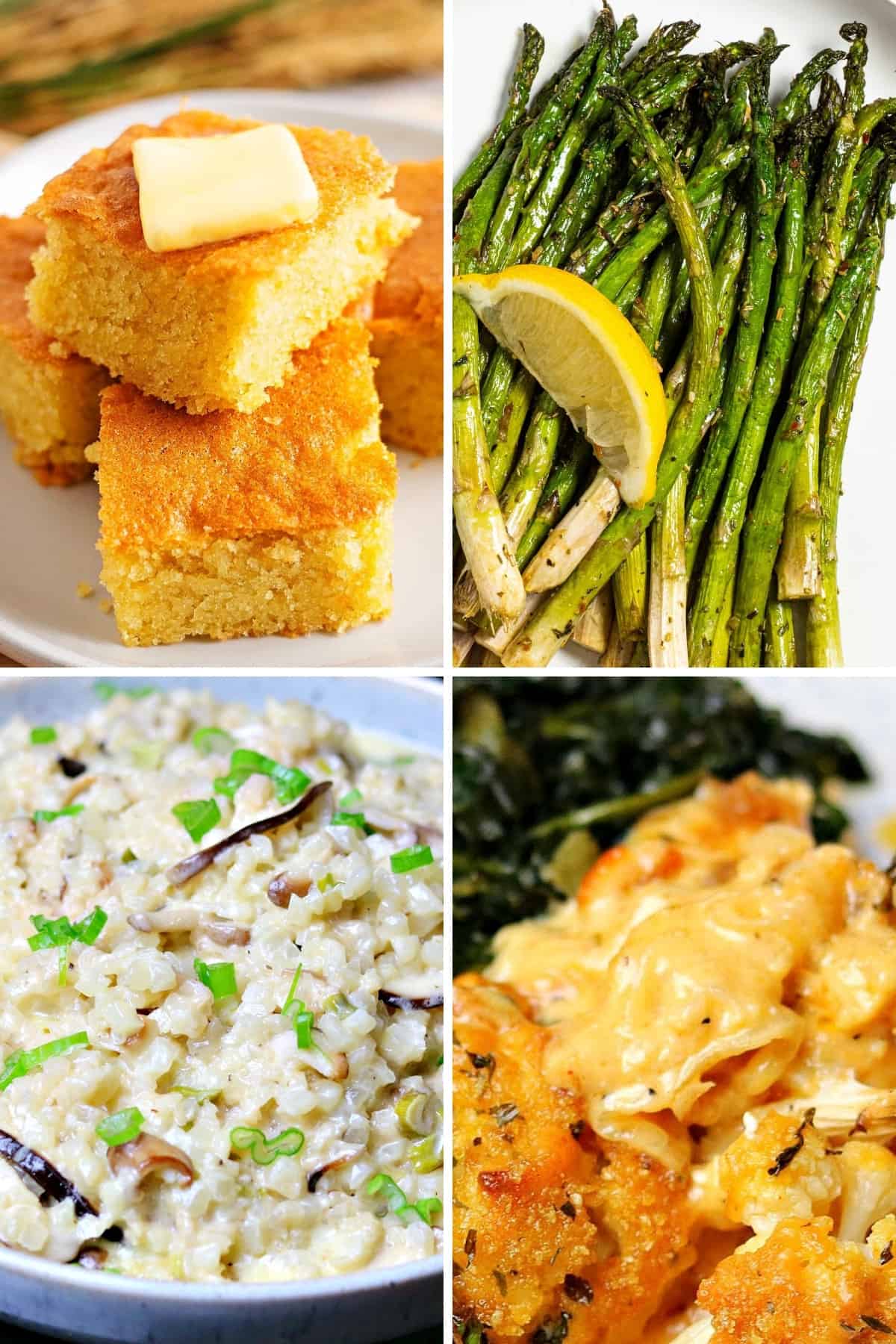 What Sides Can You Have On Keto?
A keto or low-carb diet aims at keeping your body on ketosis, where fat and proteins become your primary sources of energy.
Most vegetable side dishes effortlessly pass the keto-friendliness test. However, dishes with high-carb vegetables like potatoes, sweetcorn, beets, and carrots should be avoided or highly limited.
What Vegetables Can You Eat On Keto? (20 Delicious Keto Side Dishes for Chicken)
All low-carb vegetables are great ingredients for keto dishes. If you need low-carb side dishes for chicken, consider vegetables like cauliflower, cucumber, celery, mushrooms, and spinach. Such vegetables are versatile and keto-friendly.
Are you ready to spice up your keto menu? The following side dish recipes will do the magic:
This dish is easy to make and comes with all the keto benefits you're looking for. You only need 6 ingredients with Zucchini and Yellow squash as the main ones. 20 minutes are enough to prepare and cook a tasty air fryer squash with no breading.
If you need a simple yet mouth-watering low-carb side dish to accompany your roasted chicken legs, this air fryer eggplant recipe will do. It comes together in about 20 minutes with only 5 ingredients joining the party. A single serving of this dish has 3g net carbs.
Tasty keto side dishes for chicken don't have to be complicated. Asparagus are common side vegetables you can easily make at home. This air fryer asparagus side dish requires 4 ingredients and about 10 minutes to get done.
Green beans are often served in steakhouses and require minimal preparation. For this air fryer recipe, you'll need 4 ingredients and about 12 minutes to make a low-carb side dish. Not only is it a great accompaniment for your favorite chicken dish, but it's a great low-carb side for steak.
If you only have 10 minutes to spare, make this broccoli side dish and have your air fryer bbq chicken breasts in style. There is no need to thaw the frozen broccoli. Simply mix the 5 ingredients in a bowl and let the air fryer do the rest.
Radishes are great substitutes for potatoes. A single serving of this dish will only add 1 g net carbs to your meal which is favorably low. Besides the radishes, you'll require 3 more ingredients and about 20 minutes to get it done.
You'll find creamed spinach in most eateries but the regular dish mostly has cornstarch, flour, or whole milk which are high-carb. The keto creamed spinach omits everything keto-unfriendly and takes 15 minutes to prepare. This dish has 2 g net carbs per serving.
The list of low-carb side dishes for chicken isn't complete without a cauliflower dish recipe. Cauliflower is keto-friendly and versatile enough to create various tasty dishes. This dish requires 5 ingredients and will be ready in only 15 minutes.
Many restaurants serve brussel sprouts as a side, except they are mostly deep fried. This air fryer recipe will allow you to easily make and enjoy keto-friendly brussel sprouts with only 5 main ingredients. It takes about 25 minutes to prep and cooks this tasty dish.
If mac and cheese mean the world to you, giving it up for keto or low-carb can be tough. However, there's no need to darken your days if you can find low-carb alternatives. Replace high-carb noodles with low-carb cauliflower and enjoy your favorite side dish. This is also one my favorite keto sides for bbq.
This is one of the top keto side dishes for chicken to satisfy your mashed potatoes cravings. You need about 7 ingredients and 20 minutes to prep and cook this dish. A single serving has 5g net carbs, four times less of the net carbs in a similar potato dish. Serve it up with my keto gravy.
The traditional risotto is a high-carb dish loved by many but doesn't serve the keto diet needs. This recipe swaps arborio rice with cauliflower to create an equally creamy and tasty dish in about 20 minutes. You need about 9 ingredients with cauliflower rice being the main one.
Substitute cornflour with almond flour to make a keto-friendly side dish. This comes together in 30 minutes and needs 6 ingredients. Enjoy it any day with your best chicken main dish.
If you enjoy Spanish rice, this keto Spanish cauliflower rice will equally entertain your taste buds while keeping the carbs on the low. With only 6 ingredients and 20 minutes, you'll put together a keto-friendly and tasty side dish.
Cauliflower rice is what you need to make tasty and super-versatile grain-free low-carb side dishes for chicken. This dish takes less than 15 minutes to cook and one serving adds only 5g net carbs to your entire meal. You need about 6 ingredients to make the magic happen.
This dish is available in Mexican restaurants and takes about 15 minutes to cook with about 5 ingredients. It's keto-friendly thanks to the cauliflower rice that replaces regular rice. Use it as a base to your keto burrito bowls.
Are you a mushroom lover on a keto diet? This mushroom soup recipe will brighten your days and load your chicken main dish with flavor. You'll use about 6 ingredients to make this creamy and tasty side dish.
If you have nothing great to say about cabbage, try this recipe. It's a low-carb dish that will take less than 10 minutes to cook in a pressure cooker. You'll use about 9 simple ingredients to flavor the cabbage and serve it with your favorite chicken meal.
Cauliflower rice replaces regular rice to make a low-carb and delicious dish. This recipe comes together in 15 minutes and you only need about 7 ingredients to prepare it. A single serving of this dish has 4g net carbs.
You need about 15 minutes and 7 ingredients to prep and cook this low-carb dish. One serving of this particular dish has 6g net carbs, making it suitable for low-carb diets. You can also add bacon into the mix to enhance flavor.
Take Away