This post may contain affiliate links to products I use and highly recommend. You can read my full disclosure .
If you're busy and often on-the-go, then one of the keys to sticking to keto is having options for keto snacks to buy. Even though I love cooking, I don't have the time to make every single thing. So, being able to buy something that doesn't have added sugar and carbs is super convenient.
In this collection, I share some of my go-to products for things like keto-friendly chips and snack bars. I also include a few of my favorite options for keto candy, cake and cookies!
All of these snack ideas can be purchased online at places like Amazon. Some of them can also be picked up at the store.
Whether you're looking for something quick or something to hold you over during a busy day, this collection of 20 low carb snacks will hit the spot every time!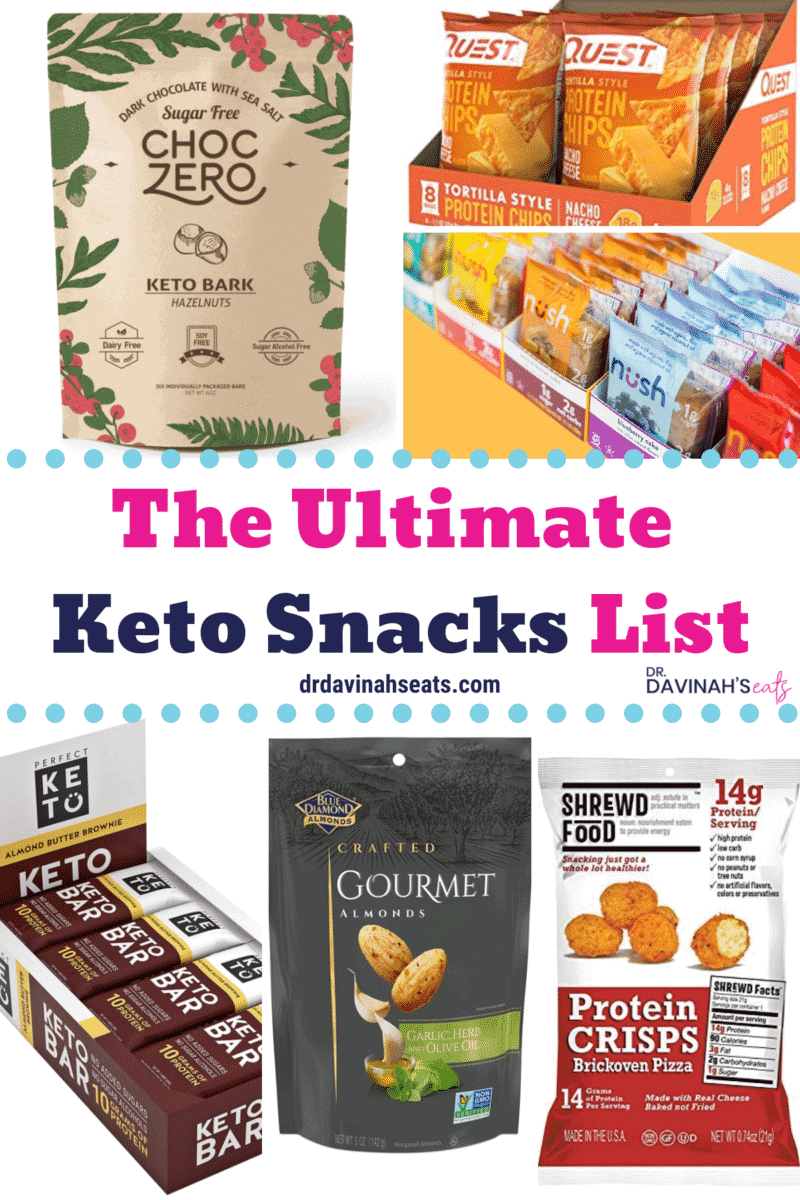 What types of keto snacks will you find?
Need tips for keto essentials?
This post is meant to be an ultimate snack guide. However, if you are new to keto, you might also be looking for keto product essentials and alternatives to things like soda. For that, you should also check out: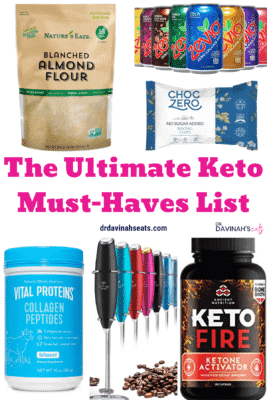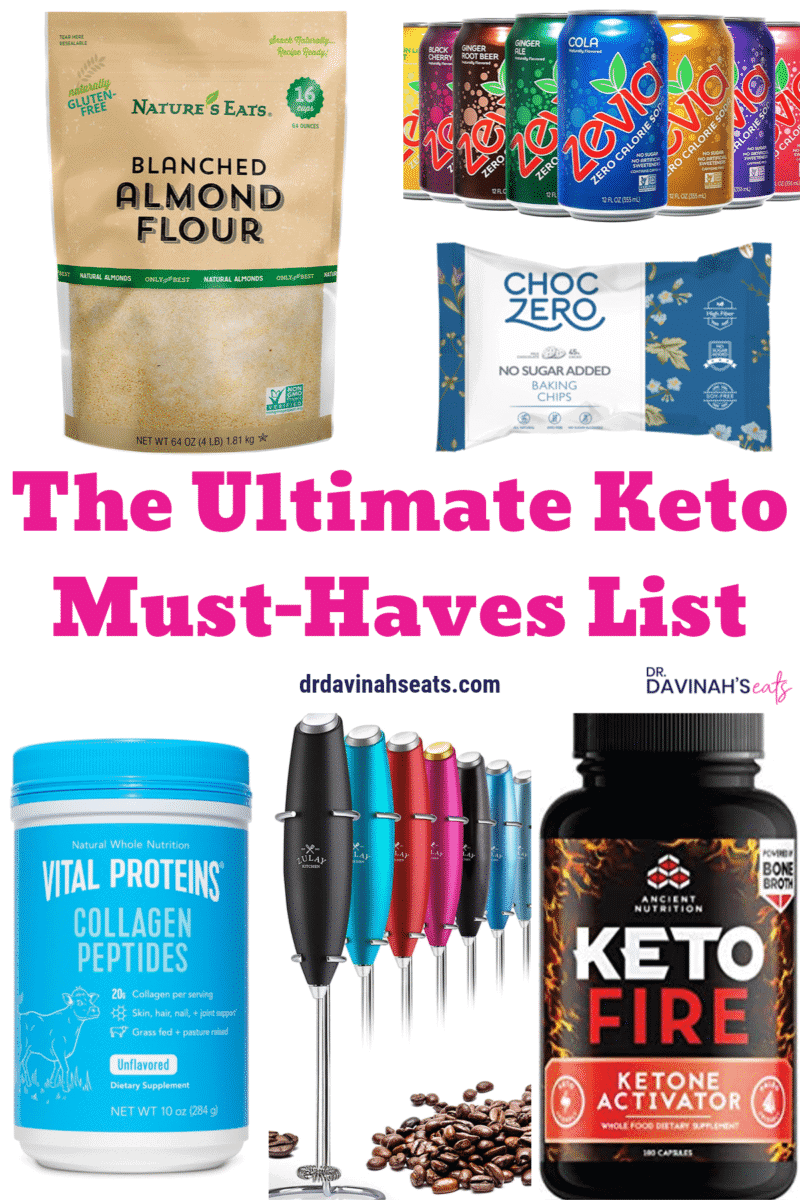 Keto Snack Cake & Cookie Ideas
When you're craving something sweet, these keto cakes and cookies will add a little sweetness to your day! The options below are my absolute favorites. But, both of these products come in other flavors, which are available to buy online.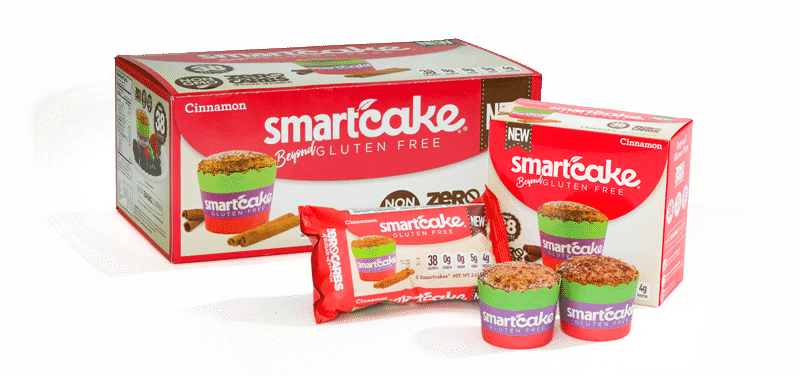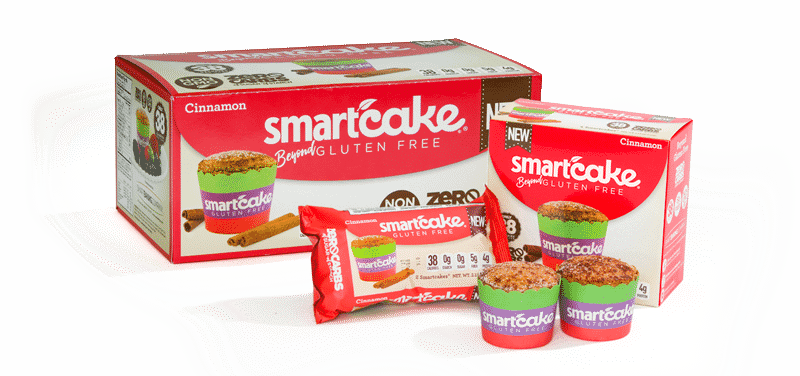 As I mentioned in my Smart Baking Company review, Smart Cakes are some of my favorite low carb and keto cakes. I love that you can get these in bulk to enjoy anytime you have a sweet craving. They easily replace those Little Debbie cake treats while offering about 5 grams of fiber, and 4 grams of protein. Each cake is just 38 calories.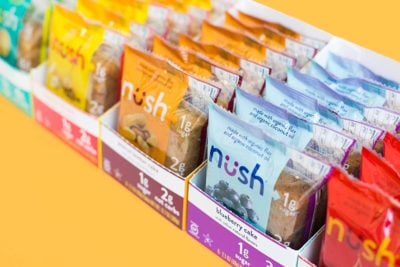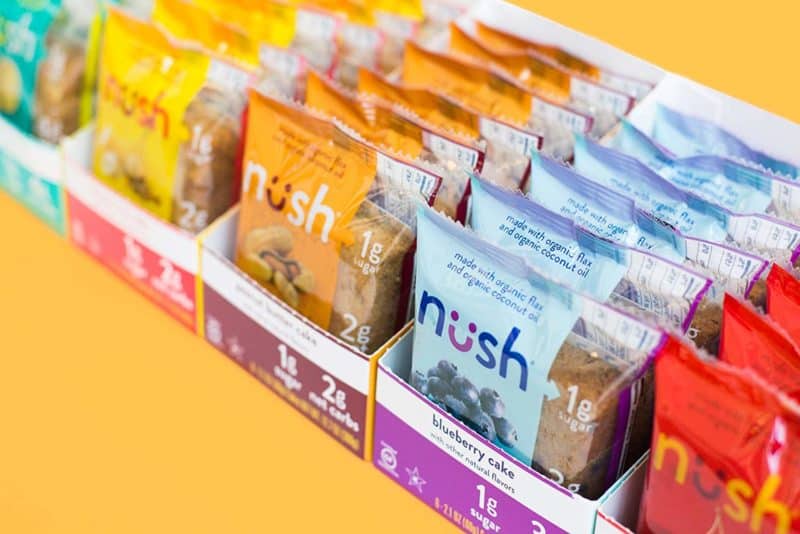 The awesome thing about Nush Cakes is that they work well for any sweet craving you have day or night. Nush Cakes are lightly sweet (think muffins over cake). So, you can have them for breakfast, lunch or dinner. With 100% all natural ingredients, and no added sugar, Nush Cakes come in a variety case with flavors such as banana nut, blueberry and carrot spice. My absolute favorite flavor is Banana Nut.
Keto-friendly Candy
If you thought that you had to give up candy entirely on keto, then you are wrong! These keto-friendly candy ideas are some of my absolute favorites.
All of these are free of added sugar and are naturally sweetened with things like Stevia, Erythritol, and Monk Fruit.
While this list contains four of my favorites, there are more than 10 options in my keto candy post. You might also want to make candy at home using these low-carb candy recipes.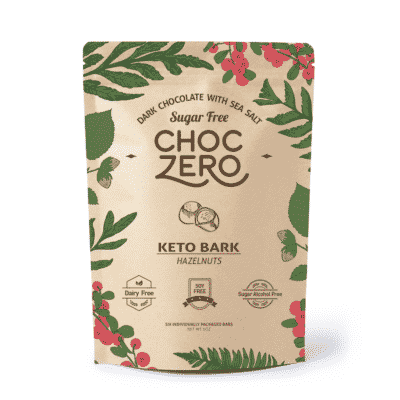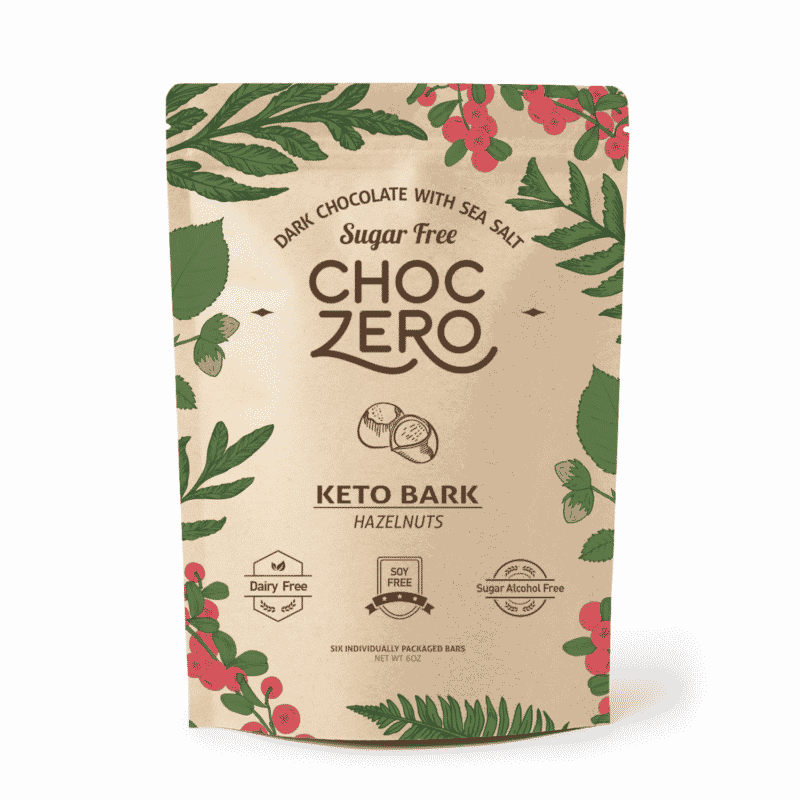 There's nothing tastier than a sweet treat of chocolate when you want a keto and low carb sweet snack. This Keto Bark comes in a variety of flavors but the hazelnut is by far the tastiest option for those who like that hazelnut chocolate flavor. I tend to buy these each month. You should be warned though, that you might want to keep these away from your partner, spouse and kiddos!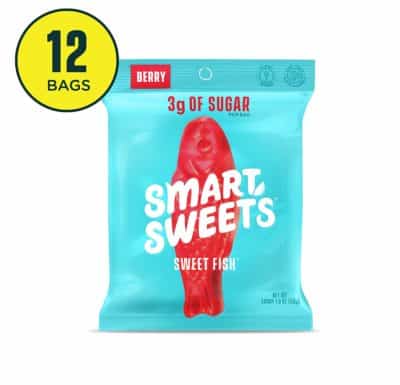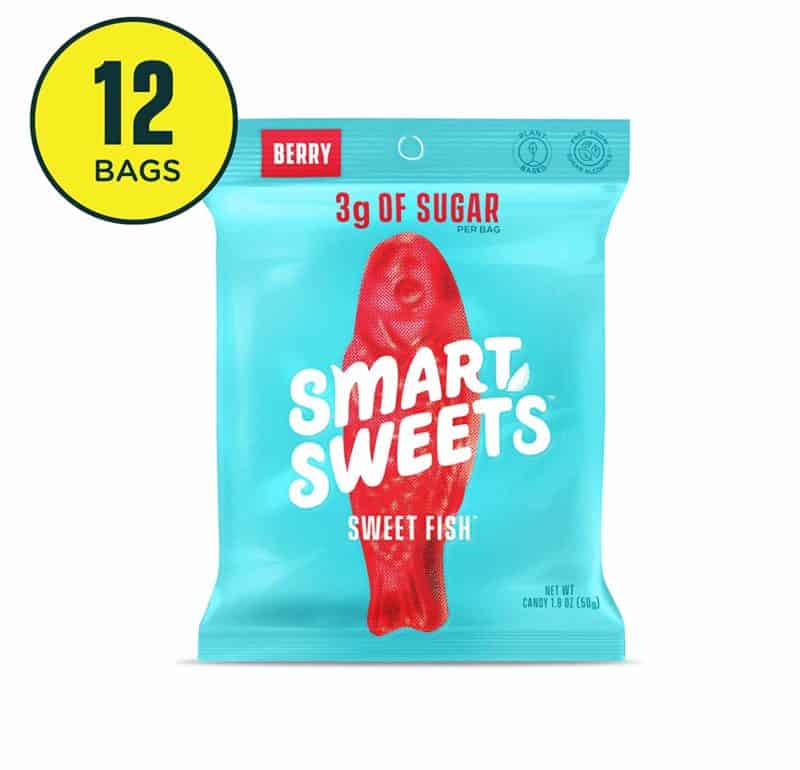 If you enjoy Swedish Fish, then you'll love having Sweet Fish around. These delicious sweet fish contain 85% less sugar than other chewy berry options. They are certified vegan and are naturally sweetened with Stevia. Personally, I have a box of these set-up on Amazon's Subscribe and Save program. Each package has 7g net carbs. So, just be aware that while these are a much better option, you probably shouldn't have several packs of these and hope to stay within 20g net carbs for the day.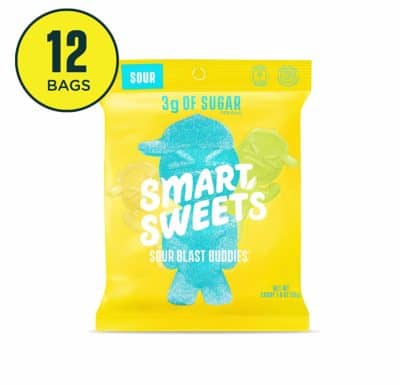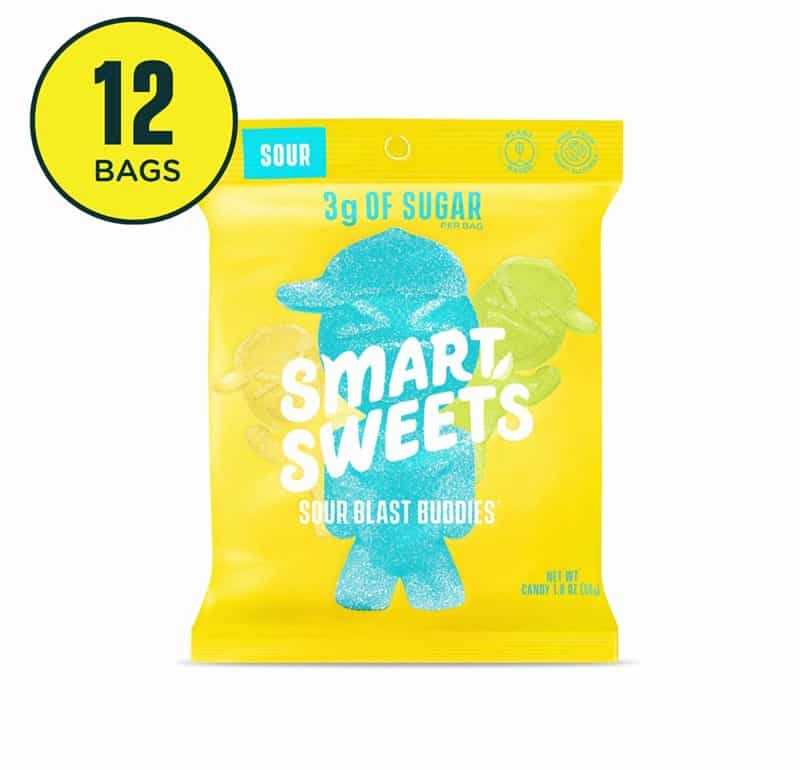 Sour Blast Buddies from SmartSweets will make you pucker your lips! Like the Sweet Fish, you can buy this as a box of 12. I'm including these because they're popular and my husband's favorite. But, I must admit that I'm team Sweet Fish, if I have to make a choice.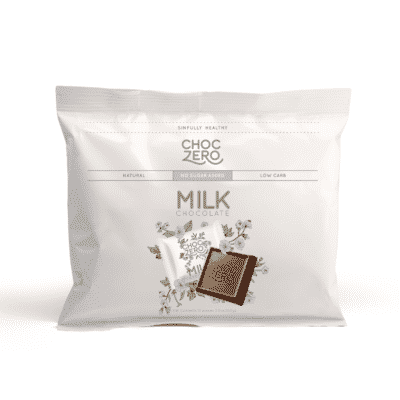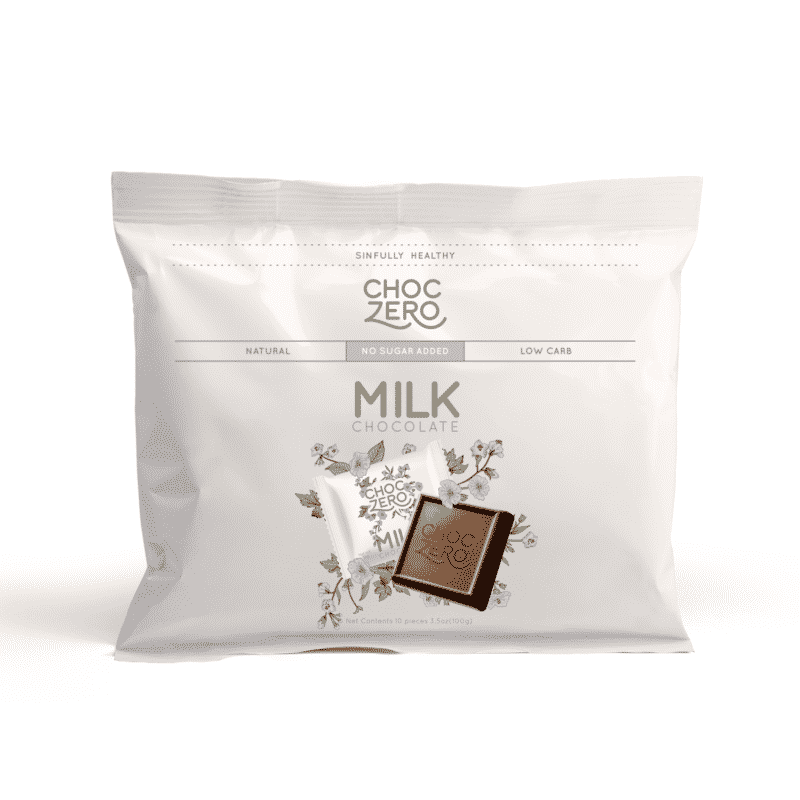 When you're craving something similar to a Hershey's bar that comes with little bite-size squares, these ChocZero milk chocolate squares will satisfy that craving. The perk is that you can indulge without the extra sugar that comes with most candy bars. Each square has only 1 gram of net carbs.
Keto Snack Bars
For some reason, snacks bars are one of the hardest keto snacks to buy and find. When searching for them in the store (especially), lots of the bars with all natural ingredients are sweetened with honey and dates. Even though, those sweeteners are better than refined sugar, they are high in carbs. I love the bars below because they were created with keto folks in mind.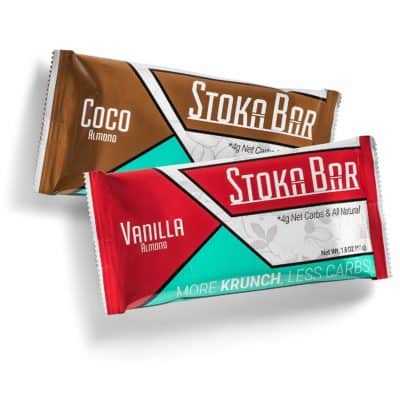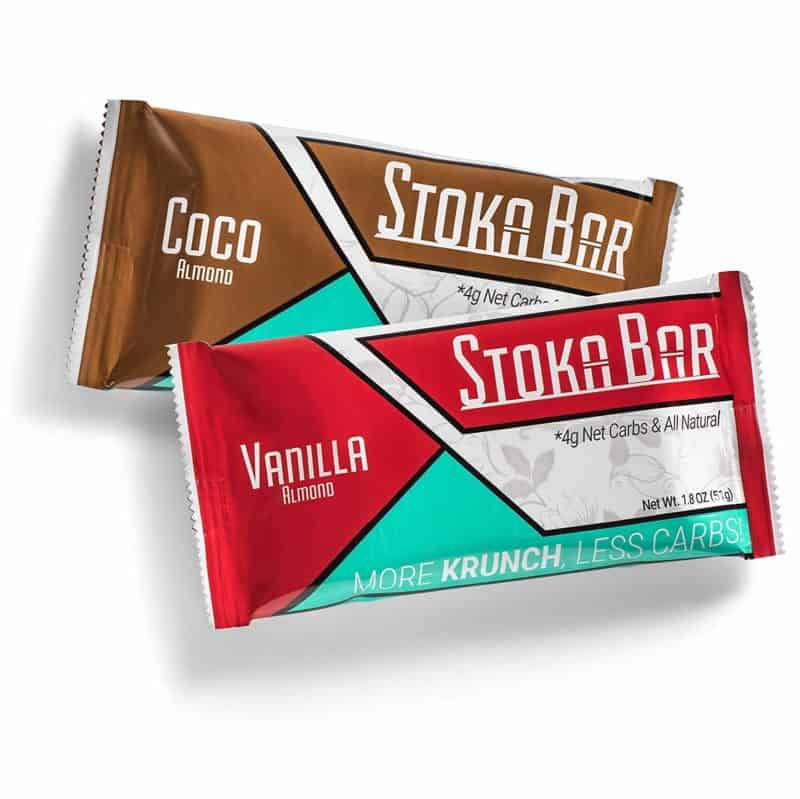 If you're craving Nature Valley granola bars without the added sugars, carbs and other junk, then Stoka Bars are your substitute. With vanilla almond and cocoa almond flavors all in one box, you can get that flavor you crave any time of the day. Each bar has only 4 net grams of carbs and all natural ingredients.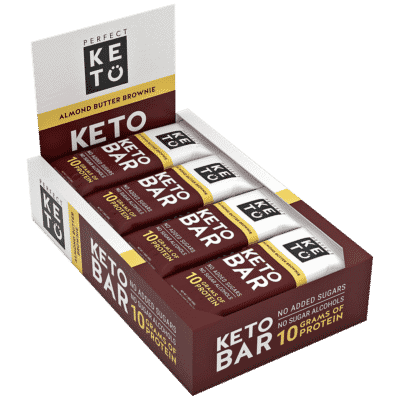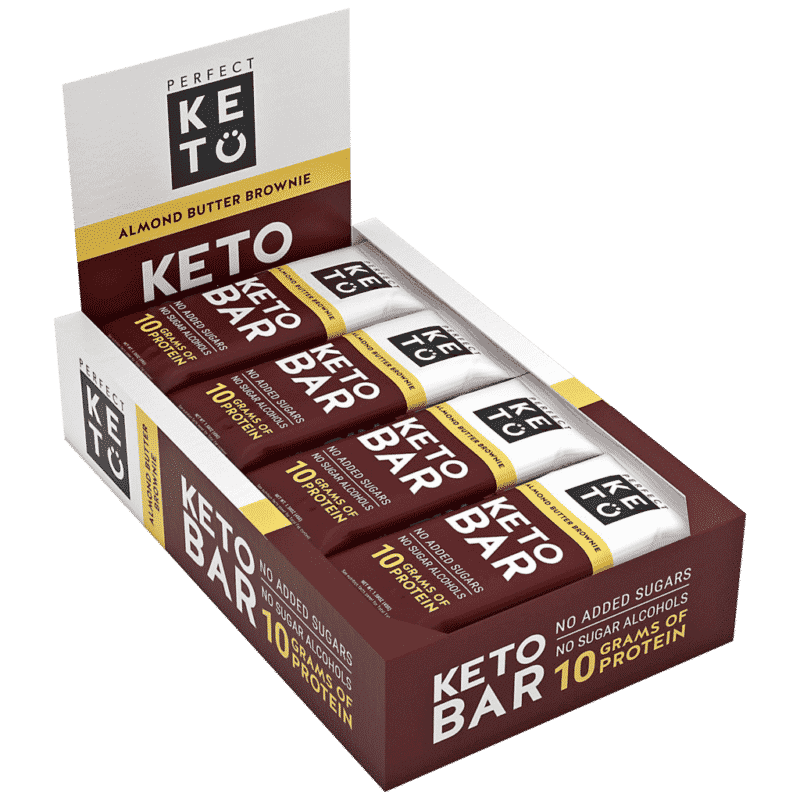 These Perfect Keto Almond Butter Brownie bars come in a pack of 12 and have about 3g net carbs per serving. These bars contain 19 grams of high-quality fats (MCTs) and 10 grams of collagen protein. They come in 4 flavors like Salted Caramel & Lemon Poppyseed. The combo of fat and protein makes these perfect if you need an option to hold you over between meals.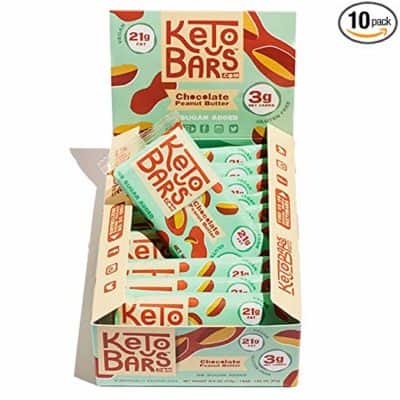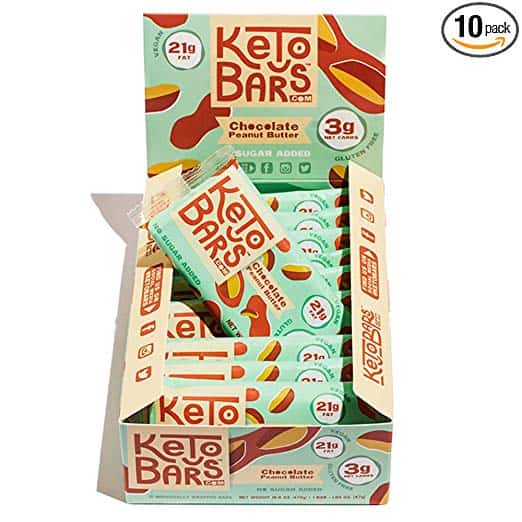 These Keto Bars in Chocolate Peanut Butter were designed with keto macros in mind. Each bar has 21g of fat and just 3g net carbs.
Low Snack Mixes & Trail Mix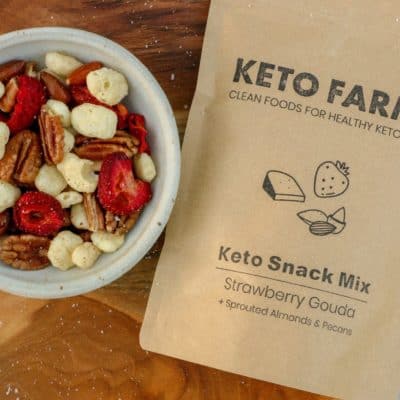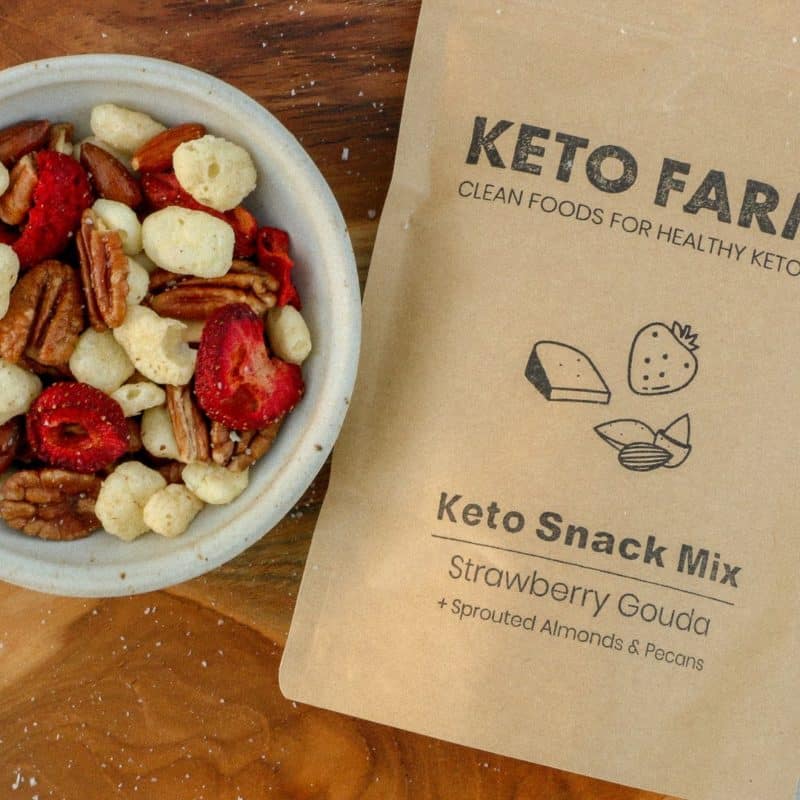 Known as the world's cleanest snack, Keto Farms Strawberry Gouda offers you a mix much like trail mix without any added junk. This keto and low carb sweet snack includes sweet strawberries with gouda cheese, sprouted almonds, and sprouted pecans all in one little package to make it easier to snack on the go.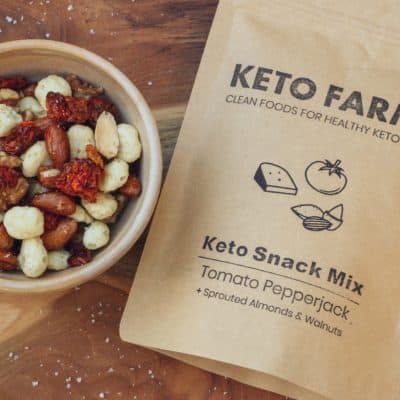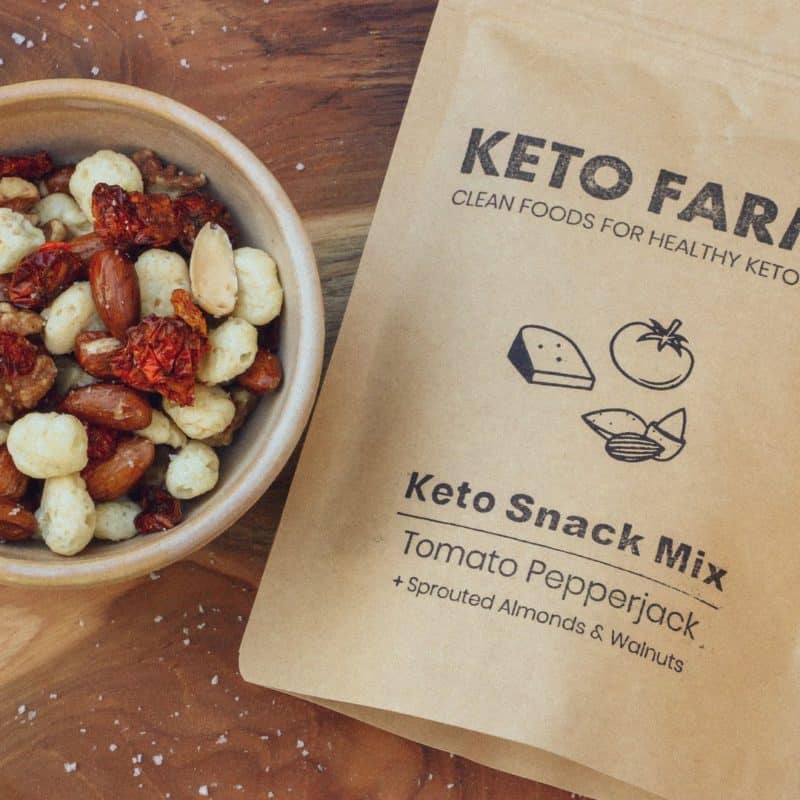 Keto Farms Tomato & Pepperjack is the savory version of their Strawberry Gouda. Each serving has 10 grams of protein and 3g grams of net carbs.
Keto Flavored Nuts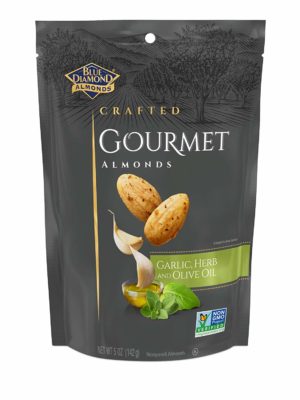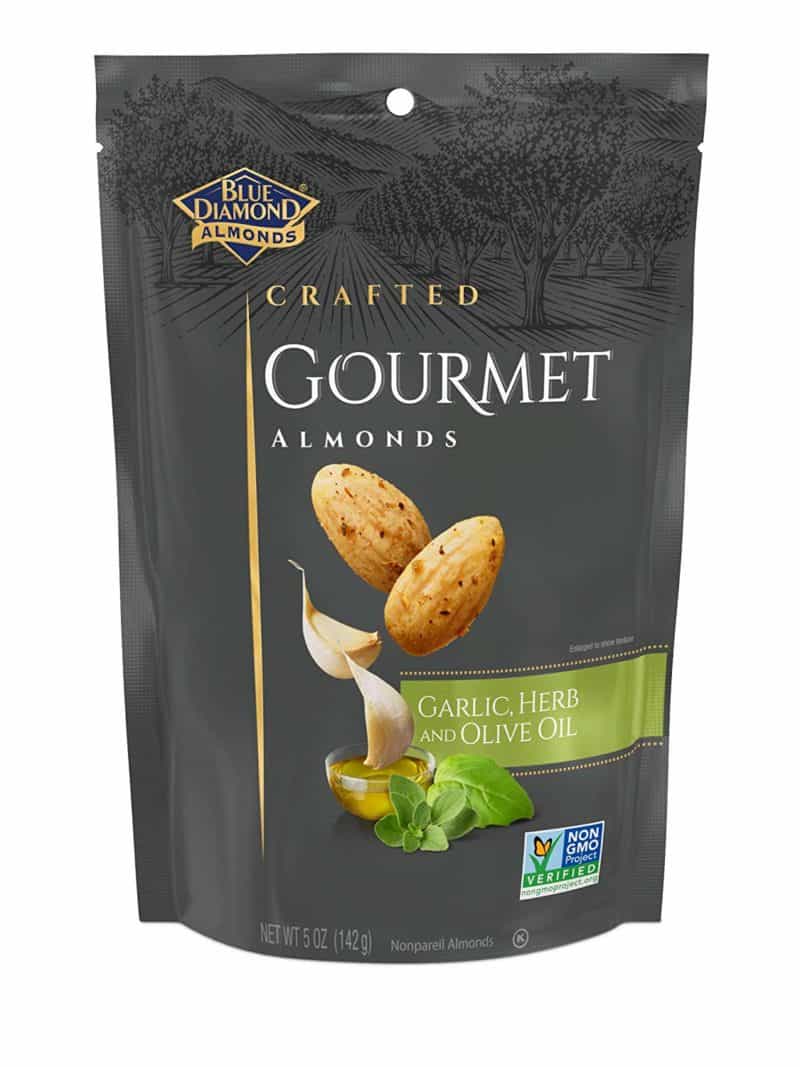 Craving a little garlic and herb flavor? How about pink Himalayan salt or rosemary & sea salt? These three delicious flavors make up your options for Blue Diamond Almonds that pack a salty taste for your snacking pleasure.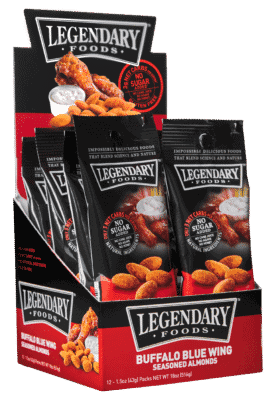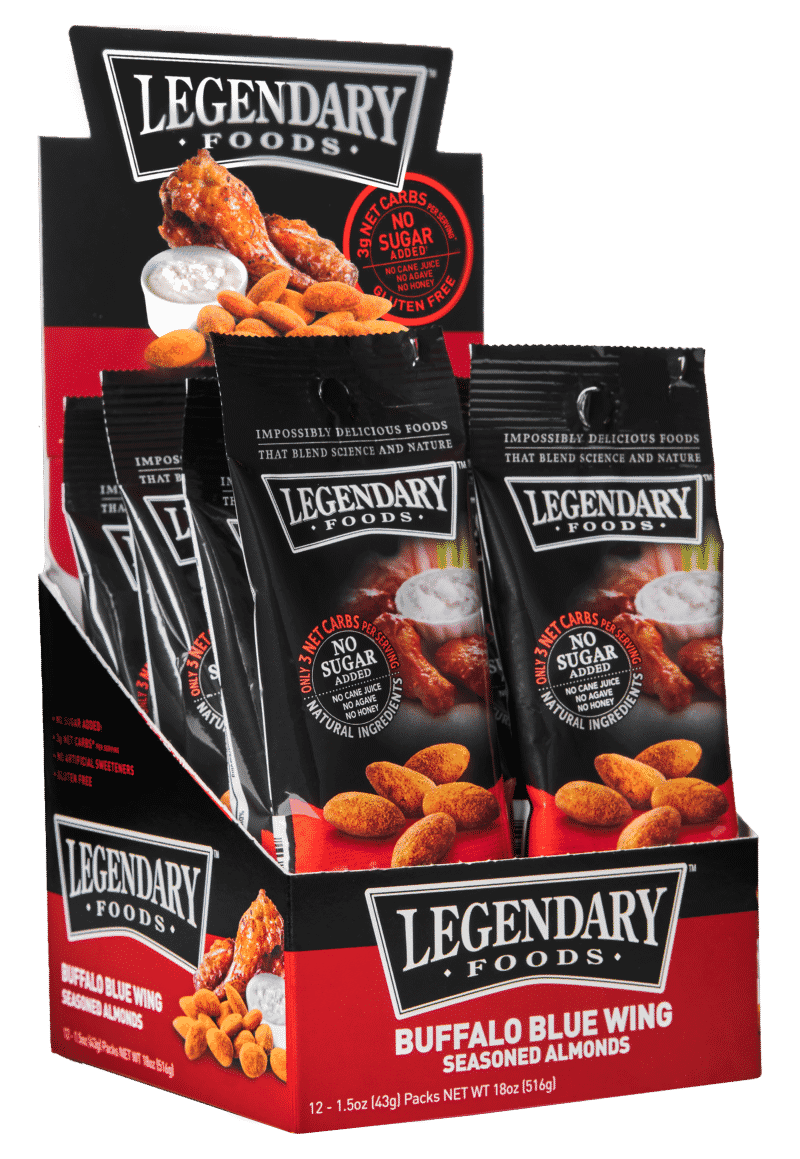 Buffalo Blue Wing almonds will give you the taste of my air fryer buffalo wings dipped in blue cheese without the mess of eating buffalo wings while on-the-go. These almonds contain no added sugar. Each serving has 9 grams of protein and 4 grams of net carbs. I generally love this brand of almonds because the flavors are so bold!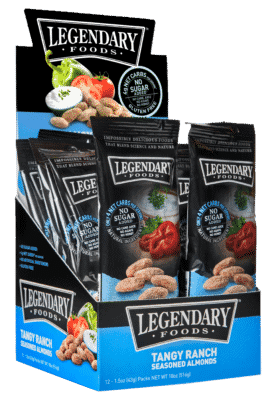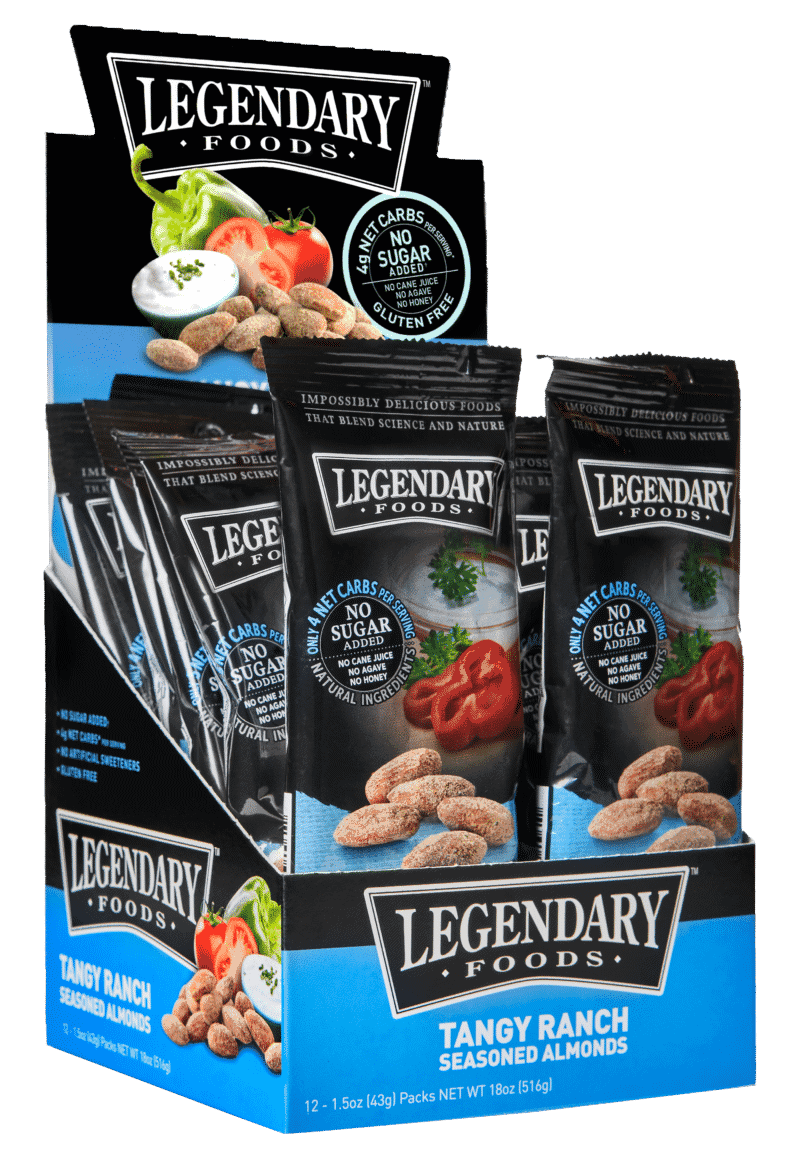 When you're craving that delicious flavor of ranch chips, try these tangy ranch seasoned nuts. Each serving size contains 9 grams of protein, 8grams of carbs (5g net) and 3 grams of fiber to help you feel full longer. The individual packages help with portion control and the times when you just want to throw a package in your bag.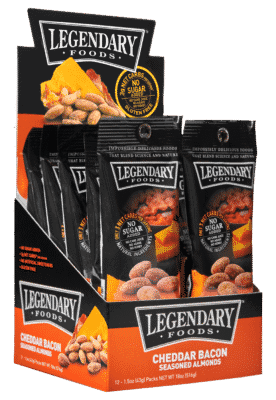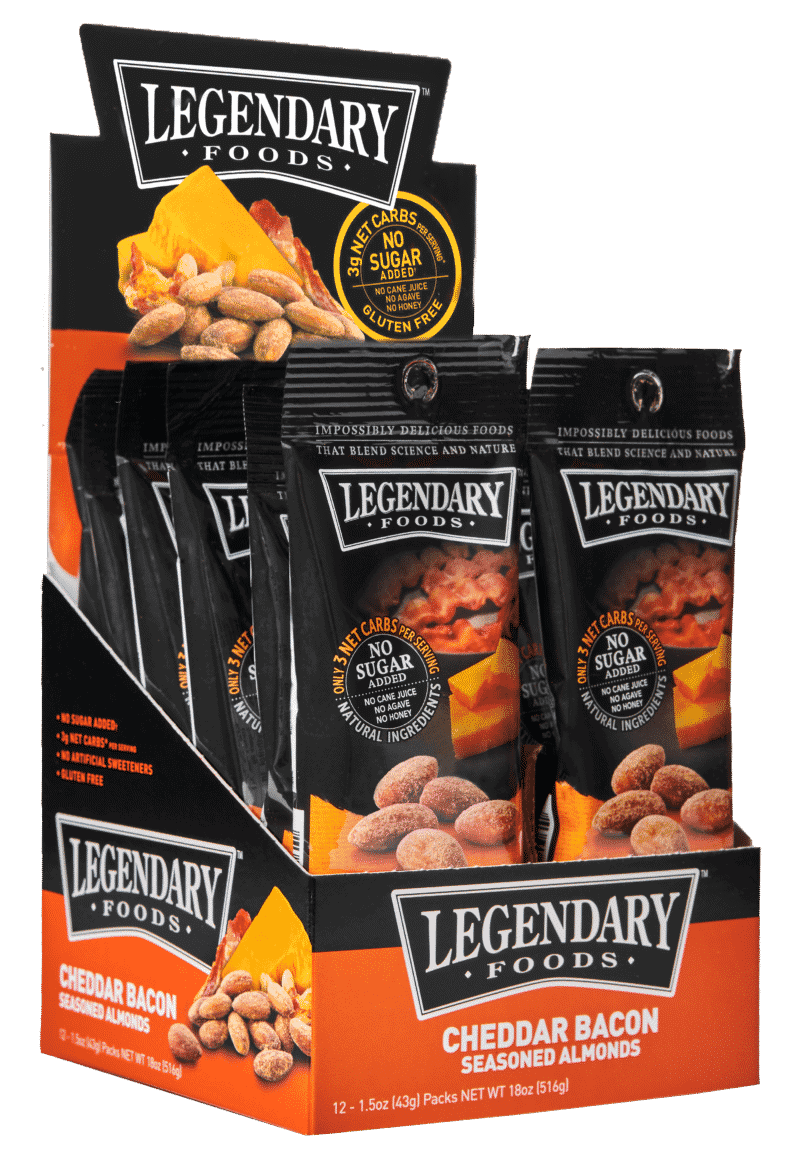 Cheddar and Bacon are two staples on keto. I love how they combined the two into delicious nuts!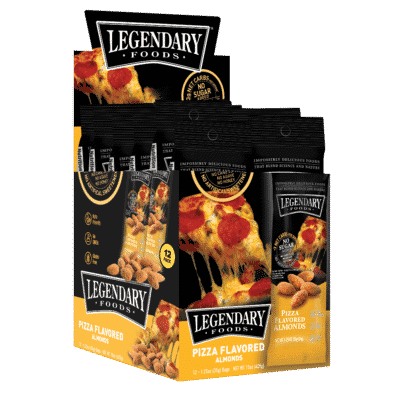 Never choose between nutrition and taste again with these pizza seasoned nuts. The perfect on the go keto & low carb salty treat when you need a slice of pizza without the carbs.
Cheese Puffs & Cheese Balls
These two options are more than keto snacks. I actually love using them as keto recipe ingredients. Specifically, they make great toppings for salads and an awesome breading for things like Air Fryer Shrimp.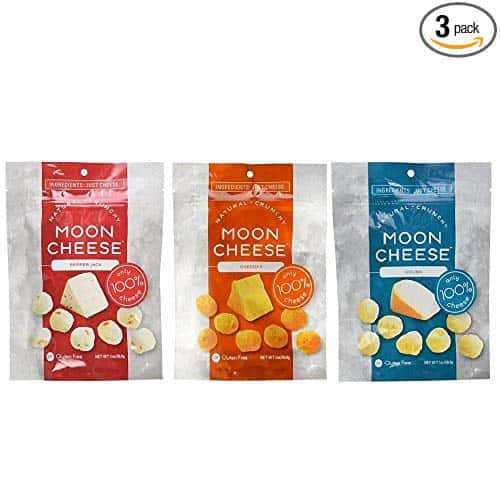 Enjoy an excellent source of calcium with Moon Cheese. This keto & low carb salty snack comes in a 3 pack or 6 pack container offering you the yummy flavors of Gouda, Pepper Jack, and Cheddar cheese in individual packages. A 100% natural high protein treat that's low in carbs making it perfect for the keto diet. These also make an awesome pork-free breading. In fact, I used it when I made my Low Carb Bang Bang Shrimp.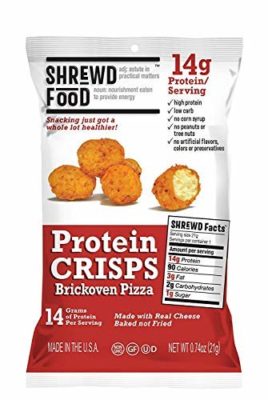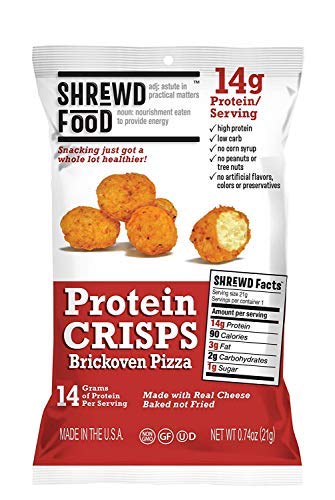 When I first had these, it brought me back to my college days. I remember getting those giant tubs of cheeseballs and serving up big bowls of them at events and parties. These keto cheeseballs have 14g of protein and 2g net carbs per serving. They come in flavors like Nacho and Sour Cream & Onion. They also have a few sweet options.
Keto-friendly Chips
I am obsessed with chips. So, these substitutes are always near the top of my keto snacks to buy list. Here are four keto-friendly chip options that are low in carbs and sugar.
Since I love chips so much, you can find more keto substitutes for chips in my post about my top picks for low-carb alternatives to chips.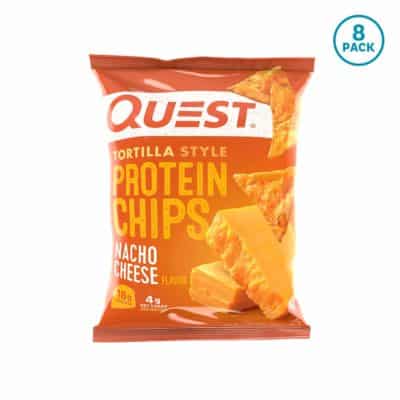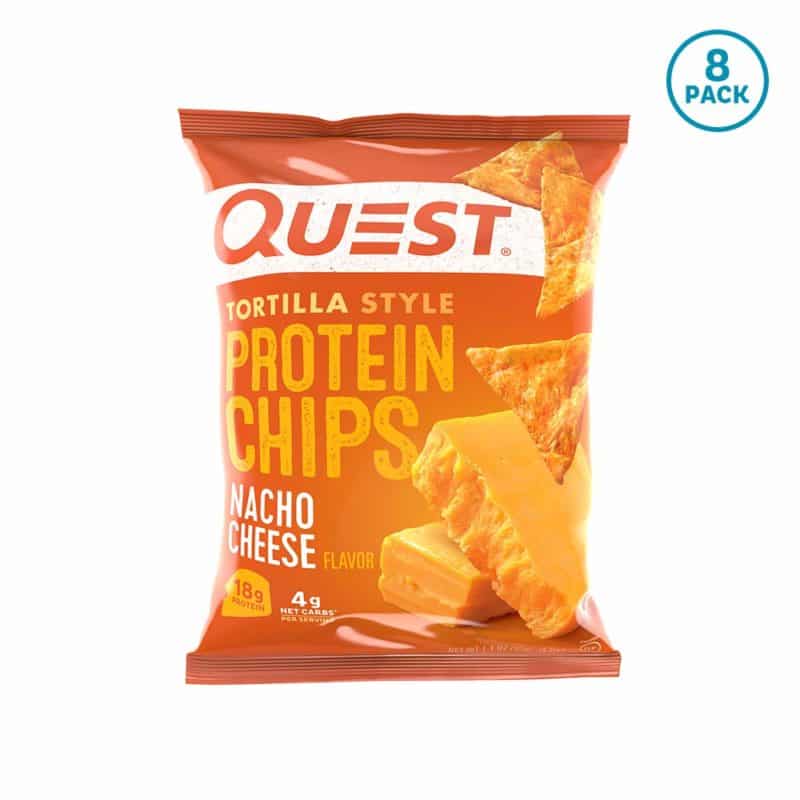 How about getting that Dorito nacho cheese flavor without any added junk with these Quest Chips in nacho cheese! A scrumptious crunchy keto & low carb salty snack to buy when you're in desperate need of the flavor that you only thought the Dorito brand could bring you. Providing you with a gluten free and soy free snack that has 18 grams of protein and 4 grams of net carbs per serving.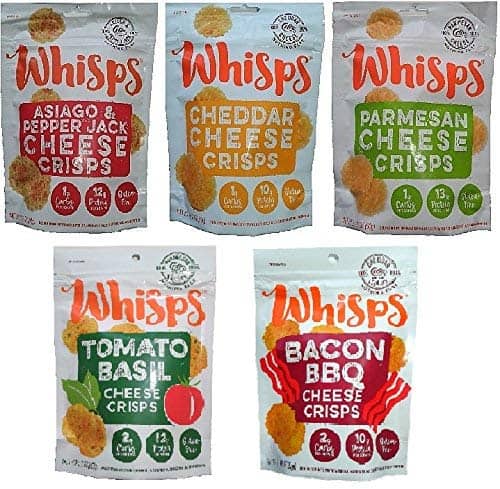 Not only is this keto & low carb salty snack to buy fun to say, but it's packed full of important nutrients to get your snack on while staying full longer. You'll get a package that contains one of each flavor; Parmesan, Cheddar, Asiago/Pepperjack, Tomato Basil & Bacon BBQ to satisfy any flavor craving you may have at the moment. With just 1-2 grams of carbs per serving, this is a must-try salty snack.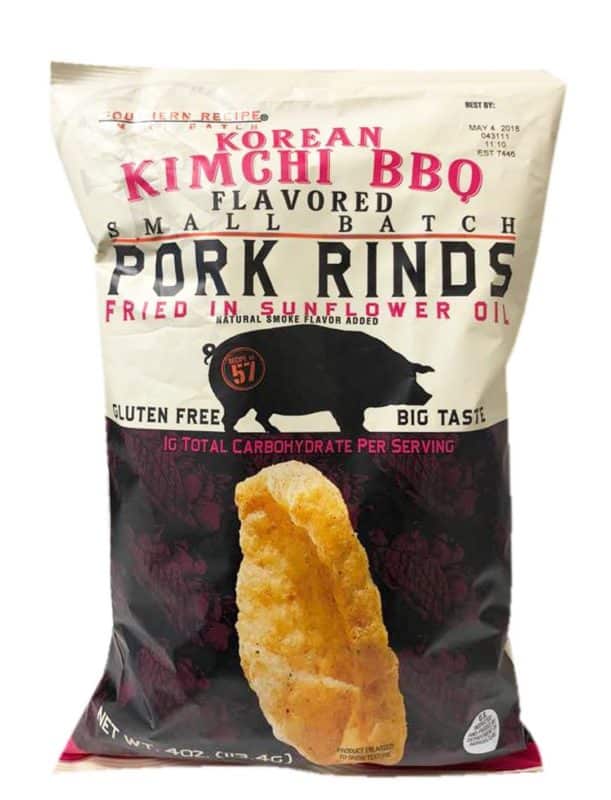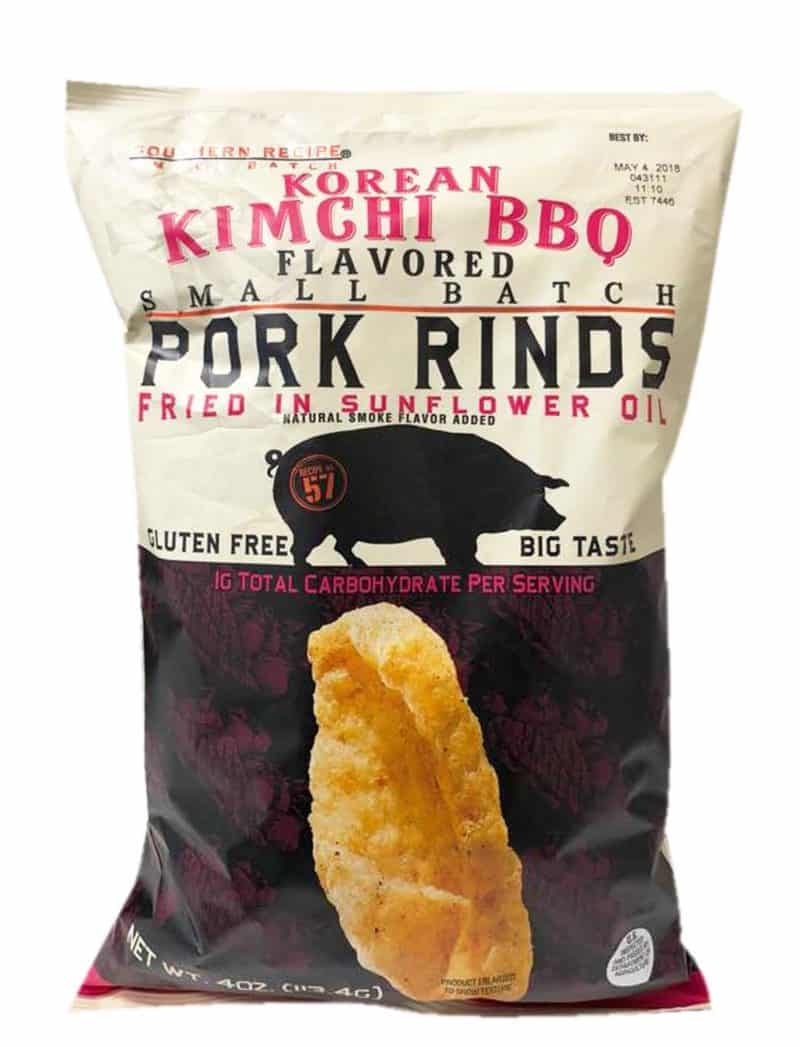 Now you can enjoy pork rinds while on the keto diet with this keto & low carb salty snack to buy, Southern Recipe Kimchi BBQ pork rinds are a flavorful option to have instead of the regular pork rinds you find at the store. Southern Recipe perfects their pork rinds with naturally smoked flavor and less than 1 gram of carbs per serving to help you enjoy a salty treat in the middle of the day.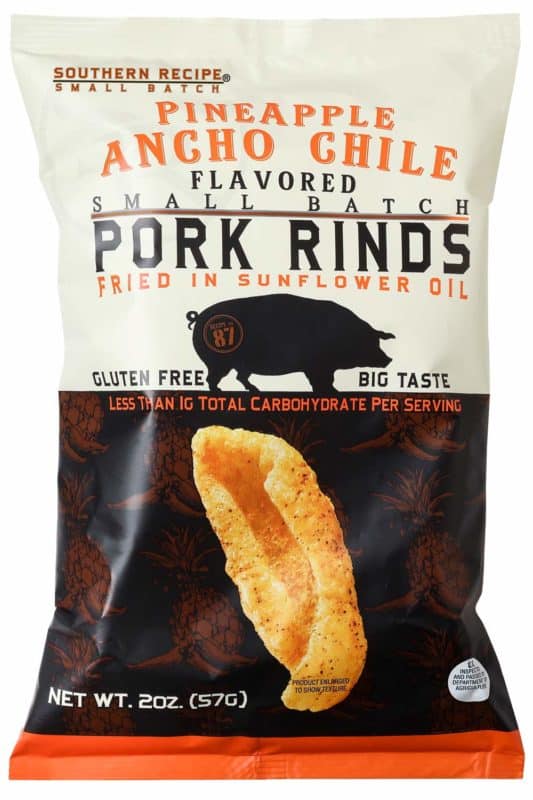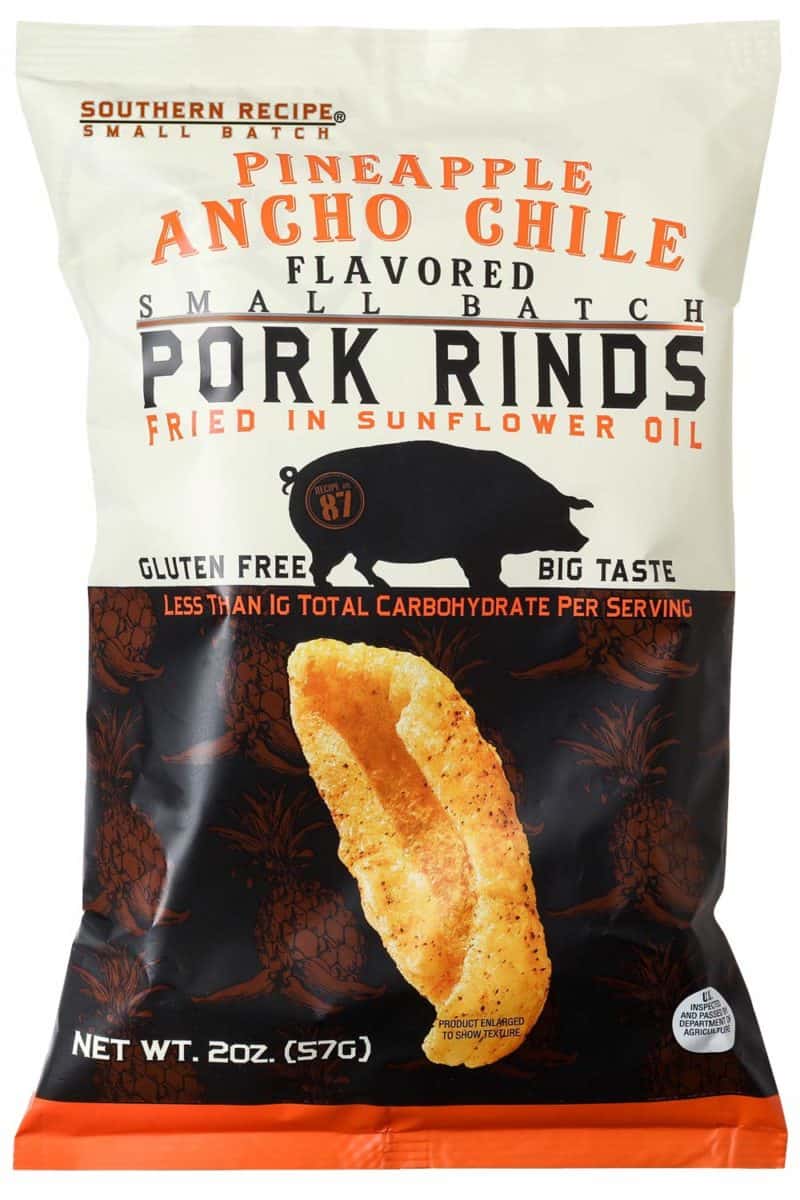 Another pork rinds flavor from Southern Recipe that provides you with a flavor burst of pineapple ancho chile. A nice little kick of flavor whenever you're looking to have a keto & low carb salty snack. This treat has been fried in sunflower oil and gives you a low carb snack to curb that pork rinds craving you have any day.