This post may contain affiliate links to products I use and highly recommend. You can read my full disclosure here.
Click below to share this!
This Creamy Keto Tomato Soup recipe requires just a few ingredients, one-pot and a blender. Perfect keto soup recipe that will warm you up in fall & winter.
This Creamy Keto Tomato Soup recipe requires just a few ingredients, one-pot and a blender. It's the perfect low carb soup recipe that will warm you up in fall & winter. In this post, I share how to make Low Carb tomato soup without sugar. I also give you tips to thicken the soup without using flour or starch. Includes tips for making this ahead and storing it, ideas for using canned or fresh tomatoes, and easy swaps to make this paleo & dairy-free.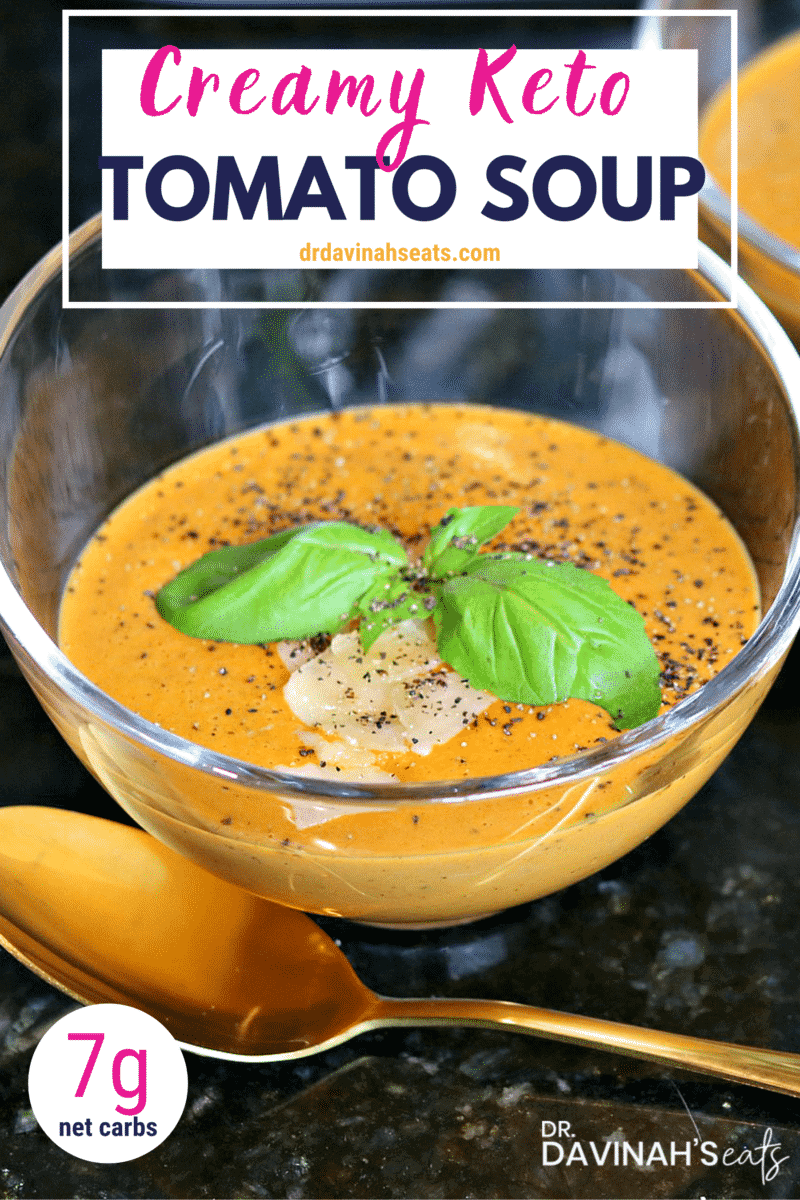 Can I eat tomato soup on a low carb diet?
Tomatoes are technically a fruit, even though most people eat them as if they are a vegetable. According to Healthline, each small tomato has about 18 calories, including about 3g net carbs.
Since tomatoes have only 3g net carbs, they are perfect for a low carb diet.
However, tomato soup is not as clear cut because depending on how you prepare your soup, it can easily get packed with carbs, making it a less than ideal option.
For example, tomato soup generally includes things like sugar, flour, and cornstarch.
In this Creamy Keto Tomato Soup recipe, I ditch the sugar, flour, and cornstarch so that we can enjoy tomato soup on a low carb and ketogenic diet.
Are tomatoes Keto?
I hope that I sound like a broken record when I say that the ketogenic diet is not about a particular food.
Instead, it is about eating things that keep us in ketosis. Since tomatoes have 3g net carbs, most of which is naturally occurring sugar, people on keto tend to limit them.
For example, if you chose to eat seven small tomatoes (not sure why anyone might do that), then you'd be eating more than 20g net carbs per day.
If you added that to anything else, then you'd likely put your ability to stay in ketosis in jeopardy.
How many carbs are in Keto Tomato Soup?
This recipe was designed to be as low as possible in carbs. To do that, I used a keto-friendly sauce thickener, a sugar substitute, and added some fat to balance out the soup and make it fulfilling.
This soup contains about 6 servings of 1 cup each.
Each serving has just 7g net carbs.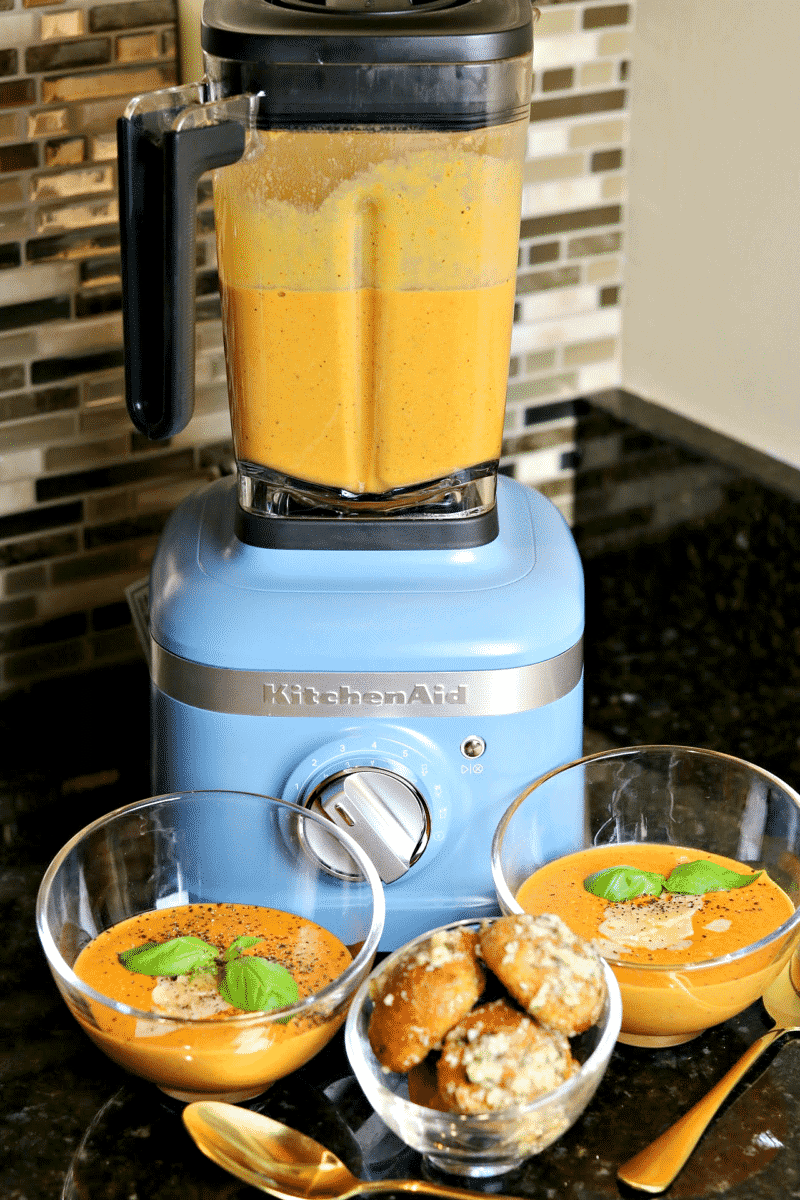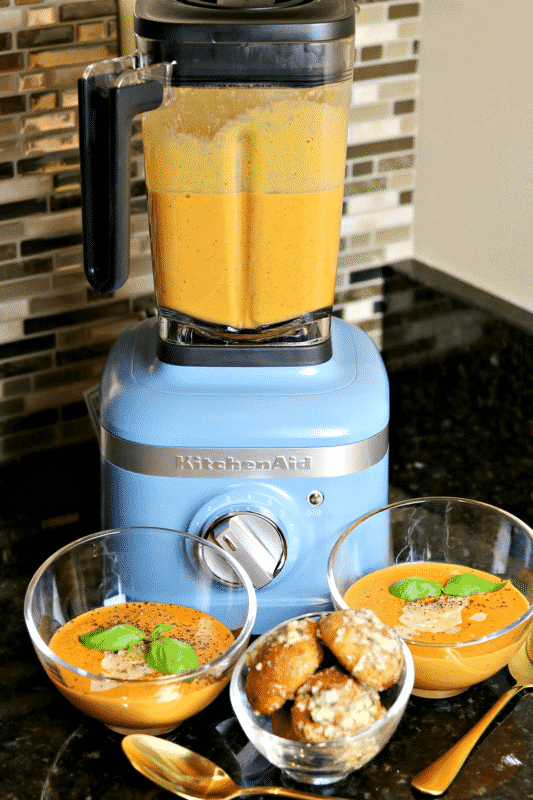 Ingredients in Creamy Tomato Soup
Besides salt & pepper, this recipe includes the following ingredients:
Roasted Tomatoes
Butter
Onions
Garlic Cloves
Unsalted Chicken Bone Broth
Heavy Cream
Pesto
Italian Seasoning
I imagine that you have most of these in your pantry.
If you don't have Xanthan Gum, you can leave it out or swap 1/2 tsp of Xanthan Gum with 1 tbsp of unflavored collagen powder.
If you don't have Chicken Bone Broth, then you can substitute it with regular chicken broth.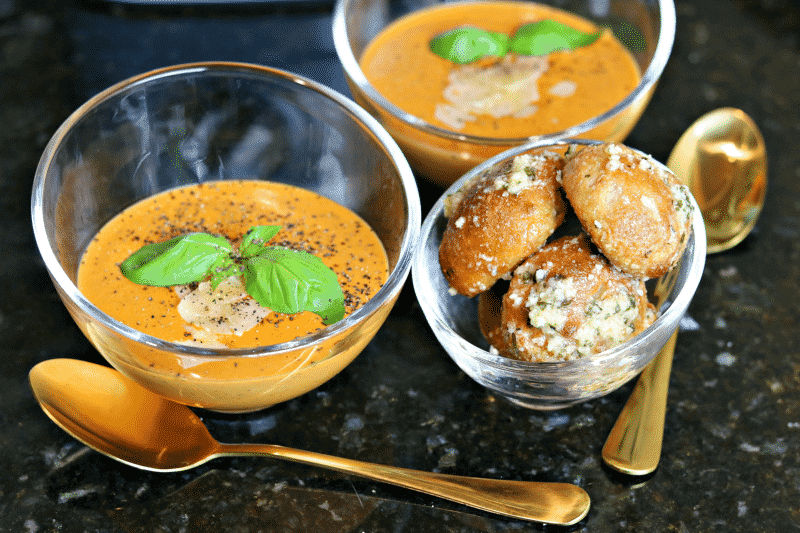 Fresh or Canned Tomatoes
I wanted to keep this recipe as easy as possible. With that said, I used canned, no sugar added Fire Roasted Diced Tomatoes.
If you want to make this recipe with fresh tomatoes you can dice them and all them in place of the canned tomatoes. You'd simply use 3.5 cups of diced tomatoes.
You could also roast the tomatoes in a preheated 400-degree oven. In this case, you'd simply place your tomatoes on a lined baking sheet. Then, you'd drizzle them with salt, pepper, and a drizzle of olive oil. After about 25 minutes of roasting, you'd simply add the roasted tomatoes and all of the juices to the pot.
Making Low Carb Tomato Soup Ahead & Storing it
How can you store this?
You should store this soup in the refrigerator in an air tight container. I keep this soup for up to 4 days.
Can you freeze tomato soup?
Yes. You can store this soup in the freezer for up to four months. I prefer to portion this out and use it throughout the week.
How do you make tomato soup thicker without flour & cornstarch?
Typically, you would thicken tomato soup with flour or cornstarch. Since both of those options include carbs, I'm including a zero carb sauce thickener called Xanthan Gum.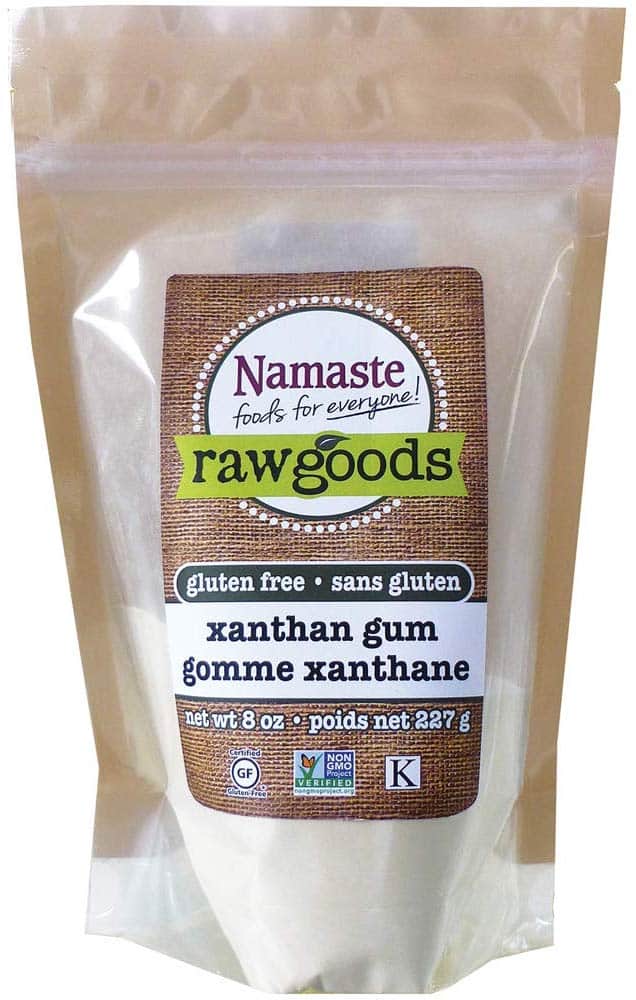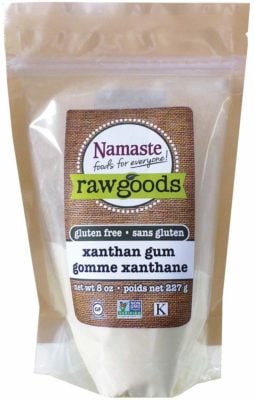 As I mentioned in Keto Baking Recipes, Xanthan Gum is can be used as a binding agent. Just a small amount goes a long way to make a thin sauce into something that ooey-gooey and sticky.
I'd highly recommend adding Xanthan Gum to your keto kitchen pantry. Besides this recipe, you can use it to make Low Carb Berry Sauce, Keto Sweet Chili Sauce, and several of the sauces in these Low Carb Chinese Food Recipes.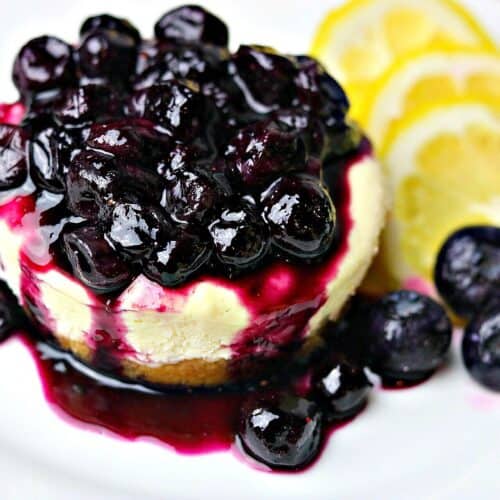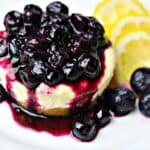 As noted above, if you don't have Xanthan Gum, you can leave it out (for a thinner soup) or swap 1/2 tsp with 1 tbsp of unflavored collagen powder.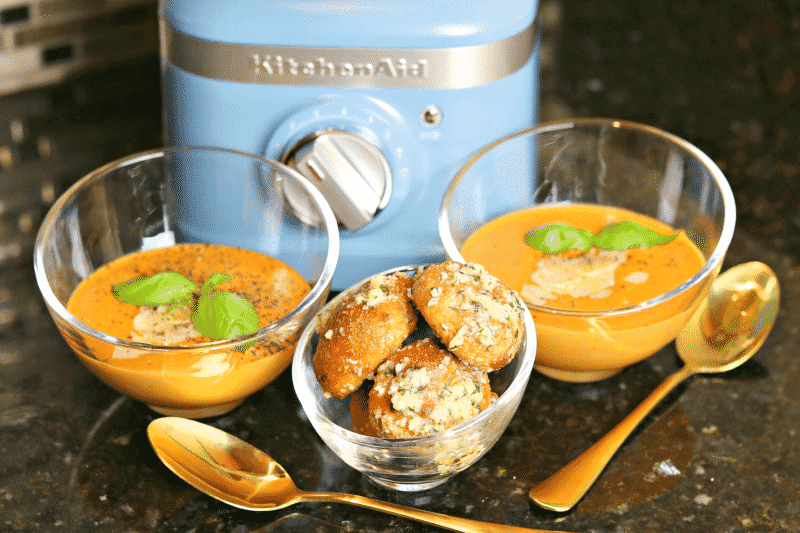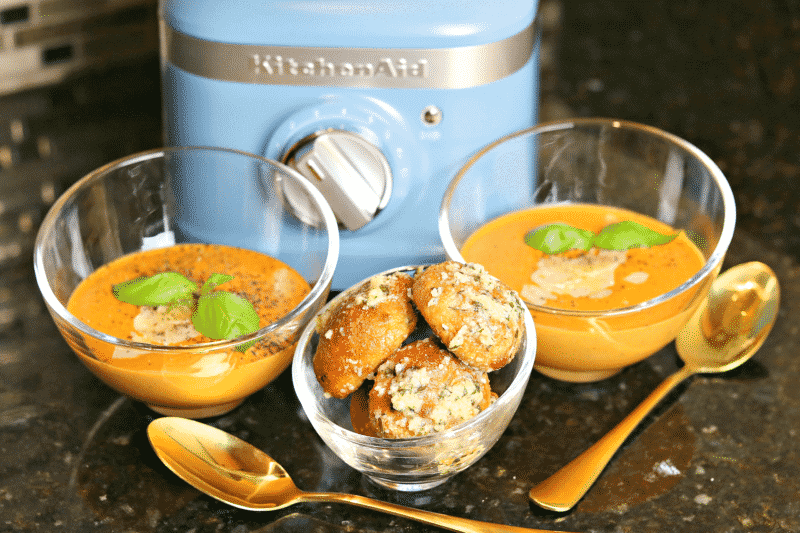 How to Reduce Acidity
Tomato Soup can get pretty tangy because tomatoes have quite a bit of acid. If we weren't concerned about sugar, then we'd balance out our tomatoes by adding some sugar.
Since adding sugar is not an option, I added a keto-friendly sugar substitute to my blender. I'm adding this as an optional step since tanginess is a bit up to you.
Making Tomato Soup Paleo & Dairy-free
Omit the Cream Cheese
This recipe contains real food ingredients so it can easily be adapted to fit a paleo or dairy-free lifestyle. If you are paleo, then you should omit the cream cheese.
Use Coconut Milk for Heavy Cream
You should also use coconut milk in place of the heavy cream. If that sounds weird to you, coconut milk is commonly used in savory recipes like Indian Shrimp Curry. I really love using coconut milk in sauces because it adds a slight sweetness.
Swap butter for olive oil, coconut oil, or ghee
Besides substituting the heavy cream, you might also want to substitute butter. You can use olive oil, ghee, or coconut oil in place of the butter that I use in this recipe.
Making this Creamy Tomato Soup a Meal
You can absolutely have this soup as a meal all by itself. Like most other low carb soups, I found it to be incredibly filling.
If you'd like to have something on the side. You can pair this soup with my Keto Parmesan Garlic Bread or several of these Keto Side Dishes.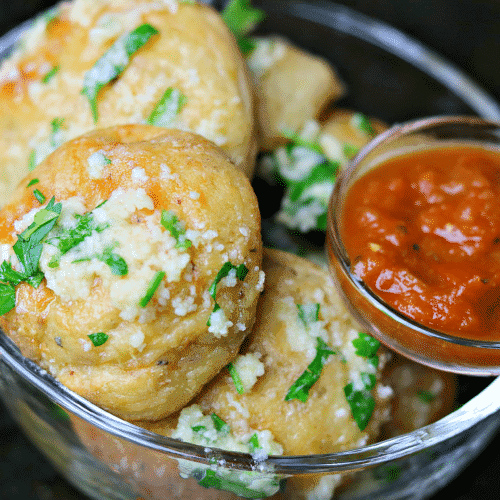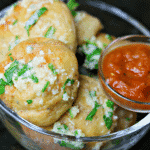 Other Keto Soup Recipes
When it's cold outside a bowl of soup, definitely warms you up. If you are looking for other keto soup recipes, then you should check out this Low Carb Taco Soup or any of these keto soup recipes.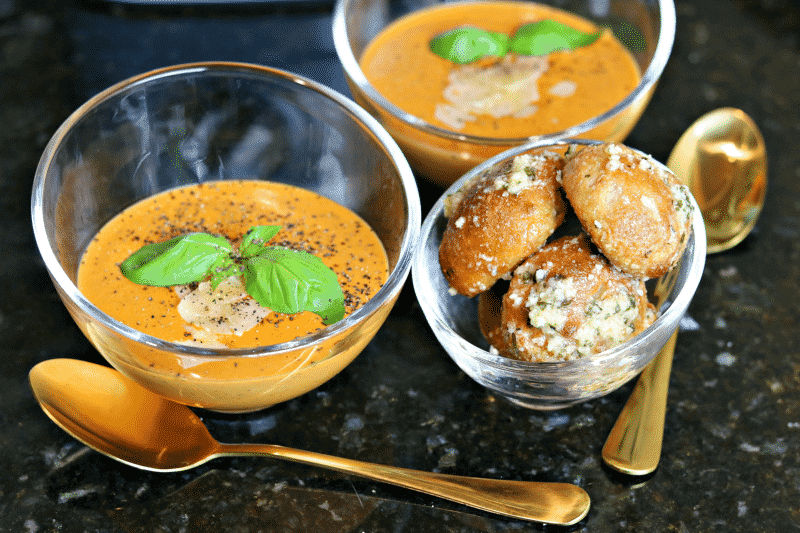 This Creamy Keto Tomato Soup recipe requires just a few ingredients, one-pot and a blender. Perfect keto soup recipe that will warm you up in fall & winter.
Want to share this recipe?
To spread the word about this recipe, please save it to Pinterest, share a link to it, or rate it if you loved it. Please do not copy & paste (or screenshot) my recipes to social media or other websites.
Ingredients
29

oz

Roasted Tomatoes

2 - 14.5 oz cans of diced tomatoes

2

tbsp

butter

1/3

cup

yellow onion

about a small onion, sliced thinly

3

cloves

garlic

minced

2

tbsp

basil pesto

you can pick this up in a jar at your local market

2

cups

chicken bone broth

unsalted

1

tsp

Italian seasoning

1.5

tsp

sea salt

1

tsp

black pepper

1/2

tsp

Xanthan Gum

2

oz

cream cheese

1/2

cup

heavy cream
Instructions
Heat butter in a large sauce pan over medium-low heat.

Sautee onions and garlic in the butter until transcluent (~2 minutes)

Add the roasted tomatoes and all of its liquid to the pan

Add the next 6 ingredients. Stir and allow the mixture to cook for 10 minutes.

Add the hot tomato mixture to a blender with the Xanthan Gum, cream cheese, and cream. Blend until incorporated. Serve immediately.
Recipe Nutrition Facts
Nutrition Facts
Creamy Keto Tomato Soup Recipe
Amount Per Serving
Calories 203
Calories from Fat 153
% Daily Value*
Fat 17g26%
Cholesterol 48mg16%
Sodium 948mg40%
Potassium 32mg1%
Carbohydrates 9g3%
Protein 5g10%
Vitamin A 894IU18%
Vitamin C 4mg5%
Calcium 68mg7%
Iron 1mg6%
* Percent Daily Values are based on a 2000 calorie diet.
Did you make this recipe?
Share your photos & mention @DrDavinahS! I love seeing them!
Nutritional Disclaimer
The nutritional information comes from Spoonacular API, a database of food ingredients. The nutritional information for any recipe will vary based on the exact product you use and the brand. I do not include erythritol or sugar alcohols in the final carb or net carb count as it does not have any impact on my blood glucose levels. Before starting keto or a low-carb eating plan, you should consult your doctor. I am sharing my personal experiences and none of the information included in my recipes or throughout the site should be taken as medical advice.