This post may contain affiliate links to products I use and highly recommend. You can read my full disclosure here.
Click below to share this!
Baked salmon steak is a great midweek or weekend dinner that you can dress up for date night or keep it simple and serve the whole family. Perfect for those on Whole30, Paleo, Low Carb & Keto. Also for those who just want to make simple meals.
This Baked Salmon Steak Sheet Pan Dinner Recipe is a great midweek or weekend dinner that you can dress up for date night or keep it simple and serve the whole family. It's perfect for those on Whole30, Paleo, Low Carb & Keto. And, also great for those who just want to make simple meals.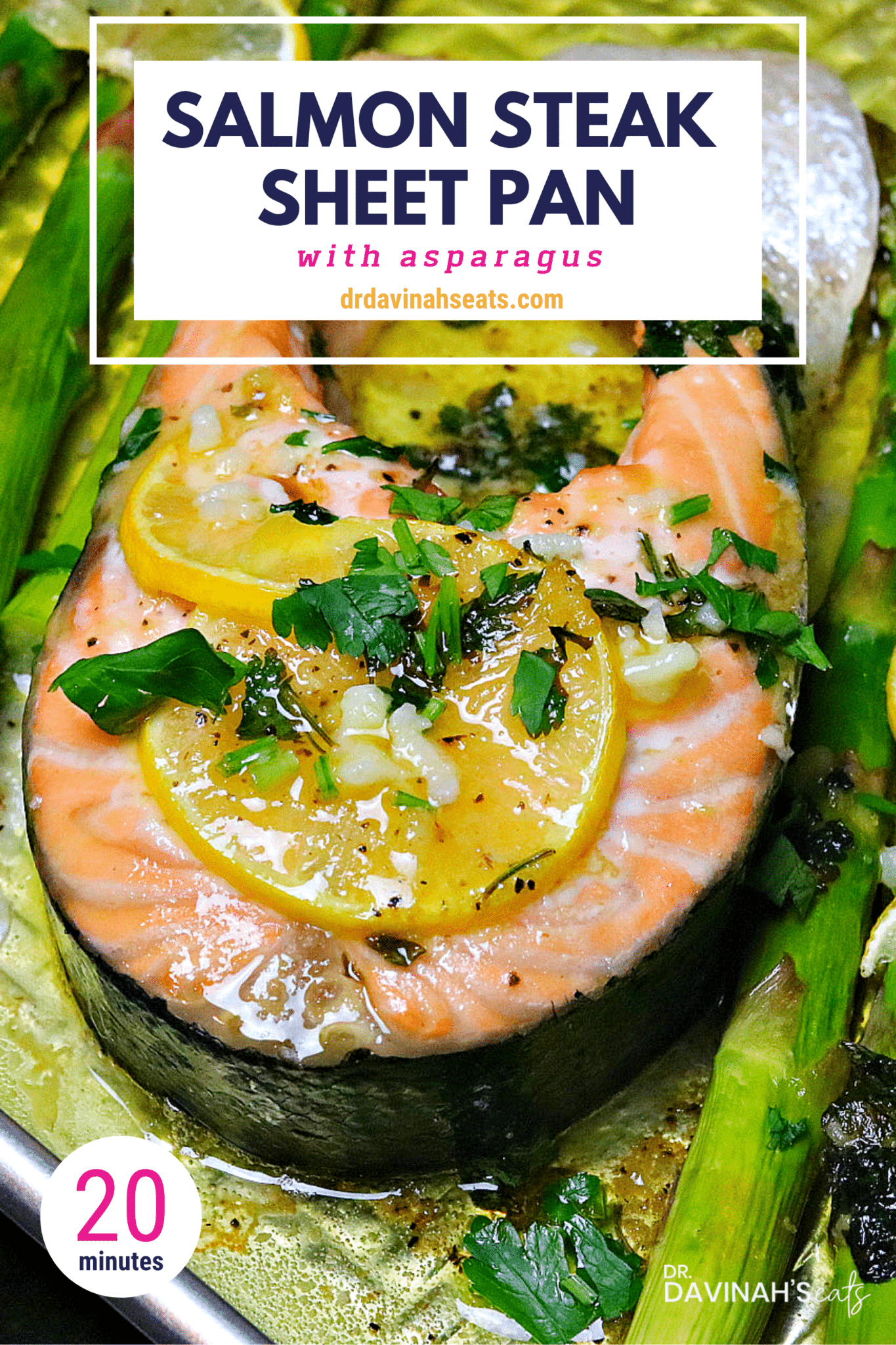 What is a salmon steak?
Salmon is known for its bold flavor, pink flesh, and some health benefits such as being high in omega-3 fatty acids.
Salmon steak describes a way of cutting salmon. To make a salmon or fish steak in general, a butcher cuts through the bone.
It may contain the back bone or it may be removed. It also may or may not have the skin from the salmon on it still.
If you go to a butcher's at the grocery store, they may be able to cut the salmon to your preference. Just let them know what you prefer.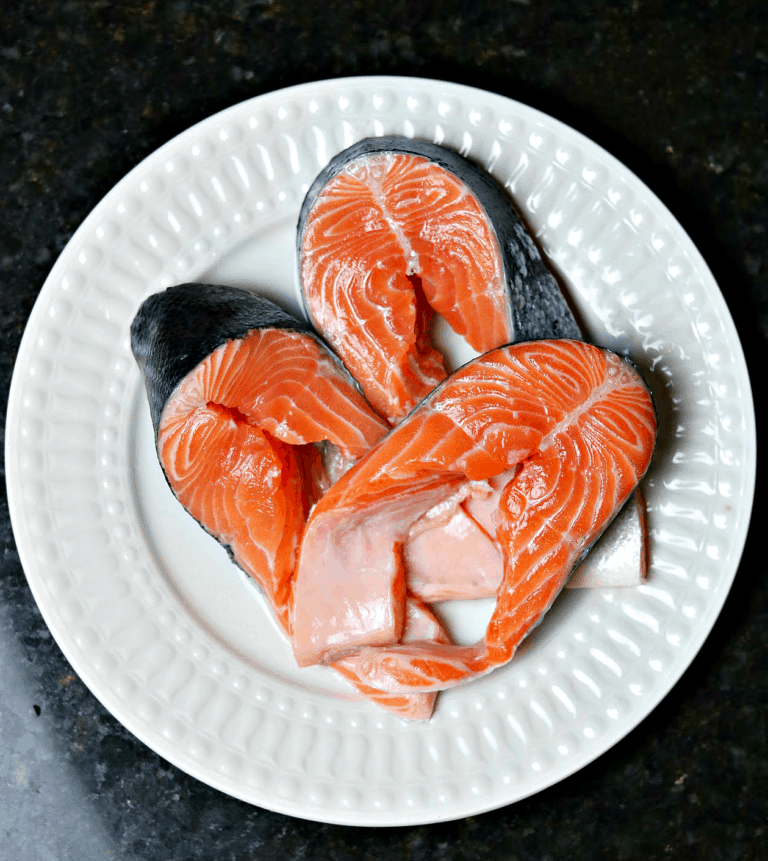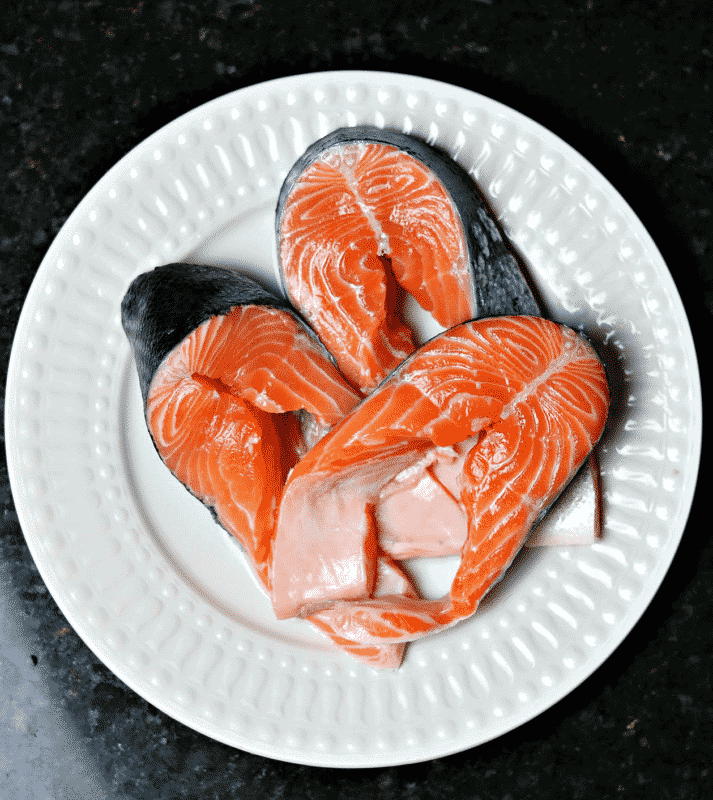 Difference between salmon steak & salmon filets
Both salmon steak and filet come from the same part of the salmon. The only difference is how it is cut. A salmon steak involves cutting through the back bone. A filet cuts the meat of the salmon from the bone.
One salmon steak is typically two portions of salmon filet.
For this recipe, I use salmon steak. But you could use either a salmon filet or salmon steak. Both work really well and result in a delicious baked salmon sheet pan dinner.
Are salmon steaks boneless?
Salmon steaks often do contain the backbone of the salmon and possibly some of the small, pin bones.
However, you can get varieties where the butcher removes the back and pin bones for you.
If you don't want to deal with the bones yourself, ask your butcher to remove the bones.
Most butchers do this if you ask them to with no problem at all. Also, if you have a butcher make a special cut, you could ask for different thicknesses of salmon steak.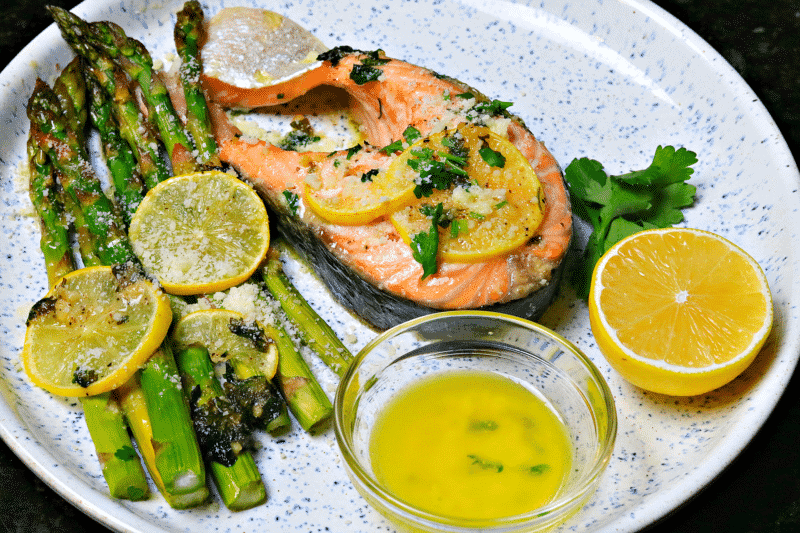 Ingredients in this baked salmon steak sheet pan dinner
Salmon has a very distinctive flavor that pairs well with different seasonings. For my baked salmon, I go with a garlic butter sauce. It is the perfect compliment to the salmon.
For the recipe, you need to have salmon steaks cut to about 8 ounces a piece. You should remove the bones or have your butcher remove them for you. You will also need asparagus which you will cook with the salmon and the garlic butter.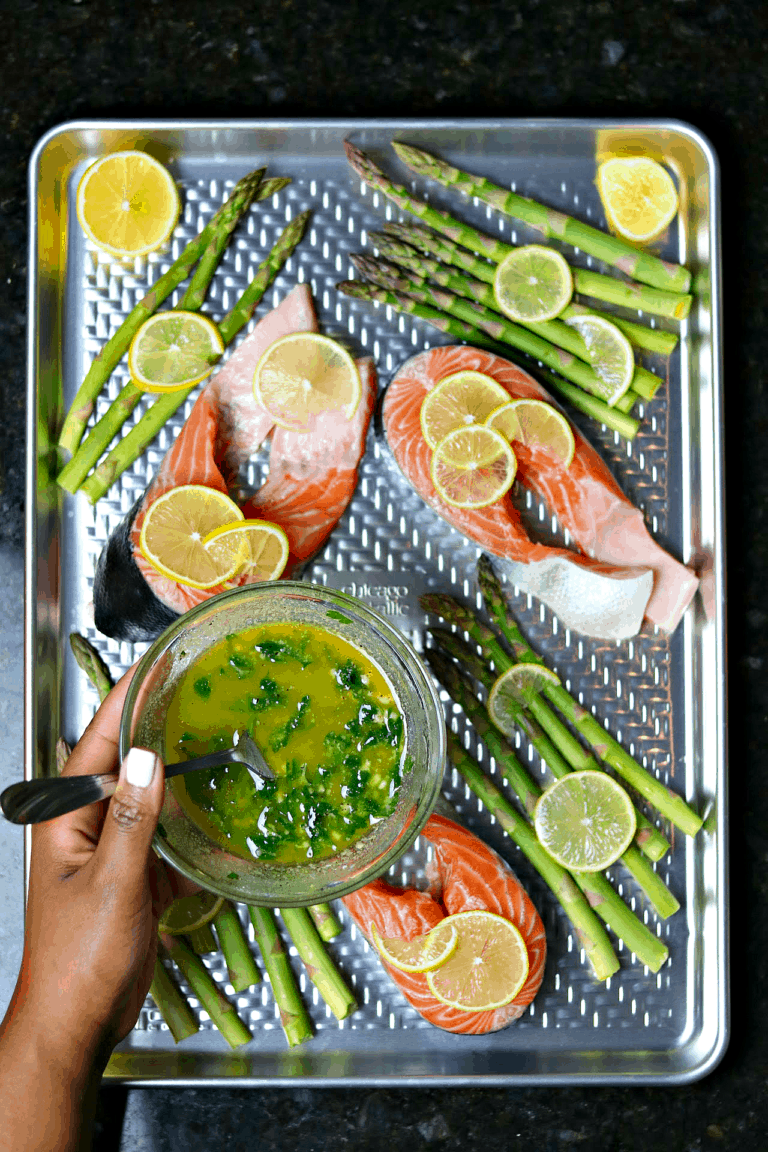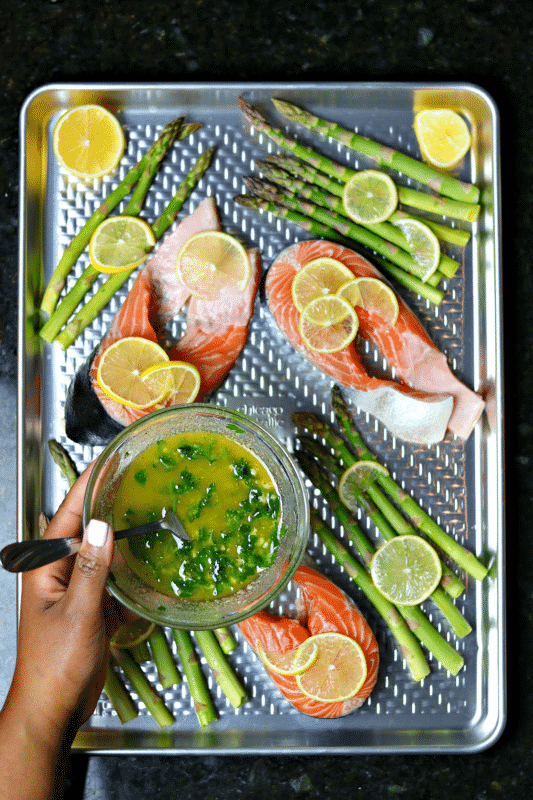 To make the garlic butter sauce, you only need a few ingredients, many of which you will probably already have on hand. They include:
butter or ghee

olive oil

minced garlic

lemon juice

onion powder

grated parmesan cheese (but you can omit this if you follow Whole30 or Paleo)

chopped fresh parsley
Finally, you'll need a little bit of salt and pepper to sprinkle on the salmon and asparagus prior to adding the butter sauce.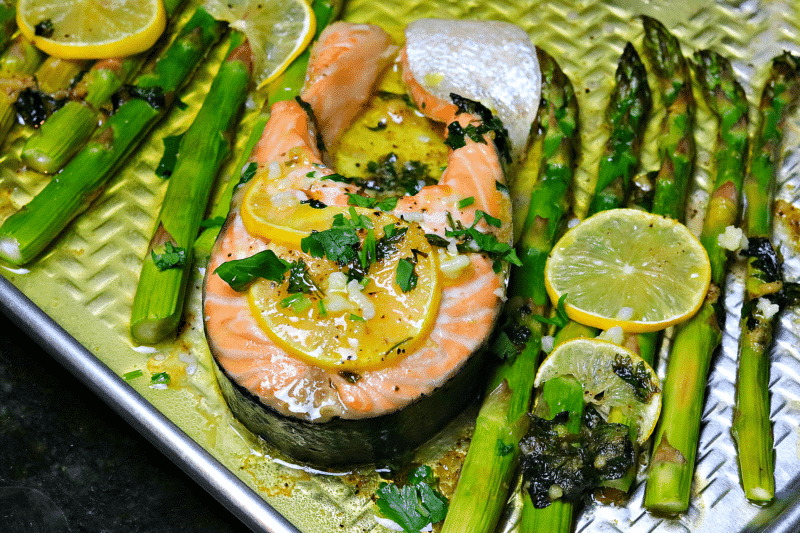 How to cook salmon steak in oven
Cooking salmon steak in the oven is pretty easy and does not take very long.
First, preheat the oven to 400. While it preheats, chop off the hard ends of the asparagus and arrange them to lay flat on a sheet pan.
If you bought the steak with the bone still in, remove the bones. You may still want to check for pin bones even if the bones were removed at the store, just to be sure nothing was missed.
Place the salmon steaks and the asparagus on the sheet pan. Be sure that everything is arranged on an even layer.
In the microwave, melt the butter and olive oil and then add the lemon juice, parsley, parmesan cheese, and minced garlic. When it is mixed together, pour the butter sauce over the salmon and asparagus.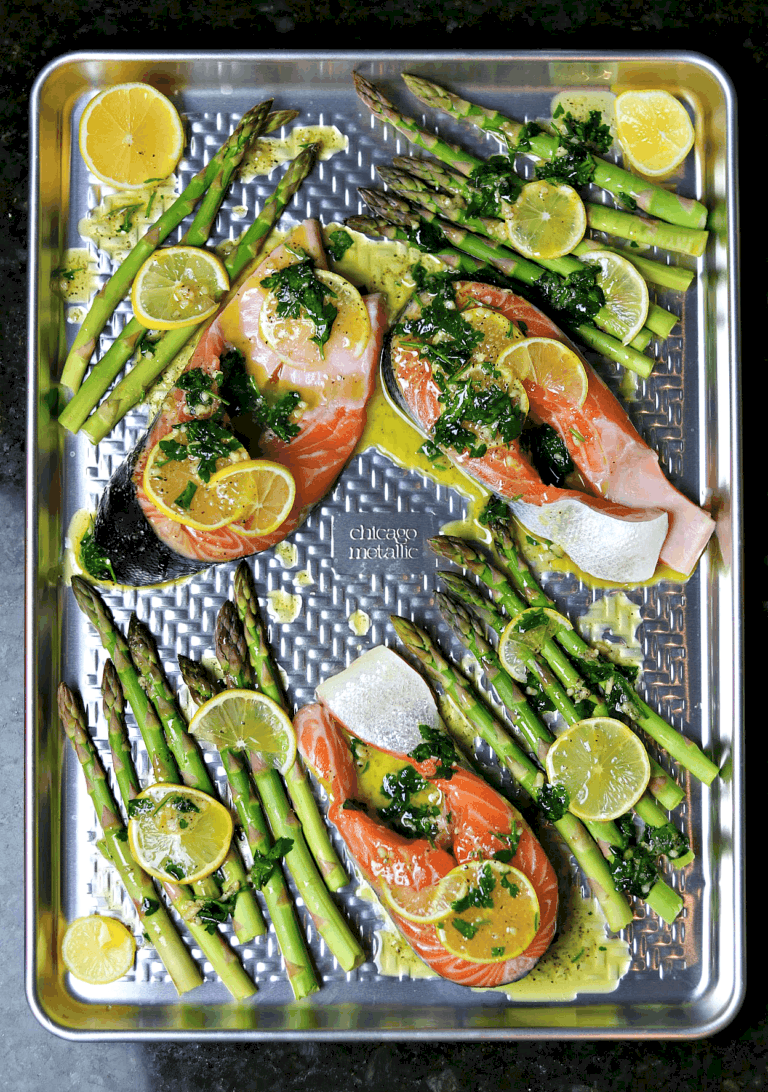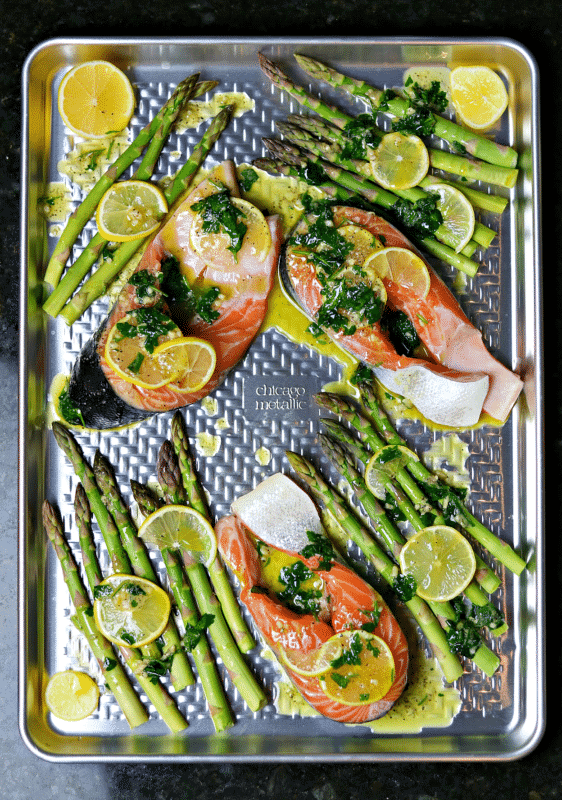 Place the sheet pan in the oven. You want to cook the salmon until it reaches an internal temperature of 135-140 degrees.
You can use a thermometer to check the temperature of the salmon, which helps you get the perfect level of doneness.
This should take about 15 to 20 minutes. The salmon steaks will continue to cook some when you remove them from the oven and let them rest.
How to cook salmon steaks in a pan on the stove
Making the salmon on the stove top is slightly different. To do this, season the salmon steak with salt and pepper and let it come up close to room temperature.
Heat olive oil in a skillet over medium high heat until it is hot.
Carefully place the salmon steaks into the skillet and press them down a bit to make sure the salmon is fully touching the skillet. Cook each side for about 2-3 minutes.
Once the second side has cooked, add the butter sauce on top. Cook it for about 2 more minutes or until the internal temperature reaches 135-140 degrees.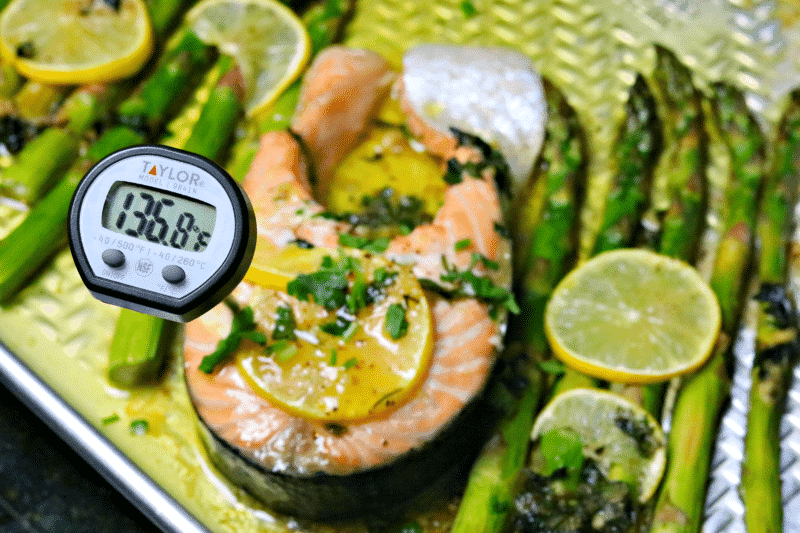 Side Dishes: What goes well with salmon steaks?
If you bake the salmon steak following this recipe, you'll have asparagus as a side.
However, if you decide to pan cook the salmon, you may want to consider making these sides with the salmon: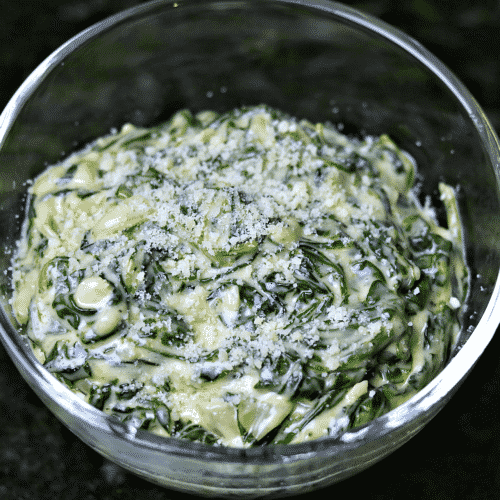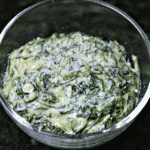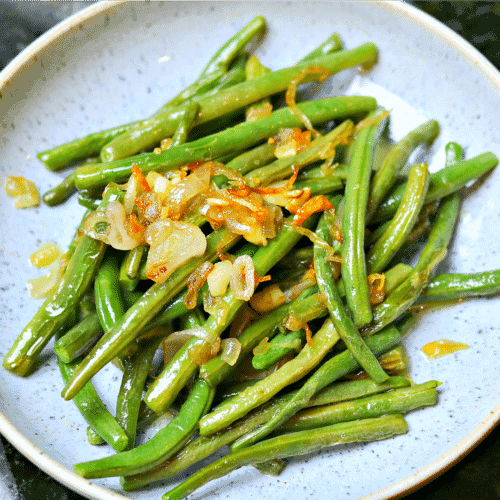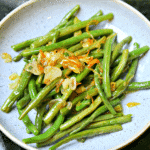 If you'd like more options, then you can always check out my low carb side dish recipes post, where you'll find more than 30 hot and cold easy, keto-friendly side dish recipes.
Other Salmon Recipes
If you love salmon and want to try other ways to enjoy it, here are some of my other favorite salmon recipes: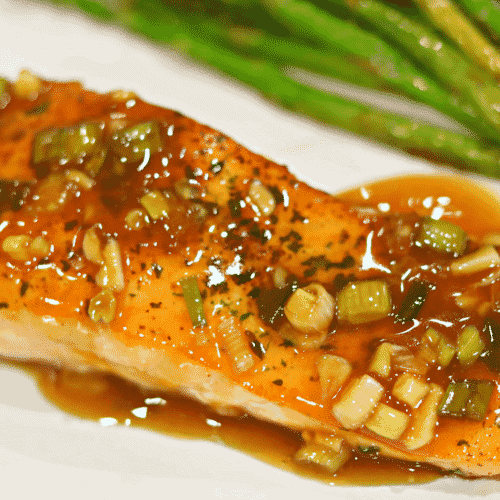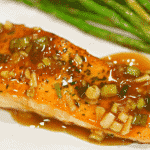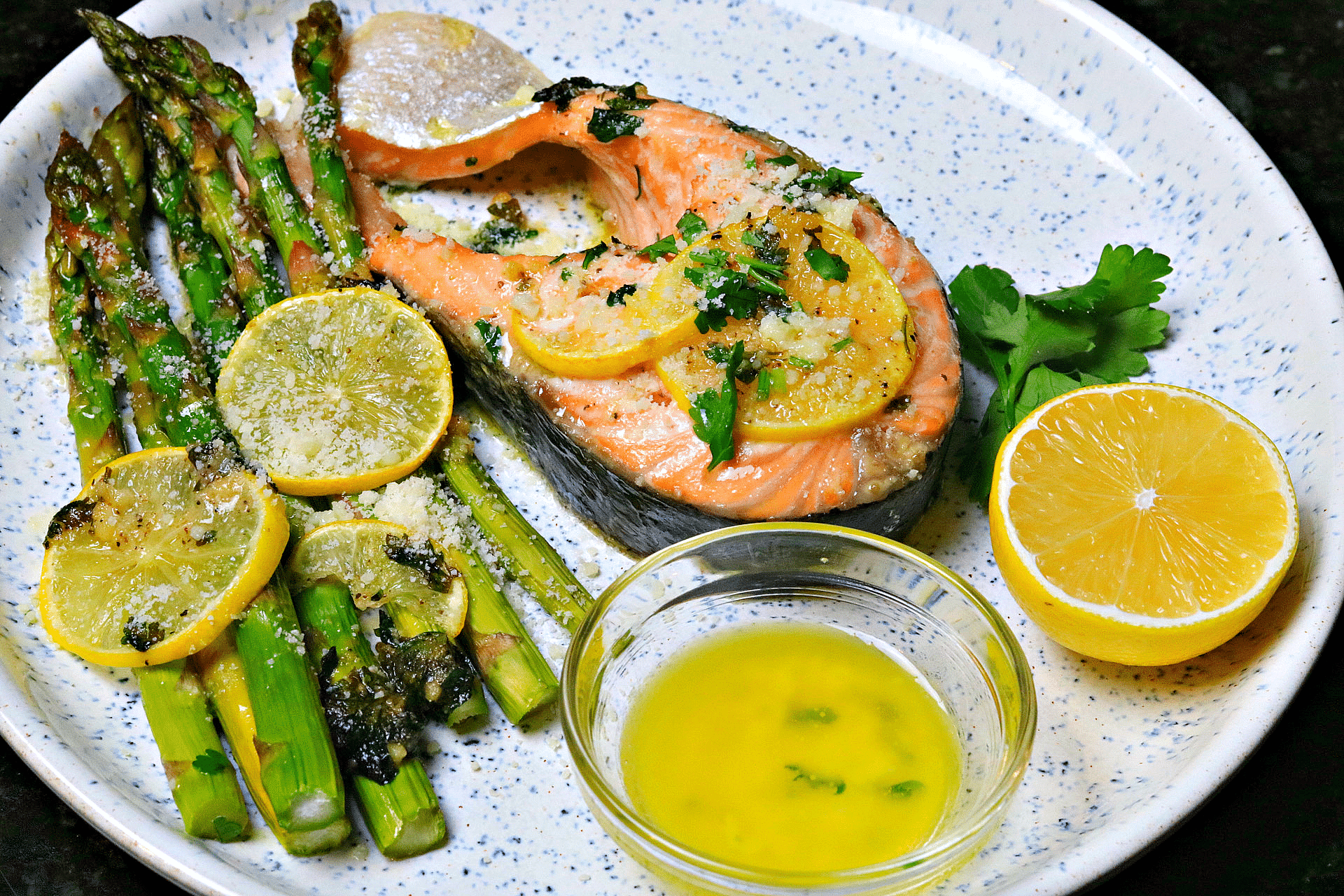 Baked salmon steak is a great midweek or weekend dinner that you can dress up for date night or keep it simple and serve the whole family. Perfect for those on Whole30, Paleo, Low Carb & Keto. Also for those who just want to make simple meals.
Want to share this recipe?
To spread the word about this recipe, please save it to Pinterest, share a link to it, or rate it if you loved it. Please do not copy & paste (or screenshot) my recipes to social media or other websites.
Ingredients
1

lb

Salmon Steaks

bones removed, each steak was about 8 oz

1/2

tsp

Sea Salt

1/4

tsp

black pepper

1

lemon

thinly sliced, optional for garnish

1

lb

Asparagus

trimmed
Garlic Butter Sauce
4

tbsp

butter

2

tbsp

olive oil

4

cloves

garlic

minced

1

tbsp

lemon juice

1/2

tsp

onion powder

2

tbsp

grated parmesan cheese

omit if Whole30 or Paleo

1/4

cup

Fresh parsley

chopped
Instructions
Heat the oven to 400 degrees

Arrange the asparagus and salmon steaks on the sheet pan so that everything is flat on the pan

Season the salmon and vegetables with the salt and pepper

Melt the butter and the olive oil in the microwave. Add lemon juice, parsley, onion powder, parmesan cheese, and minced garlic. Pour it across the salmon and asparagus.

Cook for 15-20 minutes, or until the fish reaches 135-140 degrees. As the fish rests, it will continue to cook.
Recipe Nutrition Facts
Nutrition Facts
Baked Salmon Steak Sheet Pan Dinner Recipe
Amount Per Serving
Calories 372
Calories from Fat 243
% Daily Value*
Fat 27g42%
Cholesterol 95mg32%
Sodium 485mg20%
Potassium 855mg24%
Carbohydrates 9g3%
Protein 27g54%
Vitamin A 1590IU32%
Vitamin C 28mg34%
Calcium 90mg9%
Iron 4mg22%
* Percent Daily Values are based on a 2000 calorie diet.
Did you make this recipe?
Share your photos & mention @DrDavinahS! I love seeing them!
Nutritional Disclaimer
The nutritional information comes from Spoonacular API, a database of food ingredients. The nutritional information for any recipe will vary based on the exact product you use and the brand. I do not include erythritol or sugar alcohols in the final carb or net carb count as it does not have any impact on my blood glucose levels. Before starting keto or a low-carb eating plan, you should consult your doctor. I am sharing my personal experiences and none of the information included in my recipes or throughout the site should be taken as medical advice.