A recipe for easy beef top sirloin steak that uses ranch dressing mix as the main seasoning. Includes tips on how to cook top sirloin steak. Plus, other keto steak recipes and recipes that use ranch spice mix.
This post may contain affiliate links to products I use and highly recommend. You can read my full disclosure .
Looking for top sirloin recipes or recipes with ranch dressing mix? This easy beef top sirloin recipe uses dry ranch dressing seasoning as the main spice. In this post, I help you cook top sirloin steak on the stove, give you a recipe for a keto homemade ranch seasoning mix if you prefer to make your own, and list 10+ other keto steak recipes and recipes with ranch dry seasoning for you to enjoy.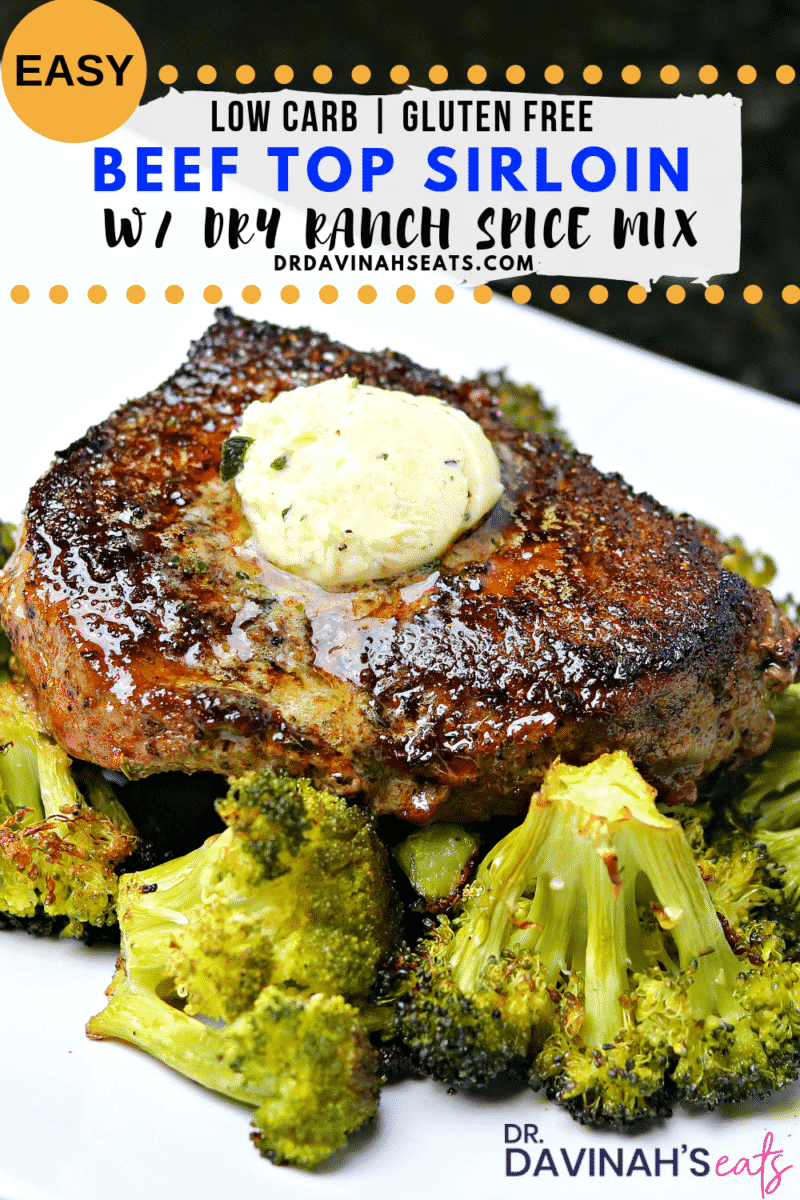 What made me make a beef top sirloin recipe with ranch dressing mix?
I had a freezer full of beef
About a year ago, my husband and I decided to eat mostly all-natural and organic meats. While this meat is better for us and tastes noticeably more flavorful and tender, it is expensive.
We went from paying like $4/lb to spending $10/lb or more for meat. So, I signed my family up for Butcher Box to get meat in bulk and save money.
Butcher Box delivers 100% grass-fed and grass-finished beef, free range organic chicken, and heritage breed pork for less than $6.00 per meal. Unless you get a custom box, their regular box includes a curated collection of meats.
My goal was to test out a new recipe and put my beef top sirloin steaks to good use!
I made a homemade ranch spice mix
Beyond having a freezer full of meat, I was super proud of myself when I made ranch dressing for my BLT Avocado Salad. The spice mix was delicious so I started making ranch spiced everything! After trying it out on pork chops, I figured my keto-friendly ranch seasoning would also go well on steaks.
How do you cook top sirloin steak on the stove?
As mentioned in my Keto Surf & Turf recipe, no two steaks are alike. So, when cooking this meat on the stovetop, I offer the same advice.
Steak Temperature Guide
Rare: 125 degrees
Medium-Rare: 135 degrees
Medium: 140 degrees
Medium-Well: 145 degrees (recommended temperature)
Well Done: 150 degrees
What makes this beef top sirloin recipe easy?
It only takes a few minutes to prepare and includes just a few ingredients.

Can I use this ranch seasoning mix & recipe with other proteins?
Yes, but cook times will vary by protein
If you swap the meat in this recipe, please note that the cook times will vary. You can ensure that this takes a few minutes by choosing thinner steaks (mine are about 1 inch thick) and by cutting chicken breast in half lengthwise as I did for this 10-minute, 4-Spice Chicken.
Don't forget the fatty spine when making pork chops
Often, I swap the meat in this recipe for pork chops. To ensure that every part of the pork chop is amazing, I use one of the final minutes of searing to cook the "fatty spine".
During this minute, I stand the pork chop up on the fatty side and sear it. This searing makes the fat crispy enough to eat!
What are good low-carb side dishes for this?
This recipe is for the main protein. To make a meal, it'll need a low carb side dish. Some options for side dishes are:
You might also want to pair this with Keto Shrimp Scampi to make this an easy Surf & Turf.
What are some other keto steak recipes?
If you enjoy keto-friendly steak recipes, then some other drool-worthy options are:
What are some other recipes using ranch dressing mix?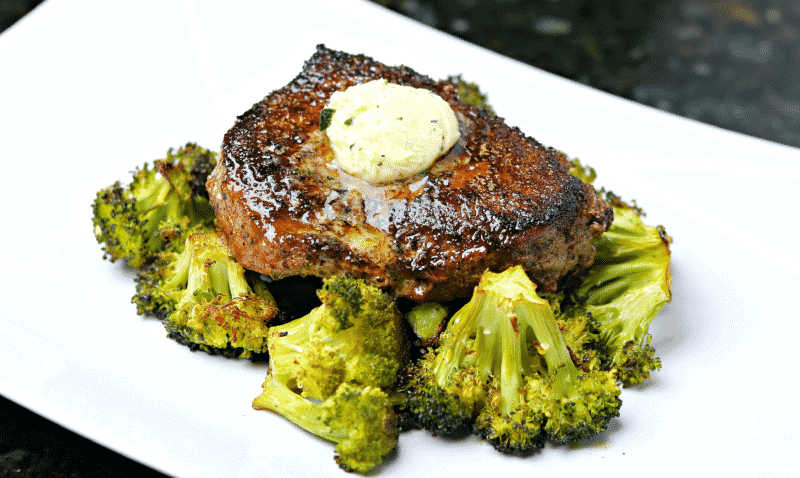 A recipe for easy beef top sirloin steak that uses ranch dressing mix as the main seasoning. Includes tips on how to cook top sirloin steak. Plus, other keto steak recipes and recipes that use ranch spice mix.
Want to share this recipe?
To spread the word about this recipe, please save it to Pinterest, share a link to it, or rate it if you loved it. Please do not copy & paste (or screenshot) my recipes to social media or other websites.
Instructions
Add seasoning to the steaks. I pat the seasonings into the meat and am sure to rub it around so that it's on the top bottom and sides of the meat.

Heat a cast iron skillet (or a regular skillet) to medium heat.

Add 1 tbsp of butter and wait for it to bubble & sizzle

Add steaks to the pan and sear for 2-3 minutes, per side (depends on how you like your meat. 3 minutes per side usually make my steak well done).

Remove the steaks from pan and allow to rest (covered with a pan lid or a foil tent for 5 minutes before serving.
Recipe Nutrition Facts
Nutrition Facts
Easy Beef Top Sirloin Steak recipe with Ranch Dressing Mix
Amount Per Serving
Calories 247
Calories from Fat 135
% Daily Value*
Fat 15g23%
Cholesterol 97mg32%
Sodium 455mg19%
Potassium 404mg12%
Carbohydrates 0g0%
Protein 25g50%
Vitamin A 480IU10%
Calcium 25mg3%
Iron 1.8mg10%
* Percent Daily Values are based on a 2000 calorie diet.
Did you make this recipe?
Share your photos & mention @DrDavinahS! I love seeing them!
Nutritional Disclaimer
The nutritional information comes from Spoonacular API, a database of food ingredients. The nutritional information for any recipe will vary based on the exact product you use and the brand. I do not include erythritol or sugar alcohols in the final carb or net carb count as it does not have any impact on my blood glucose levels. Before starting keto or a low-carb eating plan, you should consult your doctor. I am sharing my personal experiences and none of the information included in my recipes or throughout the site should be taken as medical advice.