This Ultimate Surf and Turf recipe is the only steak & seafood recipe that you will need. A copycat from one of my favorite restaurants, it includes a rosemary flavored filet mignon steak topped with keto shrimp scampi. I kept this dish low carb, but still extra decadent, by placing the steak and shrimp on a bed of Parmesan Cauliflower Rice Risotto. This is perfect for a special occasion or date night. You could also use each part of the dish to make several different keto-friendly dinner meals.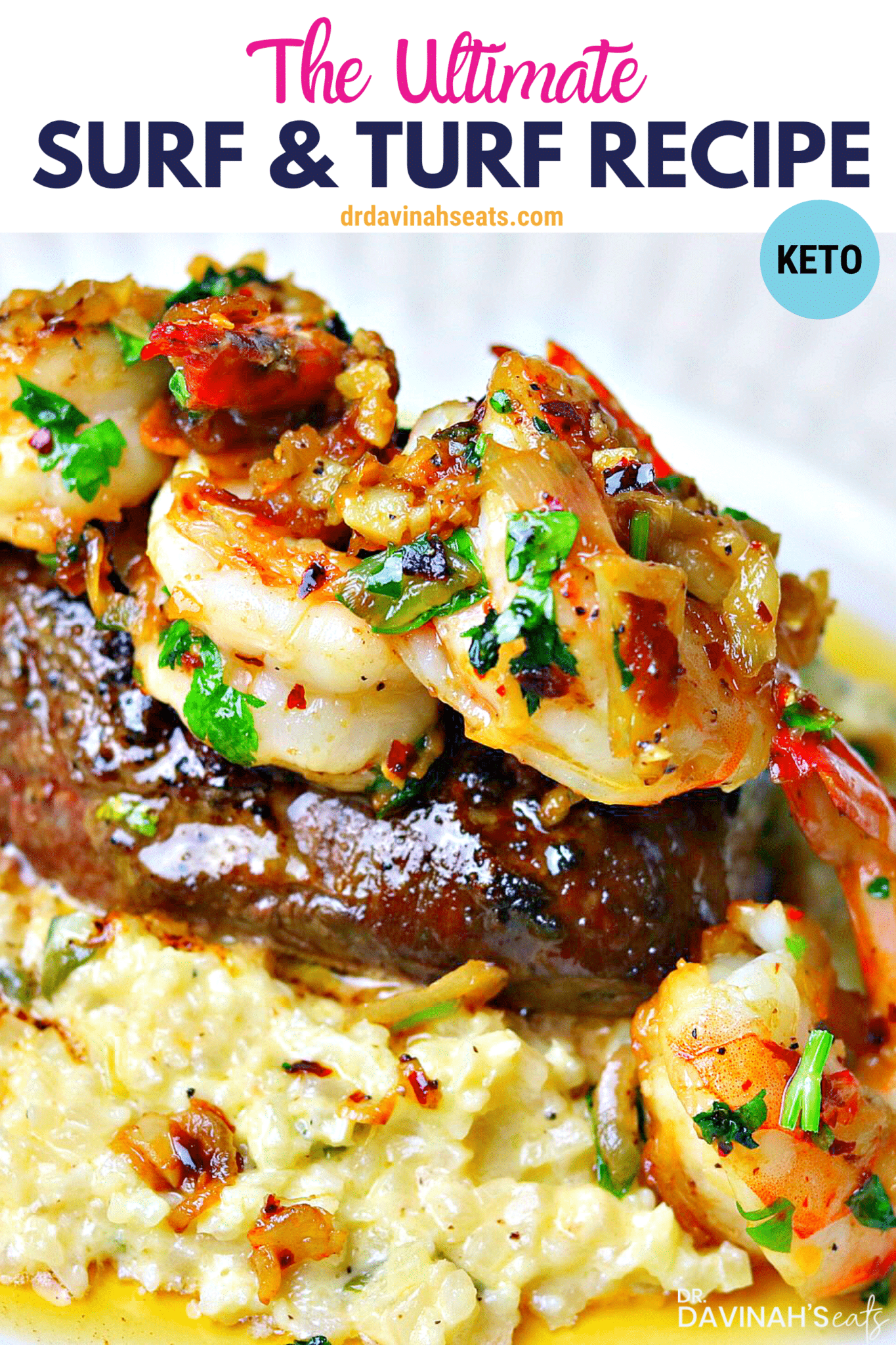 What is surf and turf?
Surf & Turf refers to a meal that includes both meat & seafood. The meat is the turf portion and the surf refers to the parts of the dish that come from the sea.
While any meat could technically be the "turf", this dish most commonly includes steak. In this recipe, I'm using steak and shrimp, but there are tons of variations.
What inspired this surf & turf recipe?
As I mentioned in my Seared Scallops & Cauliflower Risotto recipe, my ideas for low carb holiday and keto date night dishes come from my experiences at restaurants.
My husband and I went to Ocean Prime and got a steak with shrimp scampi on top. After tasting it, I knew that I could recreate this at home as The Ultimate Keto Surf and Turf Recipe.
Now, it's one of my favorite keto steak dinners.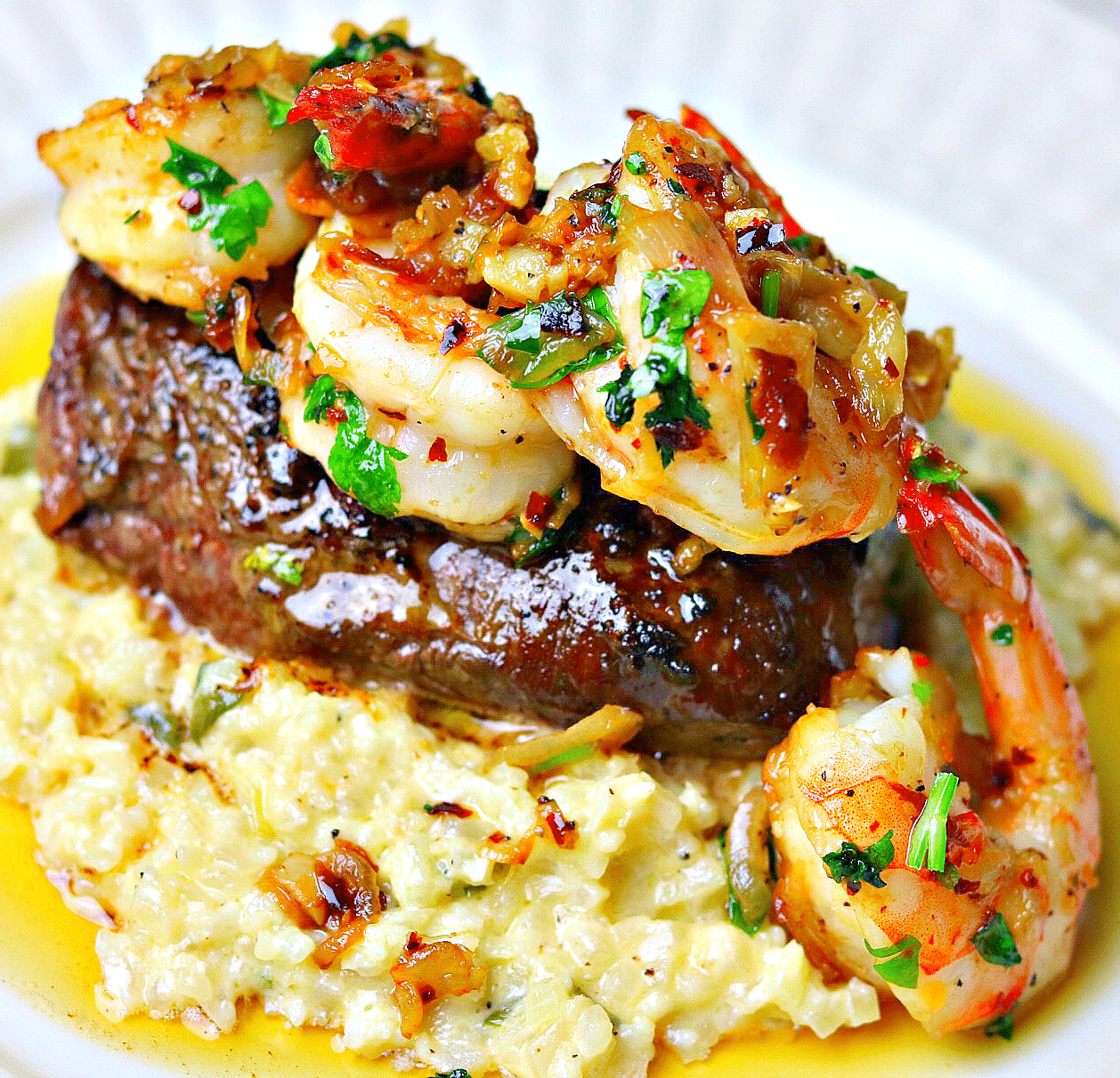 What makes this The Ultimate Keto Surf and Turf recipe?
This Surf and Turf recipe is high on my list of indulgences. It includes a juicy, rosemary flavored seared filet mignon steak that is topped with Keto Shrimp Scampi. The steak and shrimp are sitting on Parmesan Cauliflower Risotto.
The taste of the buttery, garlicky sauce from the Shrimp Scampi replaces the compound butter that people usually put on their steaks.
As you cut through the shrimp, steak, and then the risotto, each bite is layered with flavors that work together for something magical.
If you're looking for a keto and low carb steak and shrimp recipe for a date night or special occasion, then this is the only recipe you need.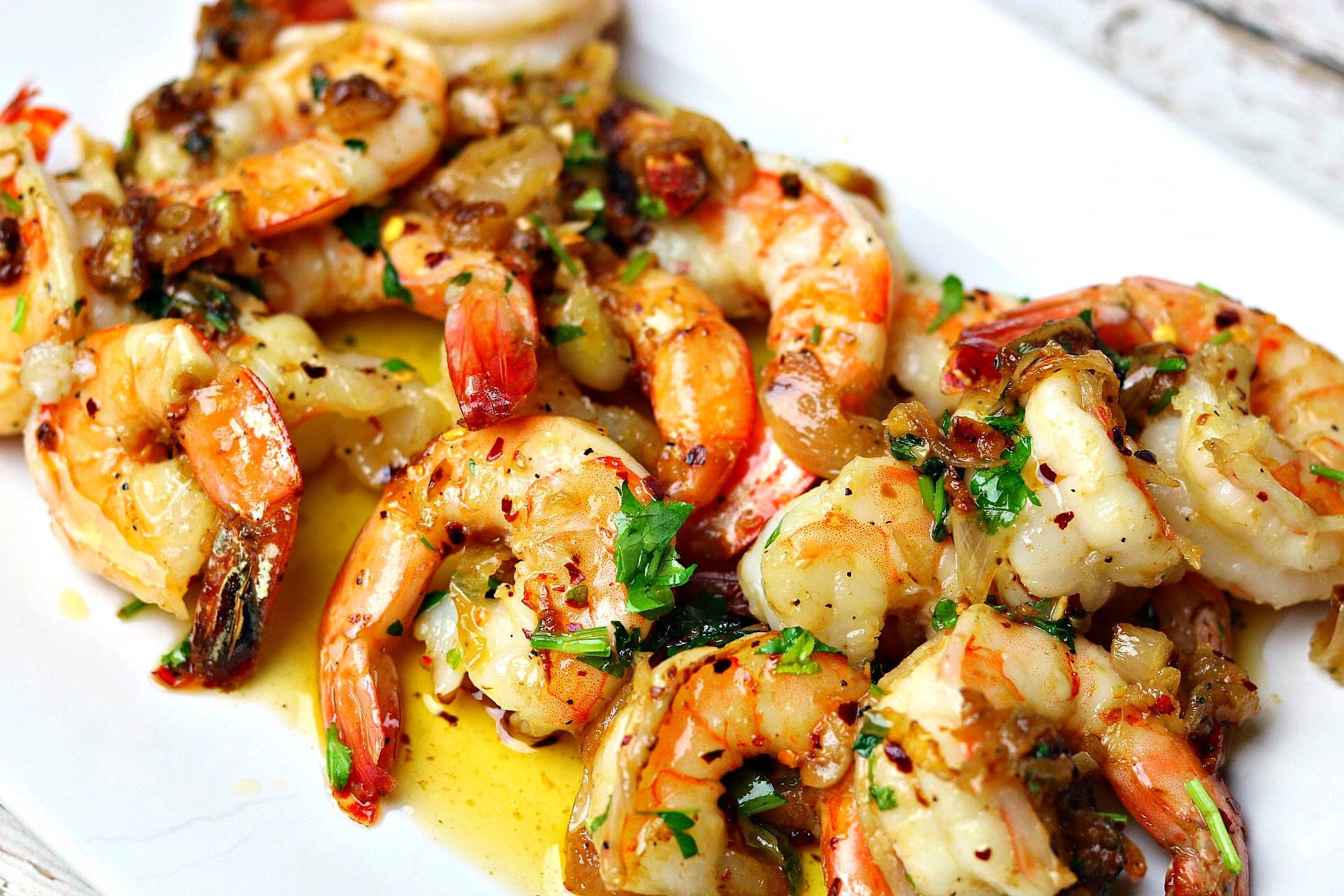 How to make The Ultimate Keto Surf and Turf:
As I mentioned above, each surf and turf recipe includes two parts. To make this dish, you'll need to cook the steak and the seafood separately. Since making the steak is typically most challenging, I'm going to spend a bit of time detailing how to cook steak properly.
Making the Steak (Turf)
In this recipe, I'm using two, 6-oz filet mignon steaks. This is an expensive cut of meat, but it was a special occasion for us so it was totally worth the splurge.
To prepare this steak, I used many helpful tips for how to cook steak from Delish. Yes, I did research! Who has time to mess up $30 worth of steak?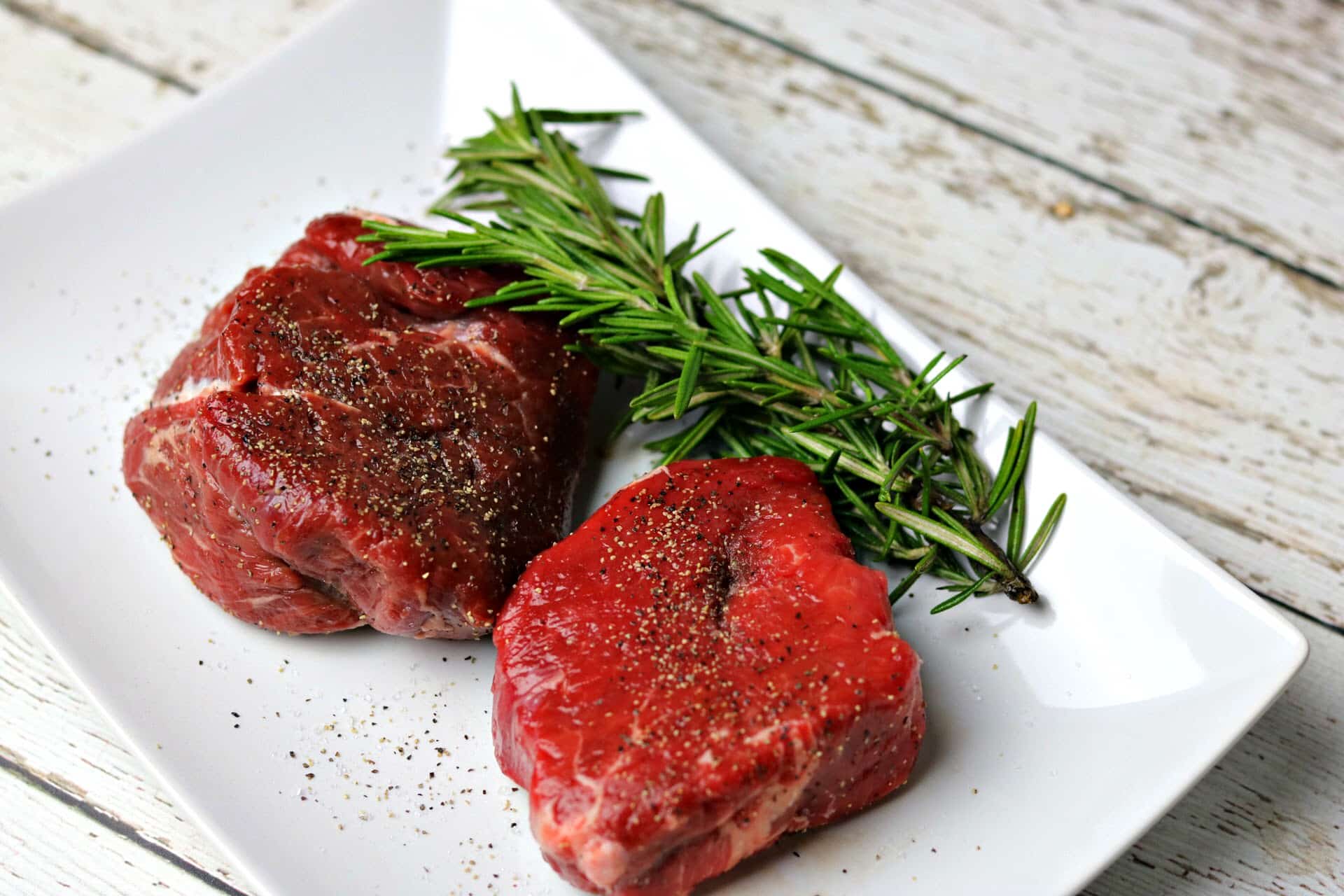 I added a bit more detail in this recipe though so that it's easy for anyone to make. Four of their most useful tips that I used in this surf and turf recipe are below:
Set a Timer
The sear on each steak takes 2 minutes per side. You can feel comfortable setting a timer and not touching the steak for 2 minutes. Just like I said in these Quick Seared Scallops, it's important to only flip the protein once.
Use a cast iron pan
Cast Iron pans hold a lot of heat and distribute it evenly. So, they are the perfect tool for getting a crispy sear across the entire steak.
They also go from the stove to the oven, which is important for getting juicy meat. I use this cast iron pot with silicone holder. This pot is super sturdy, comes pre-seasoned, and is much less expensive than some cast iron pans I've seen.
Use a meat thermometer
As you notice from the steak picture above, no two steaks are exactly the same. So, in order to get your desired level of doneness, you should use a digital meat thermometer and follow the steak temperature guide that I adapted from Certified Angus Beef.
Steak Temperature Guide
Rare: 125 degrees
Medium-Rare: 135 degrees
Medium: 140 degrees
Medium-Well: 145 degrees
Well Done: 150 degrees
I prefer to eat my steaks Medium Well. The center turns out slightly pink, but the edges of the meat are browned. To ensure that your steak turns out juicy, I'd encourage you to not cook it beyond Medium Well.
Bonus Tip: Steaks continue to cook while resting so use the temperature guide
Another tip, that I'm adding is to remember that while the steak rests, it will continue to cook so taking it out using the guidelines above is the best way to not overdo it!
Making the Shrimp or Seafood (Surf)
Cooking shrimp is fairly easy. In this recipe, you simply:
Heat a pan to medium high heat with olive oil
Sauce the shallots and garlic until they are translucent
Add butter, dry white wine, spices and lemon to make a garlic butter sauce
Add the shrimp and cook them until they turn bright pink
Other Surf & Turf Meal Ideas – Variations
Can I use another steak?
Absolutely! One of the great thing about this (and any) surf & turf recipe is being able to use any steak that you prefer. I'd recommend using top sirloin steaks, which is the meat that I used in Ranch Spiced Top Sirloin Steaks. Regardless of the steaks that you use, you can use the guide with the cook times that appears above.
What about seafood? Does it have to be steak & shrimp?
No. You can swap shrimp scampi with any other seafood that you wish. One recipe that's super simple is Quick Seared Scallops. You might also be interested in pairing this with my Air Fryer Salmon recipe or any of these keto-friendly fish & seafood recipes.
What side dishes to serve with surf and turf?
This recipe is wonderful alone. However, there are some side dishes that would be great additions. One is cauliflower risotto. You might also pair this with sautéed asparagus, sautéed green beans with shallots and garlic, or my keto-friendly creamed spinach recipe.
If you're looking for even more options then you can check out more than 30 low carb side dishes recipes that I collected from around the internet.
You might also be interested in these other Cast Iron Skillet Recipes:
Easy Whole30 Shrimp Recipe
Would you care for dessert?
If you're hoping to have a true steakhouse experience, then you might want to pair this dish with a little dessert.
I'll be honest, though, this recipe doesn't require a dessert, but I'm sharing these for those who want ideas.
One of my favorites is my gluten-free strawberry cheesecake. Another top choice is my low carb carrot cake recipe. But, as you'll see below, there are tons of options for keto dessert recipes to choose from.