This post may contain affiliate links to products I use and highly recommend. You can read my full disclosure .
Looking for keto food swaps? Want to know what's available for things like keto chips and other low to no carb snacks? This list of more than 25 products will help you find keto-friendly replacements for things like cookies, bread, salty snacks, and pasta.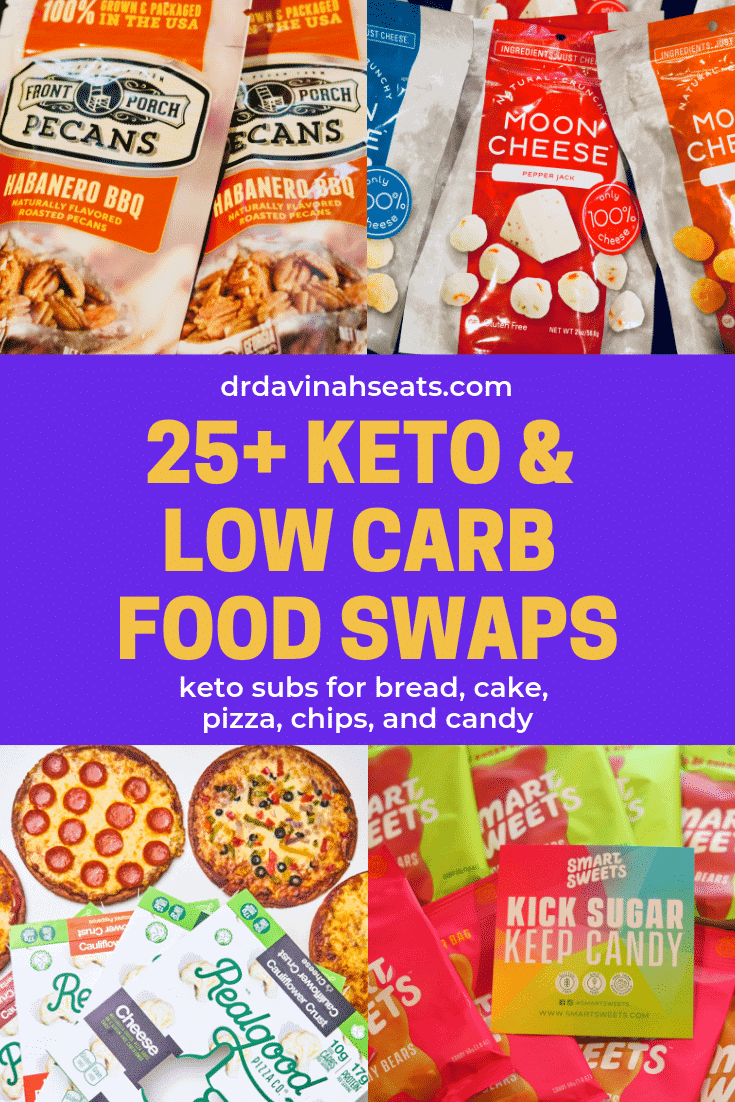 I started following the ketogenic way of eating during Lent 2018! After struggling through a round of Whole30, I was looking for something more sustainable.
One of the first things that I noticed was that most of the things that I'd normally eat had a keto-friendly or low-carb food substitute. If I was looking for keto chips, there was an option! If I wanted keto pizza, there were options for that too!
The following is a list of some of my favorite ketogenic and low-carb foods. I use several of these products in my recipes, but I also have some of these as keto diet snacks!
For the sake of organizing, I'm dividing this keto food swaps page into groups based on what they replace. In this guide, you'll find:
Does this keto food swap list have any discount codes?
Absolutely! If I have a discount code for a product on this list, then I will include it along with the picture. You can simply click the picture to get to the product website.
Sweet Low Carb & Keto-friendly Snacks
One of the reasons that I love keto is that it helps me stop sugar cravings. However, this doesn't mean that I don't have sweet keto snacks!
ChocZero Chocolate Bark & Squares
If you've checked out any of my recipes, then you know that I love Choc Zero Honest Syrup. Besides the syrup, their Milk Chocolate Keto Bark and Chocolate Squares are also amazing! All of ChocZero's products are low carb and keto-friendly. They also don't have added sugar. You can save 10% on any ChocZero order with my code: DRDAVINAHS.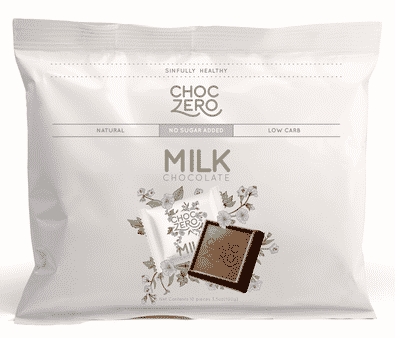 Smart Sweets Gummy Candy
Sweet Smarts has keto candy, including sweet gummy bears, sour gummy bears and "Swedish fish". I'm obsessed with their Swedish fish candies! In fact, I get them each month on Subscribe & Save. All of their candy has no added sugar and are less than 90 calories per pack.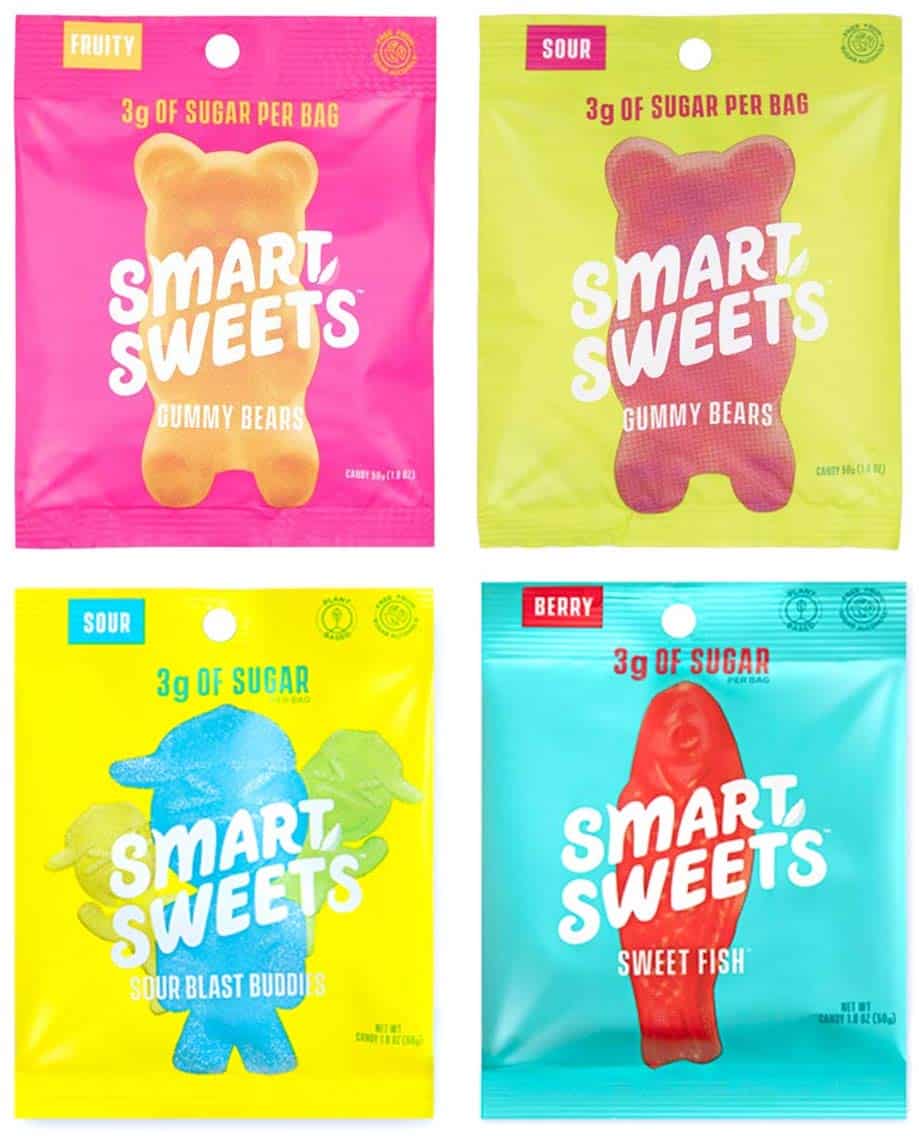 Nui Cookies
Nui cookies were one of the first keto snacks that I tried. They actually helped to convince me that keto could be a lifestyle as to this thing that I tried. My favorite flavor is Peanut Butter. All of the cookies have no added sugar and a pack of two cookies is typically 300 calories or less. If you want Nui Cookies, then you can get 10% off an order with DRDAVINAHS.
Smart Baking Company Smart Cakes
Smart Baking Company offers low carb and keto-friendly cakes and burger buns. The cakes are super airy and are only 38 calories. If you'd like to get 10% off Smart Baking Company, then use DRDAVINAHS. This discount code works on any order so it's perfect if you want to get their cakes and burger buns.
Low Carb & Keto Food Swaps Bread, Pasta, & Pizzas
If you love carbs like I do, then you've probably been trying to find some swaps for bread, pasta, and pizza crusts. Here are some brands that have been helpful.
Miracle Noodle
Miracle Noodle has a line of 0 calorie noodles. I love using them in Asian dishes. If you'd like to try Miracle Noodle (or already love them) and want a discount, then use DRDAVINAHS to save 10%.
Great Low Carb Bread Company
Great Low Carb Bread Company sells keto-friendly and low carb bread, pasta, and bagels. Many of their items have less than 4g net carbs per serving.
Sola Bread
Sola has a line of keto-friendly and low to no impact bread, granola, nut bars, yogurt, and ice cream. I love the texture of their bread because it reminds me of the real thing. Each slice has less 4g net carbs. They also have 4 flavors. I wrote about some ways that Sola's brand helps us cut carbs and kick sugar. I also used Sola bread in this Low Carb Stuffed French Toast recipe.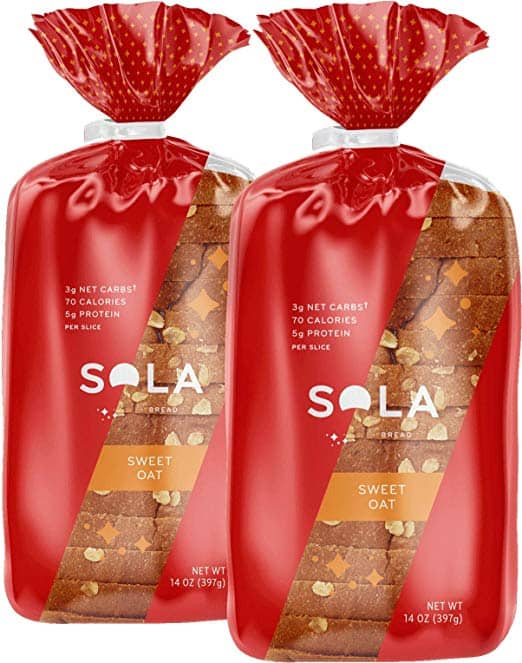 Cali'flour Foods
Cali'flour Foods' cauliflower crust pizzas and crackers that are perfect for keto and the low carb community. Their pizza crusts, which I used in this Keto Buffalo Chicken Pizza and keto lasagna recipes, is 6g net carbs for the entire crust. If you'd like to get 10% off any order of $50 or more, then use DRDAVINAHS.
You can also check out all of my Cali'flour Foods Recipes to get more ideas about how to create keto-friendly meals and snacks using them.

Real Good Foods
If you're looking for a store-bought or ready-to-eat pizza, then you should try Real Good Foods. They have cauliflower crust and regular pizzas that are low carb and high protein. They're available at Walmart.
Low Carb & Keto Friendly Nut Butters & Sauce
Some of the most challenging things to find are keto-friendly replacements for nut butter and sauce. At the market, it's pretty common for them to be filled with sugar.
Legendary Foods
Legendary Foods has some of my favorite nut snacks and butter. Their Apple Pie Flavored Almond and Cashew Butter is the perfect no sugar added dessert. You can get 10% off a Legendary Foods order with my code: DRDAVINAHS

Perfect Keto Nut Butter
I haven't tried this one yet, but I have a lot of friends who love Perfect Keto's Keto Butter. It has a mix of nuts as well as MCT Oil. If you'd like to try anything from Perfect Keto, DRDAVINAHS, gets you 15% off.
ChocZero Honest Syrup
If you ever have a taste for Keto Pancakes or want to make Keto "Honey" Sriracha Wings, then you must try Choc Zero Honest Syrup. Not only are they sugar-free, but they have 1g net carb per serving. You can save 10% on Choc Zero with DRDAVINAHS.

Alterna Sweets BBQ Sauce & Ketchup
Keto BBQ or Sugar-free BBQ didn't seem like it could be a thing until I tried AlternaSweets BBQ Sauce. It's is sweetened with Stevia and tastes like the real thing. If you want some recipes that use Alterna Sweets, check out this Big Daddy Pizza and these Keto Slow Cooker BBQ Cola Ribs.
Salty Low Carb & Keto Snacks
I have a weakness for salty snacks so it was important for me to find some keto food swaps for chips. Some of my favorite options are below.
Quest Tortilla Style Chips
If you want keto chips and love Doritos, then these are the best keto snack that you can buy to cure the craving. These chips have 4g net carbs per bag and are less than 180 calories for the entire bag. These come in three flavors: Nacho Cheese, Chili Lime, Ranch. My favorite is Nacho Cheese!
Legendary Foods Flavored Nuts
Legendary's flavored nuts are the bomb! With flavors like Buffalo Wing, Cheddar Bacon & Ranch, they are a great keto snack option. I love that are packed with flavor and have no sugar added. My code DRDAVINAHS also works for 10% off the nuts.
Moon Cheese
Moon Cheese is a crunchy cheese no-carb snack. I've used these in Keto Bang Bang Shrimp and have taken these with me on the go! These are available on Amazon. I've also seen them in Whole Foods.

Front Porch Pecans
These are quite literally, the best pecans that I've ever had. I've used the plain, unsalted version in these Keto Lemon Blueberry Cheesecake Bites. I've also had the Habanero BBQ as a snack. These are available on Amazon.
Whisps Cheese Snacks
Like Moon Cheese, Whisps are a crunchy cheese snack. These are parmesan cheese based. I'd recommend these are a non-pork dipper for things like Keto Loaded Nachos. You could also pair them with Creamy Caesar Dressing and use them as a crouton in a Caesar salad.
Low Carb & Keto Friendly Sugar Replacements
Even though it might not seem like it, all keto and low carb sugar replacements are not created equally. I made the mistake once of buying something simply because it said erythritol (a common, low carb all-natural sugar substitute) only to find that it didn't taste good and didn't compare to the brands below.
All of these are available on Amazon. I've linked the pictures so feel free to click on the pictures to learn more.