Barbecue dishes occupy a special place in many people's hearts, and they go well with so many sides. Unfortunately, most bbq side dishes and cookout food have high-carb ingredients like potatoes, corn, and pasta. So, if you're on a low-carb diet, you'll need to replace the regular sides with keto side dishes for BBQ. The good news is that you can still enjoy your favorite bbq meal with simple homemade keto-friendly options.
This collection of low-carb side dishes for BBQ includes some of my favorites like almond flour keto cornbread, keto coleslaw and more. Pair these with my bbq chicken breasts (uses my keto bbq sauce) or these grilled foods to make a meal.
Need help with your BBQ keto side dish menu? Below are some options to get you started: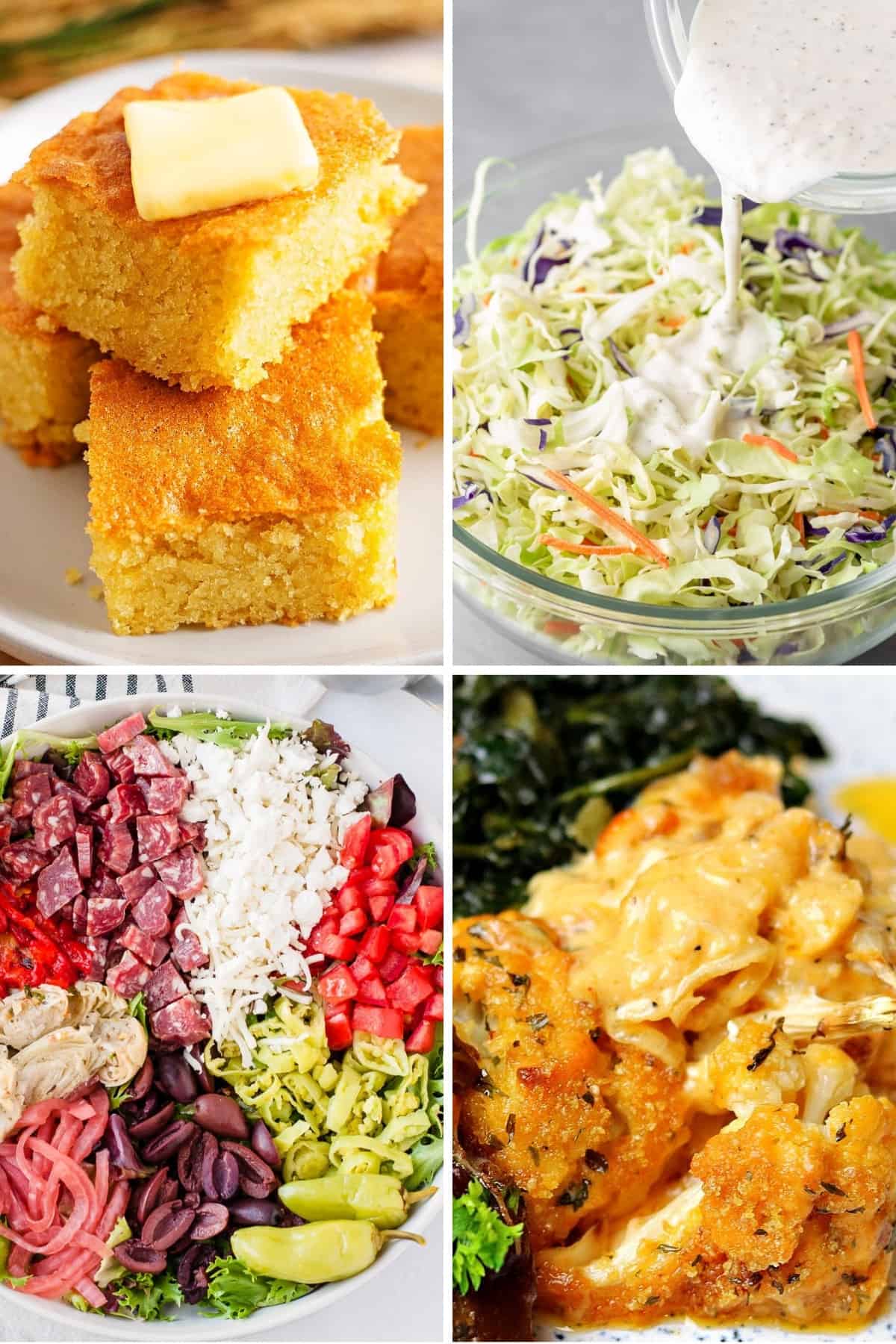 If you enjoy grilled asparagus, you'll love this air fryer dish. It takes 4 ingredients and less than 10 minutes to make. You can have it alongside my bbq chicken drumsticks.
Green beans are a quick and easy side dish for most grilled and BBQ main dishes. It's ready in about 12 minutes and is loaded with flavor and nutrients.
Are you a mac and cheese lover wondering whether to give it all up for diet's sake? Worry no more because this keto cauliflower dish is your fix. Cauliflower is the perfect low-carb replacement for noodles.
This is one of the easiest-to-make keto side dishes for BBQ. It comes together in less than 5 minutes and requires about 9 ingredients. This recipe omits refined sugar, and a single serving has only 2g net carbs.
This salad will brighten even your dullest days. It's made from simple ingredients like my cast iron chicken breast and air fryer bacon. Overall, it's the perfect flavor-loaded side dish for your favorite barbecue meal.
If you like the traditional caesar salad, this keto version may become your favorite. Cheese crisps replace the high-carb croutons to achieve equally-tantalizing keto-friendly results. You just need 6 ingredients and 10 minutes make this. This recipe includes my creamy Caesar dressing.
Most classic tuna salads are keto-friendly, but this particular recipe uses more spices for added flavor and has no added sugar. It's the kind that entertains your taste buds without throwing your diet goals through the window.
The main ingredients are bacon and avocado. Bacon is the king of flavor and avocados provide healthy fats. It will take you less than 20 minutes to make this tasty keto-friendly bbq side.
The best low-carb side dishes for BBQ are loaded with vegetables, and this is what antipasto salad is all about. Combine Italian meats and various fresh vegetables to make a nutrient and flavor-packed side dish.
Using collard greens with ham hocks as the main ingredients, you can make this staple side dish at home. It's okay to replace the ham hocks with turkey or bacon.
This dish is a quick fix that goes well with many grilled foods. All you need is a chopped cabbage and about 8 ingredients to add nutrients and flavor. It takes about 6 minutes to pressure-cook the cabbage.
If you need an easy and keto-friendly green bean casserole recipe to spice up your bbq experience, this one will do. Its main ingredients are fresh green beans, keto cream of mushroom soup, and a pork-rind free crunchy topping.
Broccoli is a low-carb vegetable making appearances in most keto dishes for BBQ. This simple recipe has four ingredients, and the result is packed with flavor and tenderness. Grilled broccoli is tasty and keto-friendly.
Are you looking for a simple garden-fresh salad recipe to complete your barbecue meal? Balsamic tomato basil salad is the real deal. It has 6 ingredients and takes about 10 minutes to prepare.
This salad is loaded with freshness, color, and flavor. It includes various low-carb vegetables and balances proteins and fats. You can use different types of tomato to add color and enhance flavor.
You'll find cucumbers in many low-carb dishes for BBQ. If you want a creative and healthy way to make a salad, try this recipe. You need 6 ingredients to make this low-carb and tasty bbq side.
Unlike the traditional broccoli salad that's sugar-loaded, this recipe omits the sugar and uses a keto-friendly salad dressing. This dish is a riot of flavors, and a single serving has 4g net carbs.
This shrimp avocado side dish is easy to prep and cook. It's keto-friendly, and has the perfect blend of flavors. You can pair it with air fryer chicken breasts or any of your favorite grilled dishes.
You only need 3 ingredients to make this flavorful summer salad for barbecue. It's low-carb and works with most BBQ main dishes. This salad can stay fresh in the fridge for several days. I bet it gets more flavorful with time.
If you need a hassle-free salad recipe for your keto BBQ or meal preps, this is it. It's easy to prepare and can stay fresh in the fridge for up to a week. This dish is low-carb and full of flavors.
This southern-style potato salad (minus potatoes) is perfect for a cookout. It includes radishes, which have the look and feel of potatoes while you are eating it.
Take Away
Being on a keto or low-carb diet doesn't mean you cannot enjoy your favorite barbecue sides. There are lots of keto side dishes for BBQ to keep the fun going without taking ketosis out of the equation. The few dishes mentioned above will help you make better keto side dish choices.