There is nothing like a crispy chicken wing, but before air fryers, this could only be accomplished quickly in a deep fryer.
This 30-minute air fryer fried chicken wings recipe uses a large Ninja air fryer, a drizzle of oil and an easy seasoning mix to make crispy chicken wings without frying them in oil.
I include some recommendations for choosing the best air fryer as well as directions for making these wings from frozen in a Ninja Foodi.
Plus, if you love saucy wings, I'm sharing some of my favorite low-carb and keto sauces that you can include as toppings or dips.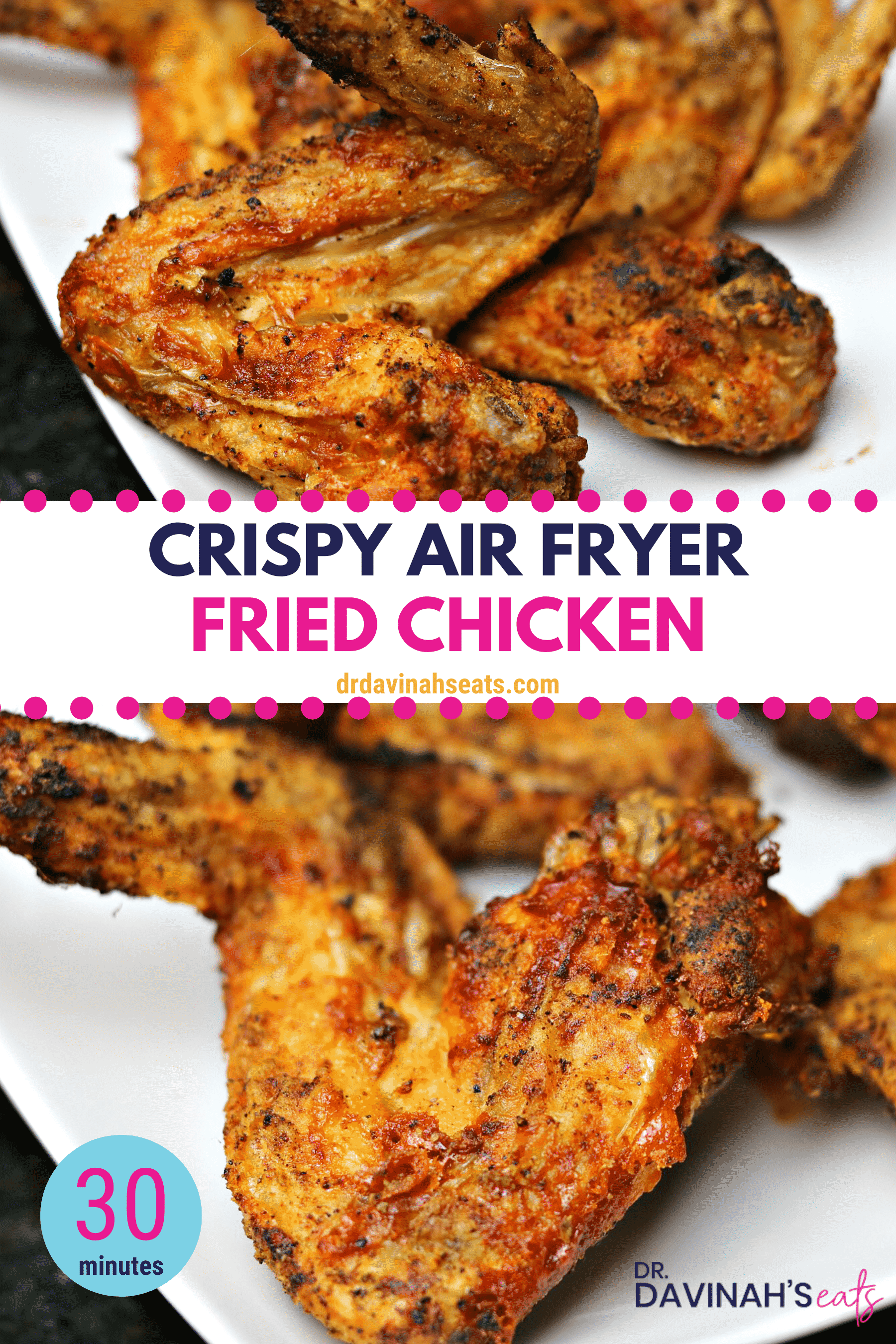 Why make wings in an air fryer?
Quick Cooking Time
I love being able to cook chicken wings in 30 minutes or less!
Compared to making oven-fried wings, this takes literally half the time. During the week, when I'm tired, an air fryer becomes the perfect tool for getting a quick meal.
Fry without oil
The keto diet is all about getting in a good amount of fat. However, chicken wings already have enough fat naturally. So, there really isn't a need to cook them in more oil.
Since this recipe requires just a drizzle of oil, it has less fat than when deep frying.
Create Less Mess
One of the things that I hate about frying foods is popping grease & having to figure out what to do with the leftover oil. By using an air fryer, you eliminate both of those issues.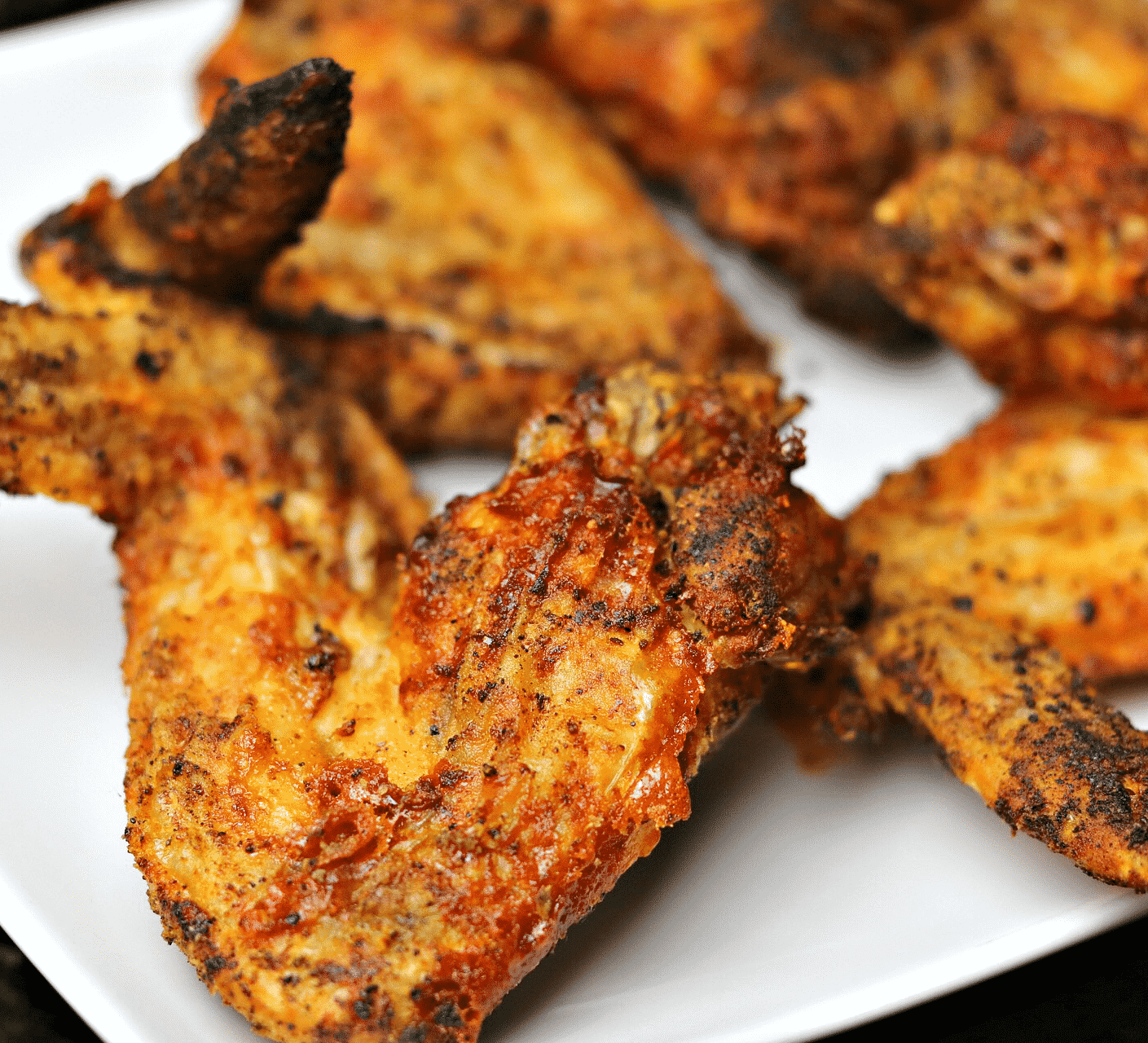 How do you choose the best air fryer?
Choose a large air fryer for meal prep and families
If you enjoy wings, have them for meal prep or are cooking for more than 1 person, I really recommend that you choose an air fryer with at least 5 qt of cooking space.
For me, this much space is necessary for making at least 6 whole chicken wings (or 12 parts) in one round. Some air fryers with ample space are:
Use a Ninja Foodi if you want to air fry the wings quickly from frozen
If you tend to decide on wings last minute and store your wings in the freezer, then a Ninja Foodi is perfect for making chicken wings from frozen.
Even though this one is a bit more expensive than the ones above, as I mentioned in my Ninja Foodi recipe & review, this machine replaces so many appliances (pressure cooker, broiler, air fryer, slow cooker, etc.) that it's worth the extra cost.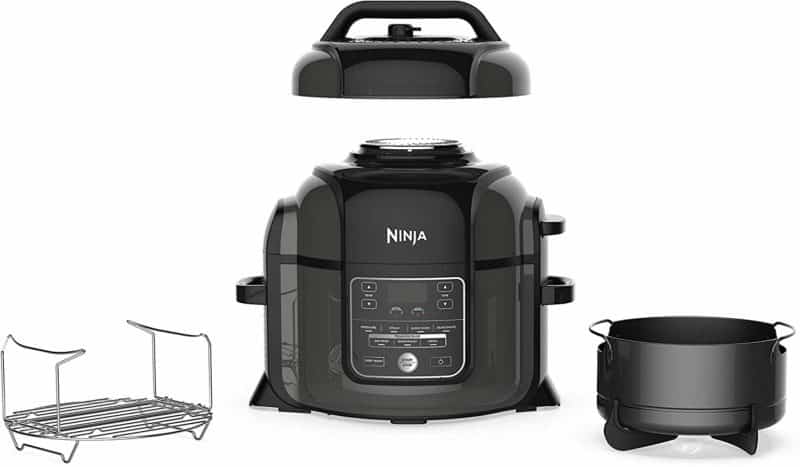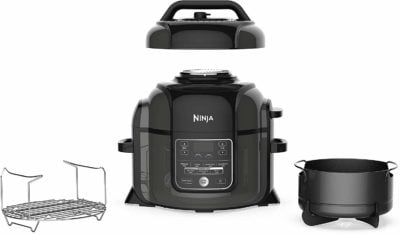 You can use the Pressure Cooker function on the Ninja Foodi and 1/2 cup of water to defrost & tenderize the wings in 5 minutes.
What about wing coatings?
Traditional fried chicken wings are coated in all-purpose flour before being adding to the cooking oil. In this recipe, you don't need to coat the wings. However, if you want to, then I'm including some options for creating an extra crunch.
Method 1: Crisp the actual wing skin
One of the reasons that I love places like Buffalo Wild Wings and Wingstop is that they don't coat their wings in flour. This makes them perfect for someone who wants to eat grain-free, low carb or keto.
Like them, this recipe does not include a coating for the chicken because the chicken wing skin gets crispy enough without help.
Method 2: Use a keto-friendly substitute for flour
If you want to make more of a Southern Fried chicken, then you can coat your wings in:
Ground Crunchy Cheese – similar to what I did in Low Carb Bang Bang Shrimp
Ground Pork Rinds – some options are this Panko style version and this Cajun-flavored one.
Both of these options are low-carb and grain-free. You can dip the chicken wings in a beaten egg to help the coating stick.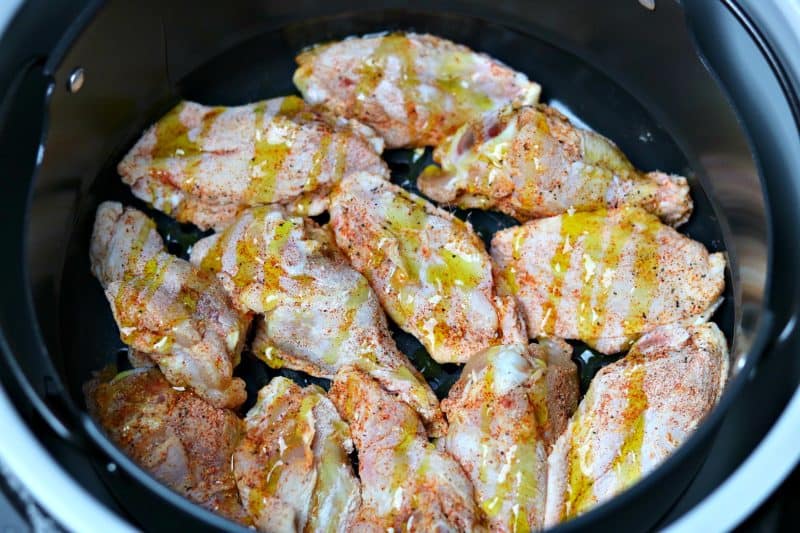 How do you make air fryer chicken wings?
Coat the wings in the spice mixture
Lay the chicken wings flat in the cooking basket
Drizzle a cooking fat, such as olive oil, on the wings
Turn your air fryer to 390-400 degrees
Cook for 12-15 minutes per side
Note: I'm using a Ninja Foodi in this recipe so I'm cooking the wings on 390 degrees. In my traditional air fryer, I cook the wings on 400 degrees.
Some tips to ensuring the wings are crispy
Give the wings space: The chicken wings need space to cook evenly. Place the wings in the cooking basket so that they all can lay flat in the basket.
Pat the wings dry: Before seasoning the meat, try to remove as much excess water from them as possible. You can do this by simply patting the wings dry with a paper towel.
Bring the wings to room temperature: I recommend taking the wings out of the refrigerator at least 30 minutes before you're about to cook them. The wings cook more evenly when they're not being air fried from cold.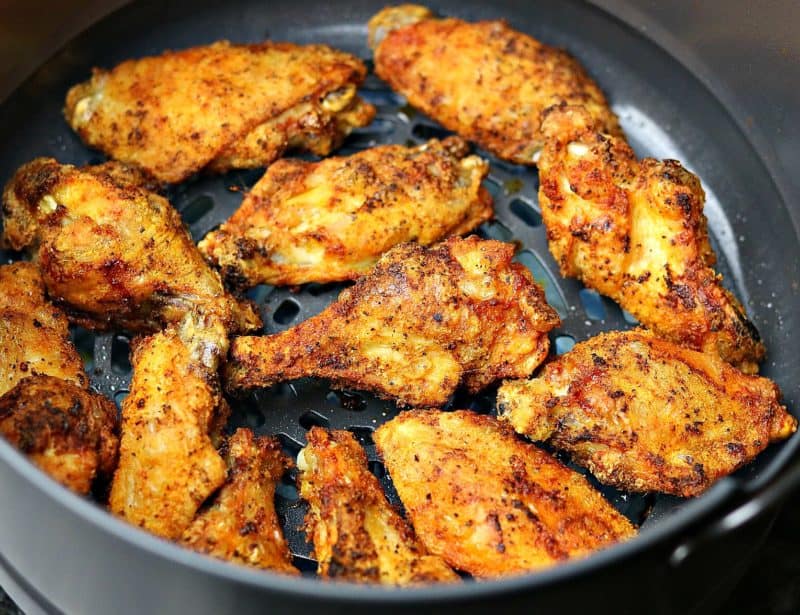 Want more keto Ninja Air Fryer recipes?
Want to switch up your meal plan with quick beef, chicken, seafood or even meatless dishes? Check out my collection of 21 keto air fryer recipes. If you have a Ninja Foodi and want to use its other functions, then you can browse my Ninja Foodi recipes too!
What are some keto-friendly chicken wing dips & sauces?
The following is a list of low-carb sauces that you can use to pair with your wings. All of them have no added sugar.