This post may contain affiliate links to products I use and highly recommend. You can read my full disclosure here.
Click below to share this!
Keto cauliflower fried rice makes a tasty addition to any Asian inspired dinner without any of the carbs. Add my cauliflower fried rice to your next Asian meal and your family won't be disappointed.
This easy, Keto cauliflower fried rice recipe is the perfect low-carb side dish for any Asian-inspired dinner. It's perfect for those who want the flavors of fried rice without the carbs.
Includes a no sugar added fish sauce as well as a gluten-free option for soy sauce. So, it's perfect for those who are low-carb, keto, paleo, and participating in Whole30.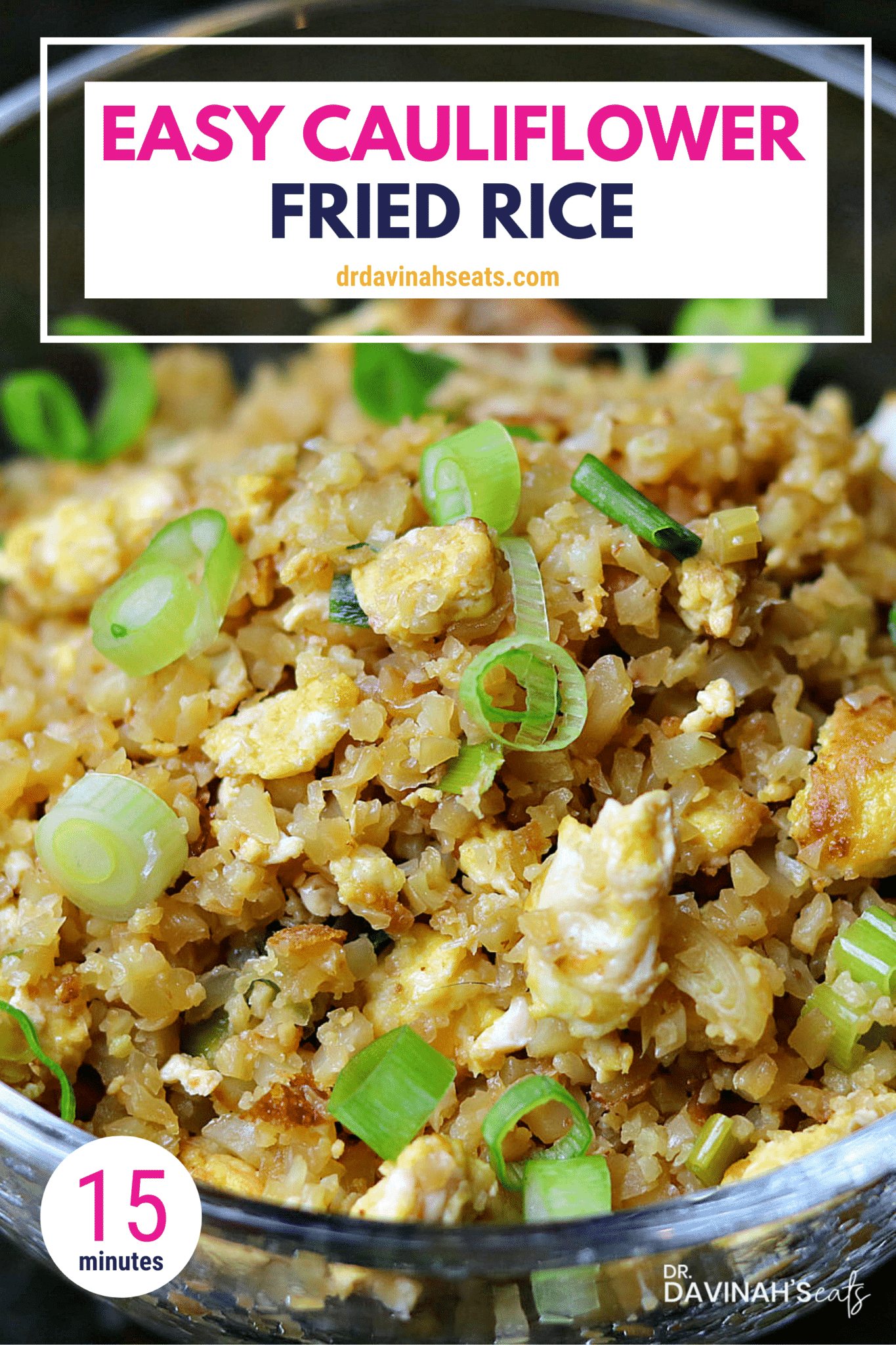 Why Make Cauliflower Fried Rice?
Fried rice is one of my favorite Asian side dishes. I could eat it all the time- if it wasn't full of all the carbs I avoid. Rice is chock full of carbs.
Fortunately, cauliflower rice makes an excellent substitute for any kind of rice, which means you can use cauliflower rice and still enjoy a great tasting fried rice. And, it will pair well with other keto-friendly Chinese takeout recipes.
As an added bonus, you don't need to cook the rice ahead of time. This can save some time and allow you to make cauliflower fried rice even on a busy week night.
Ingredients in Cauliflower Fried Rice
Cauliflower fried rice is one of those easy, one pan meals or sides. All the ingredients cook up nicely together.
All you need for cauliflower fried rice is:
olive oil

eggs

green onions

cauliflower rice
How to Make Keto Cauliflower Fried Rice
Making keto cauliflower fried rice is about as simple as the ingredient's list.
You start by heating up the olive oil over medium high heat in a medium to large pan. While it heats, you can slice up the green onion (that's the only chopping you need to do).
When the oil is nice and hot, crack the three eggs directly into a large skillet. They should look like you are making sunny side up fried eggs.
After about a minute, add in the green onions and use a rubber spatula to scramble the eggs together with the green onions.
Cook the eggs for about a minute or until fully cooked.
Once the eggs are cooked, add in the cauliflower rice, remaining oil, fish sauce, and coconut aminos to the pan. Mix it together well with the spatula.
The cauliflower rice needs to cook for about 8 minutes so that it is tender. Serve it hot out of the pan.
Carbs & Calories in this Cauliflower Fried Recipe
Keto cauliflower fried rice is low in carbs and calories per serving.
A single serving of cauliflower fried rice has only 4 grams of net carbs. And it will only add 129 calories to your calorie count for the day.
Easy Cauliflower Fried Rice Variations
If you want to add more protein to your cauliflower fried rice and make it a bit more filling, you can try adding some of these meats:
Shrimp

Chicken

Pork

Kimchi
The key to adding them is to precook the meat first. If you add it in cooked, you can prevent over cooking the shrimp.And on the opposite side, you can prevent the chicken and pork from undercooking.
Making Keto Cauliflower Fried Rice a Meal
Adding in the proteins like shrimp, chicken, pork, or kimchi can make cauliflower fried rice a filling meal.
But you can also pair cauliflower fried rice with other recipes to make a full, balanced meal.
Two great pairings I love include Orange Shrimp and Korean Beef Ribs.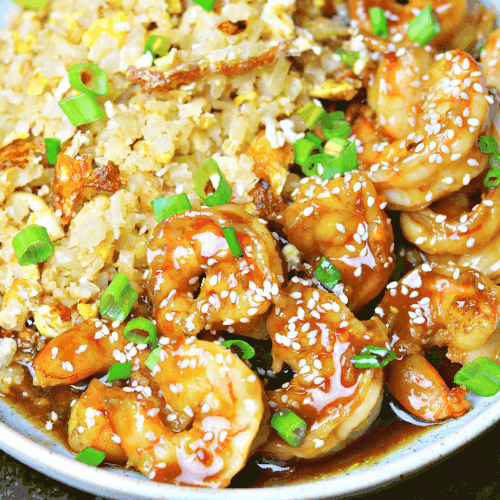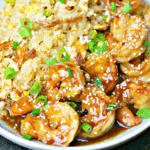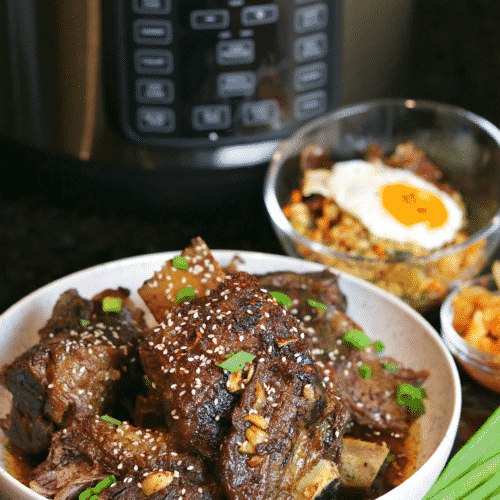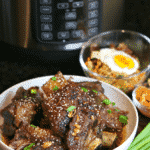 Other Cauliflower Rice Recipes
If you love cauliflower rice, you should check out some of my other recipes that use it. You're sure to find one that suites your needs and desires: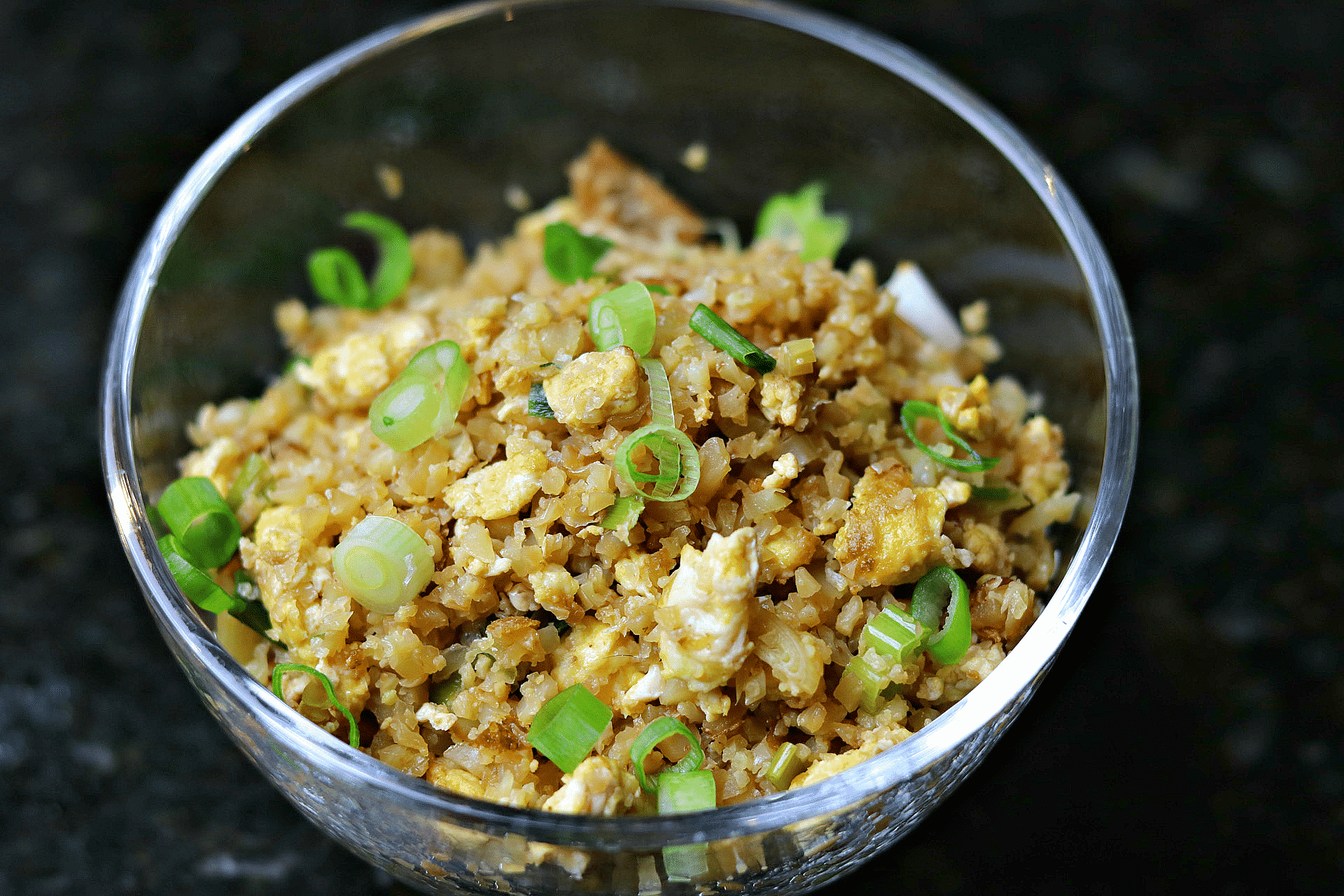 Keto cauliflower fried rice makes a tasty addition to any Asian inspired dinner without any of the carbs. Add my cauliflower fried rice to your next Asian meal and your family won't be disappointed.
Want to share this recipe?
To spread the word about this recipe, please save it to Pinterest, share a link to it, or rate it if you loved it. Please do not copy & paste (or screenshot) my recipes to social media or other websites.
Instructions
Heat 2 tbsp of olive oil on medium-high heat

Crack 3 eggs into the pan (it should look like you are making sunny side up eggs)

Add green onions to pan and use a spatula to scramble the eggs and green onions (~1 minute to ensure egg is fully cooked)

Add cauliflower rice to the skillet along with remaining olive oil, fish sauce and coconut aminos

Mix with a spatula until rice is tender (~8 minutes)
Recipe Nutrition Facts
Nutrition Facts
Keto & Low Carb Cauliflower Fried Rice Recipe
Amount Per Serving
Calories 129
Calories from Fat 81
% Daily Value*
Fat 9g14%
Cholesterol 82mg27%
Sodium 723mg30%
Potassium 293mg8%
Carbohydrates 6g2%
Protein 4g8%
Vitamin A 202IU4%
Vitamin C 40mg48%
Calcium 36mg4%
Iron 1mg6%
* Percent Daily Values are based on a 2000 calorie diet.
Recipe Notes
*Note: Fish sauce smells terrible! So terrible that you might have doubts about its ability to make your food taste good. Trust me. This is an important staple in nearly every Asian dish. In fact, I'm almost certain that you'd had it in a prepared dish and enjoyed it!
Did you make this recipe?
Share your photos & mention @DrDavinahS! I love seeing them!
Nutritional Disclaimer
The nutritional information comes from Spoonacular API, a database of food ingredients. The nutritional information for any recipe will vary based on the exact product you use and the brand. I do not include erythritol or sugar alcohols in the final carb or net carb count as it does not have any impact on my blood glucose levels. Before starting keto or a low-carb eating plan, you should consult your doctor. I am sharing my personal experiences and none of the information included in my recipes or throughout the site should be taken as medical advice.