Garlic Parmesan Wings are high on the list of my favorite things. The combo of garlic, butter, parsley, and parmesan make the most amazing Garlic Parm chicken wings sauce.
In this quick recipe, I'm sharing how to make these wings in the air fryer or oven. I also include some other keto-friendly wings recipes in case you love wings as much as I do!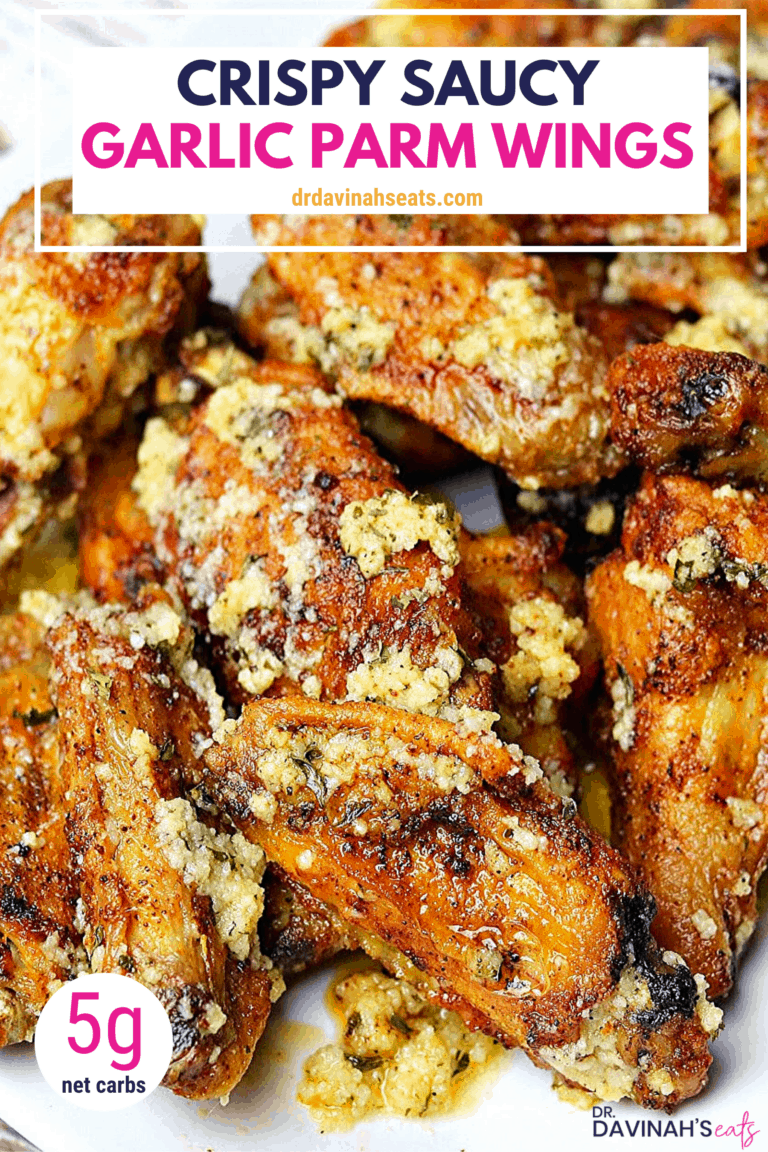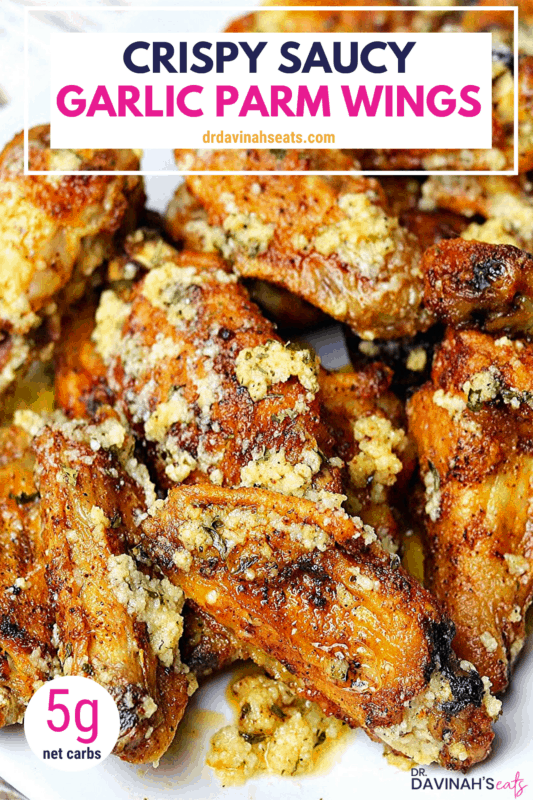 Why make Garlic Parm Wings?
I love the flavor combo that is included in garlic parmesan wing sauce! Before making this recipe at home, I was spending lots of time ordering these as takeout.
When I originally shared this recipe, it was soon after I got this air fryer from Amazon. This dish started as a way to test out my new air fryer.
What's Garlic Parmesan Wing Sauce made of?
Garlic Parmesan Wing Sauce includes grated parmesan cheese, melted butter, garlic powder, and dried parsley. I mix all of this together then toss the wings in this sauce right before I'm ready to eat them.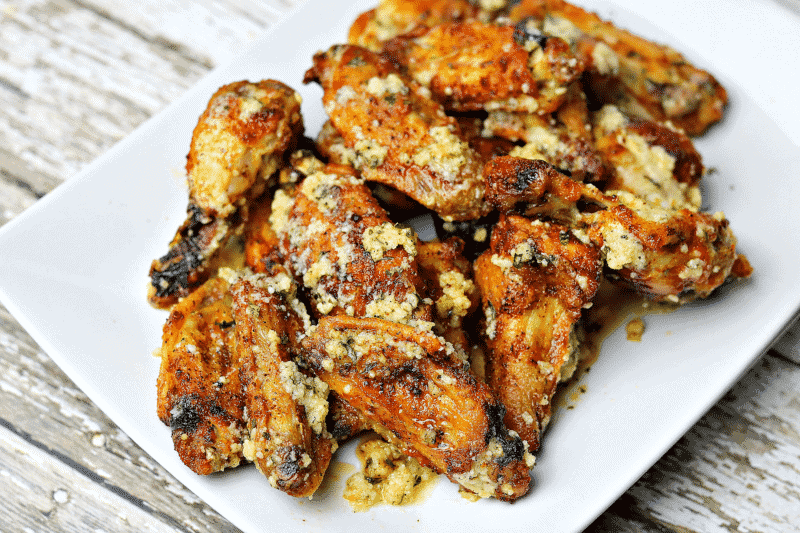 How to make Garlic Parmesan Wings
Making Garlic Parmesan Wings is fairly simple. 
Crisp the wings by baking them in the oven or the air fryer
Melt butter in the microwave and use the melted butter to make the garlic parmesan sauce
Toss the wings in the sauce when you are ready to eat
Making Garlic Wings in an Air Fryer: which air fryer did I use & recommend?
If you've checked out any of my other chicken wing recipes or my keto air fryer recipes, then you may have noticed that I recommend two products for air frying foods. I'll list the options and explain the differences.
GoWise USA XL Air Fryer
This XL Electric Air Fryer was my first air fryer. I loved it because of its capacity. The size, 5.8qt, was enough to make a meal for about 3 people.
Besides that, I appreciated the digital screen and presets (it includes temperature and time settings for everything from chicken to cake).
You can check out this air fryer on Amazon by clicking the picture below: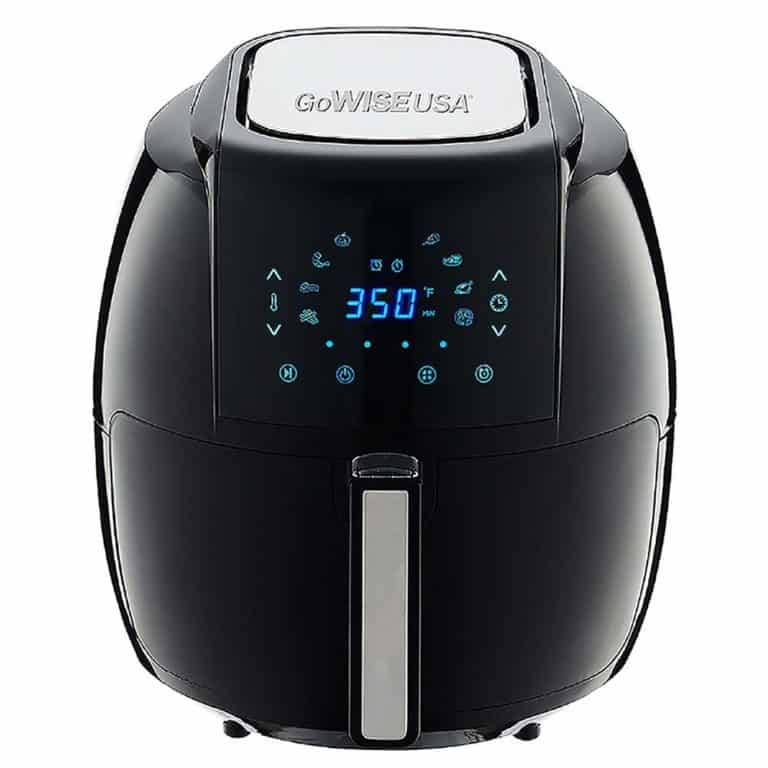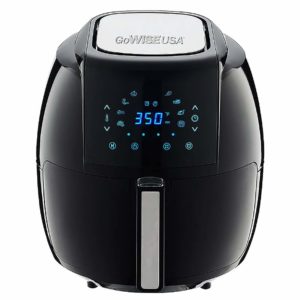 Ninja Foodi
More recently, I got a Ninja Foodi, which is an air fryer, pressure cooker, steamer and more. As I explained in my Ninja Foodi Review, I gave away the air fryer I mentioned above because the Ninja Foodi had so many extra functions.
You can check out this air fryer on Amazon by clicking the picture below:
What are some other air fryer chicken recipes?
I got a bit obsessed with my air fryer and I started making chicken often. If you are looking for more air fryer recipes, then you should try this Air Fryer Whole Chicken, these Buffalo Wings, or these Air Fryer Fried Chicken Wings.
How to bake or make Garlic Parmesan chicken wings in the oven:
If you want to bake these Garlic Parmesan chicken wings in the oven or make enough food for a crowd then you should use my oven fried chicken wings recipe. You'd never know that they are baked. After the wings are crisped, then you can toss them in the sauce.
Don't have chicken wings, but still want something Garlic Parmesan flavored?
Check out these chicken tenderloin recipes from Joy Filled Eats. She includes a 5-minute recipe for making Garlic Parmesan Chicken Tenders!
Make Garlic Parm Wings a meal:
These wings can be great as part of a keto meal prep. Since these wings are covered in a delicious and rich parmesan sauce, I tend to go light with the side dishes.
One way to keep this easy is to have these garlic parm chicken wings with a side salad that's top with my keto balsamic vinaigrette or any of these low-carb salad dressings.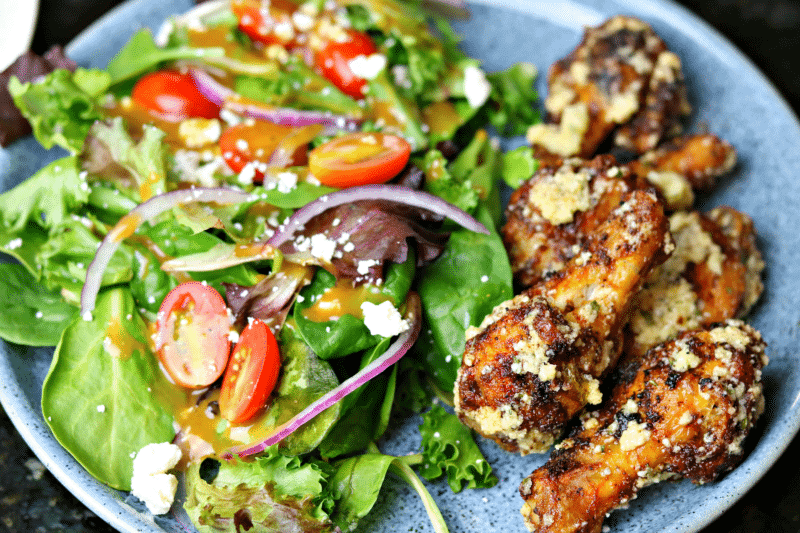 Other recipes you might also be interested in:
There are quite a few themed recipe collections on my keto blog. If you enjoy wings and game-day recipes, then you might also want to check out 20 of my favorite keto appetizer recipes and my keto chicken wings recipes.