Soon after learning that baking powder was key to crispy baked wings, I stopped frying them. My thinking was that there is no need to fry wings (which are fatty enough) if they could become perfectly crispy in the oven. Today, I got an Airfryer, which not only gets the wings crispy, but cuts the time to gets wings on the table in half. These wings from start to finish took me about 30 minutes, making crispy wings a quick meal as to a long waiting process! I used the GoWise USA 5.8-Quarts XL Electric Air Fryer because of the size (5.8qt is enough to make a meal for 3-4 people), the digital screen and presets (it includes temperature and time settings for everything from chicken to cake), and the good reviews on my go to store, Amazon!
Can I make these wings in the oven?
Absolutely! If you want to make these wings in the oven simply preheat your oven to 425 degrees and bake them for 25-30 minutes per side.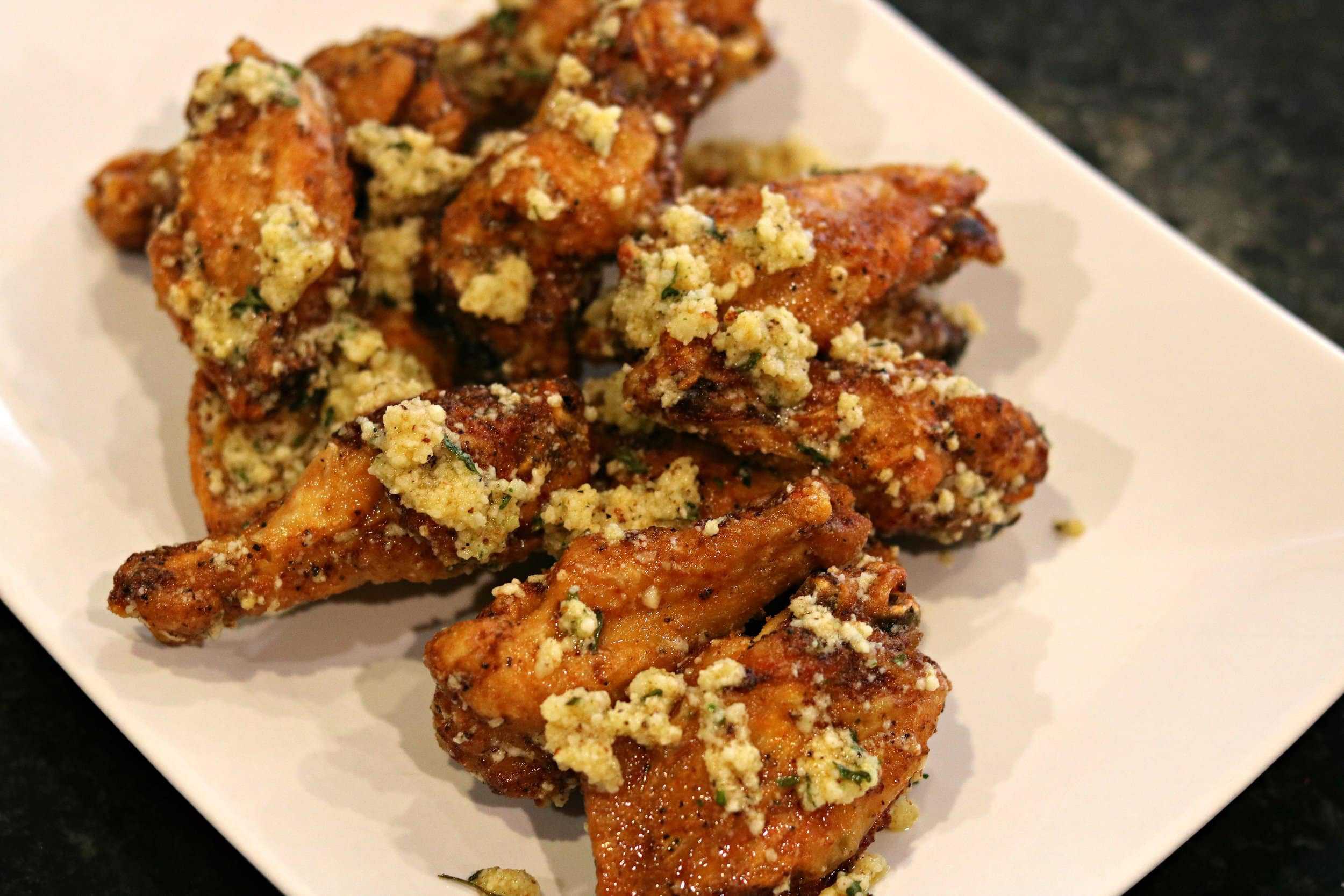 Ingredients
Parmesan Garlic Wing Sauce
Instructions
Remove the chicken wing parts from the refrigerator and pat dry (removing as much moisture as possible helps to have a crispy wing skin)

Mix the sea salt, black pepper, paprika, garlic powder, onion powder and baking powder in a small dish or ramekin

Sprinkle seasoning mixture on the wings and toss to coat

Place wings on a flat layer in the airfryer

Use the air-fryer programmed settings for chicken (400 degrees) and cook for 25-30 minutes. I set my timer 15 minutes, flipped the wings, then checked the wings at 5 minute intervals until the skin was crispy enough for me. Getting the wings crispy quickly requires you to flip them about halfway through.

Mix the all of the ingredients for the Garlic Parmesan sauce by stirring them in a small bowl

Toss the wings in the garlic parmesan mixture and serve immediately.
Recipe Nutrition Facts
Nutrition Facts
Air Fryer Garlic Parmesan Wings
Amount Per Serving
Calories 494
Calories from Fat 351
% Daily Value*
Total Fat 39g 60%
Cholesterol 149mg 50%
Sodium 872mg 36%
Potassium 628mg 18%
Total Carbohydrates 5g 2%
Protein 29g 58%
* Percent Daily Values are based on a 2000 calorie diet.
Did you make this recipe?
Use #DrDavinahS when posting your photo of this dish, and follow @DrDavinahS on Instagram