This post may contain affiliate links to products I use and highly recommend. You can read my full disclosure here.
Click below to share this!
An easy, cheap keto dinner recipe for Oven Fried Chicken Wings. Using a special tip, you get the taste of fried chicken without deep frying.
Oven-Fried Crispy Baked Chicken Wings are an easy, dinner idea that is perfect for keto. Besides keto, they're generally a healthier option if you want the taste and crunch of fried chicken without having to put your chicken wings in a deep fryer.
This keto chicken wings recipe is great by itself. But, I also include options for keto-friendly and no sugar added chicken wing sauces to change it up a bit.
Want to make these in an air fryer to save time? No worries, there are tips on how to make chicken wings in an air fryer too!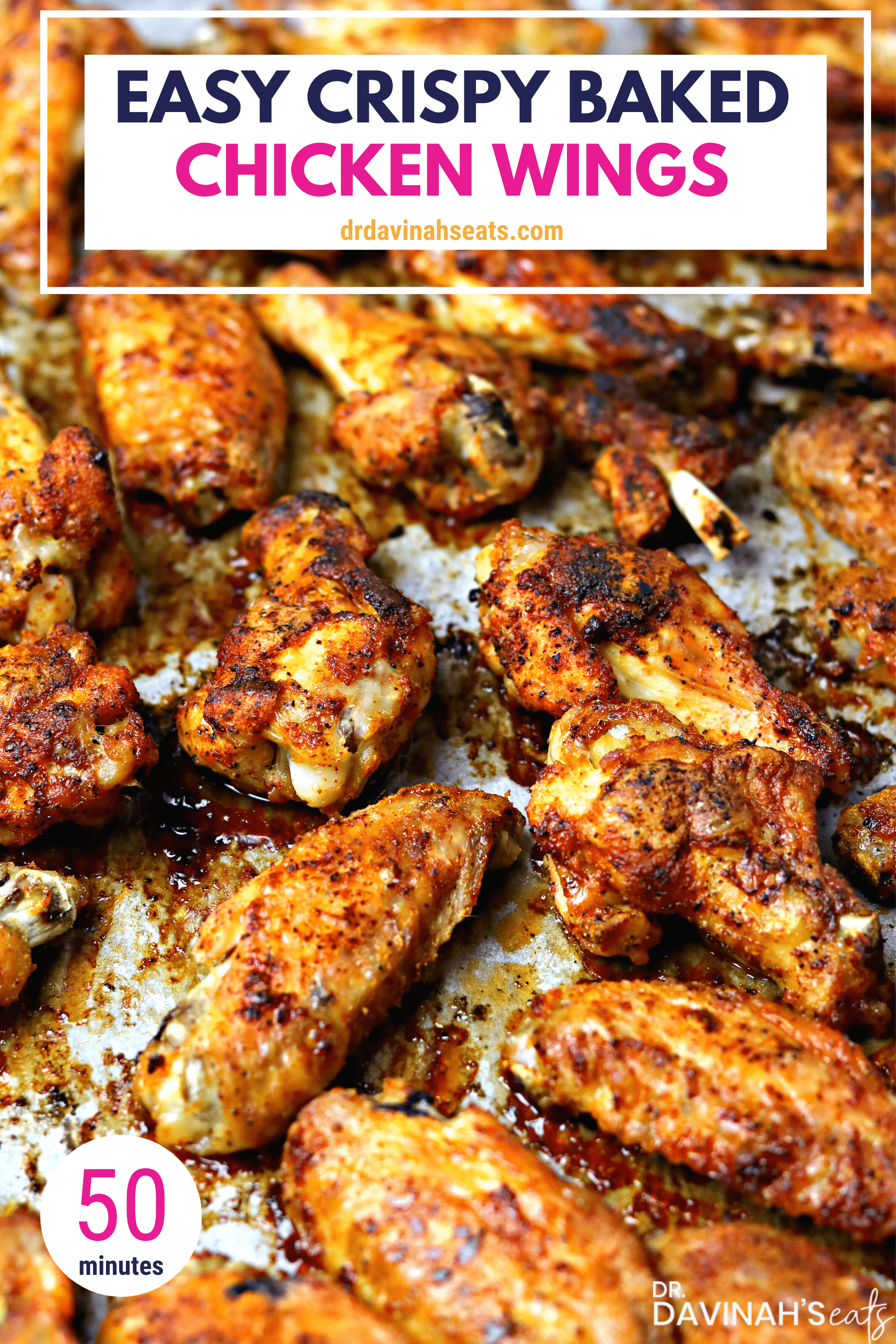 Any time that I have chicken wings, one of the most important things is the skin. For me, I like my chicken wing skin to be super crispy so that I get a bit of crunch when I bite into them.
These Oven Fried Chicken Wings are crispy, juicy, and baked. What I love about them is that they taste like fried chicken without having to be deep-fried.
If you're looking for an easy, cheap main protein for dinner or a keto game day recipe, then these are for you.
Do you have to eat Oven Fried Chicken Wings plain?
I love these wings plain. They are kid-approved (with sugar-free ketchup of course). However, there are a few other ways that I enjoy these.
I love tossing them with buffalo sauce and Garlic Parmesan Wing sauce. However, these would be great with any of these keto chicken wing sauce recipes. A recent favorite is to top these with the sauce I used on my low-carb remake of Asian Sticky Wings.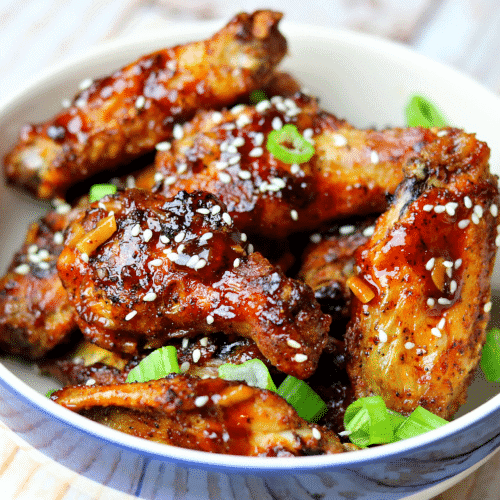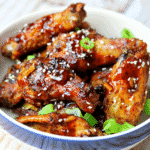 Crispy Chicken Wings Ingredients
You'll notice below that this recipe only has 6 ingredients besides chicken wings.
Sea Salt
Black Pepper
Smoked Paprika
Garlic Powder
Onion Powder
Baking Powder
How do you get crispy chicken wings without deep frying?
Use Baking Powder
One of the keys to making Oven Fried Chicken Wings is to use baking powder in the spice mix.
Baking Powder (not baking soda) allows the chicken skin to heat and start cooking quicker than the chicken wing meat.
Having the skin cook faster than the meat is important for having a crispy skin with juicy chicken wing meat. I recommend using 1 tablespoon of baking powder for every 1-1.5 pounds of chicken wings.
Pat the wings dry
This baking powder trick works best when the chicken wings are dried with a paper towel before cooking.
Dry wings allow the baking powder to coat the wings evenly. If you forget this step, then you'll need to cook them longer to make the skin crispy.

Want to make these in an air fryer and save time?
If you're searching for easy air fryer recipes, then check out my air fried chicken wings recipe. I make these wings in about 24 minutes, using one of my favorite all-in-one small kitchen appliances.
I tend to make these wings in an air-fryer when I need a quick dinner for my family of two. But, prefer to use this oven-baked chicken version when I want to make keto appetizers for a crowd or are meal-prepping.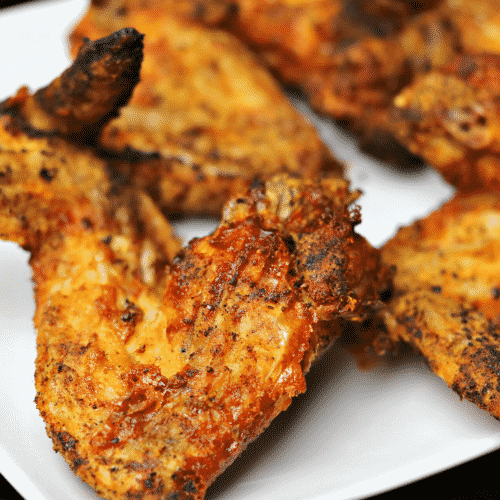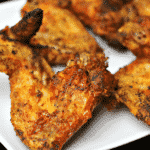 Sides dishes to make oven-baked wings a meal:
You can pair these wings with your favorite vegetable or salad to make this a meal. Some options include a Caesar salad with my homemade caesar dressing or you can have this with my creamy creamed spinach.
You could also add a roasted vegetable, such as this roasted garlic cauliflower or these roasted cauliflower brussel sprouts.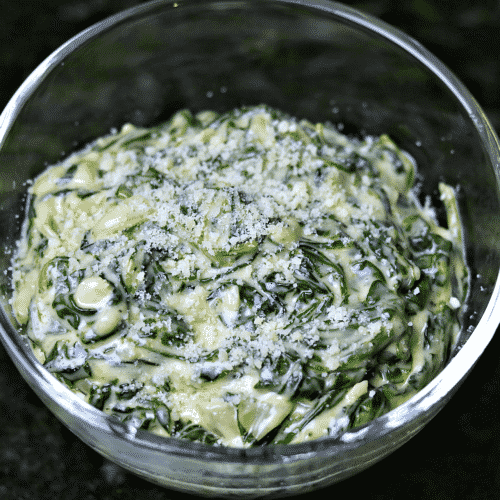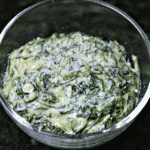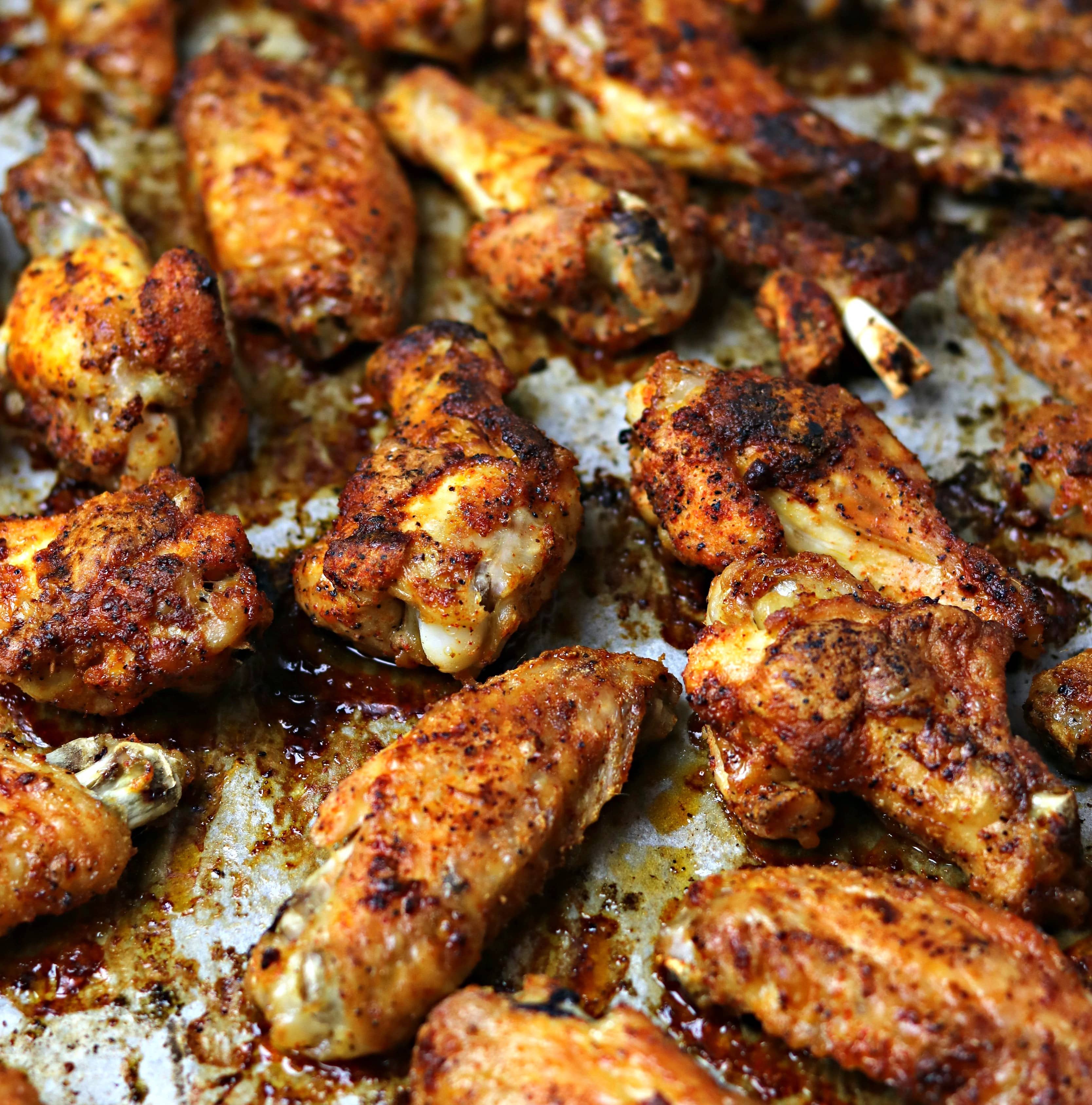 An easy, cheap keto dinner recipe for Oven Fried Chicken Wings. Using a special tip, you get the taste of fried chicken without deep frying.
Want to share this recipe?
To spread the word about this recipe, please save it to Pinterest, share a link to it, or rate it if you loved it. Please do not copy & paste (or screenshot) my recipes to social media or other websites.
Instructions
Preheat the oven to 425 degrees

Remove the chicken wing parts from the refrigerator and pat dry (removing as much moisture as possible helps to have a crispy wing skin)

Mix the sea salt, black pepper, smoked paprika, garlic powder, onion powder and baking powder in a small dish or ramekin

Sprinkle the seasoning mixture on the wings and toss to coat

Place wings on a parchment paper lined, baking sheet

Cook the wings in the oven for 25 minutes per side.
Recipe Nutrition Facts
Nutrition Facts
Oven Fried Crispy Baked Chicken Wings
Amount Per Serving
Calories 280
Calories from Fat 171
% Daily Value*
Fat 19g29%
Cholesterol 94mg31%
Sodium 287mg12%
Potassium 595mg17%
Carbohydrates 2g1%
Protein 22g44%
Vitamin A 345IU7%
Vitamin C 0.8mg1%
Calcium 188mg19%
Iron 1.6mg9%
* Percent Daily Values are based on a 2000 calorie diet.
Did you make this recipe?
Share your photos & mention @DrDavinahS! I love seeing them!
Nutritional Disclaimer
The nutritional information comes from Spoonacular API, a database of food ingredients. The nutritional information for any recipe will vary based on the exact product you use and the brand. I do not include erythritol or sugar alcohols in the final carb or net carb count as it does not have any impact on my blood glucose levels. Before starting keto or a low-carb eating plan, you should consult your doctor. I am sharing my personal experiences and none of the information included in my recipes or throughout the site should be taken as medical advice.