Most restaurant starter dishes and takeout appetizers are a no-go because they carb-loaded thanks to added sugars and other keto-unfriendly ingredients. But, the good news is, you can still recreate low-carb versions of most. Or, you can make new, equally tantalizing keto appetizers to enjoy. Use these low-carb appetizer recipes to start off every meal without fretting about extra carbs.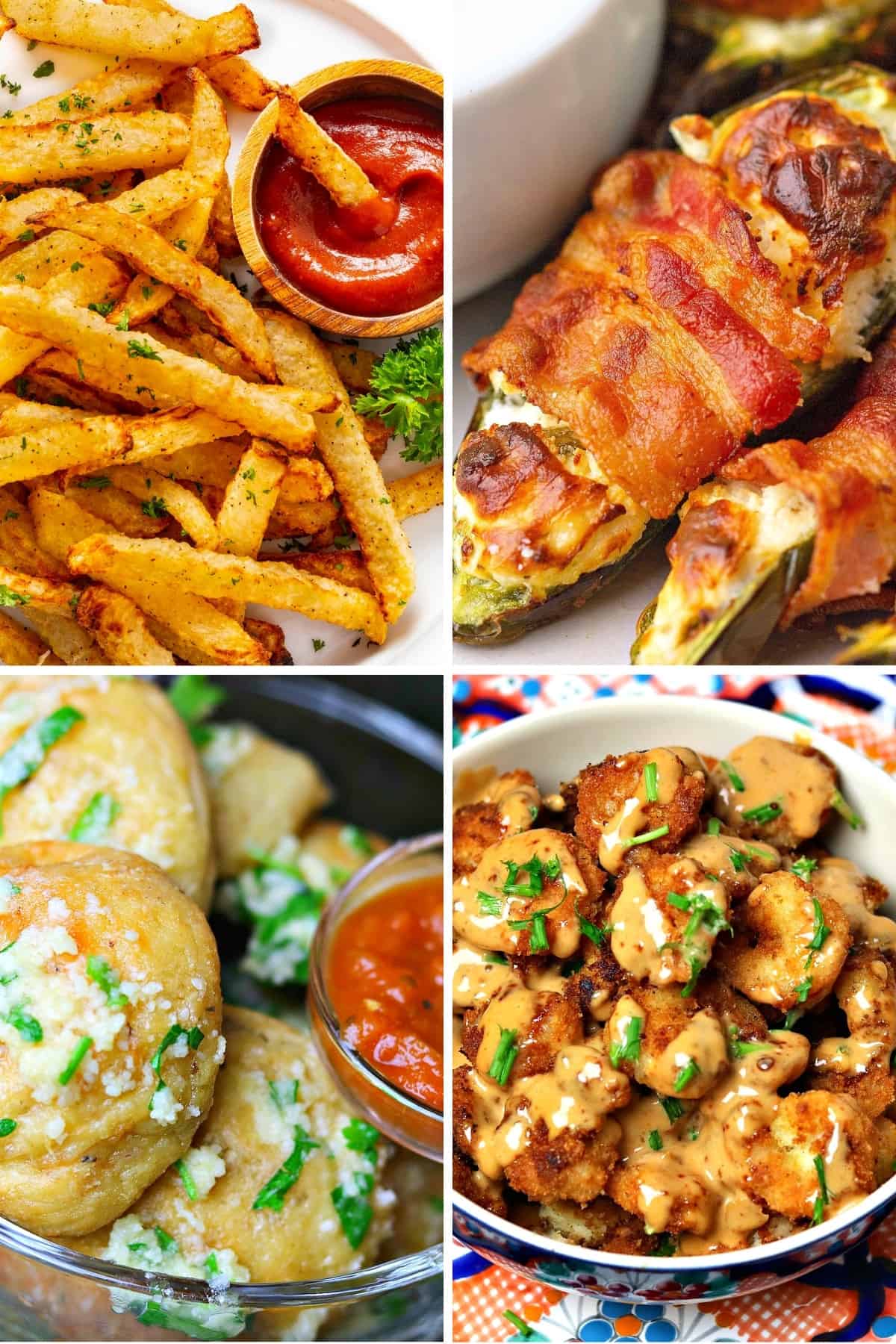 Why Share?
I wanted to create a collection of restaurant appetizer replacements and help other keto and low-carb dieters enjoy their starters guiltlessly. If you need help with delicious keto first course dishes, below are some ideas worth considering:
Low Carb Seafood Appetizers
This dish resembles the typical bang bang shrimp, but my recipe is low-carb, and the result is extra yummy.
If you love crab cakes, this low-carb version will steal your heart. It has more crab and no flour in the breading.
Surprise your taste buds with this protein keto starter. You need 3 ingredients and 15 minutes to get it done.
This dish uses almond and coconut flours to replace breadcrumbs, and the result is delicious.
Keto Chips & Dips
If you're looking for flavorful, super easy keto appetizers, this is the bomb. It effortlessly replaces the Mexican cheese dip.
I created this low-carb delicacy to satisfy my cravings for the Hint of Lime Tortilla Chips With Creamy Spinach Dip.
Avocados make yummy and low-carb appetizers. This guacamole dip will add only about 2g net carbs to your dish.
Missing nachos? This low-carb version will sort you out.
If you love bacon, here's your treat. This flavor-packed dip mimics the classic BLT sandwich in a keto-friendly way.
Keto Wings & Tenders
Do you miss takeout wings and are looking for a low-carb alternative? Try this easy homemade dish.
Enjoy crispy chicken wings without the deep frying menace. You need about 7 ingredients for this one.
This is one of my favorite sweet and savory combination dishes. Awaken your taste buds with these Asian flavor wings.
Use my homemade dry rub to make crispy and juicy wings. It's low-carb and easy to make using simple ingredients.
This is your sure fix if you're looking for something like your favorite chicken tenders minus the extra carbs.
Make tasty buffalo wings at home and save on the take-out costs. Air frying makes cooking easy and quick.
If you love the regular sriracha wings, you'll definitely fall for this low-carb version. It's simple but flavor-rich.
These crispy wings are packed with lemon flavor and can be cooked up in the air fryer or oven.
Bread, Pretzels & Sticks
This dish proves that keto appetizers don't need to be boring or bland. It mimics Domino's parmesan bread bites with fewer carbs.
These little sticks are a riot of flavors coated in eggs, almond flour, and Italian seasoning. Every bite counts.
Keto coconut fathead dough is the secret ingredient for these super bites. They are nut-free, low-carb, and ridiculously delicious.
Poppers & Veggies
Tickle your taste buds with these poppers. You need less than 5 ingredients and about 20 minutes to make them.
Are you looking for keto alternatives to french fries? These crispy zucchini fries will do. Replace breadcrumbs with almond flour.
These 5-ingredients pickles will excite and keep your taste buds anticipating the next bite. They are easy, crispy, and low-carb.
Does your pulled pork always taste uninspired? This recipe is your easy and sure fix. The results are amazingly delicious.
Asparagus are keto, and bacon is the king of flavor. This bacon-asparagus dish will do your tastebuds justice.
You may need to close your eyes as you take a bite to soak in all the flavors. This low-carb appetizer is like small bite eggplant lasagna.
This is one of the many low-carb appetizers that work as a keto side for burgers. Jicama fries are tasty, crispy, and simple.
Skewers & Kabobs
These chicken kabobs are the bomb, and my homemade keto BBQ sauce makes them worth every bite.
These grilled kabobs will set your taste buds ablaze with only a few ingredients, minus the outdoor grilling hassle.
This dish will make you fall in love with shrimp all over again. They take about 5 minutes to cook.
Are you looking for super easy, flavorful keto appetizers? These grilled chicken kebabs are your fix.
Bites, Meatballs & Pockets
If you love cheesesteaks, this is for you. The recipe replaces bread with keto fathead dough.
This dish comes together in about 15 minutes, and you don't have to thaw the meatballs before air frying them. I use keto marinara sauce, but you could top these with bbq sauce too!
These juicy steak bites take 8-12 minutes to cook in an air fryer and require only 4 ingredients.
You can now enjoy delicious meatballs without throwing your keto goals through the window. Almond flour replaces breadcrumbs.
These bites are a perfect replacement for french fries and loaded potato skins. A single serving has 4g net carbs.
Final Thoughts
Keto and low-carb appetizers are available but finding what's best for you is the greatest challenge. I hope the recipe ideas I've shared here will help you find your way around the keto jungle and create a meal plan that actually works.