This post may contain affiliate links to products I use and highly recommend. You can read my full disclosure .
Great company and tasty air fryer football food are key ingredients to the best game day parties. Whether you're hosting or attending, these easy air fryer recipes are a great way to fuel up as you cheer for your favorite team. This collection includes more than 25 healthy, tasty, and delicious appetizers, main dishes and side dishes that the whole cheer squad will enjoy this football season.
Most of these are ready in under 30 minutes and use a handful of common ingredients. You can also make some of these easy football food recipes ahead of time if needed. In this post, I'll share various finger foods you can easily and quickly make in your air fryer with minimal prep.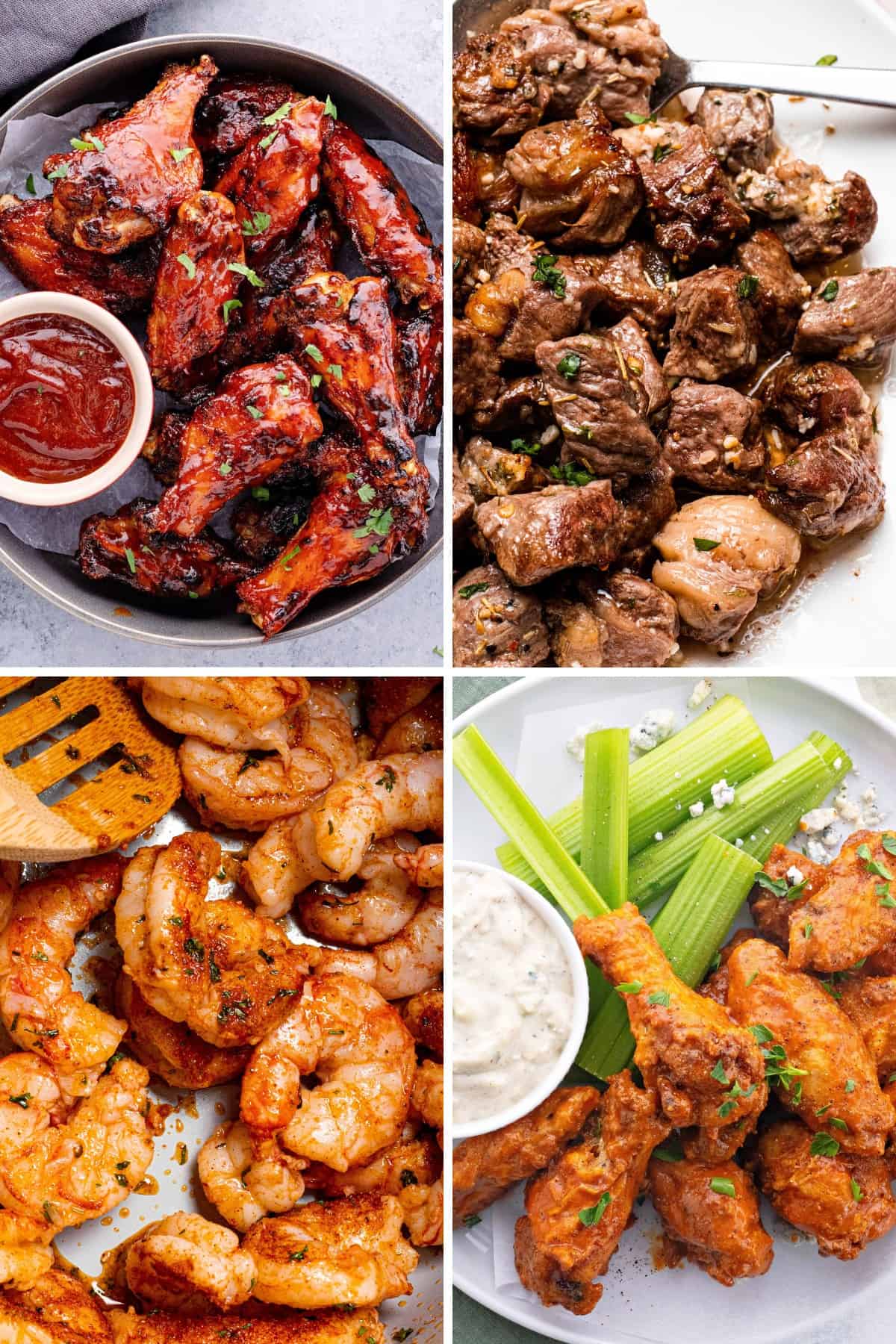 Why Share?
Recipes for the whole family: These are simple and easy recipes for the whole family to enjoy on game day while you root for your favorite team
Healthy Options: If you're searching for a better way to celebrate big games like Super Bowl Sunday, I'm sharing healthy air fryer football food recipes that use less oil and deliver fried-food flavor and taste minus deep frying.
Tasty Air Fryer Recipes: This is a curated collection of finger foods you can make in the air fryer—lots of common foods (including several in my keto tailgate food recipes) do not include air fryer instructions.
Below are some of my favorite air fryer game day recipes.
Air Fryer Super Bowl Recipes
Host the ultimate game day party with this collection of easy air fryer super bowl recipes and air fryer football food. Includes appetizers, main dishes and options for dips.
FAQs
What are some good football game foods?
Common football foods include classic appetizers and what many might call junk food. Typical options include chicken wings, potato skins, mozzarella sticks, French fries (or sweet potato fries, if you're being fancy), chips and dips like cheddar cheese queso and guacamole.
What foods cook well in the air fryer?
Most meats and vegetables do well in the air fryer. You can cook chicken, tilapia, steak, shrimp, pork ribs, meatballs, mushrooms, broccoli, brussels sprouts, and potatoes. You'll notice that most of these also make great air fryer football recipes.
What foods cannot be cooked in the air fryer?
If you're looking for air fryer Super Bowl recipes or regular-day options to enjoy on a daily basis, you need to know what you cannot cook in the air fryer. For starters, anything that doesn't fit in a single layer in the air fryer basket isn't suitable. There should be enough space for the hot air to circulate. Other foods that don't work well in an air fryer are:
– Raw grains: Raw grains need to be cooked/immersed in water, yet air fryers use hot, dry air.
– Fresh greens: These will cook unevenly because an air fryer uses high-speed air.
– Whole roasts: Most whole roasts won't fit well in the basket of your air fryer.
– Battered foods: Wet batter is messy and will also not set well in an air fryer. Recently, there are options for air fryer batter that you can purchase for breading and making crispy foods in your air fryer