This post may contain affiliate links to products I use and highly recommend. You can read my full disclosure here.
Click below to share this!
A low carb and Keto-friendly recipe for Stuffed French Toast that uses Sola Low Carb bread and Sola Sugar Replacement.
Disclosure: This post has been compensated by American Noize, LLC and its advertiser. All opinions are mine alone.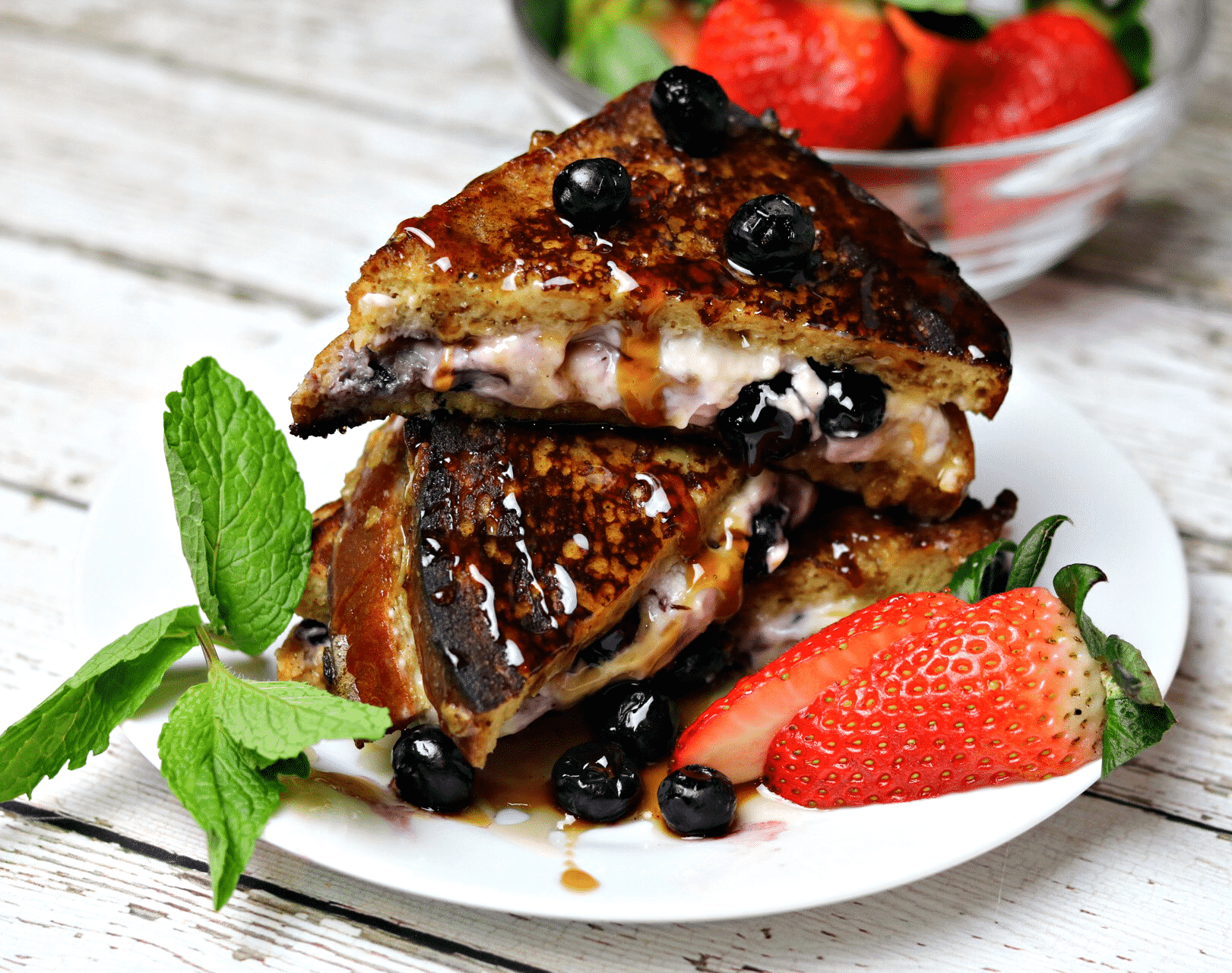 Stuffed French Toast was one of the keys to my husband's heart. A few months after we started dating, I prepared a version of this for him and things got serious quickly!
Stuffed French Toast takes french toast to ANOTHER level. It has a sweet cream cheese filling and berries sandwiched inside of french toast. It also often has 65g of carbs or more (yikes!)!
Even though, I found a way to make french toast while on keto, I was not about to add a cream cheese filling to the top. It sounded a bit much to me so I opted to not make this dish.
This week, I got the chance to try Sola Bread. As soon as touched the loaf, I knew that I'd be bringing Stuffed French Toast back into our lives in a way that was low carb and keto-friendly!
What is Sola Bread?
Sola has a line of keto-friendly and low carb products, including sugar replacement, bread, ice cream, yogurt, granola, and bars. Their line of bread has three flavors: Golden (White) Wheat, Deliciously Seed, and Sweet Oat.
All of the bread has 4g of net carbs or less and 80 calories or less. In this recipe, I used Sweet Oat. Each slice has 70 calories and 3g net carbs.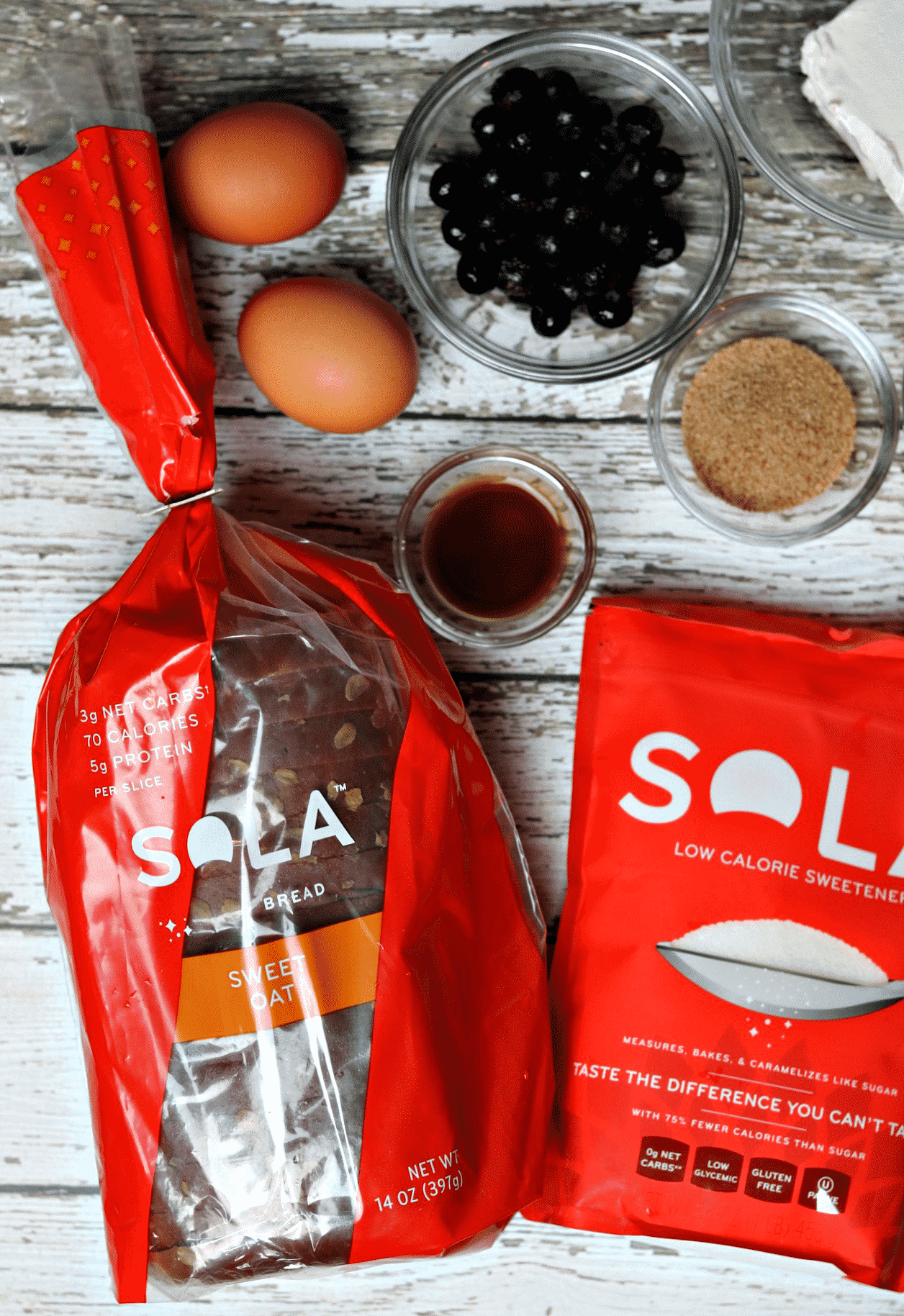 How does Sola bread compare to regular bread?
One of the most shocking things about Sola bread is that it had the same texture as regular bread. I've been able to try a few low carb and keto bread options since starting keto and all of them could easily be described as "good bread for keto or low carb". What I love about this particular brand is that it could simply be summed up as good bread regardless.
Where can you get Sola?
Sola is available on their website, Amazon and in some grocery stores. You can visit Sola's website to find their products near you. If you'd like to know about their other products, feel free to check out this resource on how Sola can be used to cut carbs and kick sugar.
You can also check out this article to more about how Sola helps with cutting carbs and kicking sugar.
What are good low carb and keto friendly toppings?
There are a lot of options for keto-friendly toppings. You could use fresh berries, sugar-free syrup, sugar-free whipped cream, or a quick berry compote (like the one that I used for these Keto Lemon Blueberry Cheesecake Bites).
Do I even need toppings?
This dish tastes perfectly wonderful without any toppings. So you can feel free to omit them if you wish.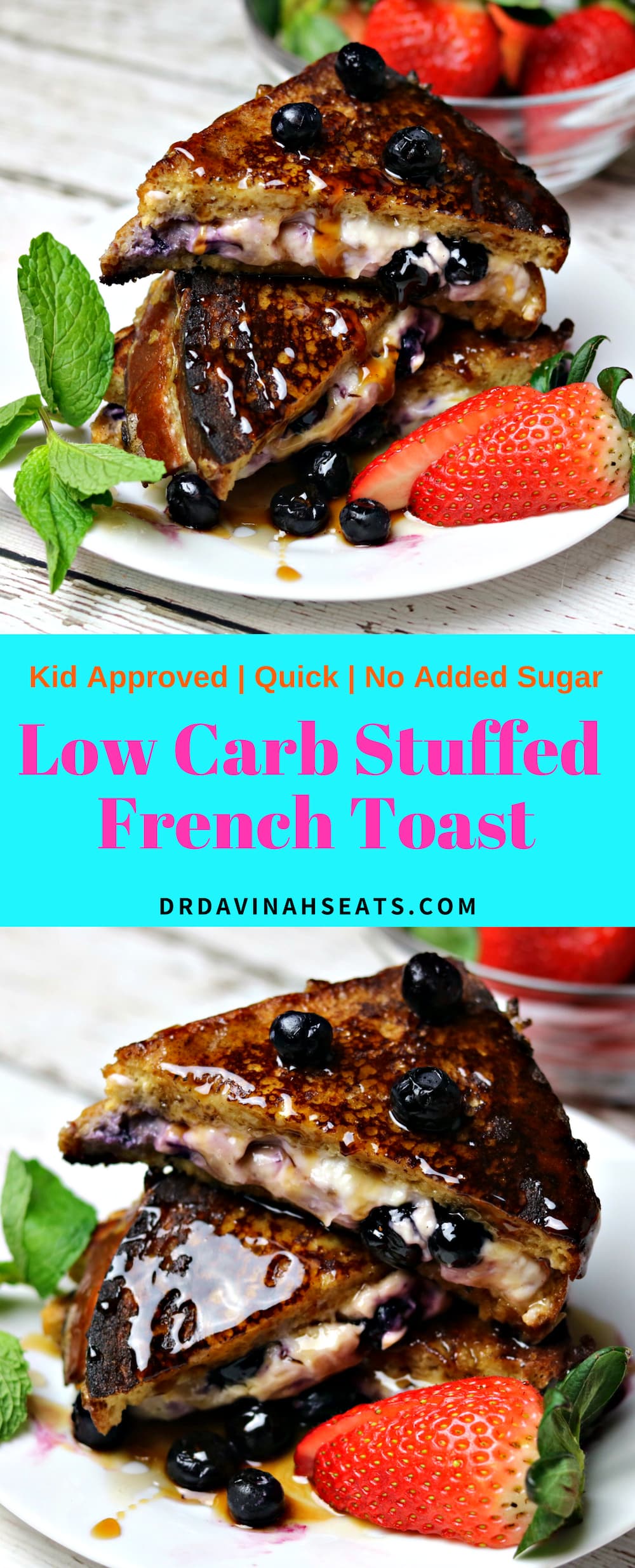 I'm not keto, can I still make this?
I believe that reducing carbs and sugar is a great option for anyone. If you enjoy stuffed french toast but would like to have it in a way that has less guilt, then you should give this recipe a try.
What kind of sweetener do you use?
I also used Sola Sweetener in this recipe. Each serving has 1g net carb. It measures exactly like regular sugar so I kept the same measurements as I did when I made this before keto.
What is this stuffed with?
Like the traditional recipe, I stuffed this with a sweetened cream cheese filling and berries. If you don't have berries, then you can substitute your favorite sugar-free jam.
One of the keys to this filling is to make sure that your cream cheese is softened. This allows the filling to glide easily on the bread.
You can soften cream cheese by placing it in a microwave safe bowl and heating it for 15 seconds. This method is way safer than my old method of just letting the cream cheese sit on the counter!
How many net carbs does this dish have?
A serving is one stuffed sandwich. Each complete sandwich has 11g net carbs. You can calculate a net carb by subtracting the fiber from the carbs. These sandwiches are quite filling so it's possible to have a half of a sandwich per person.
Love a delicious keto & low carb breakfast? Check out these: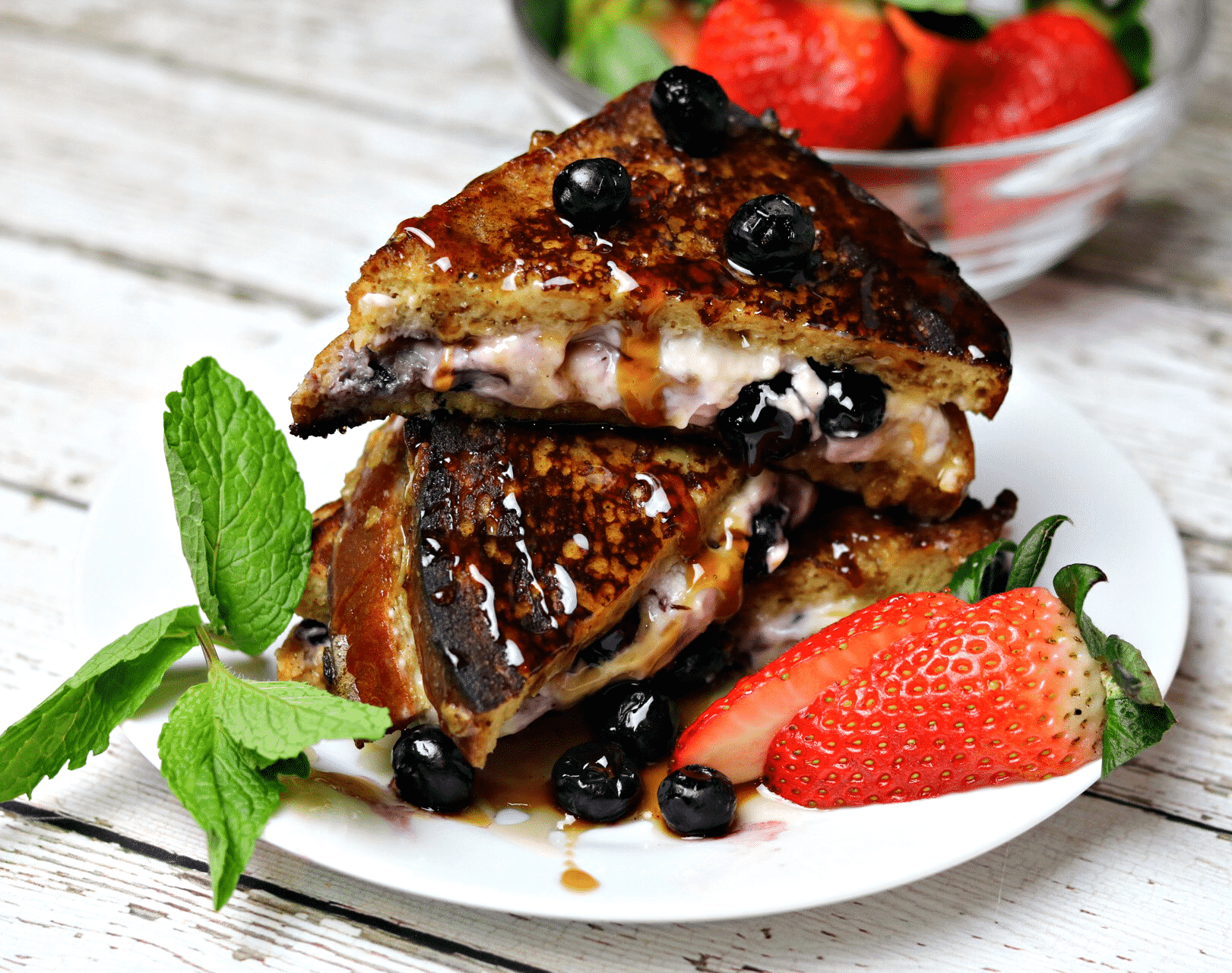 A low carb and Keto-friendly recipe for Stuffed French Toast that uses Sola Low Carb bread and Sola Sugar Replacement.
Please do not copy & paste (or screenshot) the instructions & ingredients for my recipes to social media or other websites. If you want to spread the word about this recipe (I'm grateful if you do), please use the buttons above to share or share a photo of this dish with a link to this recipe instead. © 2019 Dr. Davinah's Eats
Instructions
Mix cream cheese, Sola Sweetener, vanilla extract, and lemon extract in a bowl.

Layer the cream cheese mixture on 3 slices of bread

Top the slices of bread with the other 3 slices to make sandwiches

Heat a medium frying pan to medium heat

Add 3 tbsp of salted butter to the pan

Cook the stuffed french toast for 3-4 minutes per side (or until they are brown)
Recipe Nutrition Facts
Nutrition Facts
Low Carb Stuffed French Toast
Amount Per Serving
Calories 405
Calories from Fat 360
% Daily Value*
Fat 40g62%
Cholesterol 238mg79%
Sodium 522mg22%
Potassium 104mg3%
Carbohydrates 21g7%
Protein 17g34%
Vitamin A 710IU14%
Vitamin C 1.5mg2%
Calcium 58mg6%
Iron 0.8mg4%
* Percent Daily Values are based on a 2000 calorie diet.
Did you make this recipe?
Use #DrDavinahS when posting your photo of this dish, and follow @DrDavinahS on Instagram